AKT.IO Introduces AKTIO Coin ICO in Ireland, Accelerates Fundraising Development to Revolutionize the Financial Ecosystem
DUBLIN, IRELAND, September 27, 2021 – Akt.io, the European fintech start-up created by Automata Group, has launched a public Initial Coin Offering (ICO) in Ireland for early investors in their AKTIO coin. The ICO, an innovative fundraising method that uses blockchain technology to issue digital assets, incentivises investors with a 12.5% bonus on coin purchases and an opportunity to access exclusive akt.io app membership benefits.
The akt.io app, slated for a public launch in early 2022, will issue IBAN accounts that allow members to earn, invest, and pay with fiat currencies (EUR, GBP), cryptocurrencies, stocks, and other assets, all with one application. Members will be able to use the Wealth Card, an internationally recognized payment card, to make direct payments with invested capital while it continues to generate a return. 
The Wealth Card is powered by the cutting-edge technology of the WealthHub, a multi-route asset exchange that enables the instant, direct trading of financial assets held within the akt.io platform – crypto to EUR, shares to crypto, EUR to commodities, etc. 
CEO & Founder of Automata Group Gaël Itier previously worked with a team of analysts spearheading the design of quantitative models and applying modern portfolio allocation methodologies for wealthy individuals. It was then that he discovered the same type of algorithmic trading used to manage portfolios for high-net worth individuals could be applied to the retail market.
Since 2017, Itier has worked to develop the WealthBot, an AI-powered, algorithmic trading feature that represents another core of the app's functionality. The algorithm automates investments based on different investor profiles and has demonstrated the ability to dramatically reduce risk in a bear market. This feature will only be available to Premium and Elite app members.
Itier Says, "We Are On A Mission To Make Traditional Financial Institutions Obsolete And Give Individuals Power Over Their Financial Future. Our Private ICO Was A Huge Success And We're Excited To Open This Investment Opportunity To A Wider Community. The Money We Raise Will Allow Us To Continue To Scale, Recruit The Best Talent And Guarantee The Success Of This Ambitious Project." The Company Has The Ambitious Goal To Reach 1 Million Members By The End Of 2022 And 3 Million By The End Of 2023.
In addition to the 12.5% bonus, the first 1,000 investors who purchase €10,000 worth of AKTIO coins in the Irish ICO will unlock access to a Premium lifetime app membership. The first 1,000 investors who commit €50,000 worth of AKTIO coins in the Irish ICO will unlock access to the Elite app membership. All participants receive a unique referral link that generates them an additional 5% on all coin purchase referrals. The offer has a fundraising cap of €27M and is set to expire after the coin is listed on major exchange platforms later this year. 
Press Contact Yael Kusch, Head of Communications, [email protected]; + 33 6 32 23 01 57
About akt.io
Brought to you by Automata Group, akt.io aims to transform the world of finance by leveraging cutting-edge technology that enables members to make direct payments with invested capital, automate their investing with intelligent algorithms, and earn income with their digital assets, all through a single mobile app. Since its inception in 2017, the company has raised over €7 million and opened offices in Sophia-Antipolis, Paris, London, and Dublin.
Here's Why Billionaire Real Estate Mogul Barry Sternlicht Owns Two Different Crypto Assets
Billionaire and real estate magnate Barry Sternlicht says that he owns Bitcoin (BTC) and Ethereum (ETH) for a number of reasons.
In a new interview with CNBC's Squawk Box, the chief executive of Starwood Capital says that he's invested in crypto due to his concerns regarding endless money printing and what he sees as questionable monetary policies.
"The reason I own BTC is because the US government and every government in the Western hemisphere is printing money now until the end of time, And this is a finite amount of something, and it can be traded globally and people have fiat currencies whether it's in Nigeria or… Bolivia or wherever, you can move into something that the world has accepted as a substitute for gold."
Referencing JPMorgan CEO Jamie Dimon who said he thinks Bitcoin is "worthless", Sternlicht argues that the same case could be made for gold.
"What Jamie Dimon talked about, I mean gold is kind of worthless too, silver [as well], they have some industrial uses, but they're minor."
The billionaire says that while Bitcoin is minimal in its purposes, he sees high potential in Ethereum's ecosystem, plus all of blockchain technology in general.
"Since it's 18 million float of 21, I think Bitcoin… It's the biggest. It's a dumb coin, it has no real purpose other than a store of value, and it's a little crazily volatile. So Ether, which is right below it, I own some of that. That's a programmable Bitcoin, and then there are tons of other coins that are built off of that system… I've become very interested in blockchain technology as a whole, the digital ledger is going to change everything…"
"Gold is kind of worthless," says Barry Sternlicht. "The reason I own #bitcoin is because the U.S. government and every government in western hemisphere is printing money now to the end of time and this is a finite amount of something and it can be traded globally." pic.twitter.com/72zYQTjF0y— Squawk Box (@SquawkCNBC) October 13, 2021
Crypto Traders Most Bullish on Polkadot, Solana, Polygon and 10 Additional Altcoins: Digital Asset Survey
A new survey unveils that crypto traders are most bullish on 13 altcoins including Polkadot, Solana and Polygon.
The Real Vision Exchange Crypto Survey is designed to track sentiment among investors by allowing participants to scan 30 tokens and choose if they want to have an overweight or underweight allocation for each one. The survey was conducted by Real Vision Bot, which was created by two independent developers and boosted by macro guru Raoul Pal.
Results from voting that happened on the first two days of this week indicate traders prefer an overweight portfolio consisting of smart contract platforms Polkadot (DOT) and Solana (SOL), as well as Ethereum-scaling solution Polygon (MATIC).
The scalable and interoperable ecosystem Cosmos (ATOM) is fourth on the list, and smart contract platforms Terra (LUNA) and Cardano (ADA) appear tied for fifth. Traders also have overweight allocations for decentralized oracle network Chainlink (LINK), Ethereum competitor Avalanche (AVAX), Ethereum-based token Enjin Coin (ENJ) and decentralized exchange Uniswap (UNI) for the sixth, seventh and eighth places, respectively.
Tied in ninth place are cross-border payment solutions Stellar (XLM) and XRP, as well as decentralized storage network (FIL).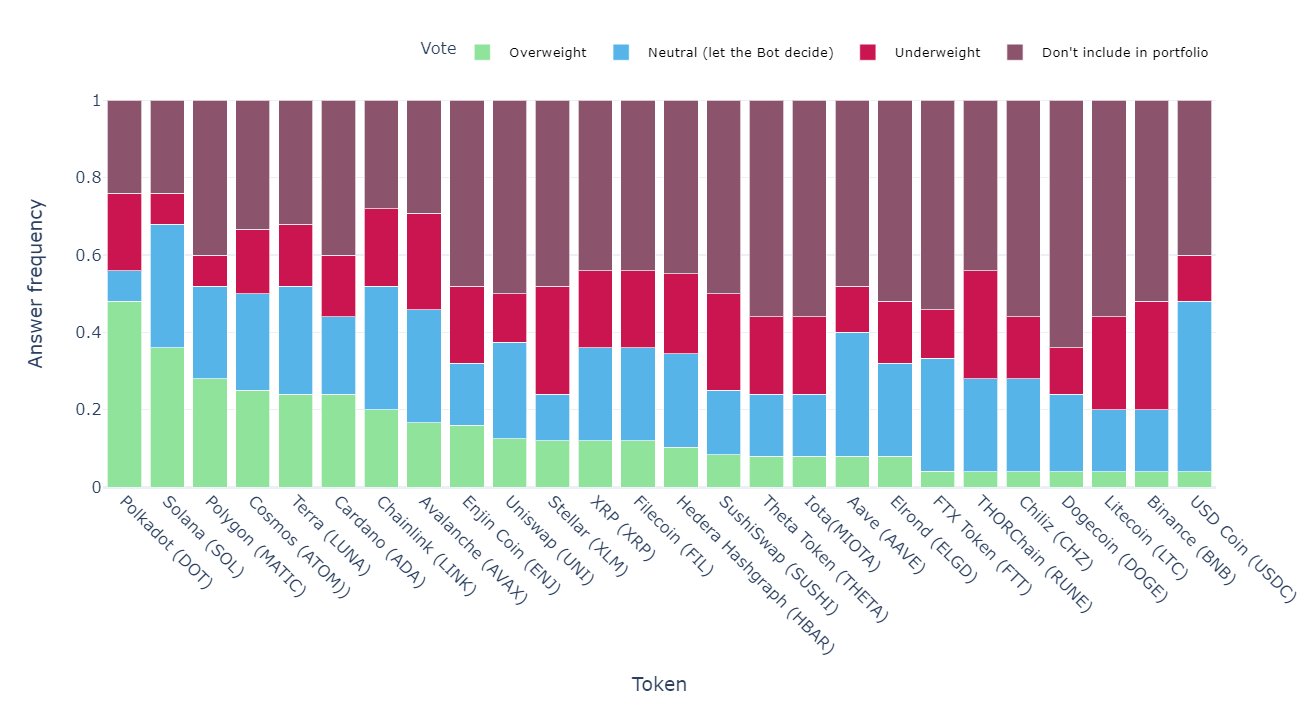 Real Vision Bot clarifies that the participants are not necessarily holding the cryptocurrencies that they voted for.
"They can of course vote according to their own positions, but also just based on their sentiment or forward looking. There are many reasons why the own book might not be 1:1 the preferred allocation."
Bitcoin (BTC) is conspicuously absent from the list. Pal highlights that the community is responsible for that absence.
"It's not us – it's the community who makes the allocation… You guys, to be exact.
Morgan Stanley CEO: Crypto Won't Go Away
Morgan Stanley's boss is bullish on cryptocurrency but says that demand is scanty so far
Morgan Stanley CEO James Gorman sounded upbeat about cryptocurrencies during the bank's third-quarter earnings call, claiming that the industry will not go away:
I don't think crypto's a fad. I don't think it's going to go away.
Morgan Stanley was the first major U.S. bank to grant its wealthy clients access to Bitcoin funds in March.

So far, Gorman does not see a lot of client demand for Bitcoin, but he does not rule out that crypto may start playing a bigger role in its business:
For us, honestly, it's just not a huge part of the business demand for our clients. That may evolve and will evolve with it, but certainly it's not what's driving our economics one way or the other.
Shares of Morgan Stanley (MS) are up 44% since the start of 2021.

The bank's investment revenue crushed analysts' estimations in the third quarter of 2021, reaching $2.85 billion.
Not siding with Dimon
Gorman's views on Bitcoin diverge from those of JPMorgan CEO Jamie Dimon. While the Morgan Stanley head refrained from making specific price predictions, he opined that the largest cryptocurrency would be here to stay:
I don't know what the value of Bitcoin should or shouldn't be. These things aren't going away.
As reported by U.Today, Dimon caused quite a stir by claiming that Bitcoin is worthless.

While the Bitcoin price is already immune to Dimon's oft-repeated critiques, his caustic comment certainly did not go unnoticed by the crypto community and market observers.
A divisive comment
There are some powerful Wall Streeters who share Dimon's sentiment. Larry Fink, CEO of asset management juggernaut BlackRock, recently said that he was more in the Dimon camp.

Gorman is not the only banker who disagrees with Dimon on Bitcoin. Bill Winters, CEO of Standard Chartered, recently opined that cryptocurrency assets could serve as a hedge against inflation:
There's a role for non-fiat currencies, especially when parts of the market are concerned about inflation—and there's good reasons to be concerned about inflation.