China Crypto Ban: World's largest Bitcoin mining pool to block IP access from mainland China

The latest update in the Chinese crypto ban saw the world's largest Bitcoin mining pool, Ant Pool give in to the regulatory crackdown and announced blocking IP access in mainland China, effective from 15th October. Additionally, amid a global crypto takedown, Ant Pool has also revealed the upcoming launch of its exclusive KYC verification system to further comply with crypto regulations of various countries.
Ant Pool, the world's largest Bitcoin mining pool, announced that it will stop IP access in mainland China from the 15th and launch the KYC system to comply with the laws of various countries.— Wu Blockchain (@WuBlockchain) October 14, 2021
Since the reveal about the Chinese government's tracking of IP addresses to filter out illicit crypto mining activities in the country, there have been several shutdowns of unregistered mining farms along with registered giants taking steps to comply with the authorities. Earlier this week, the largest Bitcoin mining equipment manufacturer in China, Bitmain announced that it will stop shipping any more Antimers to the country from October 11, in lieu of the ongoing crypto crackdown, that is specially focused on Bitcoin mining.
"Actively responding to the local government policies of the company's entities has been Bitmain's business strategy all along…Strictly abide by the laws and regulations of the locations of the company's entities is the operating principle that Bitmain has always adhered to. From October 11, 2021, Antminer will stop shipping to mainland China (excluding Hong Kong and Taiwan). For customers in mainland China who have purchased long-term products, our staff will contact them to provide alternative solutions.", stated the Press Release.
China Crypto Ban nears end as government succeeds shutdown of crypto businesses
However, the Chinese government has no plans to stop unless the crypto industry has completely vanished from the face of China. According to CoinGape's recent coverage, China's authoritarian government is now planning to add crypto mining to the "Negative List" of industries. This would mean that the crypto mining industry will be banned or restricted from any investment from both, mainland China investors as well as foreign investors.
The Chinese crypto ban appears to be near the end as more than 20 crypto firms and exchanges announced the suspension of crypto services in the country. Furthermore, foreign crypto exchange giants including Huobi, OKEx, and Binance have also announced the closure of all services by December.
Top 5 cryptos to include in your Christmas wish list
Cryptocurrencies offer a unique opportunity to diversify one's portfolio.
There are five altcoins that appear to have great potential.
Speed, scalability, and low transaction costs make these digital assets stand out.
Cryptocurrencies are here to make transactions easier and faster. But before you can jump right in and add any old cryptocurrency to your Christmas list, you need to understand what token you are investing in and the benefits they offer. There are five cryptocurrencies that appear to have a great future ahead.
Solana
Solana is an open-source project implementing a new, high-performance, permissionless blockchain that is all about speed.
It has 400 millisecond block times and as hardware gets faster, so does the network. Solana's scalability ensures transactions remain less than $0.01 for both developers and users.
Price-wise, Solana is currently selling at an average price of $200. 
Not only is Solana ultra-fast and low cost, but it is also censorship-resistant. This means that the network will remain open for applications to run freely, and transactions will never be stopped.
Solana's crypto-economic system is designed to promote a healthy, long-term self-sustaining economy with participant incentives aligned to the security and decentralization of the network. The main participants in this economy are validation clients.
StakeMoon
Since launching in early November, StakeMoon has raised $1,200,000 and continues to climb. 
The new and innovative digital cryptocurrency project is still in its infancy but looks like a promising investment. Striving to reward long-term holders, StakeMoon's token has a taxation policy that penalizes market speculators, resulting in regular dividend payments for existing token holders and flexible staking rewards.
Transactions attract a taxation rate of 15%, where 10% is distributed to existing token holders, while the remaining 5% is allocated to the StakeMoon liquidity pool. Tokens are not locked into a minimum redemption period. Instead, stakers can withdraw their StakeMoon at any given time.
StakeMoon has launched on PancakeSwap, a decentralized exchange (DEX), on November 20, creating a marketplace for users to buy, sell, and trade hundreds of decentralized finance (DeFi) tokens without third-party involvement.
StakeMoon has been heating up fast and keeping tight on its roadmap, with plans to list on BitMart in early 2022 with CoinGecko and CoinMarketCap listings coming soon.
Avalanche
Avalanche is an open and programmable smart contracts platform for decentralized applications.
It claims to be the fastest smart contracts platform in the blockchain industry, as measured by time-to-finality, and has the most validators securing its activity of any proof-of-stake protocol. The native token, AVAX, secures the network, pays for fees, and provides the basic unit of account between the multiple blockchains deployed on the larger network.
The resources spent by a validator for staking are proportional to that validator's total stake. Avalanche has unique benefits including the rewards accumulated by a validator for validating are proportional to that validator's total stake.
Since Avalanche is leaderless, there are no "rich-get-richer" compounding effects. Validators that lock their stake for longer are rewarded more and are also incentivized to stay online and operate correctly as their rewards are based on proof-of-uptime and proof-of-correctness.
AVAX is a capped-supply token, with a maximum cap of 720 million tokens. The rate at which the maximum cap is reached is subject to governance. Fees are not paid to any specific validator. Instead, they are burned, thus increasing the scarcity of AVAX.
DeFi Coin
DeFi Coin is the digital token that represents the DeFiCoins.io website and DeFi Swap exchange.
By allowing buyers and sellers to exchange value directly with other market participants – the DeFi Swap exchange ensures that there is no requirement to go through a centralized third party.
The DeFi Coin umbrella actively promotes three functions: static rewards, automatic liquidity pools, and manual burning strategy.
Users are encouraged to hold their DeFi Coin tokens on a long-term basis because transactions are taxed at a rate of 10% discouraging day trading. Perhaps most importantly, 5% of this figure is distributed to existing DeFi Coin token holders, which is not much different from conventional dividend payments. The other 5% is utilized to provide liquidity to decentralized exchange services.
A major benefit of holding DeFi Coin tokens is that users can earn dividends via a static reward system.
Radix
Radix promises to put the fun back into DeFi with a focus on the community, security and scalability.
It focuses on the community, recognizing each individual developer and allows them to contribute to the online DeFi component library in exchange for direct royalty fees when projects use their components to build the next billion-dollar DeFi application.
Radix is the only decentralized network where developers will be able to build quickly without the constant threat of exploits and hacks, where every improvement will get rewarded, and where scale will never be a bottleneck.
The network's unique benefits include 100% of all transaction fees being burned, 53.8% of the token supply being locked on average across POS networks, 300 million XRD tokens per year will go to stakers for securing the network, and eXRD/SRD bridge will allow users to move quickly between Ethereum and Radix.
Three Arrow Capital, Which "Abandoned" Ethereum, Received $400 Million Worth of It in Two Days
The hedge fund CEO that promised to abandon Ethereum just received $400 million worth of it
Three Arrow Capital crypto hedge-fund received a significant amount of Ether from various large centralized exchanges following the company CEO's critique and abandonment of the Ethereum network.
Series of large Ethereum transactions
Large transactions have been appearing on the fund's address constantly in a period of two days. Only two hours before press time, the fund's wallet received 27,000 Ethereum coins worth approximately $108 million.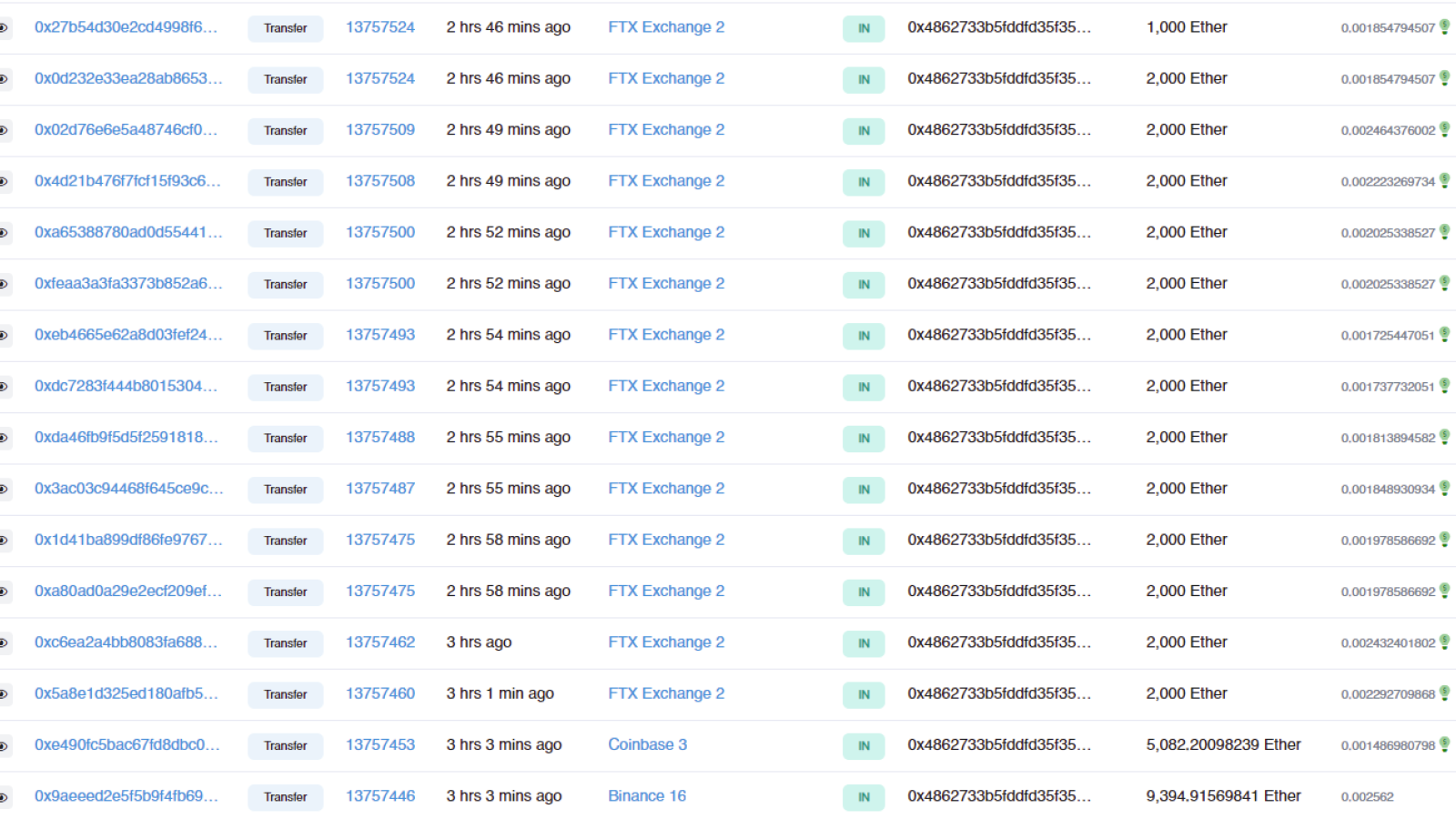 The day before, the fund received 14,000 ETH worth approximately $56 million and the same amount three days ago in numerous smaller transactions worth from 2,000 ETH to 12,000 ETH.
The fund's withdrawing activity might be a sign of accumulation during the most recent market dip. Since Ethereum lost 27% of its value at the local trend's bottom, funds and large investors were able to purchase the asset at a significant discount during the market sell-off.
Fund CEO's complicated relationship with Ethereum
Previously, the CEO and founder of Three Arrows Capital have stated that he decided to "abandon" Ethereum despite all the support he provided to it in the past. His main problem with the network was the inability of newcomers to simply afford the chain due to high fees.
Later on, Zhu "softened" his previous tweet by saying that he used the wrong word in the heat of the moment. The fund's CEO has also pointed out that he respects the effort of building L2 solutions that help Ethereum with scaling but would also prefer seeing further development of the first layer that would make mainnet affordable for new users.
Crypto India: Nation's Biggest Crypto Exchange Just Opened an Account with This Banking Giant

As the air cleared around crypto ban speculations in India, it appears that a pro-crypto wave is about to hit the developing nation's markets. The exclusive update revealed that Kotak Bank has allowed India's biggest crypto exchange, WazirX to open an account with the financial institution to facilitate both, credit and debit for investors trading on the exchange platform.
However, WazirX in currently in the process of completing formalities, including KYC, and will only be able to use its Kotak account once it is through the verification system. Furthermore, Kotak is reportedly preparing to get involved local crypto trade if the government permits it under the upcoming crypto regulations, and is already in conversation with native crypto exchanges, such as Zebpay.
"WazirX has opened an account with Kotak which can be used to receive and pay money to investors trading on the exchange. The account is yet to become operational. Paperwork, KYC and some testing are on", Economic Times quoted the person aware of the matter.
Future of Crypto in India looks Bright
This has come as a sigh of relief for the crypto community in India, as with Kotak, other primary banks may also join the pro-crypto evolution. Earlier, in lieu of speculations of an absolute ban, and ongoing regulatory concerns around crypto, several financial institutions disabled all crypto functions, like payments involving crypto platforms and vendors.
Eminent names such as, HDFC Bank, Axis, and SBI declared suspension of any crypto payments through their banks, along with resistance from the Reserve Bank of India (RBI), which has already had a long-standing anti-crypto stance. However, the tables may soon be turning for the decentralised industry in India, with the latest announcement from the government, confirming that the authorities do not intend to ban crypto, rather merely regulate it for the sake of consumer protection.
According to CoinGape's last week's reportage, the Indian Finance Minister, Nirmala Sitharaman asserted in favour of the underlying technological boon in the blockchain system. Nevertheless, she also noted that the authorities will not be blindsided by the innovative and technological advancements, and will consider the drawbacks of crypto before implementation of the foreseeable crypto regulations in the nation.