Digital Pound Foundation launches to promote CBDC development in the UK
The Digital Pound Foundation (DPF), a group of technology, innovation, and regulatory experts, has announced its launch as an independent non-profit organization in the U.K.
According to a release issued on Thursday, the DPF will work to promote the implementation of a central bank digital currency (CBDC) in the country.
Indeed, as previously reported by Cointelegraph, the U.K. government in April established a CBDC task force to explore preliminary matters related to the creation of a national digital currency.
The DPF, as part of its stated mandate, will carry out research and engage in collaboration with stakeholders to support the U.K.'s CBDC project.
In addition to supporting developmental efforts, the foundation will also reportedly advocate for robust regulations for the U.K.'s CBDC project as well as favorable legal provisions for privately issued digital currencies.
According to Jeremy Wilson, chairman of the DPF, the social and technological ramifications of a CBDC for the U.K. are profound, hence the need for creating the group to provide the necessary support to all stakeholders.
The DPF may likely join the cast of payment and fintech experts already lined up by the Bank of England to contribute to the U.K's CBDC development efforts.
Recently, famous whistle-blower and former United States Central Intelligence Agency agent Edward Snowden described CBDCs as a perversion of cryptocurrencies.
In a written note to Cointelegraph, Wilson offered a different opinion, stating, "Our view is that CBDCs should not be considered on the same spectrum as cryptocurrencies. The two are fundamentally different in their conceptualization, and in the use cases to which they would respectively be applied."
According to the announcement, Wilson and the other originating members of the DPF are joined by associate members including Ripple, Quant, Electroneum and The Realization Group.
Electroneum CEO Richard Ells will also serve as a member of the board of directors of the DPF. According to Ells, CBDCs have the potential to contribute meaningfully to promoting greater financial inclusion across the globe.
In a survey of 2,500 adults in the U.K. published back in August, 30% of participants stated their belief that a CBDC could cause more harm than good in the country.
Here's Why Billionaire Real Estate Mogul Barry Sternlicht Owns Two Different Crypto Assets
Billionaire and real estate magnate Barry Sternlicht says that he owns Bitcoin (BTC) and Ethereum (ETH) for a number of reasons.
In a new interview with CNBC's Squawk Box, the chief executive of Starwood Capital says that he's invested in crypto due to his concerns regarding endless money printing and what he sees as questionable monetary policies.
"The reason I own BTC is because the US government and every government in the Western hemisphere is printing money now until the end of time, And this is a finite amount of something, and it can be traded globally and people have fiat currencies whether it's in Nigeria or… Bolivia or wherever, you can move into something that the world has accepted as a substitute for gold."
Referencing JPMorgan CEO Jamie Dimon who said he thinks Bitcoin is "worthless", Sternlicht argues that the same case could be made for gold.
"What Jamie Dimon talked about, I mean gold is kind of worthless too, silver [as well], they have some industrial uses, but they're minor."
The billionaire says that while Bitcoin is minimal in its purposes, he sees high potential in Ethereum's ecosystem, plus all of blockchain technology in general.
"Since it's 18 million float of 21, I think Bitcoin… It's the biggest. It's a dumb coin, it has no real purpose other than a store of value, and it's a little crazily volatile. So Ether, which is right below it, I own some of that. That's a programmable Bitcoin, and then there are tons of other coins that are built off of that system… I've become very interested in blockchain technology as a whole, the digital ledger is going to change everything…"
"Gold is kind of worthless," says Barry Sternlicht. "The reason I own #bitcoin is because the U.S. government and every government in western hemisphere is printing money now to the end of time and this is a finite amount of something and it can be traded globally." pic.twitter.com/72zYQTjF0y— Squawk Box (@SquawkCNBC) October 13, 2021
Crypto Traders Most Bullish on Polkadot, Solana, Polygon and 10 Additional Altcoins: Digital Asset Survey
A new survey unveils that crypto traders are most bullish on 13 altcoins including Polkadot, Solana and Polygon.
The Real Vision Exchange Crypto Survey is designed to track sentiment among investors by allowing participants to scan 30 tokens and choose if they want to have an overweight or underweight allocation for each one. The survey was conducted by Real Vision Bot, which was created by two independent developers and boosted by macro guru Raoul Pal.
Results from voting that happened on the first two days of this week indicate traders prefer an overweight portfolio consisting of smart contract platforms Polkadot (DOT) and Solana (SOL), as well as Ethereum-scaling solution Polygon (MATIC).
The scalable and interoperable ecosystem Cosmos (ATOM) is fourth on the list, and smart contract platforms Terra (LUNA) and Cardano (ADA) appear tied for fifth. Traders also have overweight allocations for decentralized oracle network Chainlink (LINK), Ethereum competitor Avalanche (AVAX), Ethereum-based token Enjin Coin (ENJ) and decentralized exchange Uniswap (UNI) for the sixth, seventh and eighth places, respectively.
Tied in ninth place are cross-border payment solutions Stellar (XLM) and XRP, as well as decentralized storage network (FIL).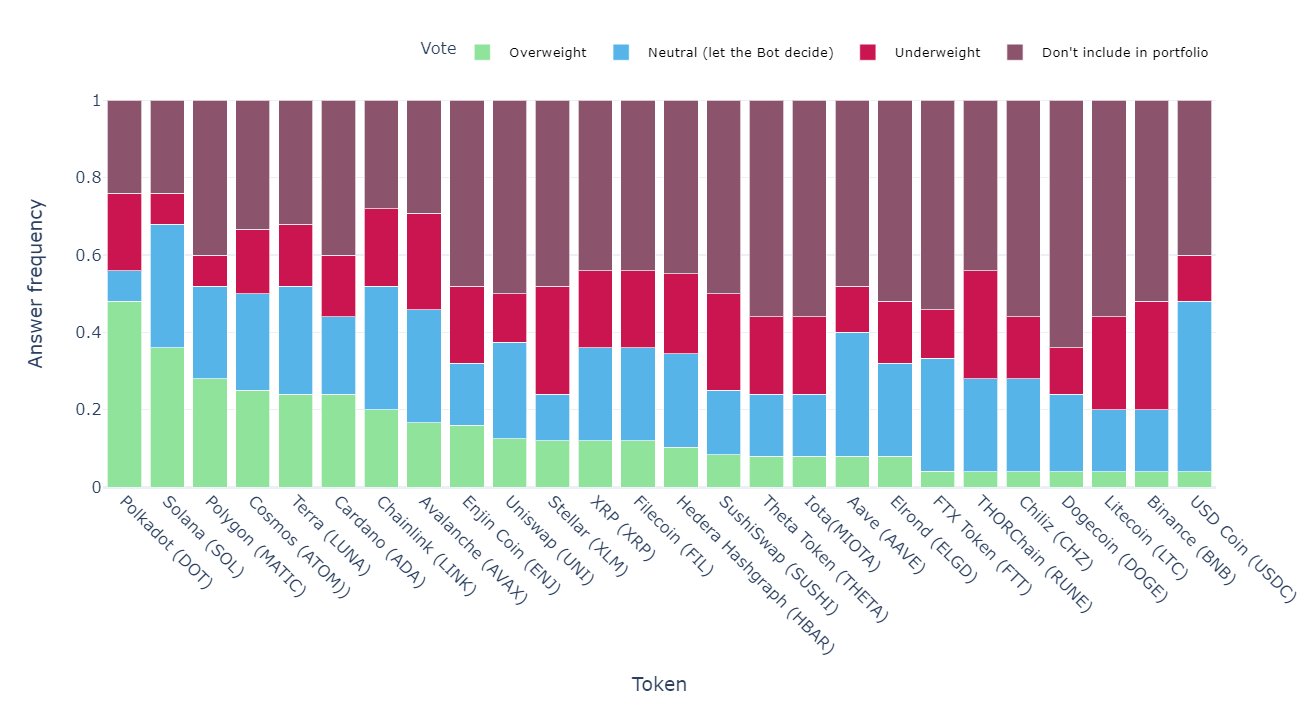 Real Vision Bot clarifies that the participants are not necessarily holding the cryptocurrencies that they voted for.
"They can of course vote according to their own positions, but also just based on their sentiment or forward looking. There are many reasons why the own book might not be 1:1 the preferred allocation."
Bitcoin (BTC) is conspicuously absent from the list. Pal highlights that the community is responsible for that absence.
"It's not us – it's the community who makes the allocation… You guys, to be exact.
Morgan Stanley CEO: Crypto Won't Go Away
Morgan Stanley's boss is bullish on cryptocurrency but says that demand is scanty so far
Morgan Stanley CEO James Gorman sounded upbeat about cryptocurrencies during the bank's third-quarter earnings call, claiming that the industry will not go away:
I don't think crypto's a fad. I don't think it's going to go away.
Morgan Stanley was the first major U.S. bank to grant its wealthy clients access to Bitcoin funds in March.

So far, Gorman does not see a lot of client demand for Bitcoin, but he does not rule out that crypto may start playing a bigger role in its business:
For us, honestly, it's just not a huge part of the business demand for our clients. That may evolve and will evolve with it, but certainly it's not what's driving our economics one way or the other.
Shares of Morgan Stanley (MS) are up 44% since the start of 2021.

The bank's investment revenue crushed analysts' estimations in the third quarter of 2021, reaching $2.85 billion.
Not siding with Dimon
Gorman's views on Bitcoin diverge from those of JPMorgan CEO Jamie Dimon. While the Morgan Stanley head refrained from making specific price predictions, he opined that the largest cryptocurrency would be here to stay:
I don't know what the value of Bitcoin should or shouldn't be. These things aren't going away.
As reported by U.Today, Dimon caused quite a stir by claiming that Bitcoin is worthless.

While the Bitcoin price is already immune to Dimon's oft-repeated critiques, his caustic comment certainly did not go unnoticed by the crypto community and market observers.
A divisive comment
There are some powerful Wall Streeters who share Dimon's sentiment. Larry Fink, CEO of asset management juggernaut BlackRock, recently said that he was more in the Dimon camp.

Gorman is not the only banker who disagrees with Dimon on Bitcoin. Bill Winters, CEO of Standard Chartered, recently opined that cryptocurrency assets could serve as a hedge against inflation:
There's a role for non-fiat currencies, especially when parts of the market are concerned about inflation—and there's good reasons to be concerned about inflation.