Long-term technical suggest that VeChain price is on its way to $0.90
The following article contains price and date projection analysis utilizing the methods of W.D. Gann and other traditional forecasting methods. VeChain is the first of several articles highlighting this style and approach of technical analysis. The purpose is not to target a specific date nor a specific price. Instead, the goal is to identify a range of time in the future, which is highly likely to be a turning point for any trend or corrective move. Additionally, the second purpose is to identify a price range and value area in that same time period.
Confluence zones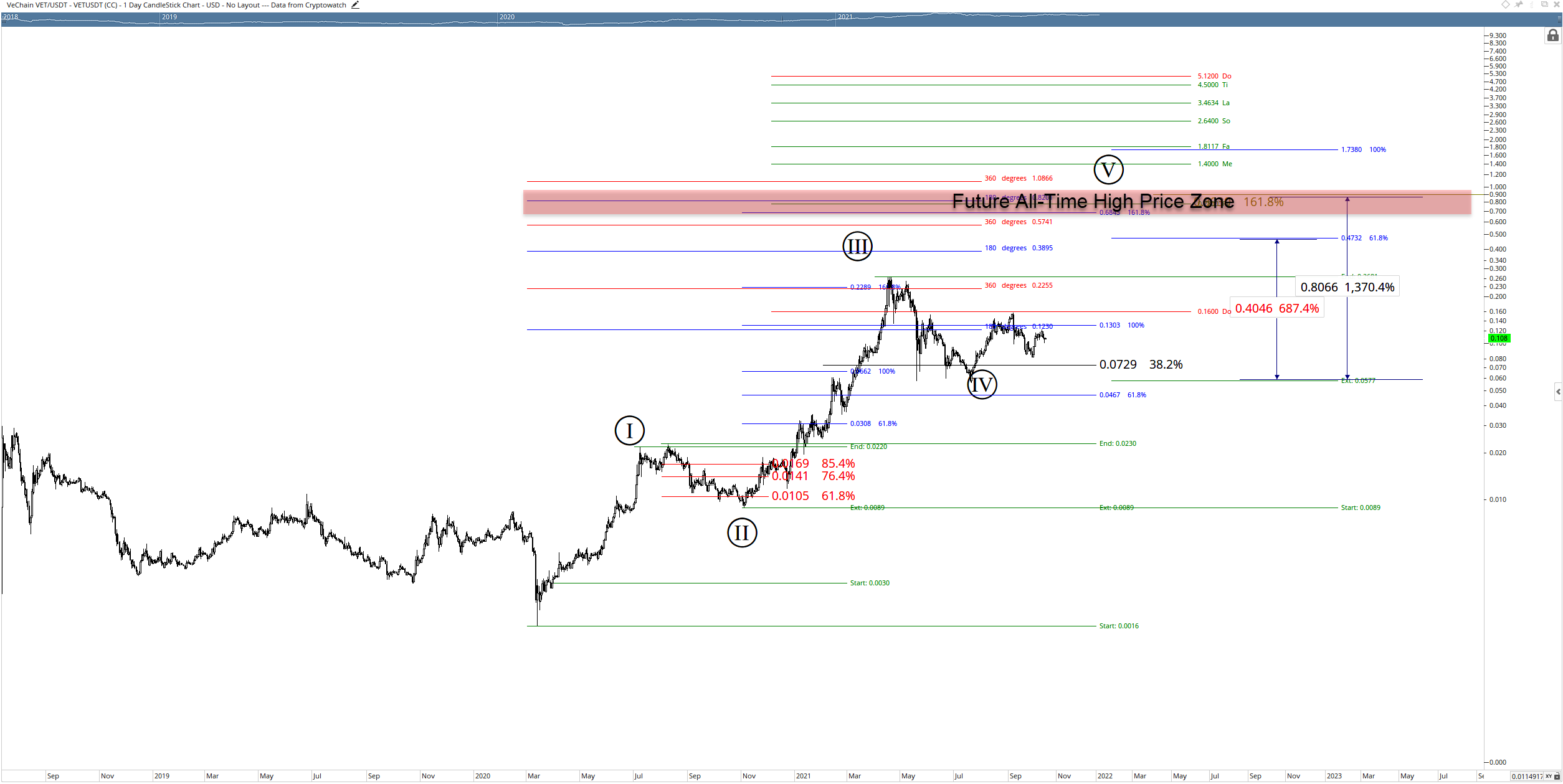 VET/USDT Price Clusters
How are future VeChain price levels determined if they have never traded at those price levels before? A series of different types of analysis should be completed to speculate and project a future price range. For this analysis, I will be utilizing Elliot Wave Theory, natural harmonic values found in the light and sound spectrum – specifically the methods by the great Gann analyst, Tony Plummer (The Law of Vibration, and The Life Cycle Hypothesis), Gann's Square of 9 and Fibonacci Expansion zones. The result of this analysis shows a cluster of price ranges, all with the same value area. They are as follows:
0.6843 – 161.8 of I and II Fib Expansion
0.866 – 61.8% of Wave 1 + 3
0.8930 – 161.8% inverse Fib retracement of Wave 4
0.78 – Major Octave of 'Re' (harmonic ranges in music)
$0.8201 – 180-degree Square of 9 angle
$0.081 – Top of a squared range in Gann's Square of a Range
Time Cycles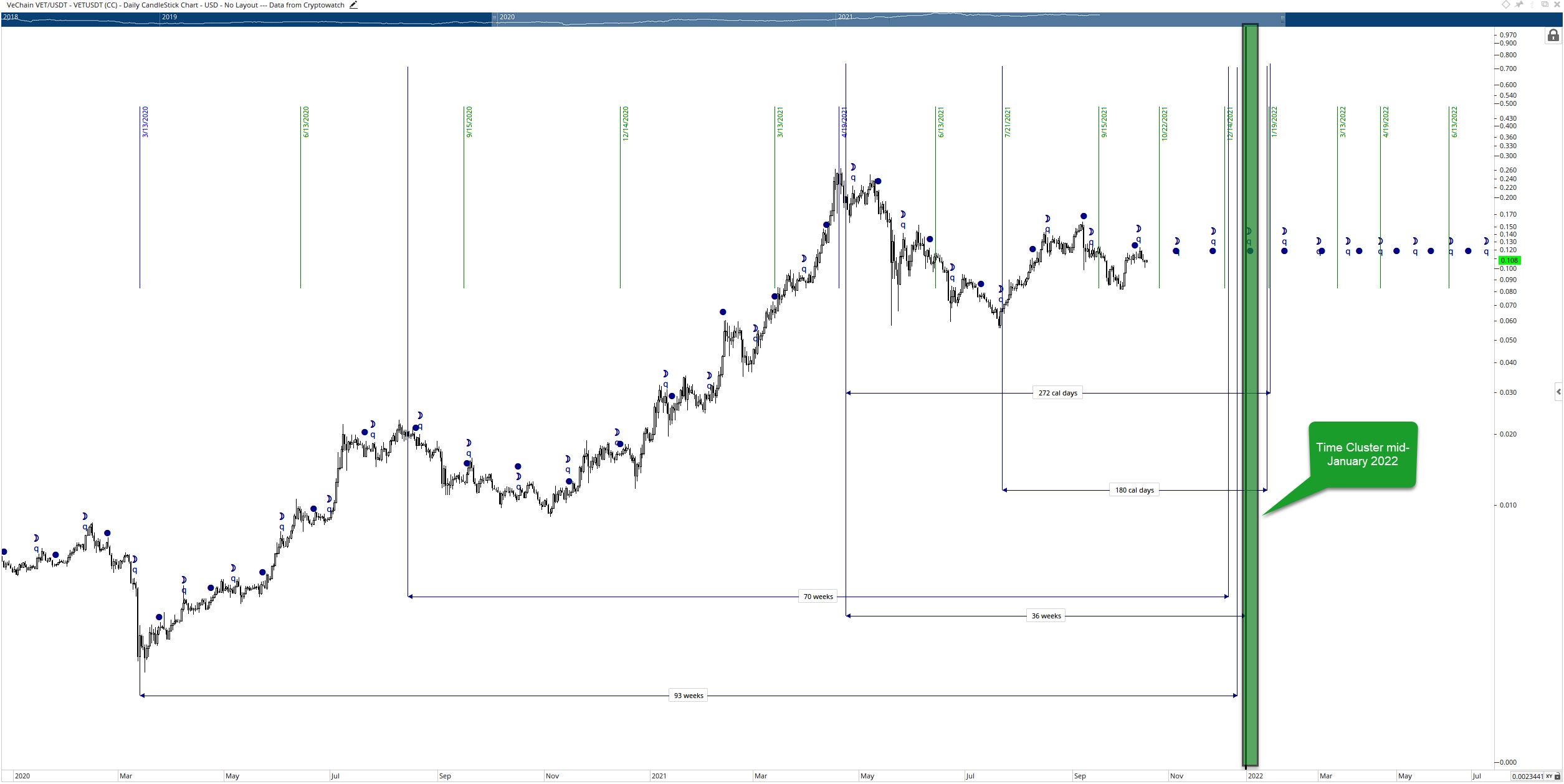 VET/USDT Time Clusters
In addition to projecting price levels in the future, we can do the same with time. For time cycle analysis, most of the analysis comes from Gann's work in major and minor time cycles and his use of astronomical cycles. The time studies are further supplemented with the Ichimoku Kinko Hyo system's Time Principle and Hurst Cycle Analysis. After completing this analysis, a massive cluster of cycles complete and coalesce in mid to late January 2022. Specifically, VeChain is projected to be at or near a new all-time high between January 14th and January 19th, 2022. The time analysis methods used are listed below:
Gann's Square of 9 dates.
Gann's Cycle of the Inner year day counts.
Gann's Master Square of 12 weekly counts.
Gann's Master Square of 12 monthly counts.
Ichimoku Monthly Kumo Twist
Lunar Phase (New and Full Moons)
Lunar Apogee and Perigee
Hurst Cycles
Gann's Minor Cycles (specifically the three-year cycle)
Putting it all together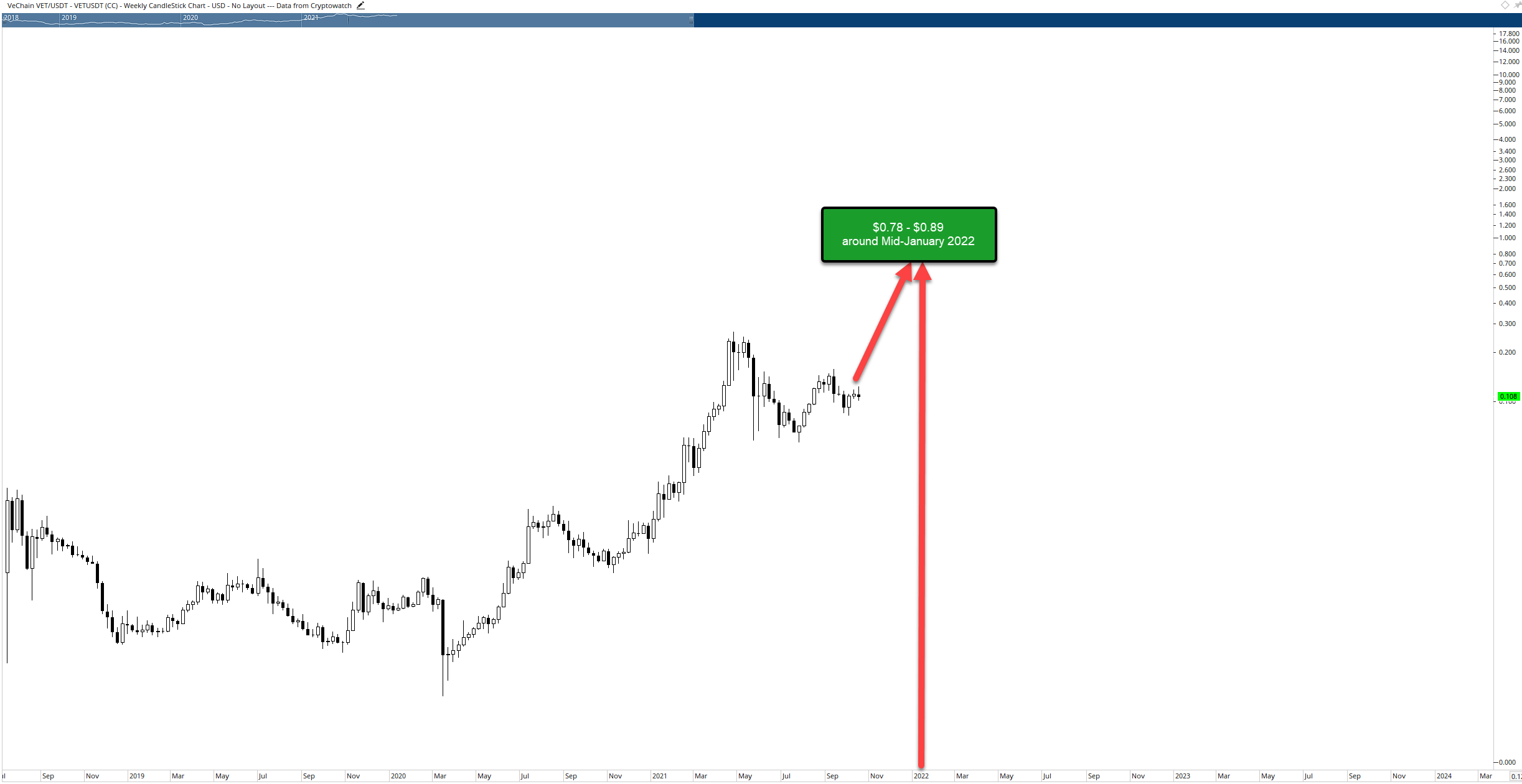 VET/USDT Time and Price
Combining time and price analysis is not meant to provide an exact VeChain price level or an exact date. Instead, the purpose of time and price projections is to give investors and traders an idea of a price range that may be important in the future and a corresponding date range of importance.
The conclusion is that a new all-time high could be found around mid-January 2022 within the price range of $0.78 to $0.89. Additionally, there is a high likelihood that a new minor swing low may appear during the first week of November 2021.
VeChain price eyes 20% upswing as VET bounces off the buy zone
VeChain price successfully tested the buy zone, extending from $0.097 to $0.11, triggering an uptrend.
A decisive close above $0.12 will confirm a rally and propel VET by 20% to $0.146.
A daily close below $0.095 will invalidate the bullish thesis by creating a lower low.
VeChain price has been on a downtrend for the past three weeks and is showing signs of a reversal. Clearing a crucial barrier that VET is currently grappling with will confirm the start of this uptrend.
VeChain price to reclaim old highs
VeChain price dropped 44% from $0.18 to $0.10 between November 9 and November 28. This correction pushed VET straight into the buy zone, stretching from $0.097 to $0.11. This area is where high probability reversals occur, and as seen, VeChain price has already rallied 16% to where it currently trades – $0.12.
As VET hovers around the 50% retracement level at $0.12, market participants should wait for a daily close above it to enter long. This move will help solidify the upswing and trigger a 20% ascent to $0.146.
Clearing this level with enough buying pressure to spare will see VeChain price make a run for the range high at $0.16. In some cases, VET could sweep the swing highs at $0.17 and $0.18 to collect liquidity resting above them.
Therefore, investors can expect anywhere between a 20% to 30% upswing for VET.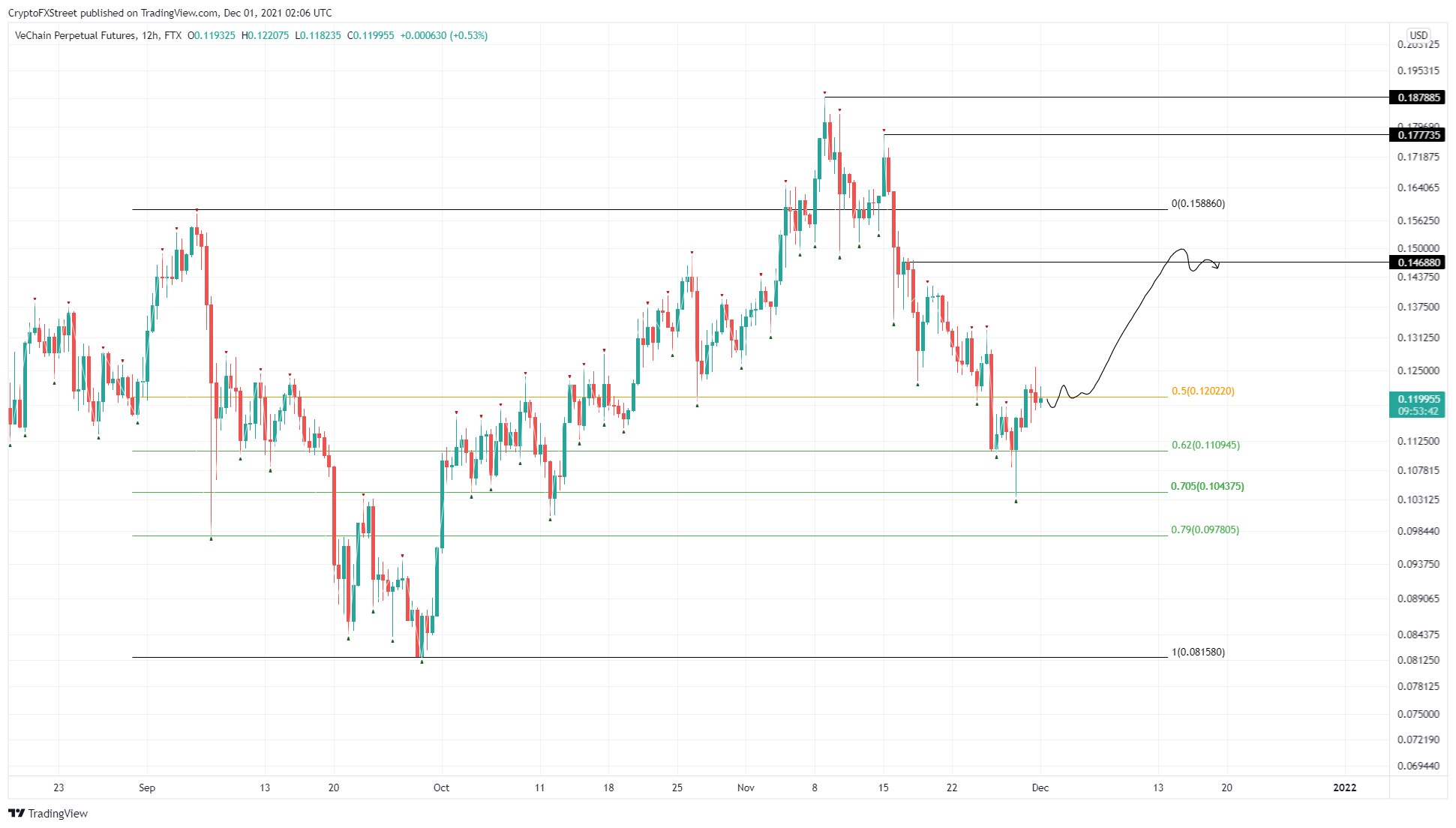 VET/USDT 12-hour chart
While things are looking decent for VeChain price, a retracement to $0.10 or $0.097 on VET would provide investors with another buying opportunity.
However, if VeChain price produces a daily close below the range low at $0.081, it will invalidate the bullish thesis.
'VeChain Thorsday' on 2 Dec, 2021 VeChain (VET) Grows and Attracts the Attention
VeChain Foundation Expressed: We are excited to introduce VeChain Thorsday! Each Thursday, we'll be hosting projects built on VeChainThor over on our Discord channel. Tune in weekly to hear what's happening, meet the community and win prizes! Keep your eyes peeled for our first session, coming soon.
Love Metaverse, NFTs & GameFi? Join the first 'VeChain Thorsday' on 2 Dec. at 8PM UTC & begin exploring projects built on VeChain.
Community Reaction: How about you take one of these days and explain how you need to sell 1.3 billion vet a quarter to pay for ongoing business expenses.
It makes sense, as VeChain grows and attracts the attention of more enterprises and governments, they really can't have individual team members getting into it with Twitter personalities. All communication needs to be streamlined, appropriate and well timed.
Could some supply of the currency be burned in the near future and be in more exchanges?
Just tell me how VET token is going to get advantage of all your partnership? Growth, if you read the white paper. It tells you everything you need to know.
What are VET's plans for 2022? Recently, VET has been sideways and there is no latest dynamic.
This is exactly what we need, more activity in the networks. It is time that we give it the importance that this great project really has, I hope that this year 2022 we will continue to see more activity with VET. I keep holding on until the end.
Always someone complaining, always something to complain about. Buy the coins with puppies and bunnies. Another good step for VET.
Very promising I liked the concept of the project but there has been very little communication from the team.
I rather see enterprise adoption then hype tweets. So, far no other blockchain tech companies that have the type of growth then VeChain, but I understand your opinion.
Not looking for hype tweets, however, VET governance is a public process, at least for now (voting for mainnet updates, gas fees). What happens if they lose public support and can't get important updates passed? Better to start re-shaping public perception sooner than later
This is a brilliant idea for more community participation and for everyone to get familiarised with projects built on VeChain.
VET runs POA, calls themselves an enterprise platform – has no major announcements, starts dipping into NFTs (crappy ones), Now Metaverse, and Sunny says Vechain 3.0 is DAO? Is this why Vechain foundation has been selling for Op costs? wheres the focus?
Is it going to benefit VET token? No? What a crypto?
You guys really need to hire an experienced community relations person.
News Source
Vechain price analysis: Recent upsurge drives price above $0.117 margin
Price has heightened up to $0.117.
Vechain price analysis shows uptrend.
Support is stable at $0.103 level.
The bulls are striving to make a comeback, and so far, their efforts have been productive as the price covered an upward movement today. As the sellers have been active, a constant downswing has been following the market for the past few weeks. There have been bullish intervals where the market followed an increasing trend, but the overall lead has been for the bears. But now, the bulls are participating again as the price increased up to $0.117 today.
VET/USD 1-day price chart: Bullish trend uplifts coin value up to $0.117 high
The one-day Vechain price analysis confirms that chances of recovery are rising for the bulls because of a sudden reversal in trends. The bears have been dominating the price charts for the past few weeks as more selling activity occurred. But today, strong resistance from the bullish side was observed as the price increased up to $0.117 height. The price is still lower than its moving average (MA) value which is $0.122.
As the price has been undergoing a continuous decline for the past few weeks, the Bollinger Bands average has dropped to $0.138. If we discuss the upper and lower values of the Bollinger Bands Indicator, then its upper end is standing at $0.174 while its lower back is at $0.103. The Relative Strength Index (RSI) score is now 38.89 after today's recovery.
Vechain price analysis: Price stumbles at $0.117 after facing rejection
The four hours Vechain price analysis predicts a bearish trend as a slight decline in VET/USD market value can be detected. Although the bulls controlled the market trends earlier, the latest development has been in the bearish direction. The price is now settling down at $0.117 as a result of the latest bearish strike. The short-term trending line is still moving ascendingly due to the previous uptrend. At the same time, the moving average value at present is $0.113.
The volatility is on the decreasing side, which means there is a high probability that an uptrend is coming ahead. The upper end of the Bollinger Bands Indicator is at $0.121, whereas its lower back is at $0.108. The RSI score is now 38.89, which is quite a neutral figure.
A strong selling trend has been dominating the market over the period of past two weeks, hence the bearish indication. The technical indicators chart is thus supporting the sellers by giving a bearish hint. Thirteen indicators are on the selling side; nine hands are on the neutral side, while only four are on the buying side.
The moving averages indicator is following a definite bearish trend because of the rise in selling activity. Currently, 11 hands are present on the selling position, three indicators are on the buying position, and one is on the neutral position. The oscillators predict a neutral trend as eight oscillators are on a neutral position, two oscillators are selling, and one is on the buying position.
Vechain price analysis conclusion
The one-day and four hours Vechain price analysis is predicting an uptrend for the day as the price followed an increasing movement. Green candlesticks are marking a recovery for the bulls as the price has heightened up to $0.117. We can expect a rise in buying momentum in the upcoming weeks if the buyers perform persistently.