Binance Coin Price Analysis: BNB is bullish for the next 24 hours
Binance Coin price analysis is bullish today.
BNB/USD broke above $460 after slight retracement yesterday.
Closest resistance at $510.
The price of Binance Coin is presently bullish, as previous resistance at $460 was breached today, pushing BNB higher. As a result, we expect BNB/USD to rise further over the next 24 hours.
Binance Coin price movement in the last 24 hours: Binance Coin breaks $460, continue higher in the next 24 hours.
The price of Binance Coin is presently bullish, as a recovery in its price was seen after yesterday's retracement, pushing the price back to higher prices. As a result, we expect BNB/USD to rise further over the next 24 hours. The market closed today at $470 for a gain of $9 in the last 24 hours.
A look at BNB/USD in the 4H chart shows that yesterday, the Binance Coin price dropped to a low of $450 and went into consolidation. Recovery was seen soon after, pushing the price higher and breaking above resistance at $460.
This week, however, the price broke above $460 and the 200 SMA (red). The break was supported by a rise in trading volume from yesterday's low of $124 million to today's high of $163 million. This has resulted in BNB/USD rising by close to 10% today, and we expect it to rise further over the next 24 hours.
The nearest resistance is seen at $510 (the price of Binance Coin on August 23), while support is found at $450. Over the day, we predict a break of this level will take place, pushing the price to $500.
BNB/USD 4-hour chart: BNB shows bullish movement
On the 4-hour chart, we can see bullish momentum still strong, indicating we will see further upside today.
Binance Coin's price action has shown considerable bullish momentum over the last several weeks. On October 1, BNB/USD rose to a new high of $450.
Binance Coin (BNB) recovered Monday, establishing a higher low of $395 before spiking Tuesday again. The previous swing high was broken, allowing BNB to reach the next resistance at $460.
Binance Coin fell to test the $440 prior swing high barrier as support, with a little reaction following. Any additional selling yesterday was not apparent, so BNB/USD went back on a bullish trend over the previous 24 hours.
Binance Coin Price Analysis: Conclusion and
The market of Binance Coin today is showing promise of further gains in the next 24 hours despite poor sentiment across cryptocurrencies. Several new records for cryptocurrency prices have the nearest been set over the past few weeks, but now the market is slowing down, with trading volumes dropping dramatically. This is likely to affect Binance Coin prices soon have the as well.
Binance Coin Price An Inch Away From Its ATH, Will BNB Price Hit $1K By EOY
After a slight flip from the bearish divergence, for a couple of days, the market appears to have fallen into the same well. Most of the altcoins including the dominant crypto Bitcoin are slumping down, yet trying hard to jump above $58K. However, after BTC & ETH, the 3rd largest crypto Binance coin is making a very drastic move without any noise and may hit its previous ATH well before both of them. 
BNB price always preferred to be low-key with massive volatility so that the asset diminishes the distance to the ATH. The asset was still attempting hard to recover the losses incurred from May, yet the September drain dragged the asset below $350. However, without wasting much time, the Binance coin initiated with a strong upward trajectory to ignite a bull run towards its ATH. 
BNB Price Analysis
Considering the recent moves made by the asset, one of the popular analysts believes the price to hit $750- $850 in the short-term. However, the potential target still remains around $1000 as predicted ever since the beginning of the bull run during the first half of 2021.
.
The upward trajectory can be clearly seen in the chart mentioned by the analyst ever since the trend flipped at the beginning of Q4. In an attempt to smash the ATH, the BNB price got rejected multiple times around $660. Yet sustained much above the 200-day MA and the uptrend line. And hence after a minute retest, the price may break through the newly formed resistance levels close to $660.
With a strong pierce through these levels, new ATH beyond $700 may be quite possible. Moreover, maintaining the current pace, the BNB price may also achieve the targets close to $800. And hence the yearly target for Binance Coin price still remains intact at $1000 and the possibilities of achieving appear to be more compared to BTC price or ETH price. 
Top Crypto Analyst Says Ethereum-Based DeFi Protocol Primed for Breakout As Binance Coin Targets New Record High
A popular crypto analyst is detailing a set of new predictions for two large-cap crypto assets.
The trader, pseudonymously known as Smart Contracter, tells his 184,000 Twitter followers that Binance Coin (BNB) will likely hit a new all-time high (ATH) well before Bitcoin (BTC) surges above its current record high of $69,044.
"BNB [is] going to send to new ATH from here, probably going to hit it long before BTC does."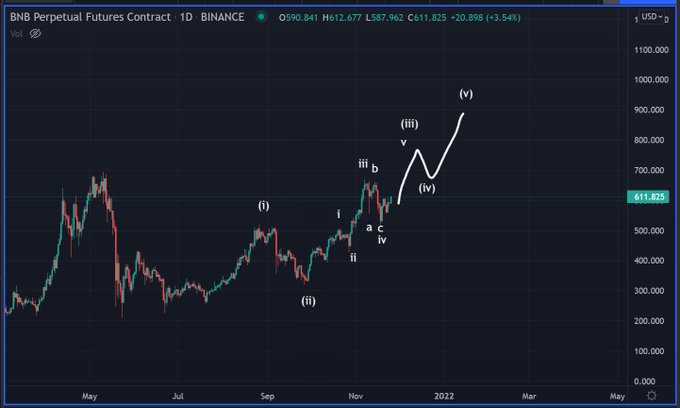 Binance Coin, which is the native crypto asset of the Binance ecosystem, hit its current record high of around $687 in May of 2021 and is trading at $636 at time of writing.
The trader is also bullish on the core crypto asset of the Ethereum-based decentralized finance protocol Curve DAO Token (CRV).
Smart Contracter says that when paired against Bitcoin, CRV appears primed to break out from a 400-day range.
"400-day CRV breakout on the BTC pair underway. I'm ready for the fireworks."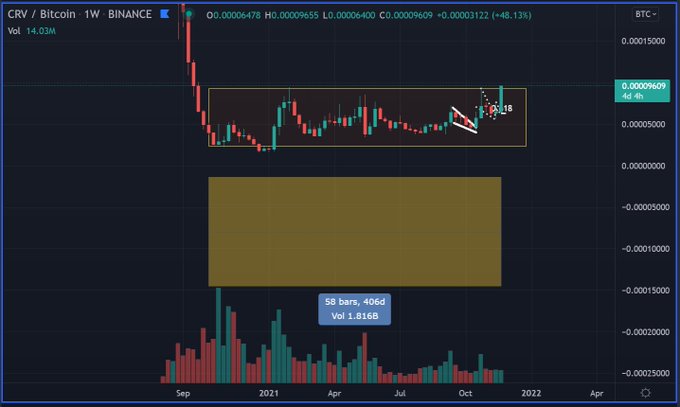 CRV is trading at 0.00009613 BTC ($5.65) at the time of writing.
Smart Contracter says that the DeFi token is likely on the verge of surging on the Bitcoin chart after an accumulation phase that had lasted over 365 days.
"CRV daily bull flag breakout on the BTC pair plus 12 month+ accumulation. Valhalla awaits."
Check Price Action
Floki Inu ($FLOKI) Community Uses Petition to Request Binance Listing
The community behind the meme-inspired cryptocurrency Floki Inu ($FLOKI) has started a petition asking leading cryptocurrency trading platform Binance for a listing on it. Getting listed on such an exchange would significantly improve the cryptocurrency's liquidity.
Through a petition created on Change.org that has already gathered over 14,000 signatures, the cryptocurrency's community has pointed out that in just four months, $FLOKI is one of the top 70 cryptocurrencies by market capitalization, with a market cap of $2.6 billion.
The petition adds that the cryptocurrency has grown to have over 310,000 holders and a trading volume of over $280 million, despite not being listed on any major centralized exchange like Coinbase or Binance.
Notably, the cryptocurrency's rival meme-inspired crypto Shiba Inu ($SHIB), has been listed on Binance, Coinbase, Huobi, KuCoin, Bitfinex, and other major cryptocurrency trading platforms. SHIB has, however, resorted to a petition to be listed on another exchange, the commission-free trading platform Robinhood. That petition has garnered over 500,000 signatures.
In its petition, Floki mentioned its "super aggressive marketing campaigns worldwide" which it claims is helping it become a "more recognized cryptocurrency compared to many cryptocurrencies in the top 10 [by market capitalization]."
As reported, FLOKI's price surged last month after it launched a campaign on London's public transport system with the slogan "Missed Doge? Get Floki" in a bid to "legitimize" the cryptocurrency and increase the "confidence of the average consumer" to buy it, according to the project's head of marketing, which went by Sabre.
That campaign triggered a cryptocurrency ad crackdown that saw London's transport authority, Transport for London, reveal concerns about the ads as these were promoting a little-known, unregulated financial asset that they claim could be open to manipulation such as pump-and-dump schemes. Floki Inu's team hit back, saying the crackdown was "an attack against cryptocurrency and against the people's freedom of choice."
Notably, the Floki Inu community has also created a petition to get listed on the Nasdaq-listed cryptocurrency trading platform Coinbase. That petition has been signed by over 30,000 users at press time.