Powerful reversal pattern will launch Dogecoin to $0.43
Dogecoin price looks for a reversal and massive drive higher.
Inverse head-and-shoulders pattern at the bottom of a swing often triggers explosive movement higher.
Point and Figure charts clear up a lot of the consolidation and noise associated with candlestick charts, providing more clear price action structure.
Dogecoin price is ready for a strong rebound as pent-up demand and a return of bulls come into the market. However, a powerful reversal pattern is present and could trigger one of the most explosive moves higher that Dogecoin has seen in the past six months.
Dogecoin inverse head-and-shoulder setup could generate a 100% gain
Dogecoin price has one of the most sought-after bullish reversal patterns in technical analysis: the inverse head-and-shoulder pattern. The strength of this pattern is exacerbated by the location of its development: the bottom of swing low. As a result, bulls will need to push Dogecoin to a close above the neckline at $0.27, but from there, sustained price action is likely to continue.
Utilizing the Fibonacci expansion tool projects a target zone of $0.43. The horizontal profit method in Point and Figure analysis points to $0.42 and compliments the Fibonacci expansion zone. Thus, there is little resistance to stop Dogecoin price from gaining nearly 100% on the next breakout. Some profit-taking may occur at the 161.8% Fibonacci expansion at $0.35, but the pent-up demand and momentum accompanying Dogecoin may make $0.35 a moot price level.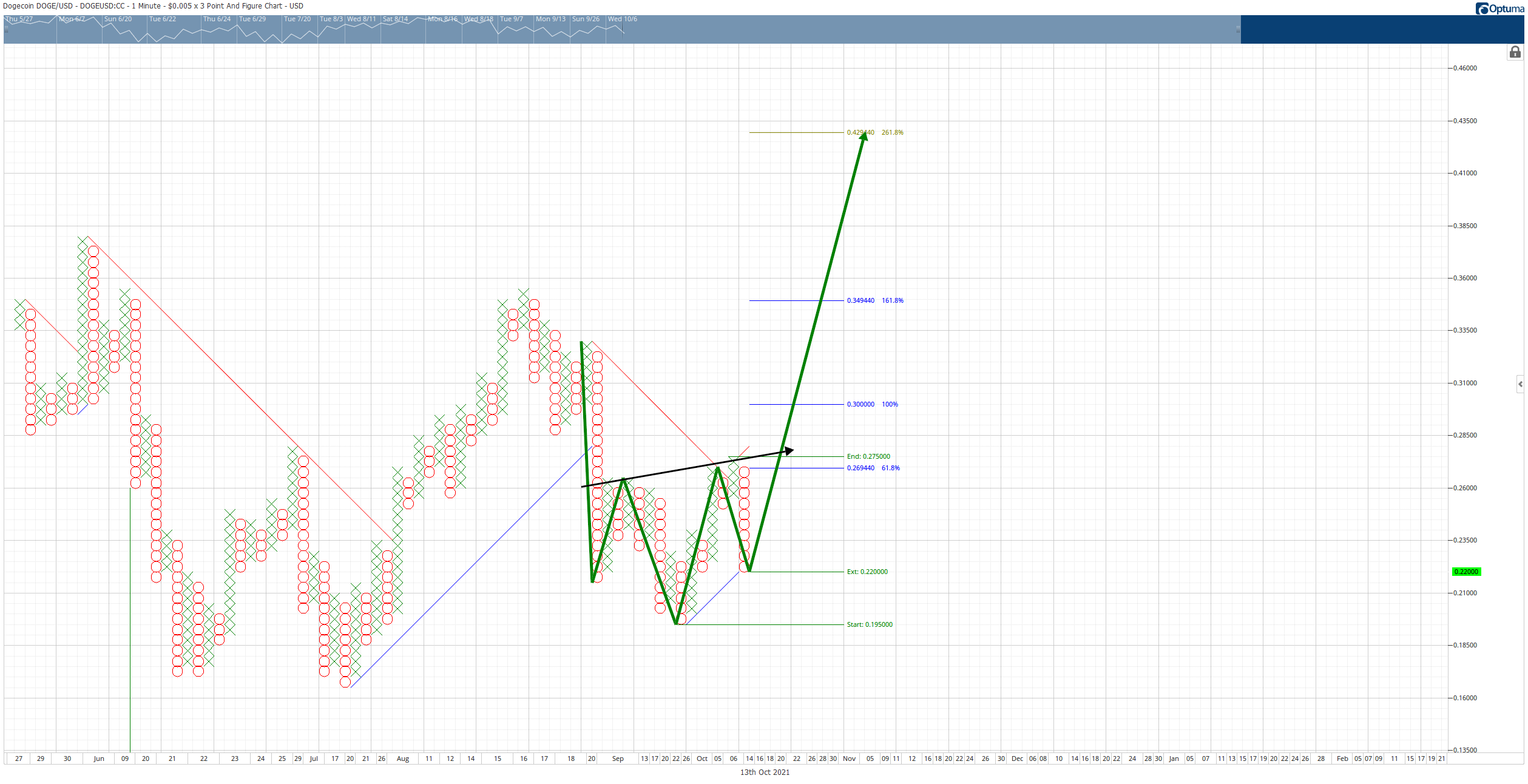 DOGE/USDT $0.005/3-box reversal Point and Figure Chart
This bullish outlook can be invalid by breaching below the head of the inverse head-and-shoulder pattern at $0.195. A break below that level will likely generate strong selling that could target a high volume node at the $0.13 value area. Below that, it's a quick trip to $0.08.
Dogecoin price could see 400% gains if DOGE holders band together
Dogecoin price is moving sideways after a breakout from a descending triangle pattern.
A potential 400% move to $1.08 will face obstacles up to $0.35, beyond which, DOGE should rally swiftly.
On-chain metrics are hinting at an increase in large transactions and a paradigm shift in the nature of holders.
Dogecoin price is at a crucial tipping point in its evolution with the potential for it to trigger a massive volatile move. Hurdles exist, however, that will make it difficult to reach its intended target, of a new all-time high.
Dogecoin price at make or break levels
Dogecoin price has set up three lower highs and two higher lows, which when connected using trend lines reveals a descending triangle. This technical formation forecasts a 361% upswing to $1.09, obtained by adding the distance between the first swing high and low to the breakout point at $0.24.
DOGE breached the triangle's hypotenuse on October 18 at $0.24. Since this point, the meme coin has struggled to move higher but failed.
Interestingly, Dogecoin price has been moving sideways and has retested the $0.193 support level thrice since August 3 with the latest revisit on November 26. This created a triple-tap setup, a bullish technical formation that forecasts a reversal in the trend.
Since Shiba Inu has stolen DOGE's spotlight, things have been calm and consolidative for the original meme coin. If the buying pressure increases, however, pushing Dogecoin price to pierce through the $0.29 level to $0.35, and it produces a daily close above it, it will trigger an uptrend.
In this scenario, it will allow market makers to collect the sell-stop liquidity resting above $0.35. This development will allow DOGE to create a platform for the next leg-up at $0.44.
Clearing this hurdle will open the path to retest the current all-time high for Dogecoin price at $0.74. According to this prediction, DOGE could extend its bull rally to tag $1.09, its intended target. Due to the recent downswing, this upswing will represent a 400% gain from the current position at $0.22.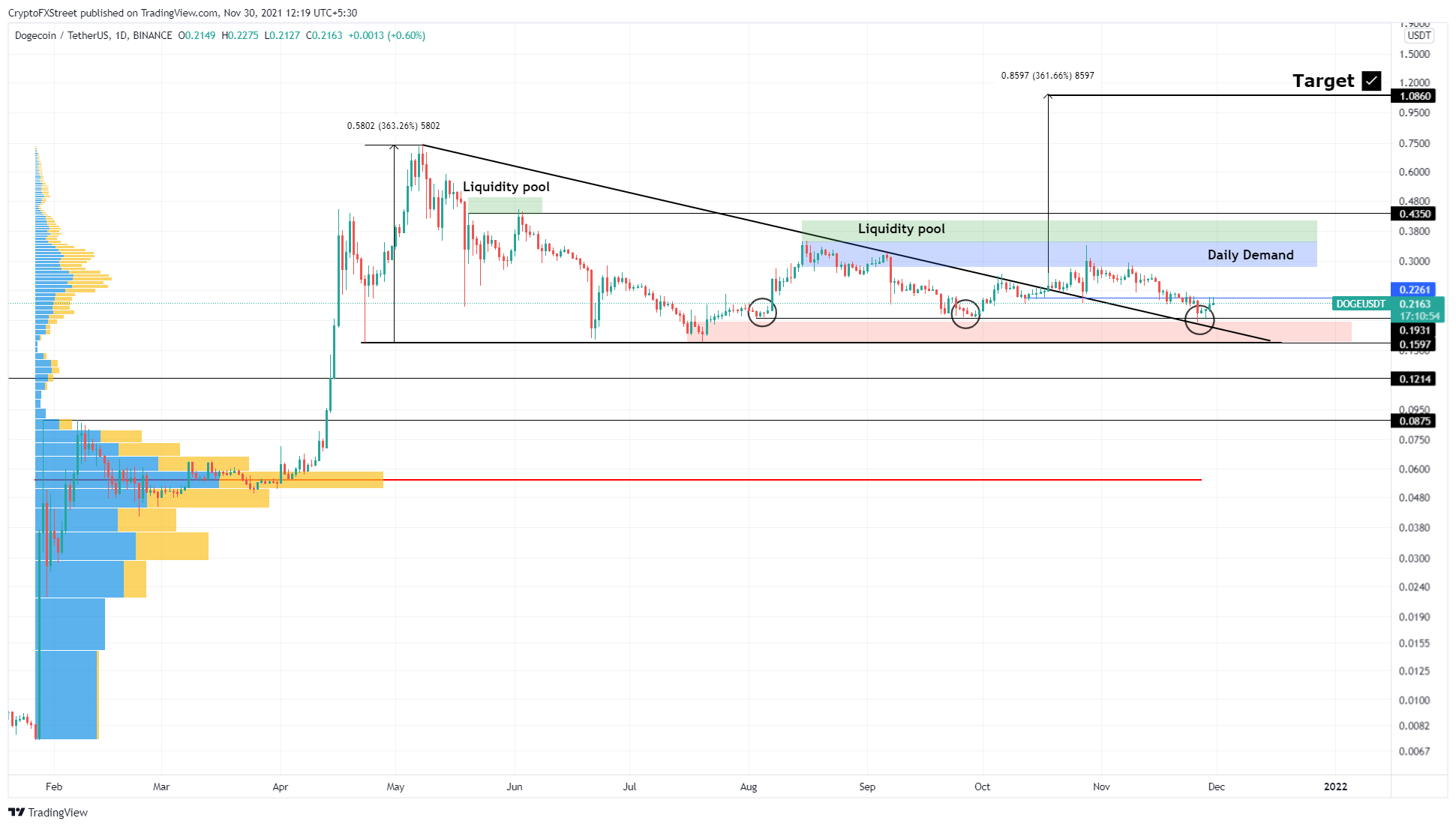 DOGE/USDT 1-day chart
As mentioned earlier, Shiba Inu seems to have siphoned off the hype, investors, and capital from Dogecoin, affecting its price, but things seem to be reverting, with some on-chain metrics suggesting a flip of the narrative is possible.
On-chain metrics predict a bright future
Looking at the transaction data tells a story about the nature of investors. Large transactions track transfers that are $100,000 or more. An increase in this metric serves as a proxy for institutions and their investment thesis.
Over the past six months, the number of such transactions has increased by 70.7% from 1,570 to 2,680. This uptick in the metric suggests that high networth investors are starting to take interest in DOGE at the current price levels.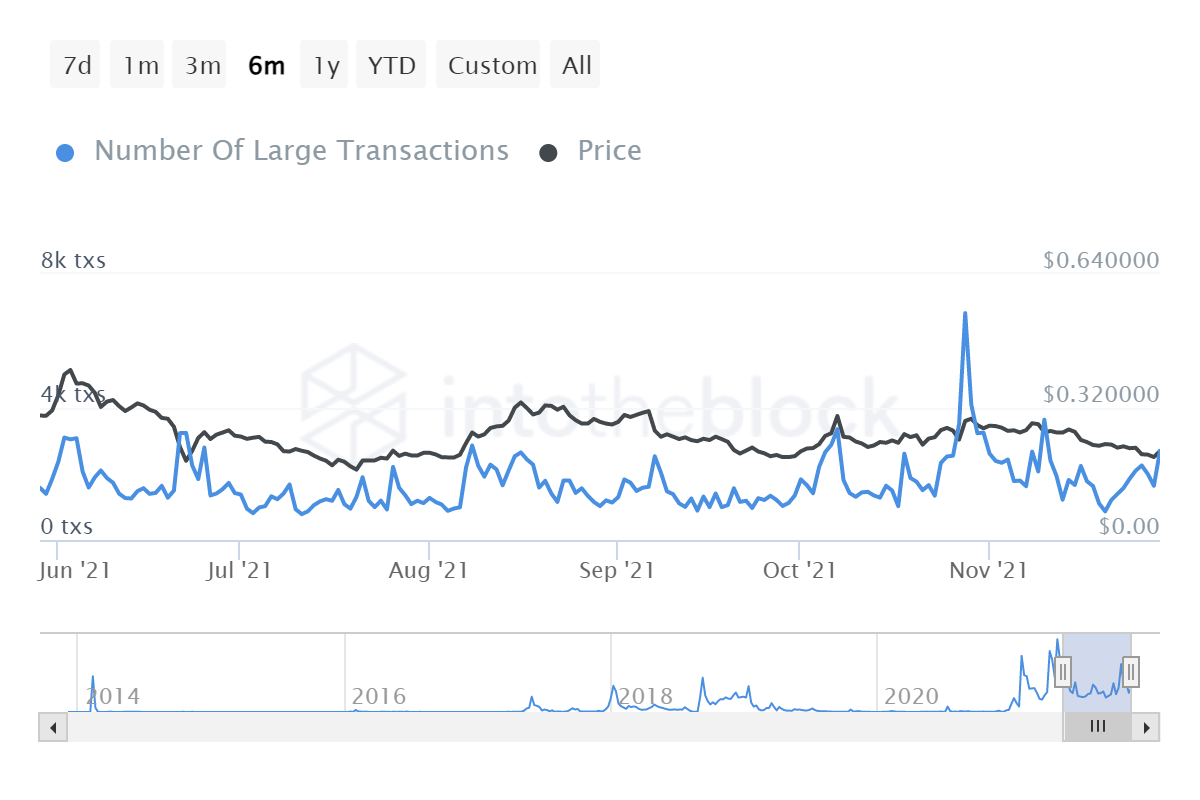 DOGE large transaction chart
While the above metric provides an insight into the potential investments, IntoTheBlock's Global In/Out of the Money (GIOM) model shows where significant blockades are present. This fundamental index reveals that the DOGE will face formidable challenges ranging from $0.30 to $0.34. Here roughly 500,000 addresses that purchased 47 billion DOGE are "Out of the Money" and are likely to sell to breakeven, increasing the selling pressure.
If buyers overcome this uptick in sell-side momentum and produce a daily close above $0.35, however, it will clear the daily demand mentioned above. This move will also open the path up for market makers to collect liquidity.
All in all, this on-chain metric also promotes a bullish idea for DOGE with a contingency that the bullish momentum pushes the meme coin above $0.35.
While the on-chain metrics described above serve as a tailwind for the bullish thesis, the new addresses joining the network add a dent to it. This metric shows that new users joining the Dogecoin network over the past six months have declined by 34.7% from 34,320 to 22,380.
This reduction indicates that despite the capital inflows observed in the large transaction metric, a majority of investors are not yet interested in DOGE. Hence, this divergence between the new addresses and the large transaction chart paints indecision.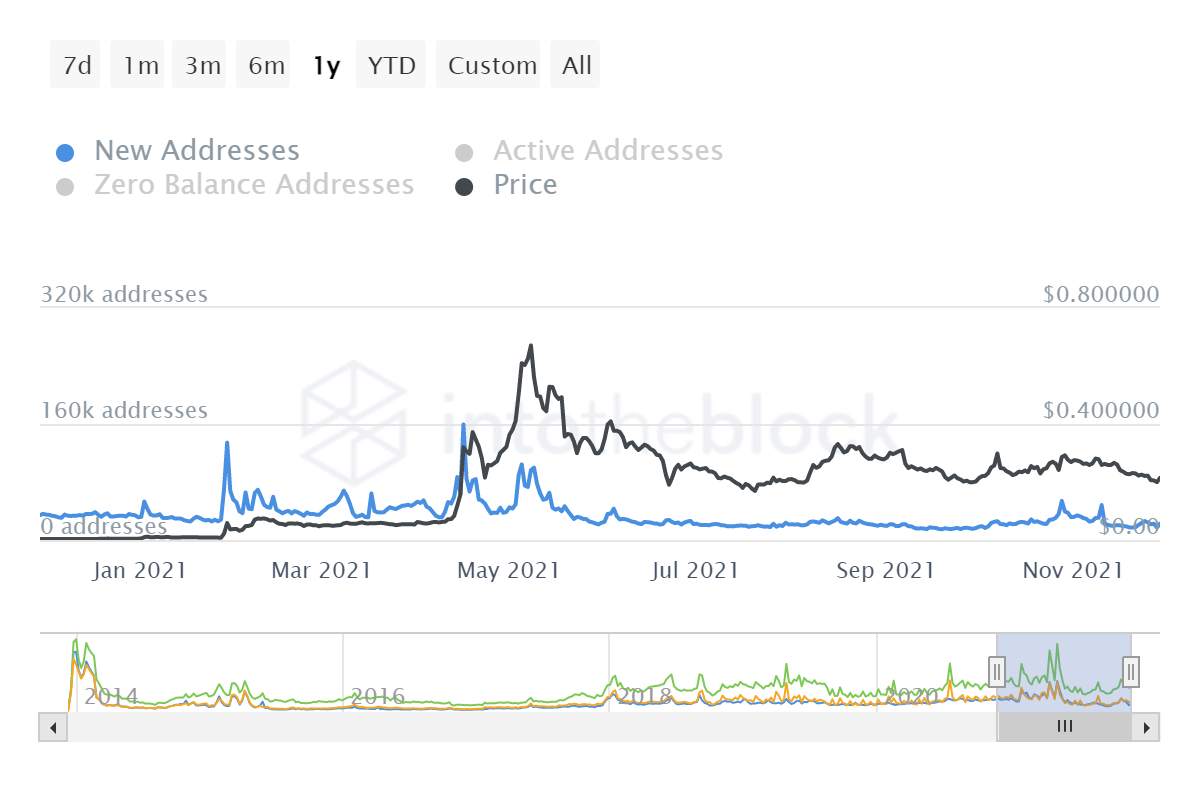 DOGE new addresses chart
The discrepancy noticed above can be explained in the holders' chart which shows a paradigm shift. In November 2020, the composition of DOGE investors was 74.2% holders (1+ years), 18.6% Cruisers (1 month to 1 year) and 7.2% traders (less than a month). As of November 2021, this composition has changed and shows that cruisers are currently dominating with a 50.7% stake, while holders have dropped to 42.1%.
This drastic decrease in the long-term holders suggests that these investors have been distributing their holdings over the past year ie., indicating increased sell-side pressure, which adds credence to DOGE's lackluster performance over the period.
In summary, if long-term holders stop offloading their DOGE holdings, investors can expect Dogecoin price to start inflating.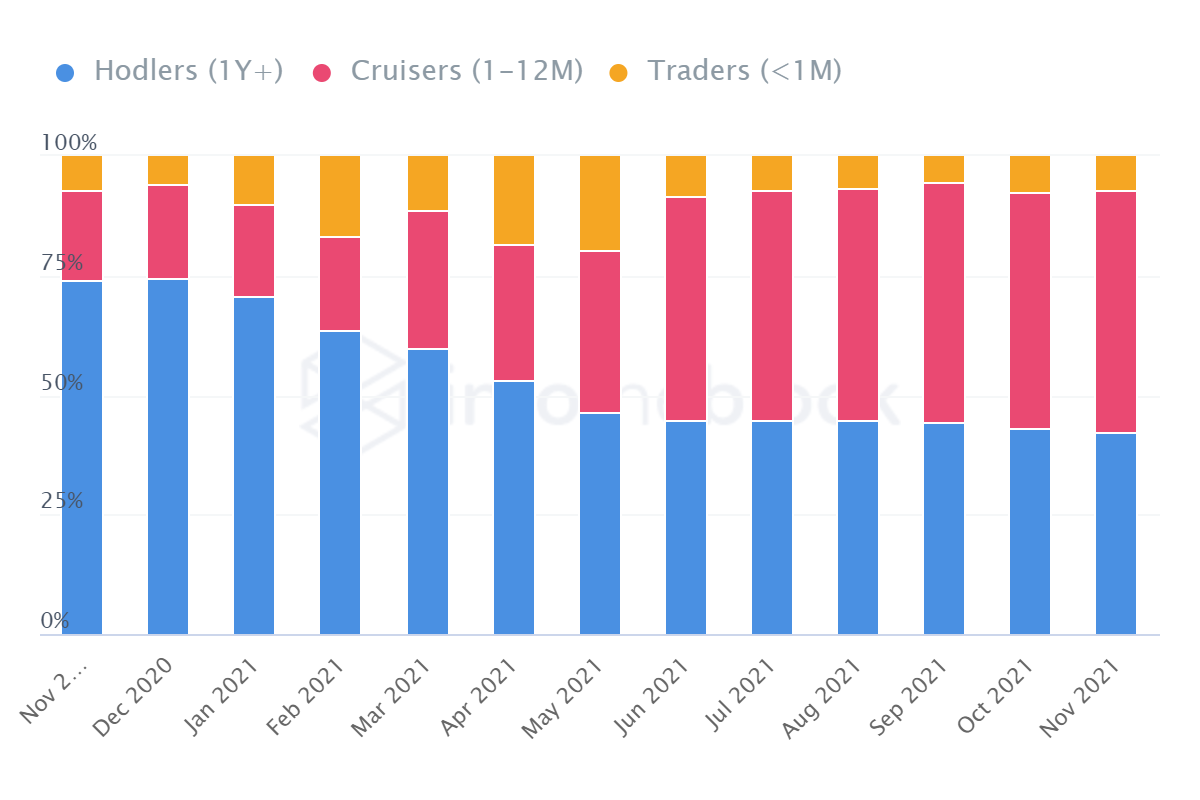 DOGE Ownership chart
On the other hand, if the selling pressure increases, knocking Dogecoin price below the $0.193 support level, it will lead to a retest of the descending triangle's base at $0.16. If the bears produce a daily candlestick below this crucial barrier, it will open up DOGE to a massive 45% crash to $0.09, with a potential pitstop at $0.12.
Ethereum and Dogecoin Primed for Breakouts As Crypto Markets Gear Up for Bullish December, According to Analyst Justin Bennett
Crypto analyst Justin Bennett says that December could bring rallies to the digital asset markets, with Ethereum (ETH) and Dogecoin (DOGE) potentially at the forefront.
The analyst tells his 91,000 Twitter followers that the dollar index (DXY), which compares the USD to a basket of other fiat currencies, is flashing a bullish signal for the crypto markets.
A weaker DXY often signals higher prices for many assets. Bennett notes that DXY may have just had a failed breakout, and could now be facing downward momentum.
"DXY looks good for a crypto rally heading into December.
Friday's close back inside this channel indicates weakness. Now for a close below 95.80.
Let's see."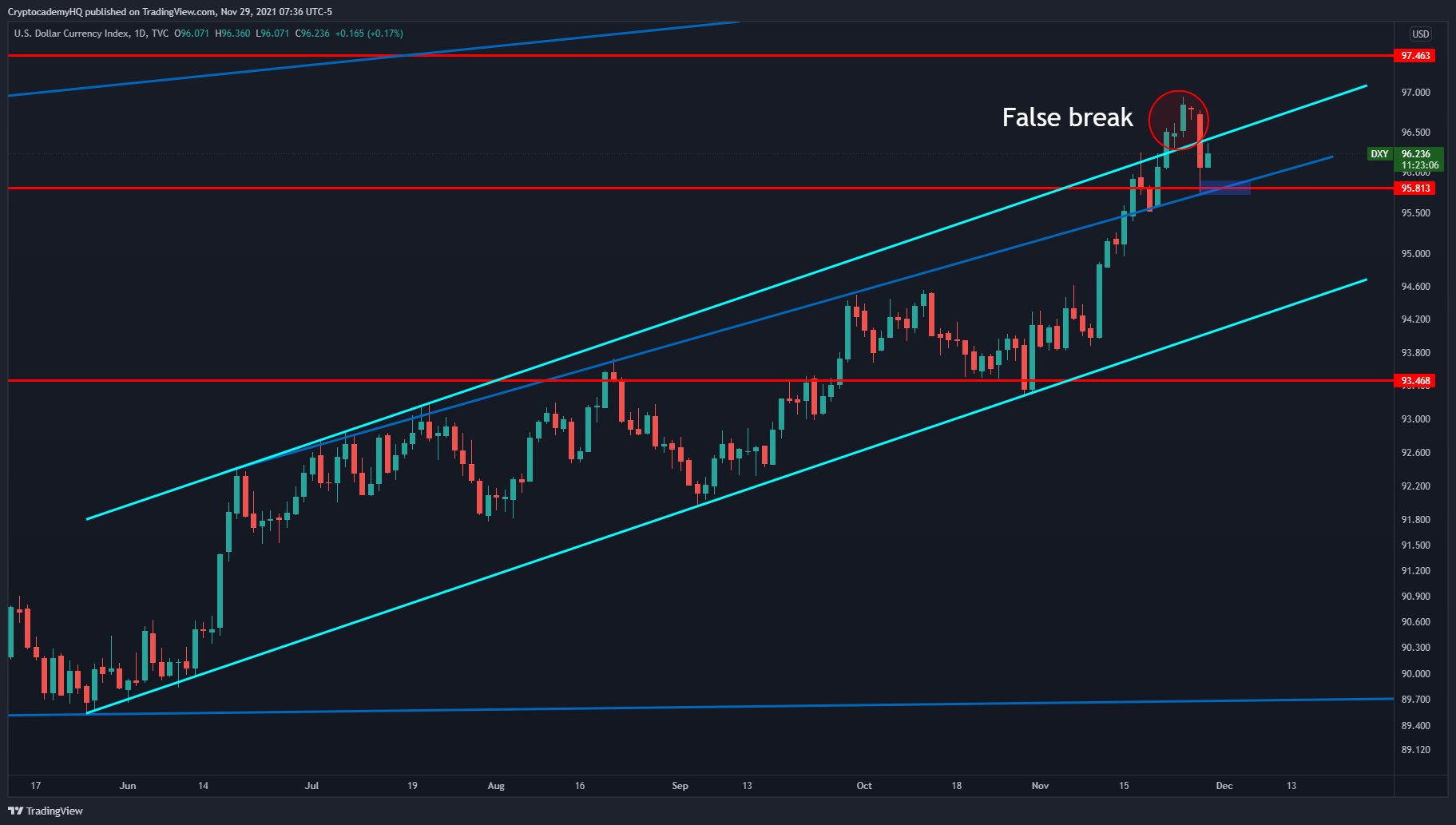 Bennett also has his eye on the chart for the total market cap of crypto (TOTAL). According to him, TOTAL is nearing the end of a large bullish descending wedge. He also notes a divergence between the rising relative strength index (RSI) and the downward price movement. A rising RSI during a downtrend is often interpreted as a hint of a bullish reversal.
"TOTAL falling wedge and bullish divergence developing on the intraday charts.
Something to keep an eye on."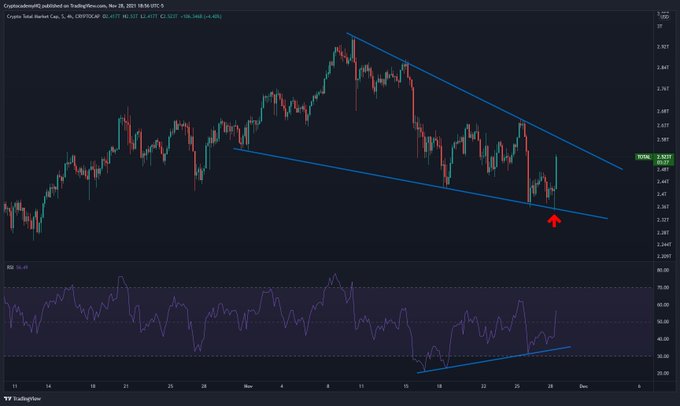 Looking at Ethereum, the analyst says that next month looks good for the world's second-largest crypto. Bennett says ETH is "poised to do well in December," and could already be jostling for a breakout, as long as it sees more volume.
"ETH approaching a breakout level.
Just add volume."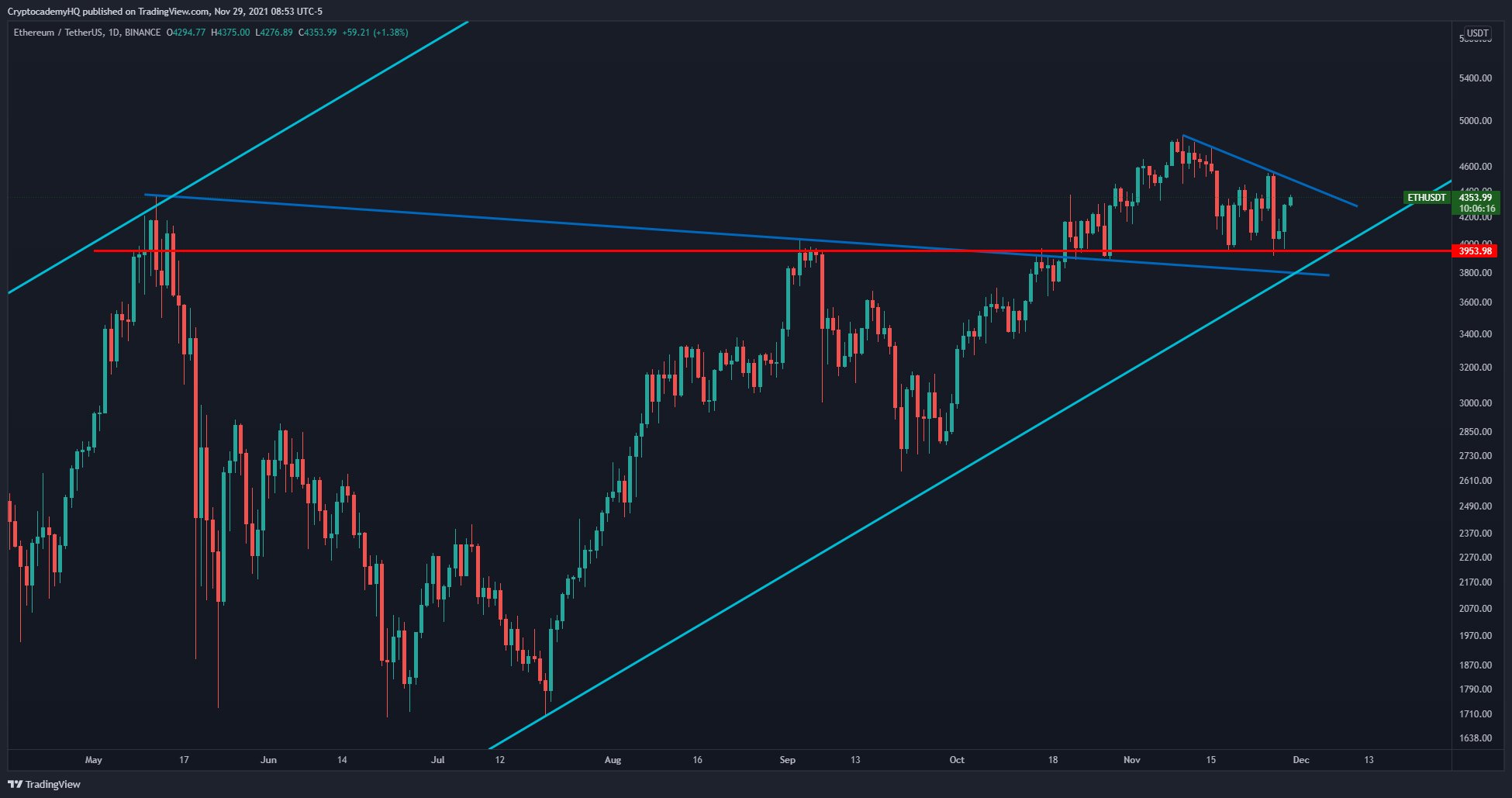 Also joining the rallies, according to Bennett, is leading memecoin Dogecoin (DOGE). He says DOGE is in the middle of a breakout, with its first key resistance at $0.25, and a final resistance level at all-time highs above $0.75.
"DOGE is breaking out."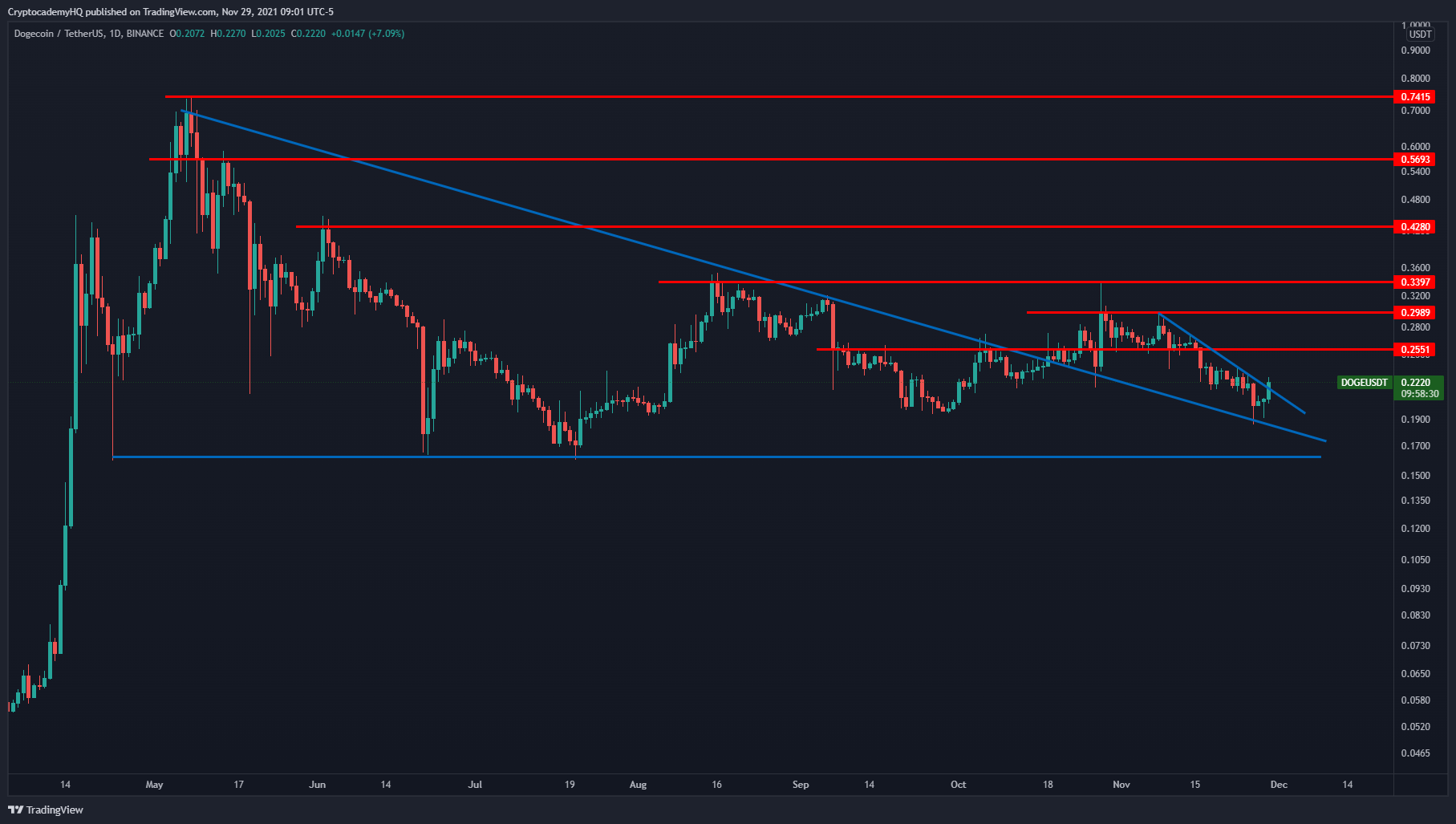 Binance Exchange Resumes Dogecoin (DOGE) Deposit and Withdrawal
Dogecoin deposit and withdrawals and now opened on Binance exchange.
All the deposits and withdrawal crises have been resolved on Binance.
Binance team just announced that they have now resumed all Dogecoin deposits and withdrawals services on their exchange. According to them, they have resolved all the disheartening network problems that occurred during their DOGE wallet upgrade with Dogecoin Core maintainers. This means that DOGE holders can now experience a new level of Dogecoin-related services from today.
After the quarrel between musk and cz, Binance announced today that all the problems have been resolved, and DOGE has resumed deposits and withdrawals. 1634 users have received duplicate transactions. https://t.co/kF73YT75Mi— Wu Blockchain (@WuBlockchain) November 29, 2021
Citing from the report, as soon as Binance exchange and Dogecoin Core maintainers resolved the problem, more than 1634 users received a duplicate DOGE transaction in their wallets.
In a separate announcement, the Binance team explained that the issue wasn't from their side and moreover, they never intended for such an unforeseen issue to occur. Additionally, the team even gave quick scenarios on some factors that could lead to this kind of issue.
Your platform had listed DOGE all the way back in 2019, at v1.14.0 2) had transactions stuck in the wallet 3) had upgraded the wallet to v1.14.2 4) and then updated to v1.14.5 — you can have an issue.
The announcement further assured users that Binance and the Dogecoin Core team will work together to diagnose, solve, and prevent similar issues from occurring in the future. Furthermore, this Dogecoin withdrawal issue caused a slight clash between Elon Musk and Binance CZ.