Ripple and British firm collaborating in country's futuristic CBDC project
Ripple has joined the board of the UK's Digital Pound Foundation. The foundation is pushing for the adoption of a digital pound in England.
The Bank of England recognizes that a Central Bank Digital Currency (CBDC) will enhance financial access. The electronic pound is, therefore, the cornerstone of an equitable financial system in the UK.
Ripple says it has agreed to join the Digital Pound Foundation's (DPF) board. DPF is a non-profit that's pursuing the creation and adoption of the electronic pound in England.
The firms' policy chief, Susan Friedman, will sit on the DPF board. Ripple's joining of the foundation adds to the engagements it's having with different nations on CBDCs. In those engagements, it has been supporting its central banks with its technical and management expertise
Ripple acknowledges the UK's role in spearheading prudent advancement of the digital assets space. Consequently, it views the latter's pursuit of the digital pound as a rational conclusion of those efforts.
Ripple backs the digital pound
Friedman has expressed Ripple's excitement at the new working relationship. She reiterated that her company was happy to support DPF in creating and executing the digital pound.
Again, she's confident that DPF will assist Britain in achieving a long-term all-embracing settlement system.
The digital pound will anchor the UK's push for an inventive digital society. Collaboration with other digital assets will guarantee the nation's place at the apex of the evolving digital ecosystem.
Today, many central banks are experimenting with sovereign-issued cryptocurrencies. These include CBDCs.
The Bank of England (BOE) hasn't lagged in those endeavors too. It's working to find solutions to the challenges of creating, adopting, and managing the electronic pound.
BOE envisions the e-pound as the key to increasing households' and businesses' access to funds. It also recognizes the significance of the advancing digital payments sector. 
In it, the UK can look forward to a settlement system that's capable and timely, and affordable. Such a system isn't only viable but also has wide application.
There's a need for broader collaboration to get there, though. The foundation understands this fact, and that's why it's seeking the input of other players in this space. It holds that such associations will guarantee UKs lead as the hub of financial innovation.
Ripple's expertise in CBDC development
As they continue adopting CBDCs, central banks must grapple with several factors that may impact these projects. These include privacy, interoperability, and independence. The three are central to the banks moving funds in an affordable, dependable and timely manner.
Here's where Ripple comes in. Its expertise in the creation and application of CBDCs creation and is a boon for the e-pound project.
Last month, Ripple said it was teaming up with Bhutan's Central Bank, the Royal Monetary Authority (RMA), in a similar project. In the deal, the former would help RMA test an international and bulk settlements system for its e-Ngultrum.
The digital Ngultrum is Bhutan's CBDC version of its fiat currency. Ripple is supplying the Blockchain infrastructure besides the CBDC solution for this project.
Bhutan banks on this partnership to boost digital payments. It'll also strengthen its efforts towards increasing financial inclusion. Moreover, it'll help the nation maintain its pledge to sustainability.
Today, Bhutan remains the world's only carbon-neutral country. Ripple's CBDC solution is also carbon neutral. As such, it is the perfect fit for Bhutan's e-payments and sustainability goals.
XRP Lawsuit: The DPP Dispute is Back, Here's How It May Ravage Ripple's Former Win

The latest update in the XRP lawsuit saw both parties submit supplemental briefs on Deliberative Process Privilege (DPP) in the Defendant's Motion to Compel Discovery, referring to the Second Circuit's decision in the case of Natural Resources Defense Council v. EPA (NRDC). The NRDC case's verdict has restructured the scope of DPP, further gravitating the XRP lawsuit in favour of the SEC, particularly over the documents submitted for in camera review.
SEC Seeks DPP Yet Again
SEC noted that according to the NRDC decision, the agency is not required to connect its records to a "single, discrete decision" to seek protection under DPP. Rather, the decision clarified that the SEC has the right to identify a broader "decisionmaking process" to which the records relate, instead of limiting it to an identified decision. Therefore, the plaintiff in the XRP lawsuit may now be allowed to seek protection for the three additional documents that were submitted by the SEC for in-camera review, given they fall under "consultative process".
"Because all of the withheld documents are connected to an identified decision or decisionmaking process, the DPP protects them all from disclosure.", wrote the SEC.
#XRPCommunity #SECGov v. #Ripple #XRP SEC files Supplemental Briefing regarding Deliberative Process Privilegehttps://t.co/yMxOhmcRgFhttps://t.co/CmwHA1xFH4— James K. Filan 🇺🇸🇮🇪 (@FilanLaw) December 8, 2021
Additionally, the SEC asserted that according to the NRDC decision, DPP is also applied to "messaging records," defined as "records relating to an agency's decision about how to communicate its policies to people outside the agency". The plaintiff's internal communications about content of speeches and other public-facing communications are "messaging records", and henceforth, protected by the DPP. Furthermore, they need not be related to "a finalized policy or to one not yet conclusively determined."
"An agency "exercises 'policy-oriented judgment' when communicating its policies to people outside the agency" and therefore those "records reflecting deliberations—as opposed to merely descriptive discussions—regarding those decisions are protected by the [DPP]."", the SEC added.
Ripple Contends DPP Protection Appeal by the SEC
Ripple contended DPP protection for the SEC, arguing that according to the NRDC decision, government agencies, such as the SEC in the XRP lawsuit are responsible for connecting a withheld document to a "specific decision" or "specific decision making process", which the SEC has failed to accomplish.
#XRPCommunity #SECGov v. #Ripple #XRP Ripple files Supplemental Briefing regarding Deliberative Process Privilege https://t.co/QcVFVCUHCc— James K. Filan 🇺🇸🇮🇪 (@FilanLaw) December 8, 2021
According to Ripple, the SEC never stated that it had commenced a policy process addressing whether to regulate digital assets as securities. Henceforth, the defendants claimed that the plaintiff has failed to identify any definable decision or decision making making in the first place, leaving it ineligible for protection under the updated scope of DPP.
"The SEC's theory of this case has been that digital assets like XRP are plainly securities under 75-year-old judicial precedent, rendering policy-making unnecessary.", wrote Ripple.
Macro Guru Raoul Pal Owns XRP, Says Crypto Asset Has Phenomenal Risk-Reward Despite Ripple Lawsuit
Real Vision chief executive Raoul Pal is explaining why he is a holder of the XRP and how he sees the crypto asset's risk/reward ratio.
The former Goldman Sachs executive says in a new interview with Thinking Crypto that he bought a position in XRP about a year ago, citing the U.S. Securities and Exchange Commission's (SEC) lawsuit against the payments company Ripple as a primary factor.
"I bought it for the reason that A) It does have use cases and it is being used, and B) The court case is a phenomenal risk/reward.
It got heavily discounted in the price, and then I looked at it and thought, 'Well, what's it going to do? Fall 100% from here to zero? But if it gets solved, it's [up] 10x.' And I'm like, 'Well that's a no-brainer.' Why would you not take a 10-1 risk/reward that has a catalyst around it?"
The SEC filed charges against Ripple last December alleging that the San Francisco-based payments company sold XRP as an unregistered security during its launch. The regulator alleges that XRP remains a security to this day.
Pal says his XRP bet hinges entirely on the court case.
"It's all about this court case, right?
Because the price can't go anywhere – it got delisted from everywhere. It can't go anywhere until it's resolved, because the richest, most powerful country on Earth is not allowed easily to invest in it."
Ripple chief executive Brad Garlinghouse said last month that he was hopeful the legal battle would be resolved next year.
XRP is trading at $0.814366 at time of writing and is down -0.86% in the past 24 hours.
XRP constricts before breaking out to $1
XRP price begins to move above the consolidation it has experienced post flash crash.
A key test of the $.90 value area would be the final hurdle before XRP hit $1.
Bullish entry setup is now present on XRP's Point and Figure chart.
XRP price, like almost every other cryptocurrency, showed strong signs of recovery after the shock of this past Saturday's flash crash wore off. The past three days of congestion after a strong rally from the lows may begin a new uptrend for XRP.
XRP price ready to test $0.90, $1.00 next
XRP price has held a strong level of support near the $0.83 value area every since Sunday. Concerns about further downside pressure remain, but the bullish behavior of XRP during the NY lunch hour showed evidence of some substantial buying volume.
There is a hypothetical long trade opportunity on the $0.05/3-box reversal Point and Figure XRP price chart. The entry is a buy stop at $1.05, a stop loss at $0.85 and profit target at $1.75. The entry is based on a Point and Figure pattern known as a Bearish Shakeout. This pattern is valid only when a trend reversal is anticipated and positioned to do so. A two-box trailing stop would help protect any implied profits.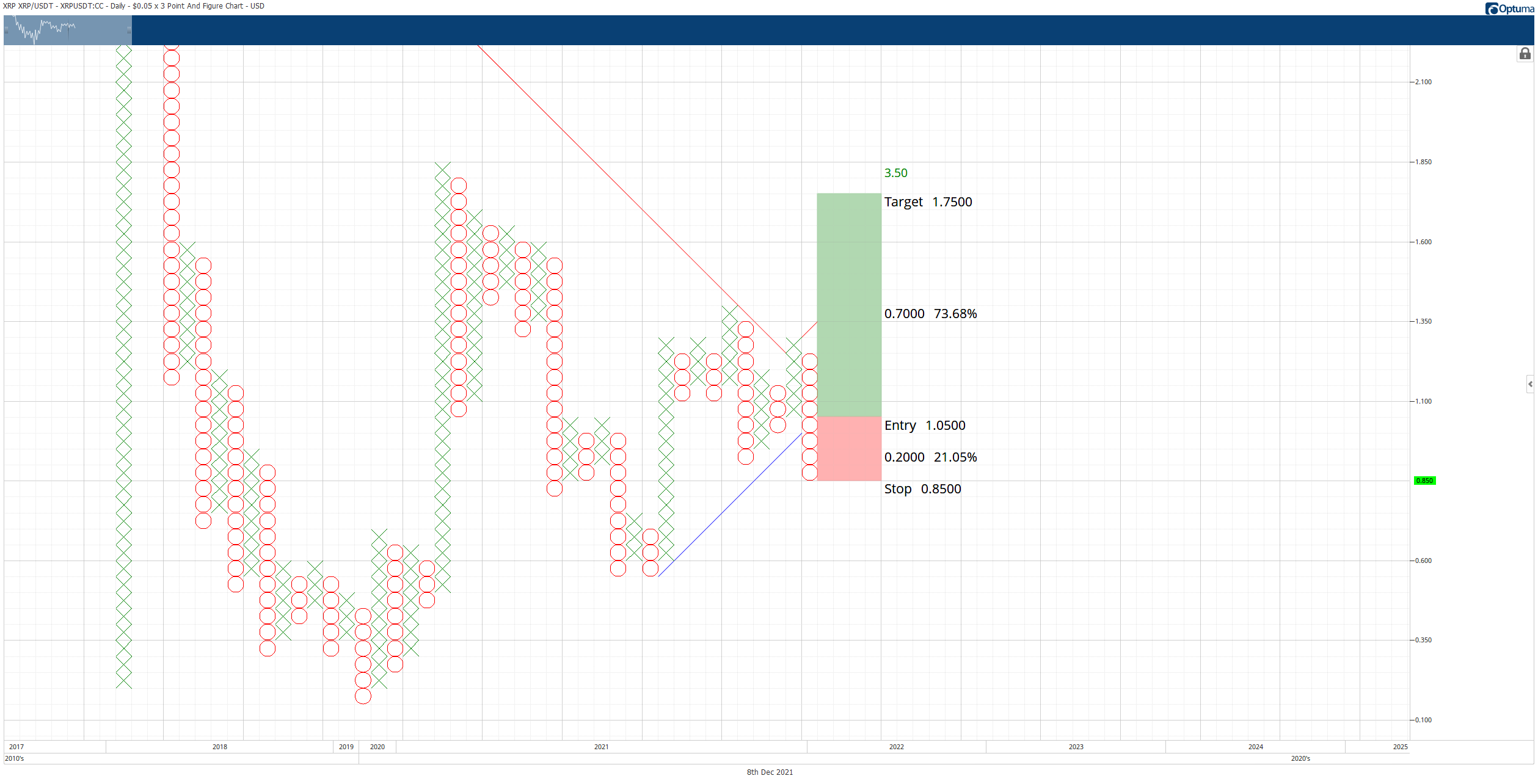 XRP/USDT $0.05/3-box Reversal Point and Figure Chart
If the hypothetical long entry triggers, traders should expect some resistance at the $1.15 and $1.25 value areas before any substantial rise occurs. Additionally, a pullback to the entry zone after $1.50 is another likely scenario that traders should watch out for.
However, bulls should be aware that downside risks remain for XRP. The biggest cloud hanging over XRP remains the unknowns with the ongoing SEC case, which will have ramifications market-wide.