Shiba Inu NFTs sell out in 35 minutes as gas fees anger users
10,000 Shiboshi NFTs sold out in 35 minutes.
Holders angry over high gas fees.
Shiboshi NFT is already selling on OpenSea, indicating a strong recovery for SHIB. 

Shiba Inu's first NFT launch on its decentralized platform ShibaSwap was a massive hit. The platform sold out all of its 10,000 Shiboshi NFTs in just over half an hour. 
Since last week, it was evident that the Shiboshi NFT launch will be big. First, the Elon Musk tweet boosted SHIB prices. Then LEASH price also went up to $2932, indicating that the market was extremely bullish towards Shiba Inu as we neared the NFT launch date. 
Also, all of the 10,000 NFTs were only available to be purchased in LEASH. So, holders of the Doge Killer rushed to get their hands on at least one of these NFTs, resulting in a clean house in just 35 minutes. However, it wasn't a happy ending for everyone.
Shiba Inu receives backlash from angry holders
After the launch, Twitter was filled with posts from angry users who spent hundred in gas fees but still couldn't land a Shiboshi NFT. One user complained that he lost $2400 in gas price without getting a single NFT, while others lost hundreds of dollars.
Shibarium explained the issue on a Twitter post, saying that massive gas fees were due to the insane pressure on the ETH blockchain. The tweet also promised that Shiba's developer team are building the Shibarium blockchain as a solution. 
If you're not familiar with gas fees, it's the amount of electricity and computational power required by miners to process and validate each transaction on the blockchain. Gas fees are kind of an incentive to the miners. 
The high traffic on the Ethereum blockchain due to the Shiba Inu NFT launch, and the fact that thousands of transactions were processed and validated within 35 minutes, led to this frustrating increase in gas fees. 
However, developers and traders are positively hopeful that Shibarium's own blockchain and the Ethereum 2.0 upgrade will solve these problems in the future.
 

The post-launch state of Shiba Inu NFTs
The 2900 holders that were successful in securing a Shiboshi NFT has already started trading on OpenSea. The Shiboshi #2 NFT was bought for 0.9 ETH, was sold for 25 ETH (almost $95000) on the NFT platform.
With all the craze going on, holders of the NFT are certain to see some amazing returns on their investment. At the moment, SHIB is down by 13%, but the market is expected to rise against all the trades on the NFT marketplace.
Shiba Inu is reportedly working with a major AAA game studio to develop the SHIBOSHI game. All of these trends indicate that we will continue to see a bull run from this meme token. 
Shiba Inu price edges closer to another 50% upswing
Shiba Inu price has dropped 18% into a high probability reversal zone, hinting at a new leg-up.
Investors can expect SHIB to shatter intermediate resistance levels and tag the $0.0000625 resistance level.
A breakdown of the $0.0000362 support will invalidate the bullish thesis.
Shiba Inu price looks ready for a reversal as it enters a crucial support area that is likely to trigger a massive uptrend. This move has a high chance of occurrence as it allows sidelined buyers who missed the initial run-up to get in on the next leg-up.
Shiba Inu price prepares for liftoff
Shiba Inu price rose 50% in under two days as it triggered an upswing on November 28. This rally set up a swing high at $0.0000543 and has dropped 23% to where it currently trades – $0.0000422.
Interestingly, SHIB has entered the high probability reversal zone, extending from $0.0000400 to $0.0000431. This is an oversold area that is likely to trigger an inflow of buying pressure from investors that missed the initial spike in price.
Therefore, market participants can expect Shiba Inu price to reverse its downtrend soon. The resulting uptrend will take a jab at the range high at $0.0000543 and attempt to move higher. In this case, SHIB will revisit the $0.0000579 and $0.0000625 resistance barriers.
In total, this run-up from $0.0000415 would indicate a 50% gain for Shiba Inu price.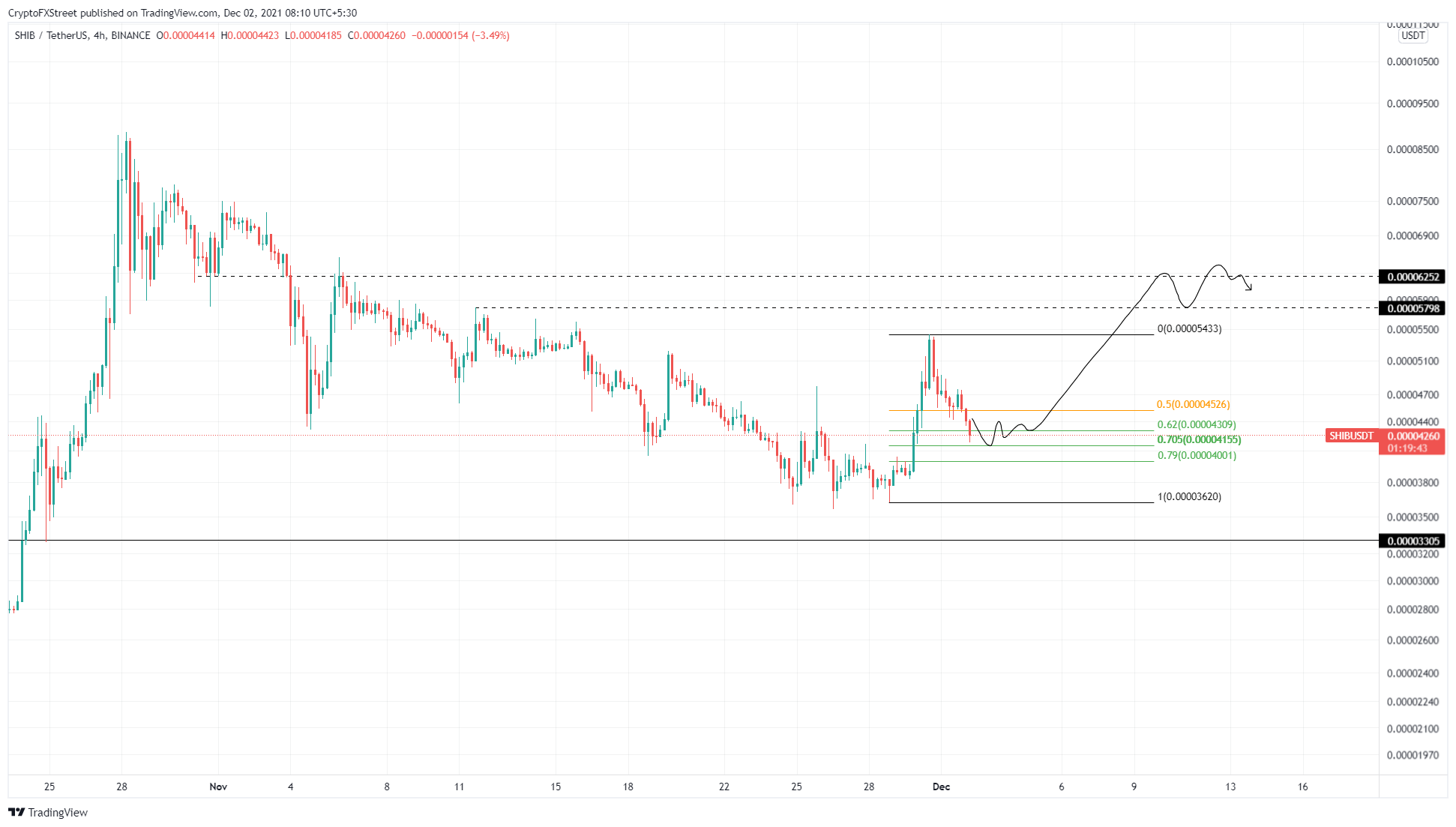 SHIB/USDT 4-hour chart
While things are looking gloomy at the moment, investors can expect a decent bounce from Shiba Inu price soon. A failure to do so could result in a breakdown of the 79% Fibonacci retracement level at $0.0000400 and a revisit of the range low at $0.0000362.
A daily close below this level will create a lower low and invalidate the bullish thesis. In such a case, Shiba Inu price could tag the $0.0000330 support level.
Healthcare Company Adds Shiba Inu to Its Balance Sheet
A Toronto-based healthcare company now holds Shiba Inu on its balance sheet.
Ask The Doctor, a Canadian online healthcare company, has added $1.5 million worth of Shiba Inu to its balance sheet, according to an announcement posted on its Twitter account.
Kraken facilitated the seven-figure buy. As reported by U.Today, Shiba Inu started trading on the San Francisco-based cryptocurrency exchange on Tuesday.
Ask The Doctor has added ~$1.5M USD (approx 31B $shib) to our balance sheet via Kraken.

We are 72 hours away from accepting #SHIB with our healthcare partners. pic.twitter.com/NHG17druCh— Ask The Doctor ® 🇺🇸🇨🇦 (@askthedr) December 1, 2021
The medical information website will also begin accepting the meme cryptocurrency with its healthcare partners within the next three days.

It already allows clients to pay with Dogecoin for certain services in the U.S. and Canada.   

The Toronto-based company was launched in 2010, allowing its clients to connect with medical professionals via text messages or video streaming. Notably, its list of co-founders includes former NBA player Israel Idonije and former NBA star Dikembe Mutombo.
In 2016, Ask The Doctor started accepting Bitcoin payments, becoming the first healthcare company around the globe to embrace crypto.
The reason for adding the new payment option was to offer customers who share sensitive medical data more privacy.
Shiba Inu Coming to Brazil's Largest Crypto Exchange
BBrazil's Mercado Bitcoin is set to add support for Shiba Inu on the first day of December.
Mercado Bitcoin, the largest cryptocurrency exchange in Brazil, has announced that Shiba Inu will become available for trading starting from Dec. 1.
The token is yet to be added to the trading platform at the time of writing.
The announcement was accompanied by a video of a Shiba Inu dog in military gear.
Uma das moedas que mais valorizaram em 2021 e que acumula um verdadeiro exército de seguidores💪😮

É isso aí! Amanhã, $SHIBA estará disponível no MB, com um histórico de valorização de mais de 18000%, até agora neste ano.

🚨 01/12 #shibarmy @shibtoken #shibainu pic.twitter.com/24HuhiBymA— Mercado Bitcoin (@MercadoBitcoin) November 30, 2021
After listing SHIB, Mercado Bitcoin will also add support for Cosmos (ATOM), Polkadot (DOT) and Loopring (LRC) later this week.
2TM, the parent company of the number one exchange in Latin America, raised another $50.3 million in late November. This occurred just months after raking in $200 million in July during a Series B investment round spearheaded by Japanese conglomerate SoftBank.
Last month, Korbit became the first cryptocurrency exchange to list Shiba Inu in South Korea.
Kraken, one of the world's top exchanges, also added support for the top token earlier this week.