Top Crypto Analyst Unveils Massive Polkadot Prediction, Issues Cardano, Solana and VeChain Price Alert
Crypto strategist Michaël van de Poppe is extremely bullish on Polkadot (DOT), while warning several popular altcoins may face further corrections.
The trader and analyst tells his 442,000 Twitter followers that DOT appears "programmed" to rise above $100 in the current market cycle.
Using a Fibonacci extension model, he outlines $75 and $115 as potential targets.
"If we assume that the area around $37 is going to hold as we are into a bull cycle, you could wonder whether you could be getting into the markets already or whether there's a retest. So you derive a potential scenario of potential lows and potential gains. So for you, the [upside] targets are $75 to $115…
If you analyze the fact that we are going to sustain at around $38, then the potential loss and invalidation is this previous low at $32."
As for Cardano (ADA), Van de Poppe says the fifth-largest crypto asset by market cap is sending bearish signals on the Bitcoin (BTC) chart.
"Cardano against Bitcoin is showing heavy run-up, bearish divergence here, and currently showing weakness resulting in overall downwards momentum."
The cryptocurrency analyst says that a buying opportunity may present itself if support around 0.00002930 BTC holds, which is worth about at $1.75 at time of publishing.
"The crucial area that I want to see sustained is overall this level [at $1.75]. If that is going to hold here, which I might find tricky, then I'm looking for anything in these regions for potential long entries.
If that one is lost, I think we're going to look at the area around 0.0000150 BTC [$0.90] and 0.00002 [$1.19] BTC before we're going to get bullish all over again."
Next up, Van de Poppe says he expects Solana (SOL) to experience "heavy correction." According to the crypto analyst, the ideal opportunity would be after Solana corrects by about 67%, falling to around the 0.00135 BTC level on the SOL/BTC chart, which is currently valued at $80.40.
"Solana, same picture. Heavy correction most likely going to take place.
I practically have one area that I'm looking at to buy Solana at this point. It's this region (0.00135 BTC). I'm not interested in Solana until there. That's a corrective move of 67%."
The cryptocurrency analyst also looks at supply chain management blockchain VeChain (VET), which he says is trending downwards.
"What we can see in this cycle too is that we are making lower highs [and] lower lows. And we are also rejecting previous support for resistance all the time."
According to Van de Poppe, the "best potential entry point" on the VET/BTC chart is either the 0.00000110 BTC level or at 0.00000150 BTC, worth $0.066 and $0.089, respectively.
"Best potential entry point for me is around 0.00000110 BTC [$0.066]. I'm looking at an entry point in this region. If we get there in November and December, that would be absolutely amazing if that is going to be hit.
Second one – that's this entire zone that we have here. We dipped in it already and that is the zone around 0.00000150 BTC [$0.089]."
Polkadot price to return to $40 if near-term support holds
Polkadot price lost nearly 30% of its value during the Saturday flash crash.
A strong recovery indicates Polkdaot may be positioned for another leg higher.
Downside risks remain, and risks must be monitored.
Polkadot price has substantially recovered since hitting a low of $23.95. A return above the $30 level gives buyers and long-term hodlers significant psychological support that Polkadot may, again, move higher.
Polkadot price must close above $32 before it can test $40
Polkadot price faces near-term resistance against the 38.2% Fibonacci retracement at $31.08 and the Tenkan-Sen at $31.66. It will need to close above both levels to prevent any near-term continuation of selling. Ideally, there would be enough momentum to close above the Kijun-Sen at $36, but that may not be possible.
After Saturday's flash crash, an unfortunate event is the conversion of the Relative Strength Index from bull market conditions to bear market conditions. This does not mean or imply that Polkadot is entering into a bear market, but that momentum has dwindled enough to generate some warnings.
Despite the conversion to bear market conditions in the Relative Strength Index, there are some bullish signs. First, there is a regular bullish divergence between the candlestick chart and the Composite Index – hinting at a bullish reversal. Additionally, the Optex Bands oscillator is moving above and out of the extreme oversold levels it has been in.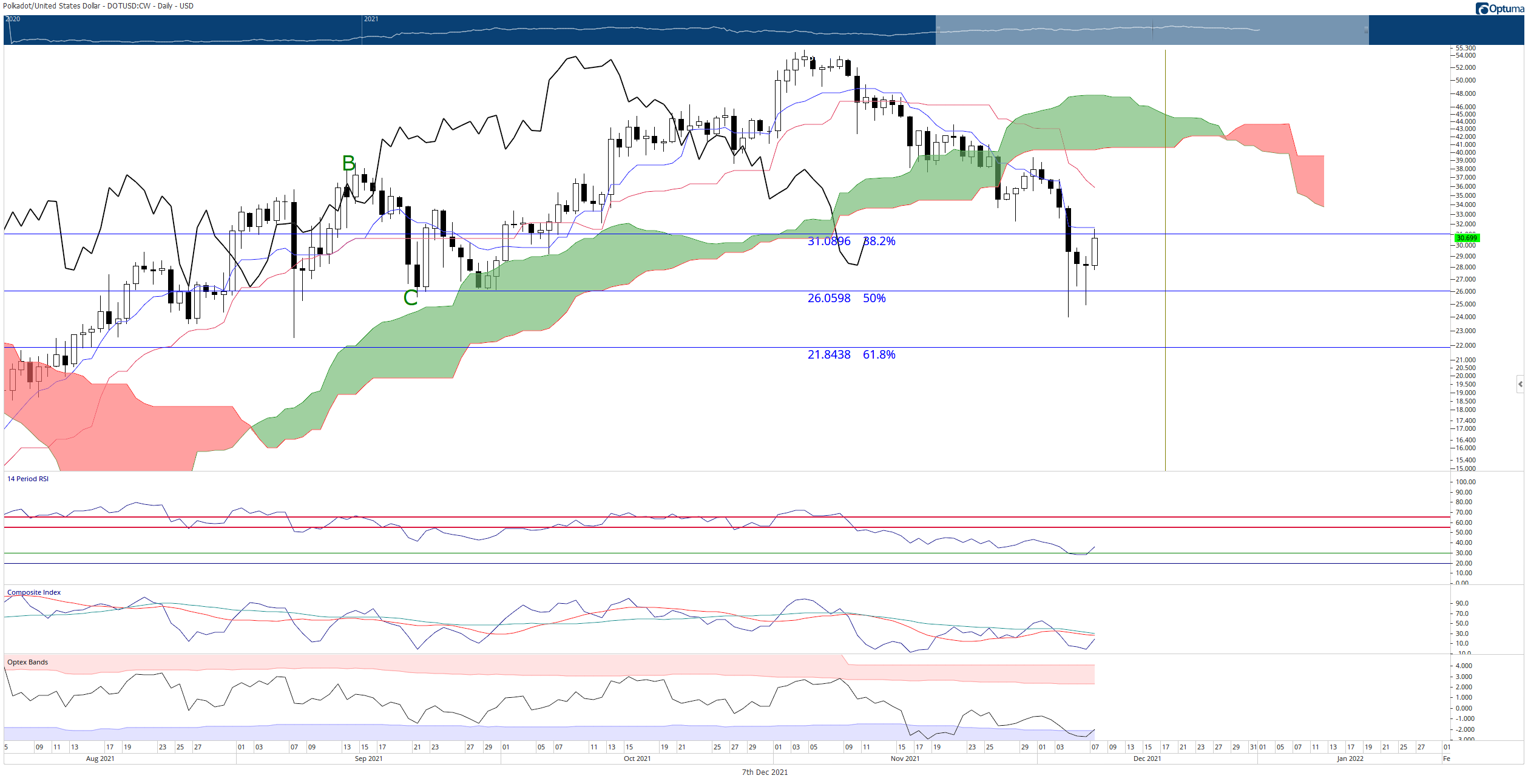 DOT/USDT Daily Ichimoku Chart
Considering the present position of the Relative Strength Index, Composite Index, and Optex Bands, a breakout above $32 would likely have enough momentum to see Polkadot price test the Senkou Span B at $40 as resistance.
Failure to close above the Tenkan-Sen could see Polkadot return to the 50% Fibonacci retracement at $26.
Polkadot price analysis: DOT to retest support at $27.2, as price steps down to $28.7
Polkadot price analysis is bearish today.
Resistance for DOT/USD is present at $33.6.
Support for DOT/USD is present at $27.2.
The Polkadot price analysis is bearish today as a further decrease in price has been observed. The price has been devalued till $28.7 today as well after encountering extreme loss yesterday when the coin crashed from $33.7 down to $29.3 while swinging as low as $27 at a time. The DOT/USD has been on a downtrend since 5th November, and today it completed a month of being on the decline, setting a lower low for the last two months. Currently, the price had come below the consolidation level of the month of September before it started its journey towards the higher side.
DOT/USD 1-day price chart: Downside continues as market pressure still persists
The one-day Polkadot price analysis is showing a bearish trend for today as the price has been depreciated today as well. The bearish momentum has been continuing over the past few weeks, and today, the trend is the same. The price has been lowered to the $28.7 level after the latest drop. The moving average indicator (MA) is present at the $34.8 mark above the price level.
The Relative Strength Index (RSI) is present at index 28 in the oversold region, indicating unfavorable circumstances for DOT. The volatility has been on the higher side for a long time, and the situation is the same volatility-wise. The upper Bollinger band value is $45, whereas the lower Bollinger band value is $29, and the price is trading below the lower value. The Bollinger bands are maintaining an average of $37.
Polkadot price analysis: Recent developments and further technical indications
Yesterday's drop in price has been quite damaging to the market value of DOT. The current price is still below the moving average, whose value is present at the $29 mark on the 4-hour chart. The price is going up once again as a bullish trend has been observed during the last four hours. Although the price recovered earlier for a brief period yesterday but decreased again, and the most recent trend is going in favor of bulls.
The Bollinger bands indicator average has been maintained at $32, whereas the upper Bollinger band is showing a $39 value, and the lower band is showing a $25 value, representing high volatility range for DOT. The RSI curve is floating just at the borderline of the neutral and oversold zone at index 30.8, heading slightly up due to the last green candlestick, but still, the pressure seems to be there.
The price has been trading towards the downward direction if we see the DOT'S progress for the past month. This is why the technical indicators chart for DOT/USD is indicating a bearish trend, with only one indicator on buying position, eight indicators on neutral position, and 16 indicators on selling position.
Polkadot price analysis conclusion
The Polkadot price analysis report shows a downward movement in price has been observed during the last 24-hours, which is a continuation of the bearish trend. The price has dropped down to the $28.7 level because of the constant downtrend that has been following for the past few days and took a steep plunge yesterday. The price might go lower in the coming hours as the last candlestick on the four hours price chart might also turn red, as the momentum is not there for bulls, and the RSI is indicating the same.
Polkadot Price Analysis: DOT finds support at $24.35 after heavy selloff overnight
Polkadot price analysis is bullish today.
DOT/USD dropped over 35 percent since the last high.
Support was found at $24.35 this morning.
Polkadot price analysis is bullish today as we expect recovery to follow after a quick reaction higher from the newly found swing low. Therefore, we expect DOT/USD to move higher later today and look to retest previous support as resistance at $33.
The crypto market overall saw strong selling pressure over the last 24 hours. The market leader, Bitcoin, declined by 16.54 percent, while Ethereum 13.81 percent. Meanwhile, the rest of the top altcoins follow with an even bigger loss.
Polkadot price movement in the last 24 hours: Polkadot continues to decline, spikes below $25
DOT/USD traded in a range of $24.72 – $36.49, indicating strong volatility over the last 24 hours. Trading volume has spiked by 207 percent, totaling $2.83 billion. Meanwhile, the total market cap trades around $27.83 billion, ranking the coin in 9th place overall.
DOT/USD 4-hour chart: DOT starts to react higher
On the 4-hour chart, we can see the Polkadot price action finding strong support at $24.35 this morning, likely leading to swift recovery over the next 24 hours.
Polkadot price has seen a steady decline over the past weeks. After the previous low at $33 was reached on the 28th of November, DOT/USD slowly retraced higher.
Another lower high was set around $39, leading to a slow decline again during the first days of December. After some consolidation on Thursday, DOT started to rapidly move lower Yesterday.
The previous low at $33 was quickly reached and clearly broken, opening the way for a lot more downside. Overnight, strong selling pressure continued, taking the Polkadot price to a new low at $24.35. However, buying pressure has quickly returned since, likely leading DOT/USD to recover most of the loss over the weekend.
Polkadot Price Analysis: Conclusion
Polkadot price analysis is bullish today as we saw a strong decline end with a quick rejection from the $24.35 mark. Therefore, we expect DOT/USD to regain the loss and move towards the previous low around $33 next.
While waiting for Polkadot to move further, see our articles on the Best Crypto Wallet 2021, Decred Wallet, and Ripple vs SEC.