XRP Becomes Number One Crypto in the UK, Cardano Comes Second: Report
U.K.-based retail investors now prefer XRP over other cryptocurrencies, according to a recent analytics report by a top trading platform
According to Finance Magnates, Ripple-affiliated cryptocurrency XRP has been gaining popularity among crypto investors in the U.K. The media cited a recent report published by the eToro trading platform.
U.K. retail investors choose XRP over other cryptos, ADA is second best
Data shared by eToro stated that, in the third quarter of this year, retail investors in the U.K. began giving more attention to the sixth-largest cryptocurrency—XRP—and putting more funds in it than in other digital assets.
Now, XRP has turned into the number one crypto in the U.K. in the retail crypto market. In the second quarter of this year, XRP saw a 4% increase, and year-on-year growth in ownership has surged by 105%.
Cardano's ADA is the second cryptocurrency that British investors are looking at after XRP. Over the past three months, ADA has surpassed Ethereum by popularity here, rising 11% and giving investors a year-on-year rise of 1,230% in 2021.
Ripple to help build U.K.'s CBDC
As covered by U.Today earlier, Ripple has inked a partnership deal, entering the Digital Pound Foundation, to accelerate the process of creating the U.K.'s CBDC, digital pound sterling.
According to the chief of policy at Ripple, Susan Friedman, this partnership will be beneficial for the evolution of the global financial system. As part of this deal, Ripple will continue to collaborate with central banks in various countries regarding technical issues and policies related to CBDCs.
Top 3 Price Prediction Bitcoin, Ethereum, XRP: Crypto market dazed post flash crash
Bitcoin price finds support against a combination of key price levels.
Ethereum price returns inside the bear flag, creating mixed sentiment.
XRP price is developing an insanely bullish reversal weekly candlestick.
Bitcoin price gets a big bounce off the $44,000 value area, moving more than $7,000 higher. Ethereum is now sandwiched between solid support and strong resistance. XRP price has one of the most potent and sought-after bullish reversal candlesticks forming on its chart: the hammer.
Bitcoin price retraces nearly all of Saturday's flash-crash
Bitcoin price action has been a strong performer since the recent flash crash. Significant support for Bitcoin was found where the 61.8% Fibonacci retracement and top of the Ichimoku Cloud (Senkou Span A) share the $44,000 price level. The support was strong enough to rally Bitcoin above the 50% Fibonacci retracement at $48,000 and the Kijun-Sen at $49,300.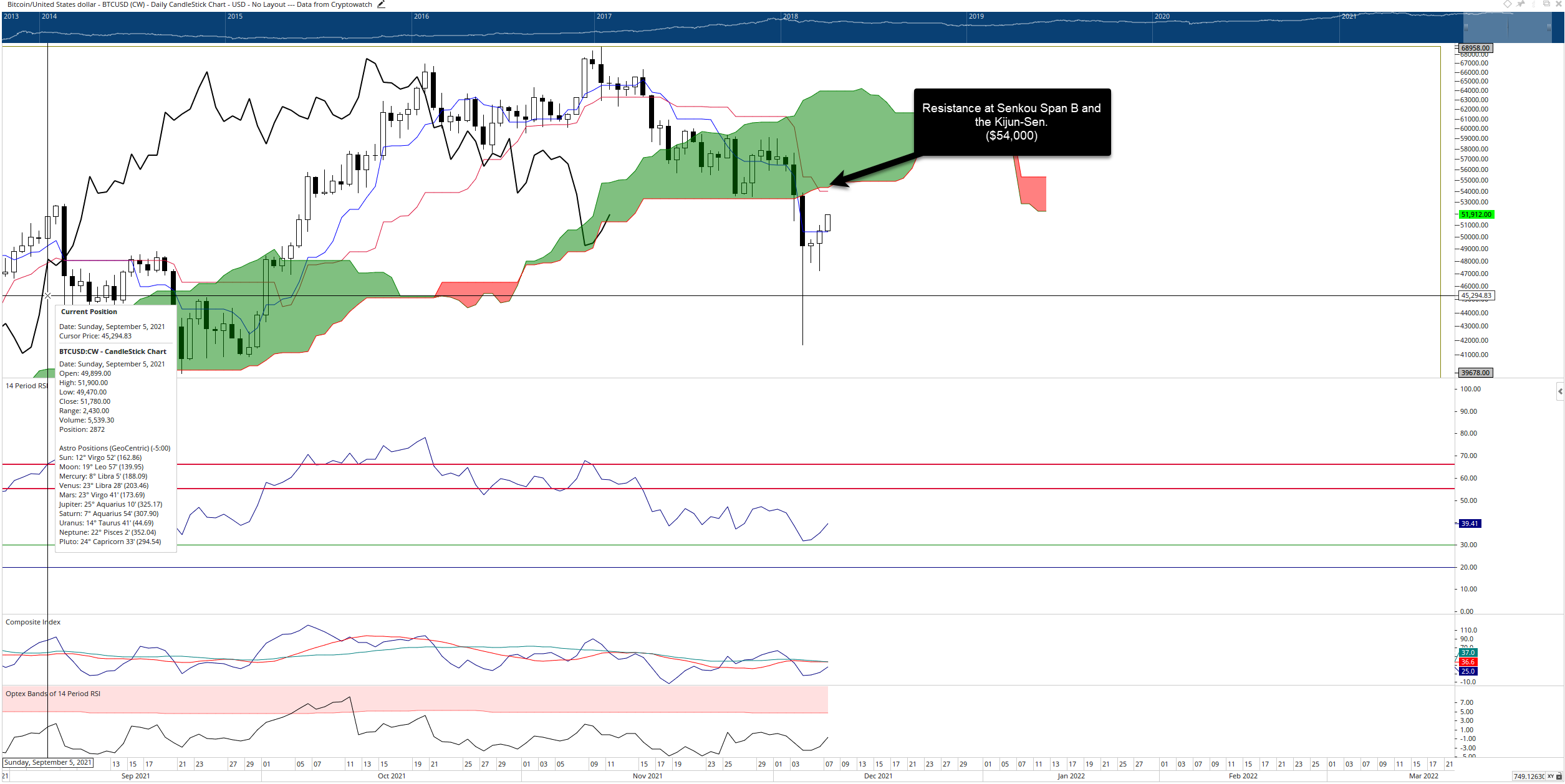 BTC/USDT Weekly Ichimoku Chart
However, the upside potential may be limited. There is significant resistance within the Ichimoku Kinko Hyo system on the daily chart. The daily Kijun-Sen and Senkou Span B share the $54,000 price range. Longs may take profit at $54,000, and short-sellers may open up new short positions on any weakness. A close at or above $55,100 would like to remove any further near-term bearish sentiment.
Ethereum price between a rock and a hard place
Ethereum price had a spectacular Saturday close on the daily chart, closing above the dominant interior trend line (black diagonal line). Then, on Sunday and Monday, Ethereum continues to press on higher with closes above the Tenkan-Sen and Kijun-Sen at $4,100. ETH has not returned inside the channel of the former bear flag but finds itself facing resistance against the top of the Cloud (Senkou Span A).
A close at or above $4,500 would put Ethereum price above the Cloud, but the Chikou Span would still be slightly below the candlesticks. However, the oscillators support a sustained breakout. So, if Ethereum does close to at least $4,500, there is enough momentum and space for it to move higher and get to a close that would position the Chikou Span above the candlesticks – to at least $4,725.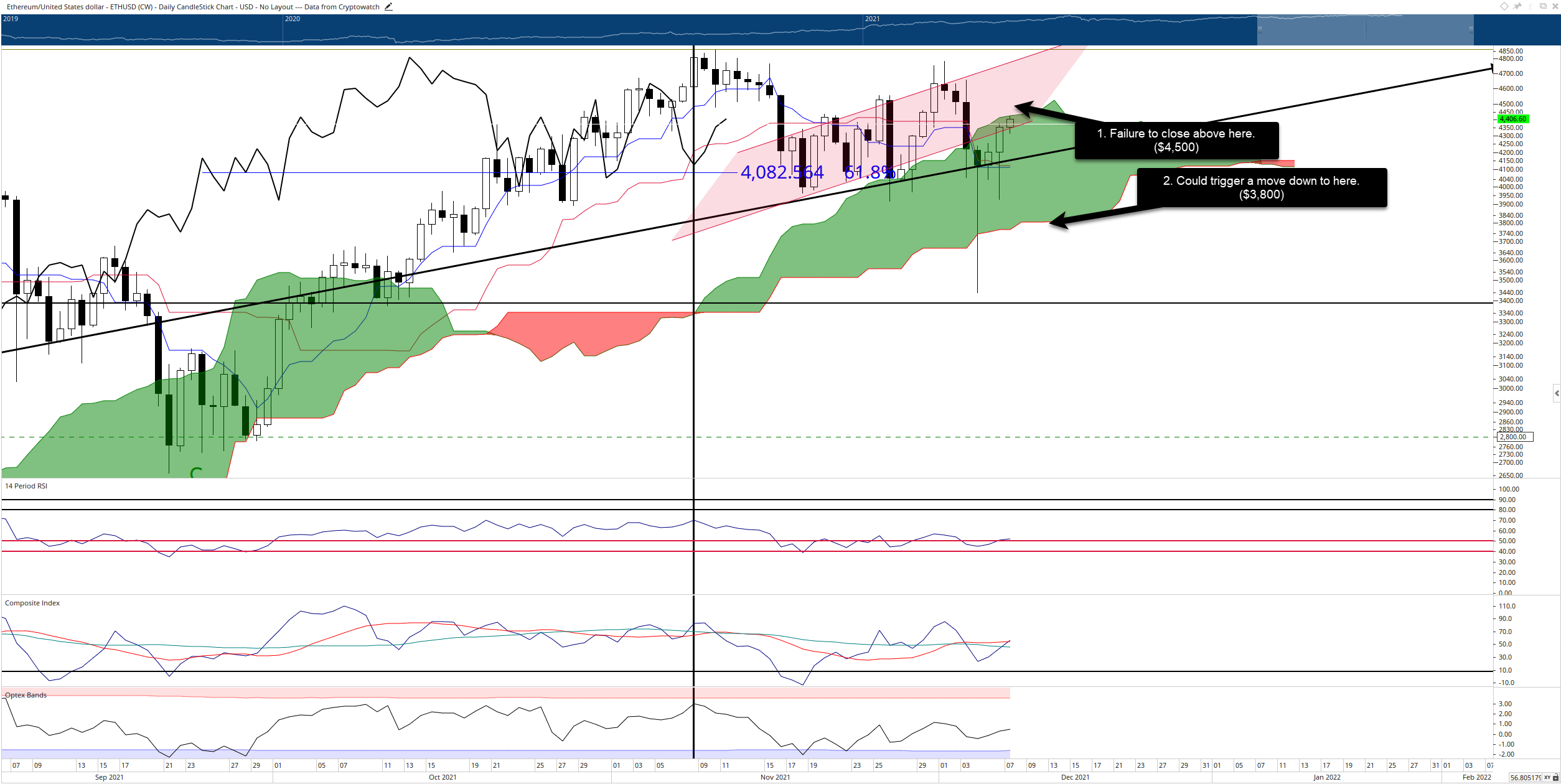 ETH/USDT Weekly Ichimoku Chart
From there, the $5,000 value are will likely be tested, and new all-time highs are likely soon after. However, any failure by Ethereum to successfully breakout above the Cloud could see a deeper retracement to test the bottom of the Cloud at Senkou Span B ($3,800).
XRP price weekly candlestick hints at a bullish reversal
XRP price action suffered some of the most bearish price action during Saturday's flash crash. XRP dropped nearly 38% before finding massive support at the 50% Fibonacci retracement and 2021 Volume Point of control in the %0.65 value area. From there, it shot up higher, past the 38.2% Fibonacci retracement at $0.84 to settle just above that price level.
The resulting price action has created a bullish hammer candlestick pattern on the weekly chart. The positioning and timing of this pattern could not have been more fortuitous for XRP price. The hammer pattern will help confirm the likelihood of a bullish reversal with the Relatives Strength Index and Composite Index oscillators. Combining the bullish hammer, the Relative Strength Index between two support levels, and the Composite Index at a historical low gives XRP a very high probability of moving higher.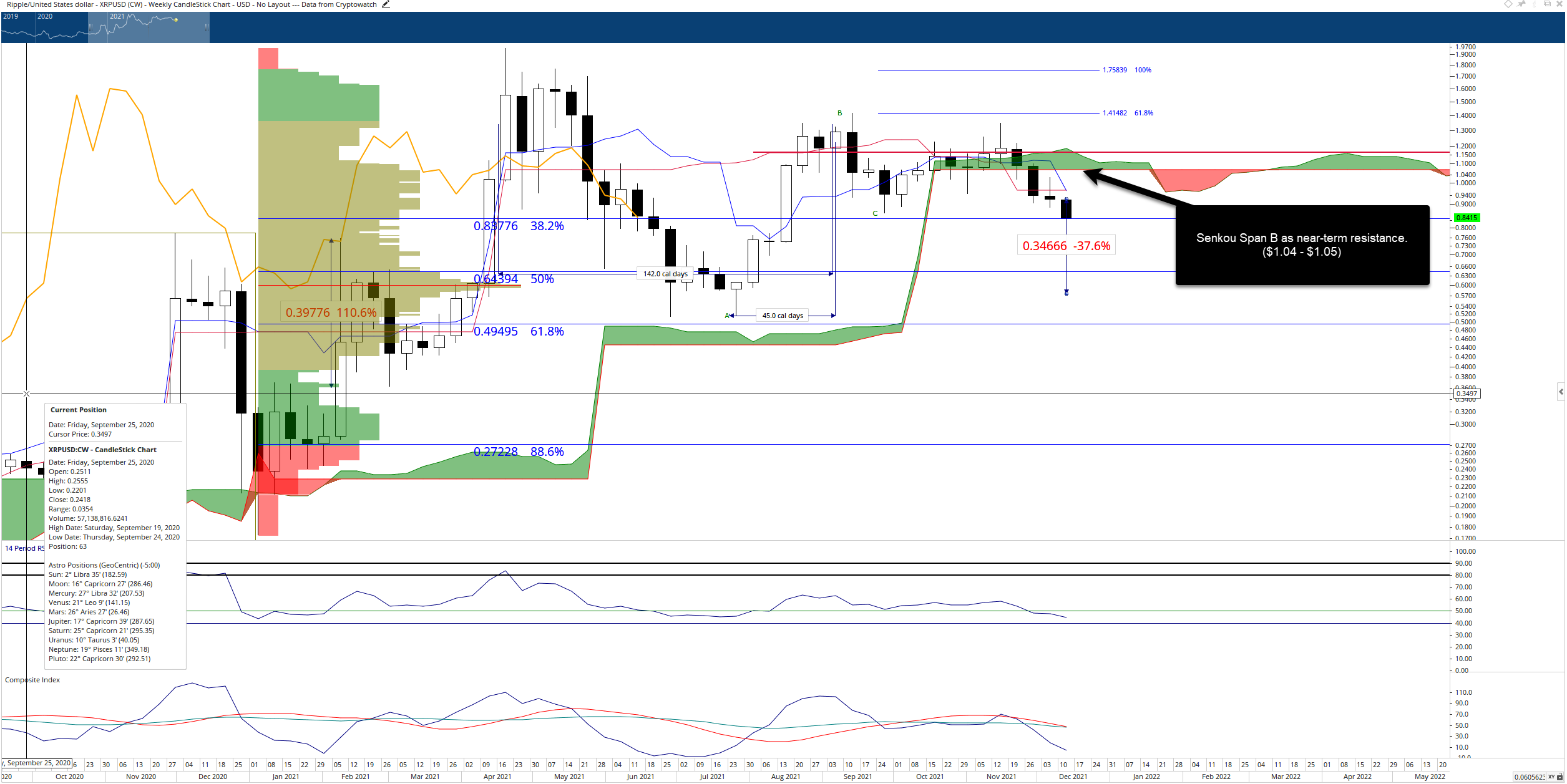 XRP/USDT Weekly Ichimoku Chart
Initial resistance will likely be Senkou Span B at $1.04. Given how long Senkou Span B has traded in a flat condition, if XRP can rally above, it will be a significant, bullish event.
On-Chain Data Indicates XRP Price Is "Suppressed" and Has Room to Grow
According to Santiment, XRP is still "suppressed" at its current price and, hence, has room to expand.
On-chain data from Santiment suggests that XRP remains "suppressed" at its present price and, therefore, has the potential to grow. Recent volatility in the crypto market caused short-term price extremes, pushing the XRP price to the brink of the low of $0.57.
In terms of on-chain analytics, Santiment's "strong and oversold" indicates that XRP is showing signs of having an "undervalued" price in comparison to its fundamentals. XRP was marginally up at $0.83 as of press time.
📊 Our 'Strong and Oversold' screener indicates some assets are showing signs of having suppressed prices compared to their fundamentals. Our requirements for this list include high market cap, volume, and address activity. $BTC $XRP $HEX $SHIB $WBTC $LTC https://t.co/CUCuCsS1ju pic.twitter.com/ZjWFjqzy3R— Santiment (@santimentfeed) December 6, 2021
When the price of an asset has decreased abruptly and to a level below where its true value resides, it is said to be oversold. This usually happens as a result of overreaction in the market or panic selling. Assets that have witnessed large decreases over a short period are often considered to be oversold in this instance.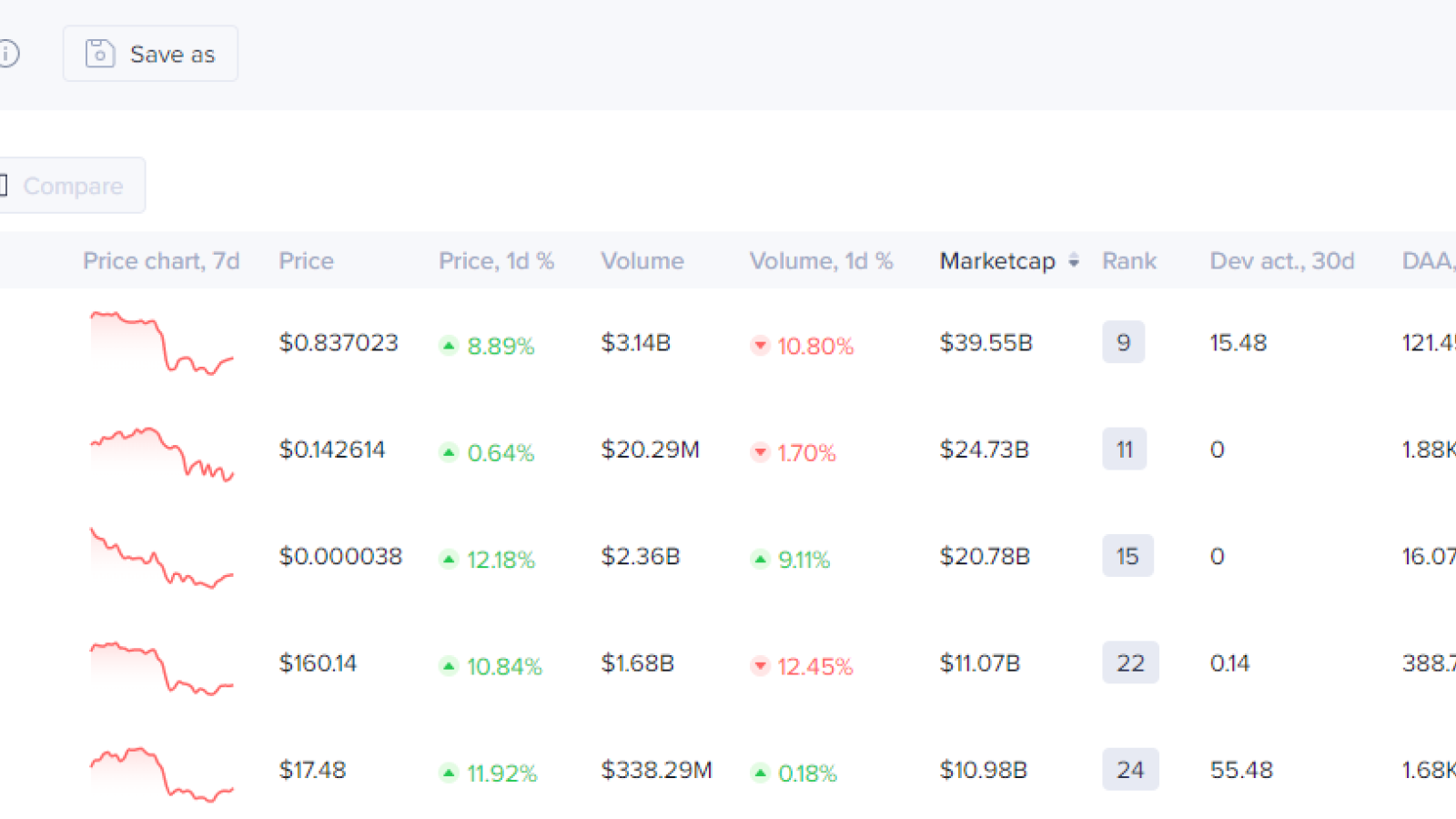 XRP began this year trading at $0.21 after a drastic drop to the low of $0.16 in December 2020 when the SEC announced its lawsuit against Ripple. According to the SEC lawsuit, Ripple began raising funds in 2013 by selling unregistered securities of digital assets known as XRP.
Since then, it has been a challenging road for the cross-border token as crypto exchanges have delisted the XRP token. Despite these setbacks, Ripple seems undeterred, highlighting the "significant growth and traction of ODL" in its Q3 report.
The year 2021 has seen significant partnerships as Ripple's on-demand liquidity (ODL) solutions expanded into the Middle East. In November, Ripple announced its partnership with the Republic of Palau to explore the country's first national digital currency using the XRPL. The $250 million "Creator Fund" was launched to rope in NFT creators to XRP Ledger, which may result in the onboarding of new users.
Investors await a positive outcome on the XRP price in the aftermath of the SEC lawsuit, which Ripple CEO Brad Garlinghouse states would likely conclude by next year.
80 Million XRP Transferred Within One Hour, Here's What It Was
A large number of XRP coins were transferred from the project's official wallet to exchange.
A series of large Ripple coin transactions have appeared on the blockchain prior to the cryptocurrency market recovery. The total value of transferred funds equals approximately $76 million.
Three transactions appeared on the blockchain 15 hours ago, right before the recovery on the crypto market began. At that time, XRP was trading at $0.80 without any significant movements noticed on the market.
Official account transaction
The first transaction of 40 million XRP has been made from the official Ripple account to an unknown wallet that now holds 30 million coins. The transacted coins were not sitting in the wallet for a long time and were almost immediately transferred to another anonymous wallet, which then sent funds to a centralized exchange.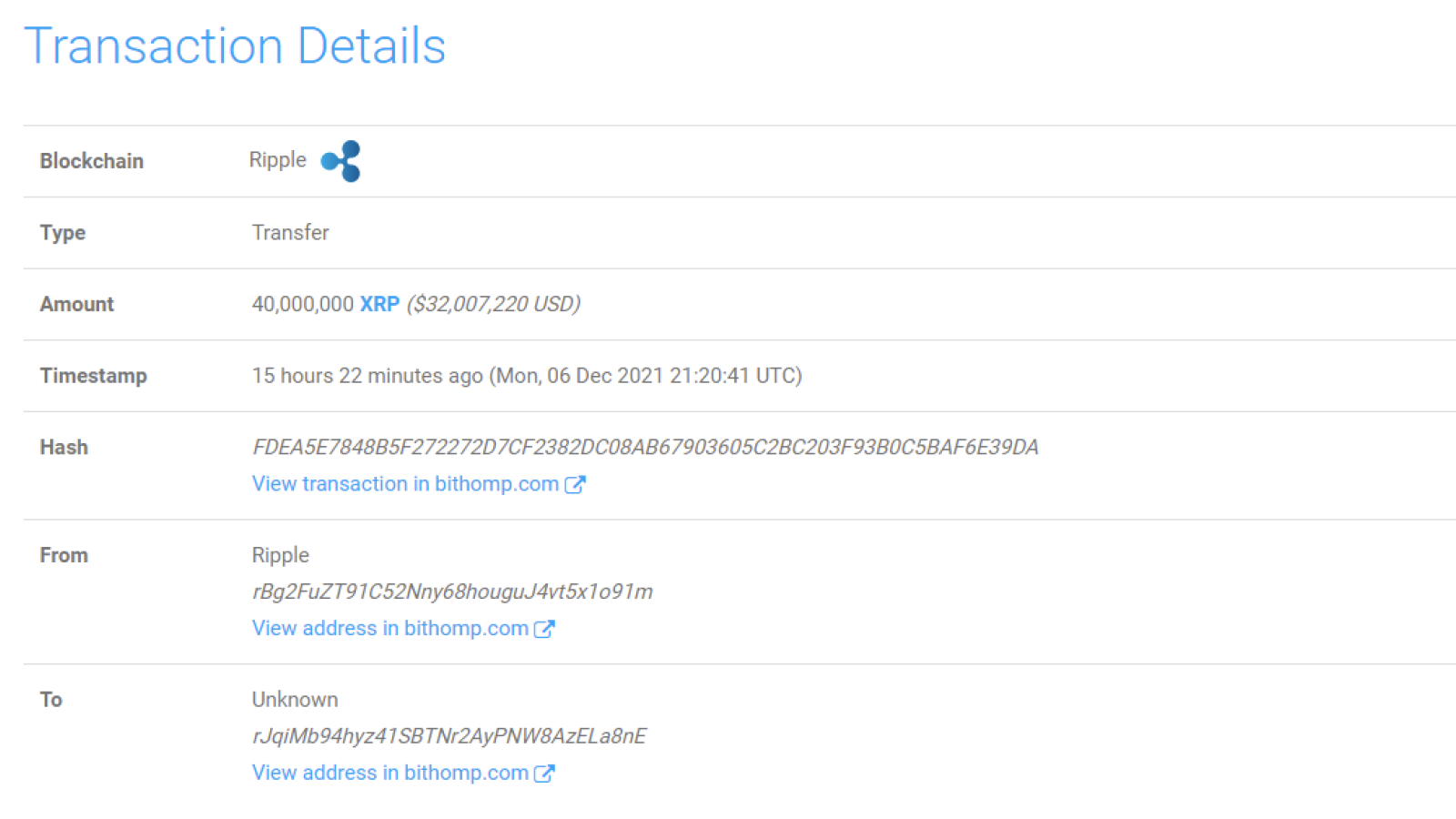 Community members have assumed that Ripple used two unknown wallets to sell their holdings on the exchange without making a direct transaction to the exchange's address.
1.8 million sell order
While the official account's transaction was made with the help of two unknown wallets, the next transaction is less suspicious and more direct. The anonymous whale transferred 20 million coins to the Bitso exchange 15 hours ago and receive almost the same amount back only an hour later.
According to the fund's movement, this person, for whatever reason, transferred 20 million to the centralized exchange, left 1.8 million coins in the exchange's hot wallet and transferred 18.2 million coins back to his own wallet. The reason behind such unusual fund movement remains undisclosed.
The coins themselves have not reacted to large funds movements with high volatility and have remained in the same trading range. At press time, XRP trades at $0.81 with negative 0.7% 24-hour performance.