Dogecoin Primed for a 500–1,000% Multi-Month Rally if It Hits This Level, Says Crypto Analyst Justin Bennett
Crypto market analyst Justin Bennett thinks Dogecoin (DOGE) is primed for a massive rally if it successfully recovers a key level and retests it as support.
The analyst tells his 78,000 Twitter followers that he thinks meme crypto asset Dogecoin could begin a 500-1000% multi-month surge if it can reclaim the $0.24 level.
"DOGE just needs to take out that area above $0.24.
Do that, and a multi-month rally begins, IMO (in my opinion).
Probably 500 – 1,000% of upside if it confirms."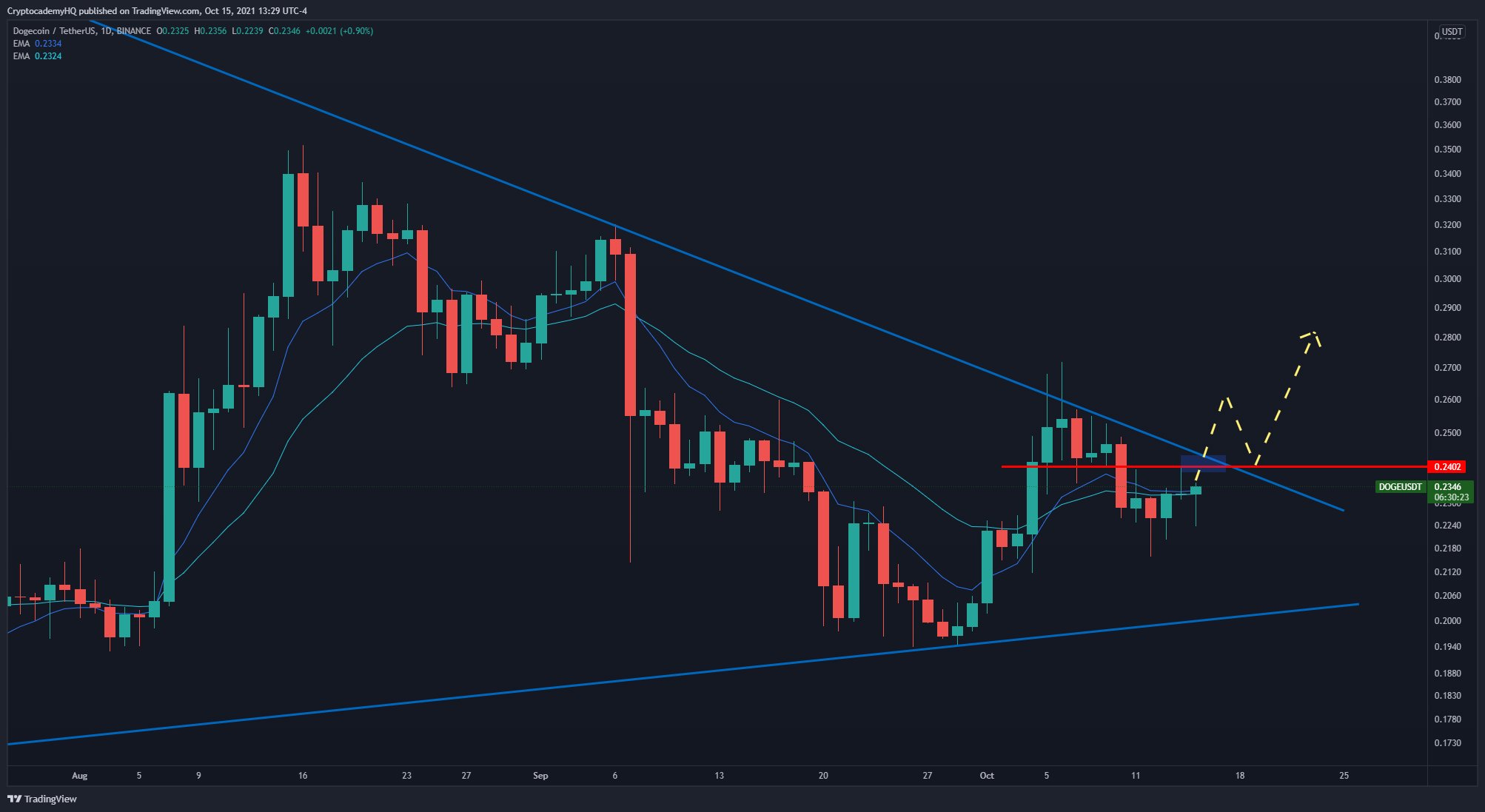 According to Bennett's analysis, if DOGE can break $0.24, he expects a short-lived pump to a previous high at $0.26 before retesting $0.24 and moving higher. At the time of writing, Dogecoin is trading at $0.236, according to CoinGecko.
The crypto market strategist is also looking at Dogecoin's daily chart, where the meme crypto asset is coiling and forming a large triangle pattern. The formation of a triangle in an uptrend suggests the bullish continuation of an asset once it takes out its diagonal resistance. According to Bennett's chart, DOGE has printed the same pattern twice this year. In both instances, massive run-ups followed the breakout.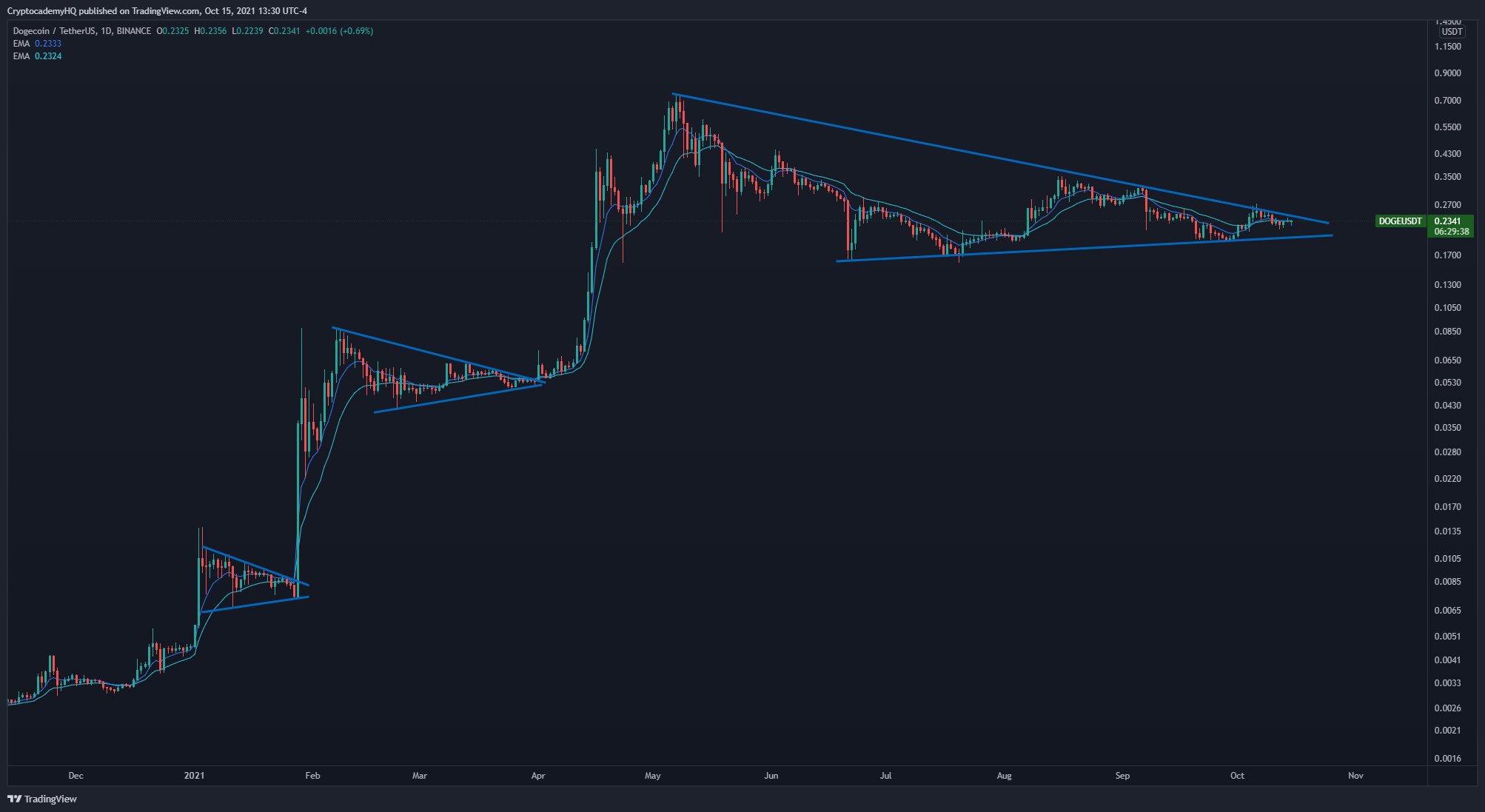 In a recent issue of his market analysis on the Cryptocademy newsletter, Bennett highlights three key price targets for DOGE to hit, assuming it can confirm a break above $0.245.
"If this breaks higher, targets like $0.32, $0.42, and $0.57 are well within reach.
However, keep in mind that a daily close above the upper trend line near $0.245 is required to confirm the breakout."
Looking at DOGE against BTC (DOGE/BTC), Bennett predicts the pair will break out of a massive falling wedge formation that's been developing since June.
"It isn't just DOGE against the USD, either.
This falling wedge on DOGEBTC is ridiculous.
Only a matter of time before it rockets higher, IMO."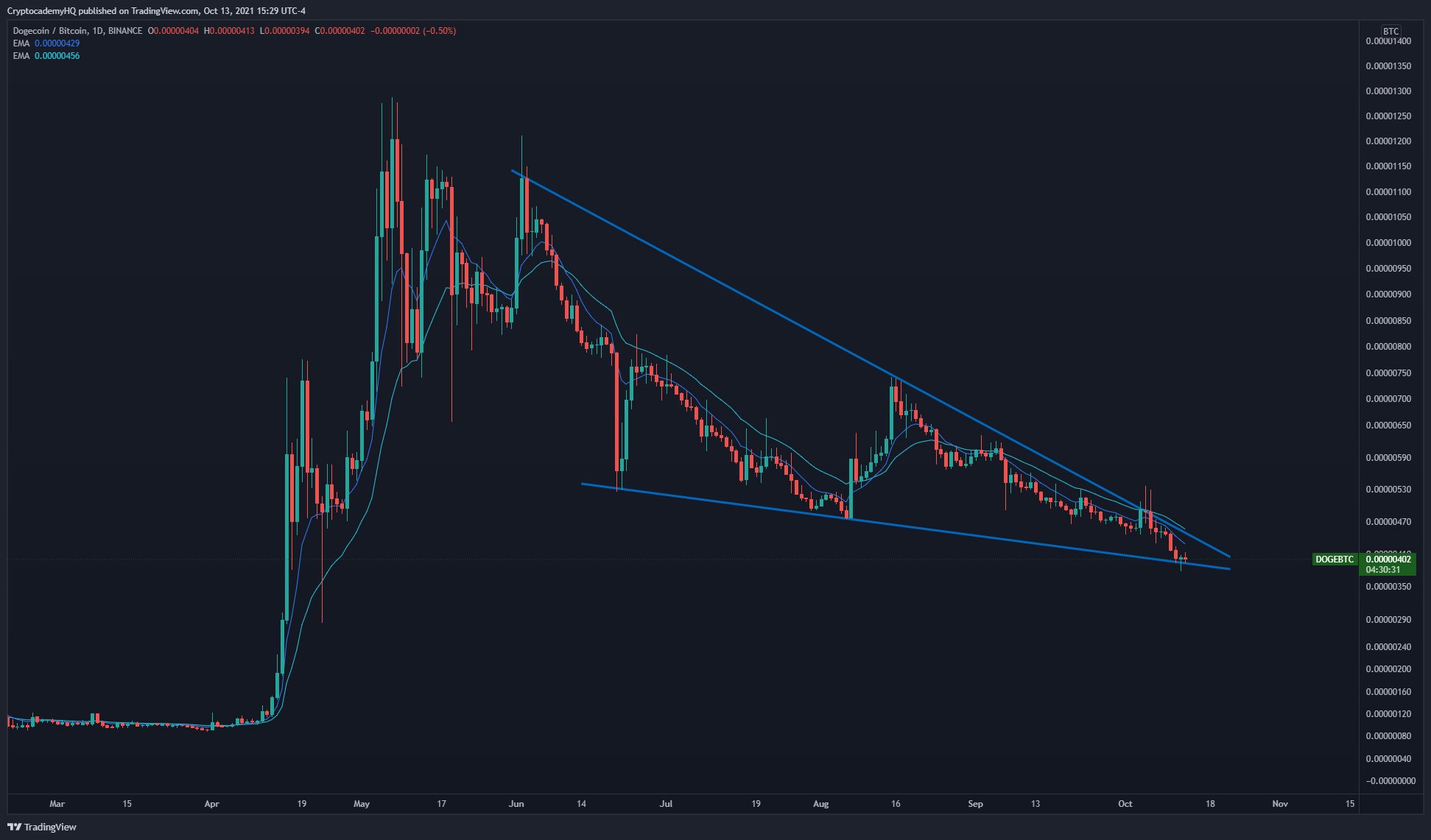 The falling wedge formation is a technical analysis pattern that also suggests a move to the upside once the breakout is confirmed.
Dogecoin Forecast November 29 — December 3, 2021
Dogecoin ends the trading week at the level of 0.1997 and continues to move within the correction and the downward channel. Moving averages indicate a bearish trend. Prices have broken through the area between the signal lines, which indicates pressure from the coin's sellers and a potential continuation of the fall. As part of the DOGE/USD rate forecast for the next trading week, we should expect an attempt to reduce the value of a digital asset and a test of the support area near the level of 0.1605. From where a rebound is expected again and an attempt to raise Dogecoin cryptocurrency with a potential target above the level of 0.3505.
Dogecoin Forecast November 29 — December 3, 2021
An additional signal in favor of raising the DOGE/USD quotes in the current trading week on November 29 — December 3, 2021 will be a test of the support line on the relative strength index (RSI). The second signal will be a rebound from the lower border of the descending channel. Cancellation of the option to raise Dogecoin cryptocurrency next trading week will be a fall and a breakdown of the 0.1005 area. This will indicate a breakdown of the support area and a continued fall in DOGE/USD quotes with a target below the level of 0.0505. Confirmation of the rise in the cryptocurrency will be the breakdown of the resistance area and the closing of quotations above the level of 0.3205, which will indicate a breakdown of the upper border of the bearish channel.
Dogecoin Forecast November 29 — December 3, 2021 implies an attempt to test the support area near the 0.1605 level. Then continued growth to the area above the level of 0.3505. An additional signal in favor of a rise in Dogecoin will be a test of the trend line on the relative strength index (RSI). Cancellation of the growth option will be a fall and a breakdown of the 0.1005 area. This will indicate a continued decline in cryptocurrency with a target below 0.0505.
Elon Musk Warns Dogecoin Hodlers Against Leveraged Trading
Tesla CEO Elon Musk praised a tweet that highlights the dangers of leveraged trading.
Tesla CEO Elon Musk called attention to some dangers and pitfalls of leveraged Dogecoin trading by praising a lengthy thread posted by Twitter user Mishaboar.
Mishaboar tweeted that some holders of the meme cryptocurrency started asking for help after their margin accounts got liquidated. Hence, he stressed that it was important to educate people about highly risky leveraged trading, comparing it to adding gasoline to the fire.
Good thread— Elon Musk (@elonmusk) November 27, 2021
He went on to write that newbies shouldn't be fooled into thinking that "gambling" is an integral part of crypto.

The prolific member of the Dogecoin community added that only seasoned traders could try their hand at margin trading, but they still have to outsmart large institutional players.

Moreover, the cryptocurrency market is largely unregulated, which is why it is prone to manipulation:    
Again: it is playing Russian roulette against the guy who made the gun and knows exactly which chamber holds the bullet.
Binance and FTX, two major crypto exchanges, were forced to dramatically reduce maximum leverage earlier this year due to regulatory scrutiny. However, there is still an abundance of trading platforms that allow their customers to make extremely risky bets.
Dogecoin is struggling to regain momentum
On Nov. 26, Dogecoin slipped to $0.1864, its lowest level since July 23 amid a violent cryptocurrency sell-off.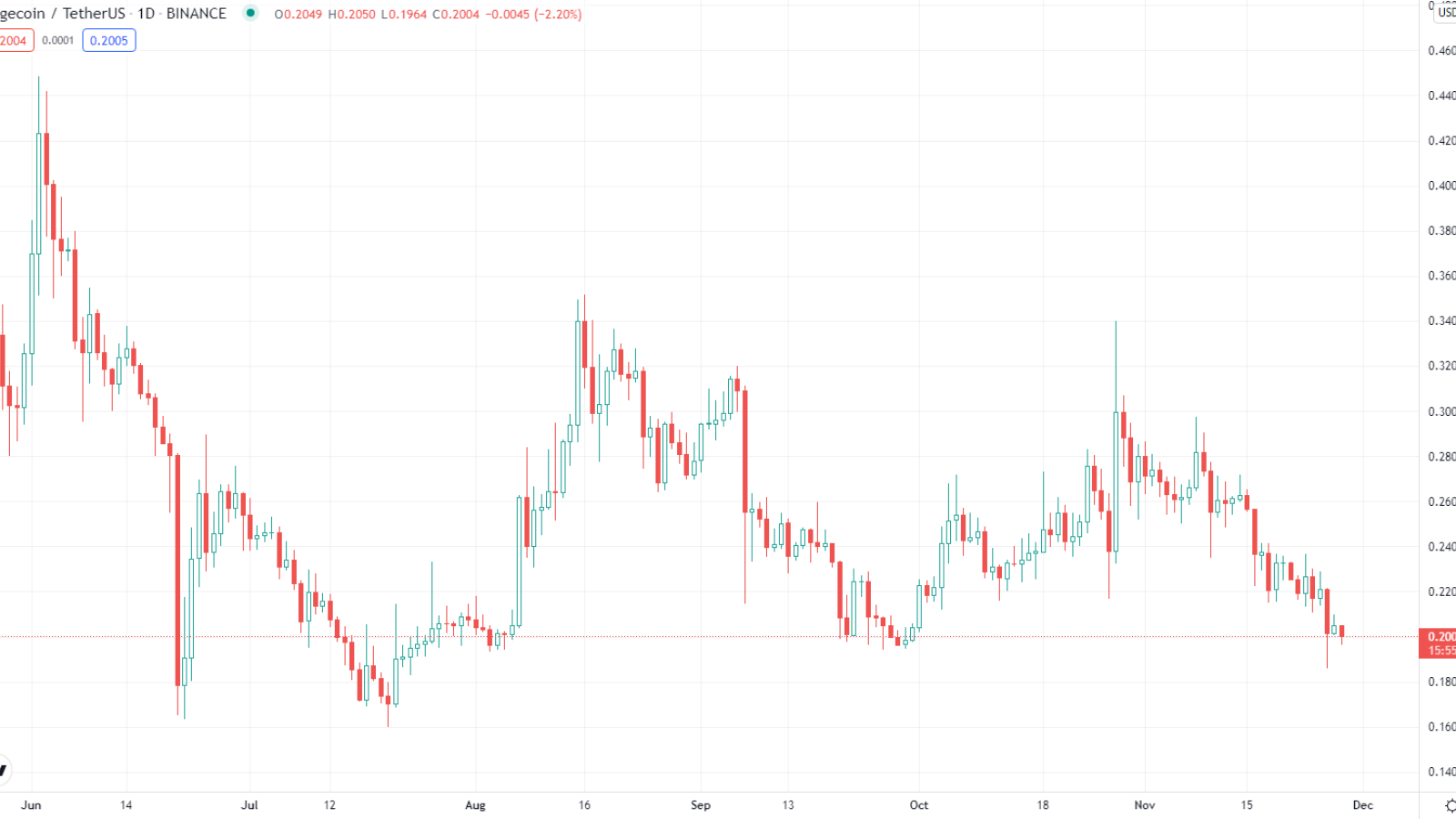 According to Coinglass data, $1.88 million worth of Dogecoin longs has been liquidated over the past 24 hours.  

The original meme coin is down 72% from its record peak in May.
Not your keys, not your Dogecoin
As reported by U.Today, Musk also urged his followers to leave centralized exchanges so that they will control their own private keys.

This came after the centibillionaire's short-lived Twitter spat with Binance boss Changpeng Zhao. 
CQ Twitter Poll: VeChain Wins Against SHIB, DOGE, and ADA
The Crypto market is down, following the most dominant crypto Bitcoin.
ADA, DOGE, VET, SHIB are some cryptos that caught the attention of investors.
VeChain won the poll with 57.8%.
For some time, the cryptocurrency space becomes extremely furious, followed by whales on the streets. But the most dominant crypto, Bitcoin, initiates the dump and most of the assets just follow suit. Likewise, almost all crypto assets crashed heavily. As a result, many weak hands just let their assets go.
On the other hand, while other retail traders are negatively impacted by the dip, some traders are planning to buy during this time. Moreover, Cardano (ADA), Dogecoin (DOGE), VeChain (VET), and Shiba Inu (SHIB) are the cryptos that caught the eye of investors all around the world. Thus, CoinQuora published a Twitter poll to know the opinion of each follower in terms of which crypto they are willing to buy during the dip.
As a result of the poll, VeChain takes the lead with 57.8% votes, followed by Shiba Inu with 19.3% votes. At the same time, Cardano in third place gathered 17% votes, and Dogecoin took fourth place with 5.9% votes.
According to the result, the majority of CoinQuora's followers believe in the VeChain network and they are willing to buy more VET tokens during the dip. At the time of writing, the VET price is trading at $0.1106 with a 24-hour trading volume of $389,052,842, according to CoinMarketCap.