Ethereum Price On the Brink of Breakout! $11.3k Target Could be Imminent!
The global crypto space is making some serious moves over the last week with 10.8% profits reaching a $2.50 trillion market cap. However, Bitcoin's dominance has risen by 0.66% taking BTC price level to the $62,000 milestone on 15th October 2021. 
Besides, its counterpart Ethereum with top-notch performance surpassed the $3,800 price level with 7.74% gains over the last week. The altcoin on the other hand is showing the potential signs to go hand in hand with Bitcoin.
Analyst Predicts Ethereum to Surge Beyond $11k!
Popular crypto analyst Micheal Van de Poppe made an exciting prediction for the altcoin. He said ETH/USDT trading pair is retesting at a very crucial resistance between $3.8k to $4k, break out could give a rapid boost to the price action. He added altcoin is partially reflecting the footsteps of Bitcoin as it has previously done in 2017. Hence, according to the analyst, the asset could range between $6k and $8.7k in the upcoming bull run.  
#Ethereum approaching an important level and rejected!

What's next for #altcoins?

Check the update here:https://t.co/sYX1lVxPXH— Michaël van de Poppe (@CryptoMichNL) October 15, 2021
He went on to say if the digital coin closes major Fibonacci levels of 3.618 and 4.618 then the asset could take an upswing varying between $11.3k and $14k. Further, addressing Bitcoin's recent bull rally, he manifested that if it continues to rally by 20% more, then Ethereum could follow and leg up by 10%. On the contrary, the analyst mentioned a strong support area for the altcoin between $2.9k and $3.3k. 
Ethereum Breaks Double Top Pattern!
The second-largest crypto-asset experienced a phenomenal increase in the weekly trade volume of 7.03%. At present, the altcoin is in a strong consolidation phase around $3,863. There seems to be a lack of FOMO as the selling pressure is pretty dominant. In a one-hour chart, there are a considerable number of red candles.
If the buyers come forward showing interest in the asset then the asset is anticipated to surpass a major resistance level of $4,042. On the flip side, the asset could fall well below $4,000. A comfortable support zone for the asset could be between $3,500 and $4,000.
On the other hand, the total value in the ETH 2.0 deposit contract recorded an ATH of over $30 trillion. As the upgrade is programmed to launch any time soon. This could act as a major catalyst in the coming days. Hence, the altcoin has the strong potential to reach new highs.
Ethereum and Dogecoin Primed for Breakouts As Crypto Markets Gear Up for Bullish December, According to Analyst Justin Bennett
Crypto analyst Justin Bennett says that December could bring rallies to the digital asset markets, with Ethereum (ETH) and Dogecoin (DOGE) potentially at the forefront.
The analyst tells his 91,000 Twitter followers that the dollar index (DXY), which compares the USD to a basket of other fiat currencies, is flashing a bullish signal for the crypto markets.
A weaker DXY often signals higher prices for many assets. Bennett notes that DXY may have just had a failed breakout, and could now be facing downward momentum.
"DXY looks good for a crypto rally heading into December.
Friday's close back inside this channel indicates weakness. Now for a close below 95.80.
Let's see."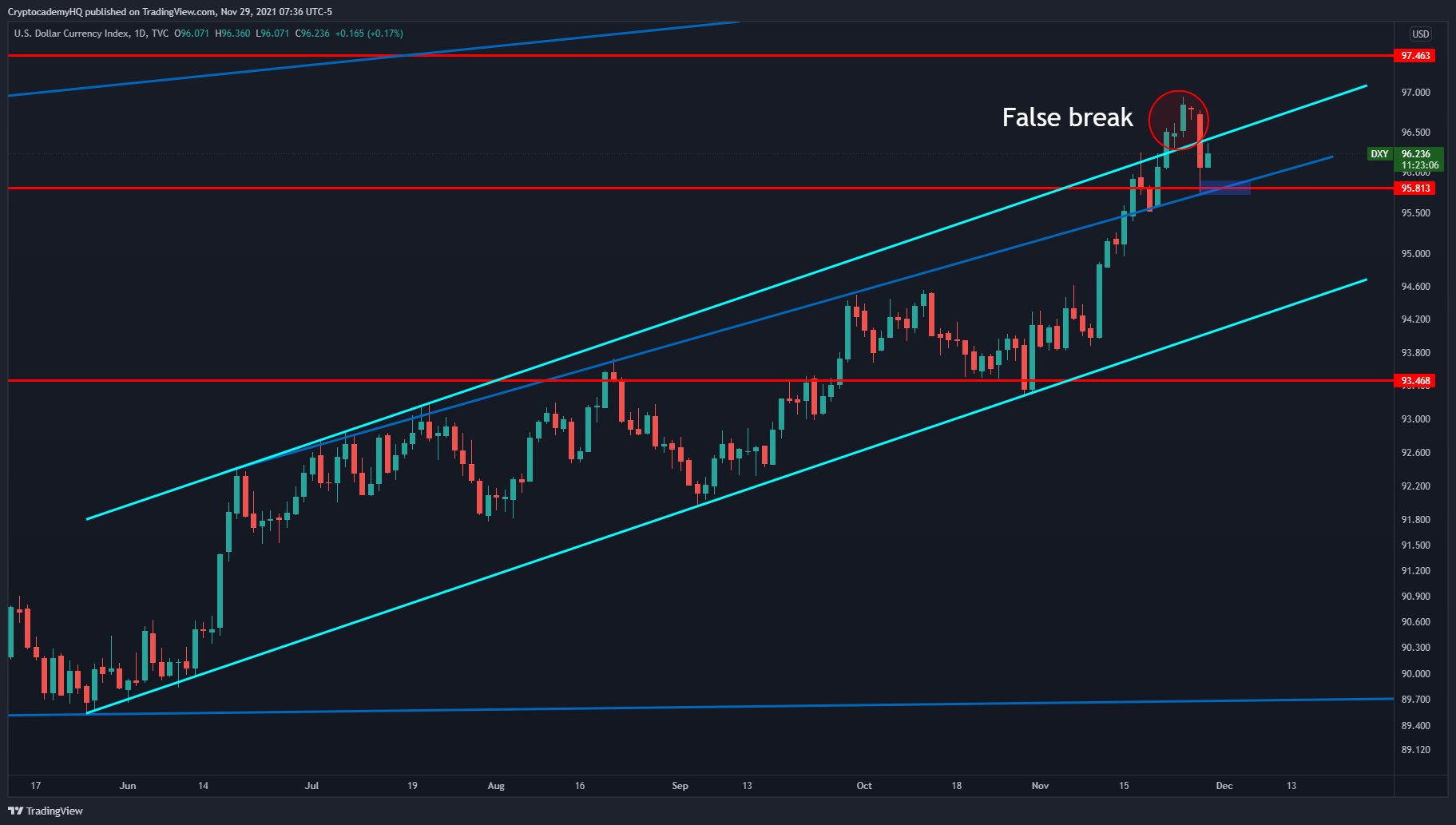 Bennett also has his eye on the chart for the total market cap of crypto (TOTAL). According to him, TOTAL is nearing the end of a large bullish descending wedge. He also notes a divergence between the rising relative strength index (RSI) and the downward price movement. A rising RSI during a downtrend is often interpreted as a hint of a bullish reversal.
"TOTAL falling wedge and bullish divergence developing on the intraday charts.
Something to keep an eye on."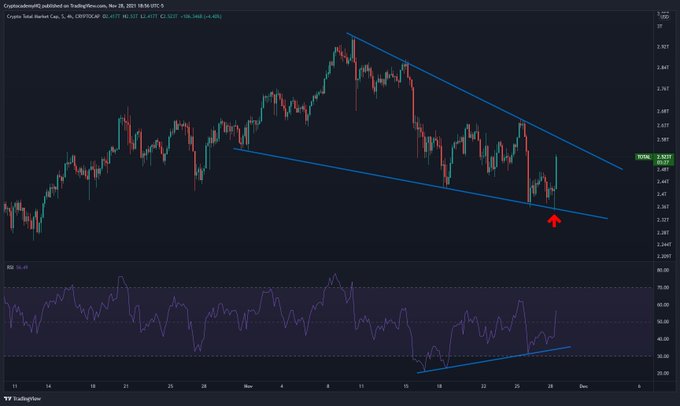 Looking at Ethereum, the analyst says that next month looks good for the world's second-largest crypto. Bennett says ETH is "poised to do well in December," and could already be jostling for a breakout, as long as it sees more volume.
"ETH approaching a breakout level.
Just add volume."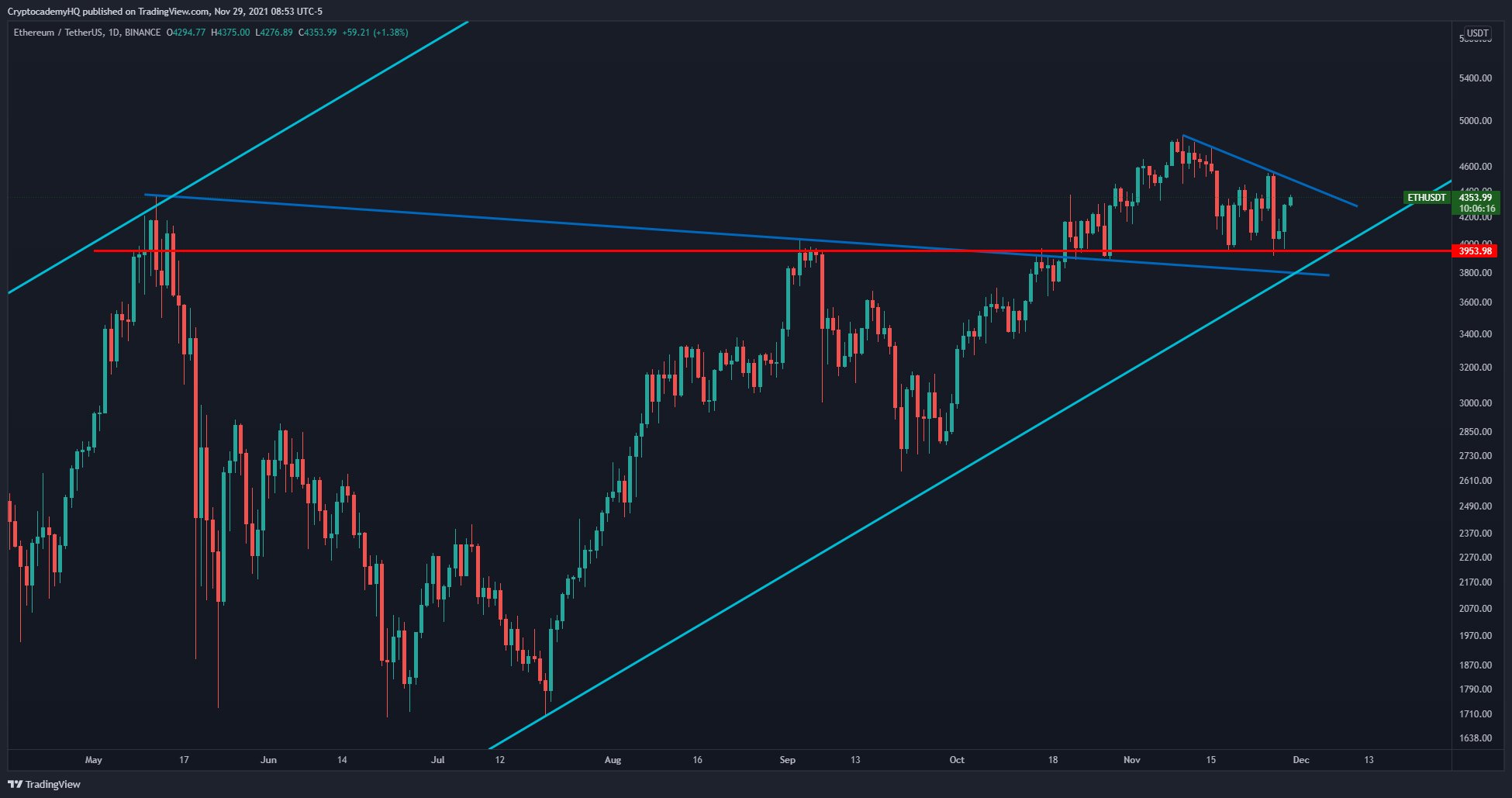 Also joining the rallies, according to Bennett, is leading memecoin Dogecoin (DOGE). He says DOGE is in the middle of a breakout, with its first key resistance at $0.25, and a final resistance level at all-time highs above $0.75.
"DOGE is breaking out."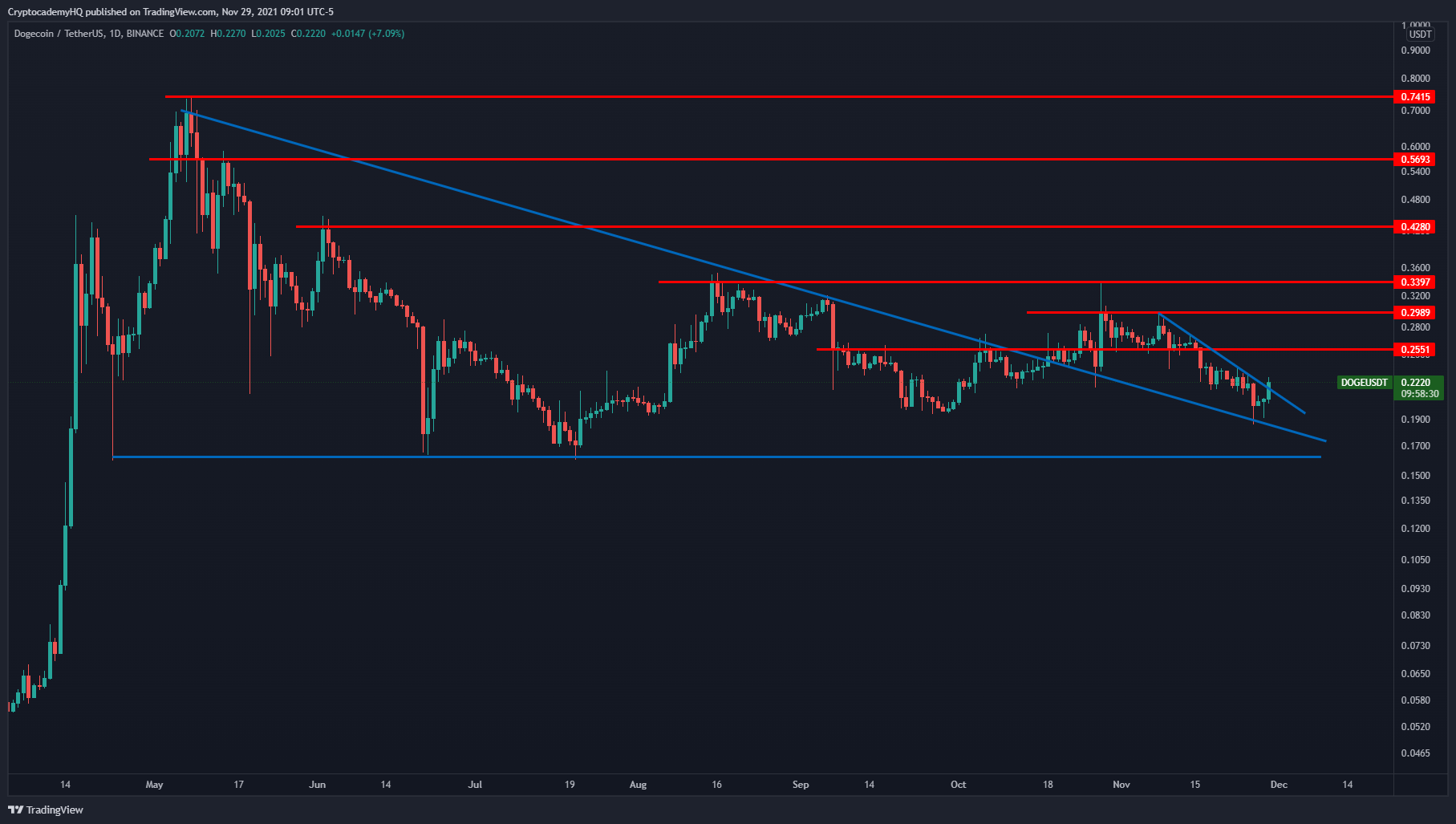 Should Ethereum investors really prepare for a '$6000' December
Ethereum hasn't had a great time in November. Dropping by more than 9% at one point, the asset continued to decline over the course of the month.
However, the overall view might not be as bad as it seems on the surface. In fact, Ethereum has registered a 0.5% ROI for the month, which means investors would not have lost much even if they had invested towards the beginning of November.
Now, in this article, we will highlight a couple of factors that might suggest patience being rewarded for ETH investors during the last month of 2021. At press time, Ethereum's market cap had recovered above $500 billion, having appreciated by 7% on the charts.
Structural survival and setting foundation
One of the primary observations seen over the past 30 days is that Ethereum continued to find support between $3800 and $4000. After hitting $4400 in late October, it tested that range again before rising higher on the charts. However, the 2nd half of November led to strong corrections and on 26 November, a significant collapse took place. This range was tested again and now, over the last 30 days, the same price zone has been tested 5 times.
Speculations lead one to believe that Ether may undergo corrections beyond this level after it struggled just above $4000 over the last few days. However, over the last 24 hours, ETH recovered back above $4300.
Now, immediate corrections concerns might have been put to bed and another positive trait can be observed.
Ethereum and its larger plans for December?
Ether's price chart in the short-term might indicate chaos, but the long-term chart seemed to imply dynamic bullishness. This may lead to a strong December. The asset's movement has formed a Cup and Handle pattern over the past few months. Keeping a base resistance of $4000, the pattern underwent a positive breakout during the beginning of November.
Now, in the grand scheme of things, the last few weeks of correction were a testing phase down to $4000.
Finally, Ether closed above $4000 yesterday on the weekly chart, emphasizing the presence of long-term bulls in the chart. Hence, technically, if the cup and handle pattern sees a positive turnaround, Ethereum should be expecting a 50% chance of testing a new high at $6000-$6200 over the course of December.
Investment greenlight
On the question of identifying on-chain proficiency, ETH's MVRV ratio suggested a buying opportunity. With the value dropping down to zero, it was a sign that selling pressure has more or less fallen for the altcoin. Historically, this has been a good period to buy based on the MVRV, and the overall market is set up in that direction as well.
Bitcoin, Ethereum and Two Smart Contract Competitors Are the Winners Among Institutional Investors, According to Crypto Asset Manager CoinShares
Leading digital asset manager CoinShares says institutional investors have a strong appetite for Bitcoin (BTC) and three leading smart contract platforms.
According to the firm, the overall crypto market correction has left investors hungry for more.
"Digital asset investment products saw inflows of US$306m last week suggesting [a] continued appetite for digital assets."
As usual, BTC led all digital assets in terms of capital inflows, this time in the wake of a new exchange-traded product (ETP) set to launch on the Deutsche Borse exchange.
"Bitcoin saw the largest inflows in 5 weeks totaling US$247m following the launch of another investment product in Europe. This brings the 11 week run of inflows to US$2.7bn."
BTC is trading at $58,475 at time of writing, up nearly 6% on the day.
The leading smart contract platform Ethereum (ETH) concluded a strong month of inflows with a week totaling over $23 million.
"Ethereum saw inflows totaling US$23m last week, marking its 5th consecutive week of inflows."
This week's big winners in inflows relative to assets under management (AuM) also include the scalable smart contract platform Solana (SOL) and the interoperable blockchain Polkadot, which is designed to support multiple layer-1 smart contract protocols.
"In terms of inflows relative to AuM, Polkadot and Solana continue to be the winners, with inflows representing 8.6% (US$11.5m) and 5.9% (US$14.6m) of AuM respectively last week."
Ethereum is currently trading at $4,453.79, up 7.5% in the last 24 hours. SOL and DOT are trading at $211.48 and $36.82, respectively, at time of writing.