Massive drop in Ethereum exchange reserves signals imminent supply shock, ETH eyes $8,000
Over 400,000 ETH was pulled out of Coinbase, dropping exchange reserves and driving a supply crisis.
Average Ethereum gas fees stay above $20 due to an increase in pressure from smart contracts on the network's blockchain.
Analysts who are bullish on Ethereum expect ETH price to cross $5000 in an upward climb.
Institutional investors are bullish on Ethereum with rising capital inflow. Ethereum reserves across exchanges have dropped as outflow increases.
Coinbase notes massive Ethereum exchange outflow
Coinbase noted a withdrawal of 400,000 Ethereum tokens, and according to community-driven crypto platform CryptoQuant, it is likely that the outflow was institutional activity. Analysts expect a bullish impact on ETH prices. 
400,000 Ethereum tokens are the equivalent of $1.5 billion, withdrawn from the second-largest cryptocurrency exchange. The exchange outflow indicator is considered a sign of increased outflow and a supply shortage in Ethereum.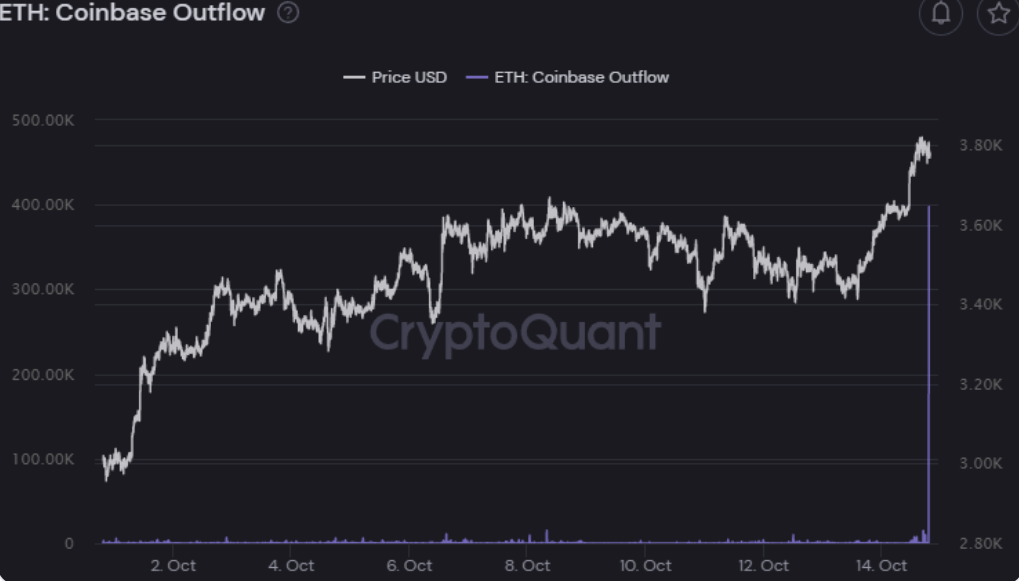 Ethereum Exchange Outflow.
Ethereum has posted over nearly 20% gains in the past two weeks.
Interestingly, there is a spike in whale activity on the Ethereum network. Over $188 million worth of Ethereum was moved between two anonymous cryptocurrency wallets in a single transaction. 
A mysterious whale initiated the transaction, and it was sent to an unknown recipient. The details of the transaction are as follows: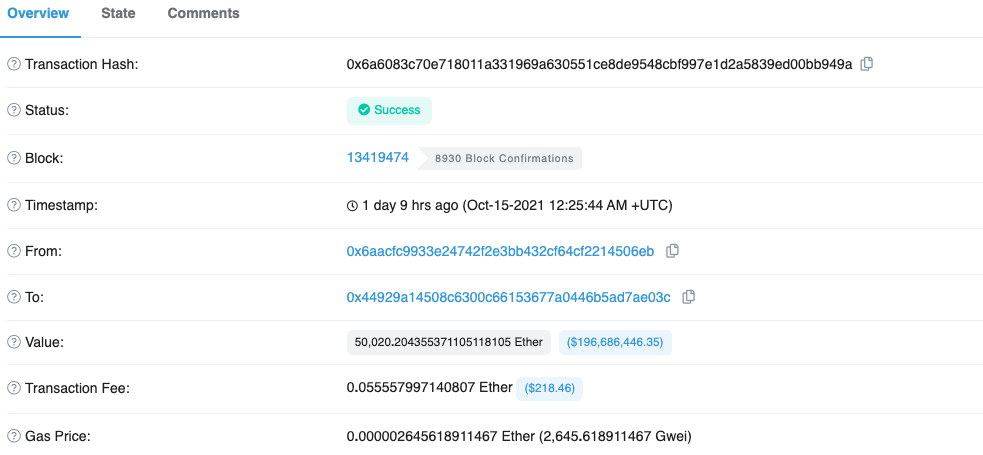 Whale activity on the Ethereum Network.
With news of Bitcoin ETF getting approval by the Securities & Exchange Commission next week, experts are awaiting Ethereum's turn. Analysts are of the opinion that following Bitcoin ETF approval, capital inflow to Ethereum and altcoins will increase.
Pseudonymous cryptocurreny trader and analyst @jroberts3334 has set a target of $8000 for Ethereum for February 2022. 
My target for ETH is 7600/8000 by Feb. The Altair upgrade is coming quickly on Oct 27. The merge of POW/POS and L2 upgrades are coming quicker than people realize – I believe it will coincide nicely with this next leg higher in BTC (after 1 more possible dip).— jrob 🍌₿ Ξ (@jroberts4334) October 14, 2021
Simon Dedick, Managing Partner of Moonrock Capital, is bullish on Ethereum; he tweeted:
$ETH is just a 13% pump away from breaking its previous ATH and entering parabolic price discovery.— Simon Dedic (@scoinaldo) October 16, 2021
FXStreet analysts have evaluated the ETH price trend to analyze where altcoin is headed next. Analysts have set a target of $5200 for ETH price. 
Top 3 Price Prediction Bitcoin, Ethereum, Ripple: ETH outperforming its peers, BTC struggles and XRP bearish
Bitcoin refrains from making new highs as Tuesday's gap-fill kills uptrend continuation.
Ethereum outpaces its peers by barely hitting new all-time highs.
XRP price again looking for direction as investors interest wanes.
The Bitcoin bull rally got stopped in its tracks this week after BTC price came under more pressure from the Omicron story, and the resulting market turmoil. Ethereum price, however, came just $16 away from making a new record high, making gains in contrast to the other two majors. XRP saw investors buying the dip, but the uptrend hit a wall and got stopped in its tracks.
Bitcoin price on the backfoot after a slowdown that made it lose bullish momentum
Bitcoin (BTC) price popped higher at the beginning of the week, shrugging off investors' concerns about the new Covid variant.On Monday, BTC price opened up much higher than where it closed on Sunday, forming a gap in the chart. As a general rule, gaps get filled sooner rather than later, and this was the case on Monday, when bulls saw their early gains lost as BTC price retraced to fill the gap. 
Bears have seized the opportunity to defend the new monthly pivot for December at $59,586, which coincides with the start of a Fibonacci retracement.. Evidence of this weakening can be found in the Relative Strength Index (RSI), dipping back below 50, showing that bullish demand is starting to wane.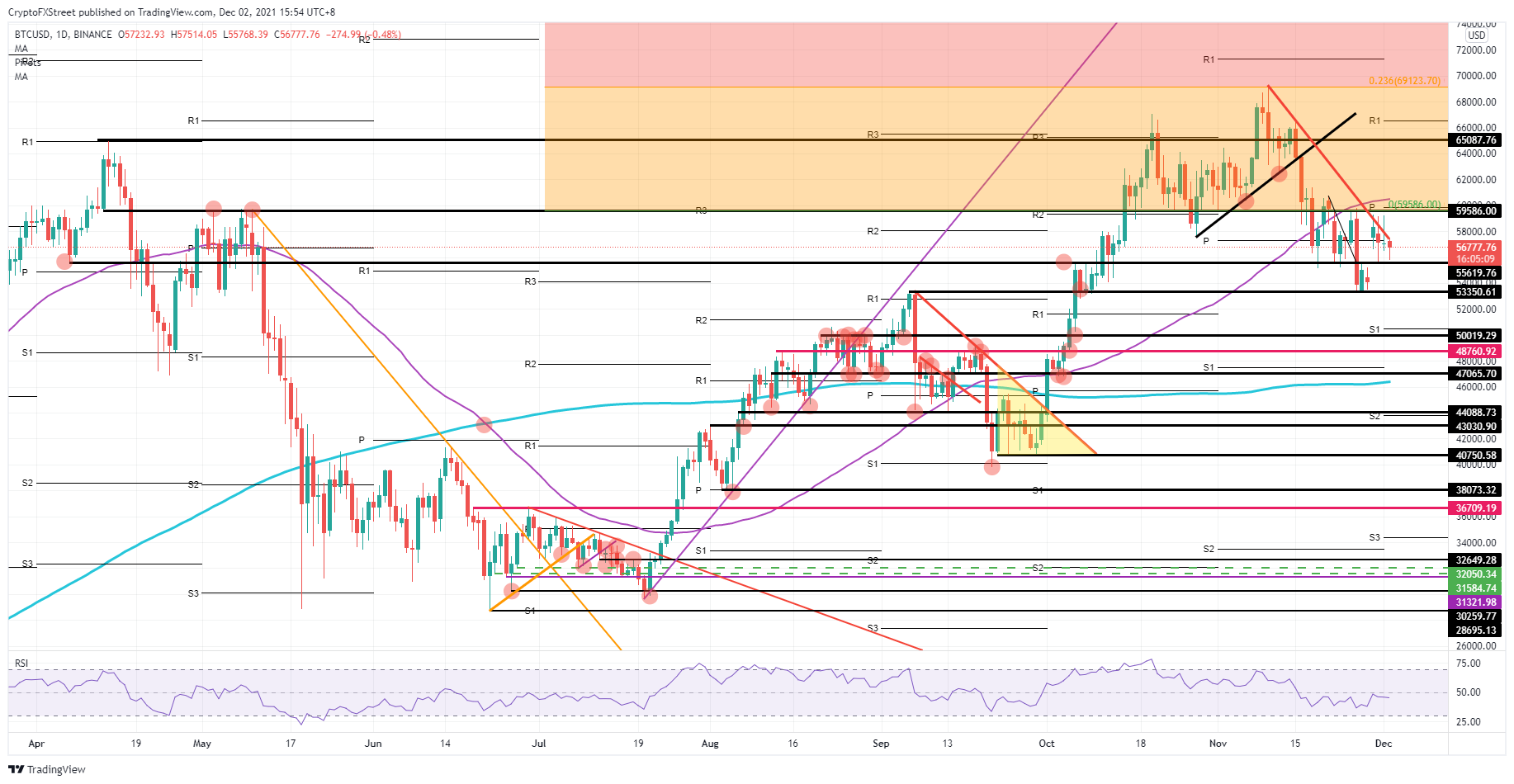 BTC/USD daily chart
As a result of current market uncertainty, expect potential investors to stay on the sidelines. Although the red descending trend line has been broken a little, it still holds importance and investors will probably only step in following a break back above it,  helped, perhaps, by breaking news about vaccine effectiveness  against the new strain. Either that or investors will sit on their hands and wait for another bounce off $53.350. Should that level fail to hold, however, and there is more bad news,, expect a quick 6% drop towards the $50,000 psychological level and previous historical support. At that level bulls will likely mount a defence against a further downturn.
Ethereum price outpaces its peers and could make new highs by the end of this week
Ethereum (ETH) price, unlike Bitcoin and XRP, saw bulls run a tight and steep rally from $4,000 towards $4,936 in just five days. That was in a troubled market facing considerable headwinds. That said, bulls now need to keep a tight stop on current ETH price action in order for a bull trap not to form, after the pull-back on profit-taking that occurred in the wake of price barely hitting an all-time high. 
ETH quickly reversed from its highs on Wednesday and tested the December pivot at $4,481. That is just $16 above the historical technical level marked up on the chart from November 12. This is a level of great importance and it will be very interesting to see if bulls can maintain price action above it, perhaps, helped by a possible bounce off the red top line that has so far been  successfully capping price action to the upside.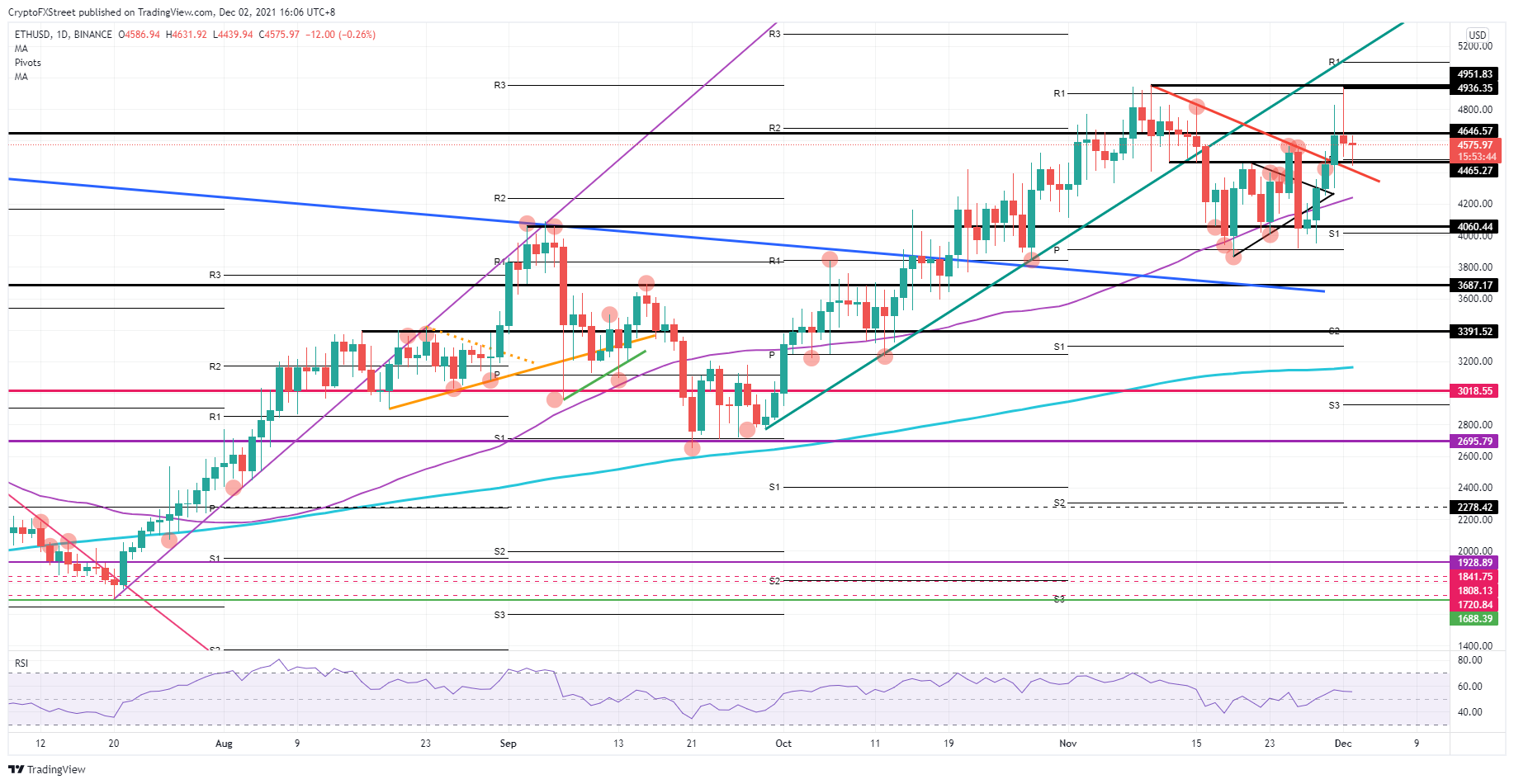 ETH/USD daily chart
That red descending trend line, on the other hand, should support a break below $4,465, but if bulls flee the scene, expect a bull trap to form and price to run down lower. The first support tested in that decline is the historical double top at $4,060, with the monthly S1 support level at $4,000 just below there. The correction could already hold 18% of accrued losses from the highs of Wednesday, which would attract investors interested in the buying opportunity at those levels.
XRP price sees bulls rejected at $1.05, pushing price back towards $0.88
Ripple (XRP) price saw sparks fly in a nice uptrend on Wednesday, but then hit a bump in the road after the $1.05 level held firmly, following two failed tests to the upside. The rejection that squeezed prices to the downside on Tuesday, probably washed out quite a lot of investors and technical traders, and caused the lack of momentum and drive in XRP price action to tackle that $1.05 resistance. As the price fades further to the downside today, expect current market uncertainty to weigh further on XRP and see a possible retest of the short-term double bottom at $0.88.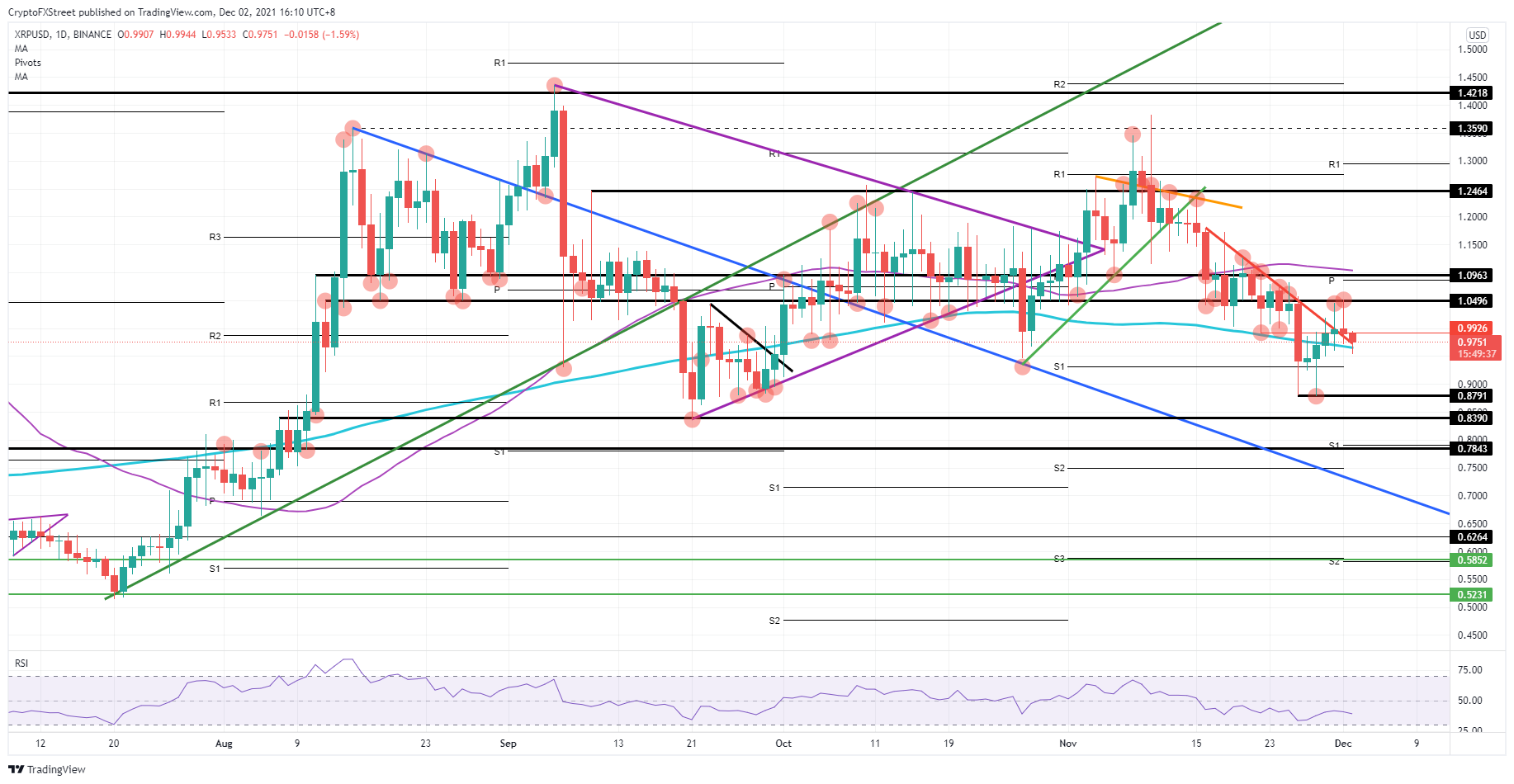 XRP/USD daily chart
On a retest of that double bottom, a break looks more than likely, as the level holds no historical or other significance. That would hand bears the opportunity to push XRP price down towards either $0.84, for the third test of support at that level, or breakthrough and run down to $0.80, which is a prominent figure and the level of the monthly S1 pivot support level, combined with a historical significant support level at $0.78, originating from June 8. This  would provide the perfect zone for a fade-in trade for XRP traders.
Bitcoin and Ethereum Test Key Support, Altcoins Consolidate
Bitcoin price is consolidating above the USD 55,500 support.
Ethereum spiked below USD 4,500 before recovering losses, XRP faces a hurdle near USD 1.0.
SOL is showing positive signs above USD 220.
Bitcoin price extended decline below the USD 56,500 support. However, BTC stayed above the USD 55,500 support. It is slowly recovering and is currently (11:30 UTC) facing resistance near 57,200. The main hurdle is still near USD 58,000.
Besides, most major altcoins are trading above key supports. ETH spiked below USD 4,500, but it stayed above USD 4,450. XRP is slowly moving higher towards the USD 1.00 resistance. ADA found support near USD 1.52 and recovered above USD 1.55.

Total market capitalization

Bitcoin price
After a break below USD 56,500, bitcoin price even spiked below USD 56,000. However, the bulls defended the key USD 55,500 support zone. It is now rising and trading above USD 56,000. To continue higher, it must surpass the USD 57,200 resistance. The main resistance for a larger rally is now near the USD 58,000 level.
An initial support on the downside is near the USD 56,000 level. The key breakdown support sits at USD 55,000, below which there could be a sharp decline.
Ethereum price
Ethereum price failed to stay above the main USD 4,550 support level. ETH even dived below USD 4,500 before it found support near USD 4,450. It is now recovering losses and trading above USD 4,500. To start a fresh increase, the price must clear the USD 4,620 level.
If not, there is a risk of a fresh decline towards the USD 4,450 level. The next major support is near the USD 4,350 level.
ADA, BNB, SOL, SHIB, and XRP price
Cardano (ADA) found support near USD 1.52 and remained stable above USD 1.50. It is slowly rising and trading above the USD 1.55 level. The main resistance is still near USD 1.60 and USD 1.62, above which the price could start a steady increase.
Binance Coin (BNB) retested the USD 600 support zone. It is forming a base for the next move, with an immediate resistance at USD 625. A clear move above USD 625 could send the price towards the USD 635 and USD 640 levels.
Solana (SOL) is still trading in a positive zone above the USD 220 level. There was also a break above the USD 225 level. An immediate resistance is near USD 232, above which the price could rise towards the USD 240 level or even USD 250.
SHIB declined towards the USD 0.000040 level. It is currently recovering losses and trading above the USD 0.000042 level. If there is a break above USD 0.0000432, the price may perhaps gain bullish momentum in the near term.
XRP price tested the USD 0.950 support level and is currently correcting losses. It is approaching USD 0.985, but the main hurdle is still USD 1.0. A close above USD 1.0 might set the tone for a move towards the USD 1.05 level.
Other altcoins market today
Many altcoins are still down over 6%, including STX, IMX, BAT, AUDIO, KCS, ZEN, AAVE, VGX, QNT, CAKE, WAXP, and LEO. Conversely, MATIC, OKB, LUNA, and UNI are up over 5%.
To sum bitcoin price is recovering losses above USD 56,000. However, BTC must clear hurdles near USD 57,200 and USD 58,000 to continue higher in the near term.
New Ethereum Prediction Is Out – Here's The Latest Forecast On ETH's Price
The crypto market has been seeing some recent corrections, but now things are looking good with most of the important coins trading in the green.
There have been all kinds of bullish predictions out there and the latest one involves the price of Ethereum.
Nicholas Merten drops new ETH price prediction
It's been just revealed that Nicholas Merten says that Ethereum (ETH) may grow another 325% before the current bull cycle comes to an end.
In a new strategy session, he said that he thinks it will take for Ethereum to eventually smash the $20,000 level.
"If everything goes perfect for Ethereum, if we get that opportunity to be able to get ETH to launch properly, people using roll-ups, whether it be zero-knowledge roll-ups or optimistic roll-ups, generally 'layer-2 solutions,' we could see a $20,000 Ethereum this cycle."
He continued and said the following:
"I know it sounds crazy but when you look at the logarithmic chart we've seen these kinds of percentage returns before."
At the moment of writing this article, ETH is trading in the red and the coin is priced at $4,518.
The analyst made sure to explain the fact that if Ethereum maintains solid fundamentals, a rally to the $20,000 may not be too bold.
He notes that such a gain would only be about half of what ETH achieved in the first five months of 2021.
"I think it's very reasonable we could see this kind of price level. Somewhere between our neutral and optimistic target. To play it safe, I would say that we've got a really solid steady stream of price action for Ethereum ahead of us."
He also pointed out the following fact:
"The key thing to understand is that there are periods of this cycle where Ethereum outpaces Bitcoin, which makes these higher targets reasonable."