XRP is UK's most popular crypto as analyst expect massive gains
In a recent report by the eToro trading platform, XRP emerged as the most popular cryptocurrency in Q3 2021.
Ripple has partnered with Digital Pound Foundation to support the creation of the UK's central bank digital currency, the "Digital Pound Sterling."
Analysts are bullish on XRP price, predicting a big move in altcoin within the next two days.
In the third quarter of this year, XRP became the number one cryptocurrency in the UK, according to social trading platform eToro. XRP holders are bullish on the proceedings in the SEC v. Ripple case.
Analysts predict a big move in XRP, bullish on the new partnerships
eToro, the social trading platform, recently revealed that XRP is UK's most popular cryptocurrency, followed by Cardano (ADA). Crypto traders in the UK have put more funds in XRP than any other crypto in Q3 2021.
The year-on-year increase in XRP price is over 100%; despite higher gains in Bitcoin and Ethereum, traders held on to XRP for its volatility and risk-adjusted returns. 
Interestingly, XRP has witnessed a spike in retail and institutional adoption over the past few months. Ripple collaborated with the Digital Pound Foundation and prepared to work in line with the firm's objectives to work with global banks and resolve issues related to CBDC development.
XRP is engaging with centralized institutions for the development of CBDCs. After announcing its partnership with Bhutan's Monetary Authority, Ripple works with the UK's central bank for the "Digital Pound Sterling."
Ripple has positioned itself to be a bridge in CBDC development. Nearly 80% of central banks are currently exploring CBDC development, and the Ripple network's engagement with centralized institutions is expected to boost XRP's utility.
The world's sixth-largest cryptocurrency started at $0.22 in 2021 and hit a high of $1.9 in April before further correction.
Cryptocurrency analyst @Koolaid_crypto has predicted a big move in XRP price over the next two days. 
$XRPBTC showing a possible big move for $XRP in about 2 days time if this fractal holds up. #XRP #XRPcommunity #XRPusdt #XRP pic.twitter.com/ZRI7y2lt7s— Crypto Koolaid (@Koolaid_crypto) October 15, 2021
FXStreet analysts have evaluated the XRP price trend and predicted that the altcoin would skyrocket to $2 with a rise in trade volume. 
XRP Whale Withdraws 150 Million Coins from Binance
Another XRP whale moves his or her funds from the exchange, now storing $150 million in a private wallet
The transaction made only a few hours ago was one of the largest non-exchange transactions made on the XRP blockchain in the last few months, according to Whale Alert.
The $150 million transaction
According to the transaction page, an anonymous whale has moved 150 million XRP coins worth approximately $150 million from Binance exchange to an unknown wallet that is currently holding 150 million coins.
Previously, the same wallet has been making small, insignificant transactions to various exchanges worth approximately $20-$30. The first large transaction has been made.
After receiving significant funds, the wallet spent approximately 100,000 coins by transferring them to UpBit exchange. The purpose behind such unusual funds redistribution remains undisclosed.
Ripple's price action
Ripple's price does not seem to consider major funds moving in a market with the price continuously moving in the same trend. The asset has broken the four-day uptrend by dropping below $0.98.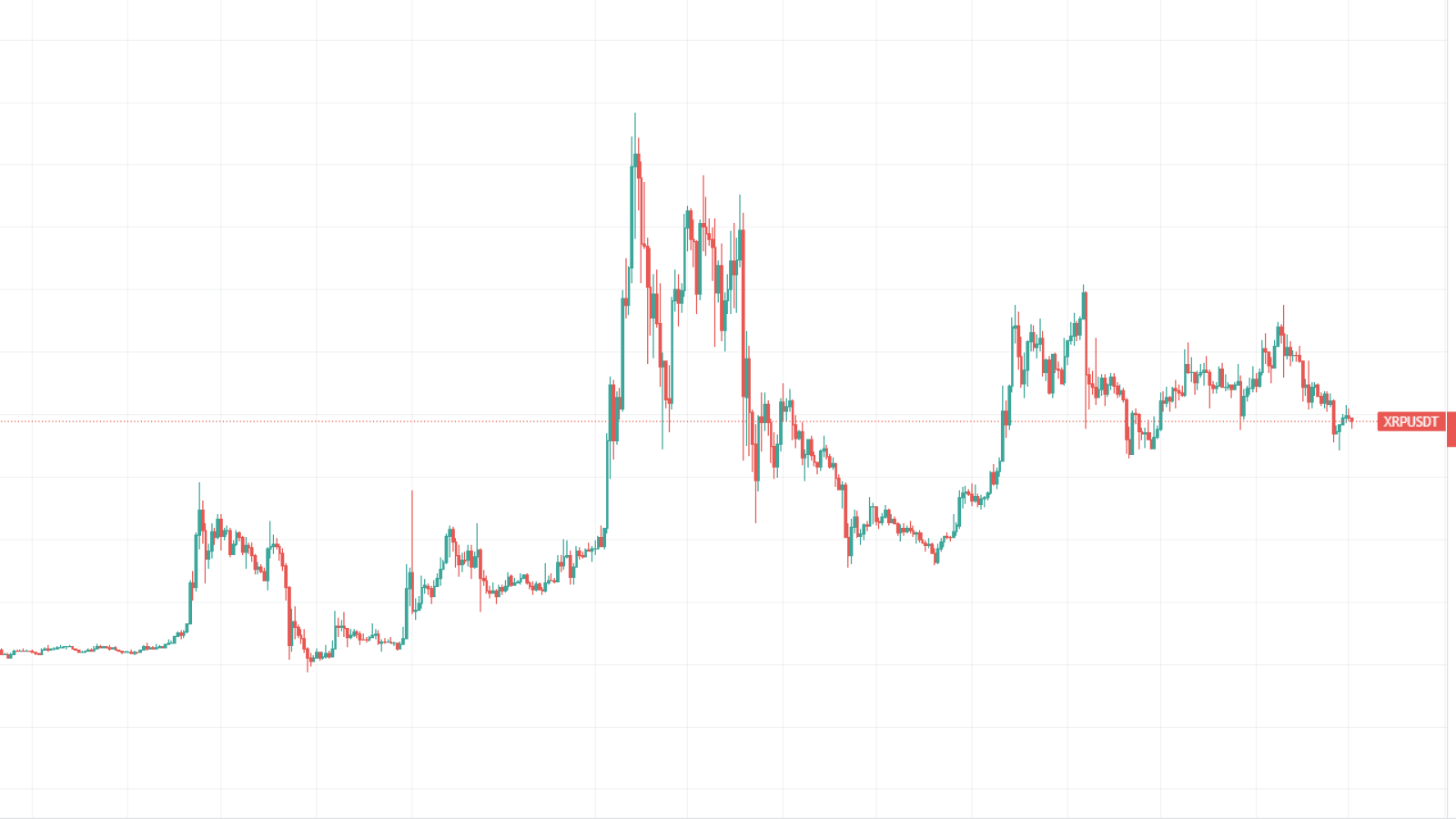 XRP was one of many victims of the global cryptocurrency market correction that took place on the market due to a rise of risk-off tendencies after the aggravation of the pandemic all over the world.
Previously, U.Today reported that numerous whales have made large transactions from various centralized exchanges back to their wallets. Such a trend is tied to overall outflows tendencies on the cryptocurrency market.
At press time, XRP is trading at $0.97 while losing 1.2% of its value. The price of the asset gained 6.2% in the previous local uptrend.
XRP and Other Top Cryptocurrencies Now Accepted by Croatia's Largest Supermarket Chain
Crypto is becoming mainstream in Croatia because of Konzum
Konzum, the largest supermarket chain in Croatia, which was founded all the way back in 1957, has begun accepting cryptocurrencies in its online store, according to a Dec. 1 report by Zagreb-based newspaper 24sata.

The lineup of supported digital currencies includes Ether (ETH), Bitcoin (BTC), XRP, Stellar Lumen (XLM) and Bitcoin Cash (BCH), as well two stablecoins (Tether [USDT] and DAI).

Shoppers are now able to buy groceries, hygiene items, household supplies and other items with the aforementioned cryptocurrencies.

Konzum partnered with Croatian fintech company Electrocoin to use its PayCek system to facilitate crypto payments.

They spent several weeks testing the service before the official rollout in the run-up to Christmas.
Crypto is coming to Konzum's physical stores
Crypto payments will also gradually become available in Konzum's physical stores throughout the country.

The company will begin with 60 locations that have self-checkouts. After that, new payment options will be introduced in 630 stores of all sizes throughout Croatia.
XRP Seeks Fresh Rally as Investors Look to Key Events in 2022
Ripple announced plans to launch Liquidity Hub in 2022 to assist financial services entities in providing customers with the capacity to buy and sell securities
Ripple has announced a financial liquidity hub planned for 2022. XRP seeks a fresh rally past the $1 mark at December's start amid investors' hopes for upcoming events in 2022 that might impact the price.
The goal of Ripple's Liquidity Hub, which will launch in 2022, is to assist financial services entities in offering their clients the opportunity to buy and sell cryptocurrencies. The functionality will provide enterprise clients access to digital assets from a variety of sources, including market makers, exchanges and over-the-counter trading desks, according to the San Francisco-based company.
Second, according to Ripple CEO Brad Garlinghouse, the ongoing Ripple-SEC lawsuit will be resolved in 2022. "Ripple is seeing pretty good progress despite a slow-moving judicial process," according to the CEO. The SEC accused Ripple and its officials of selling $1.3 billion worth of tokens in an unregistered securities offering in December 2020.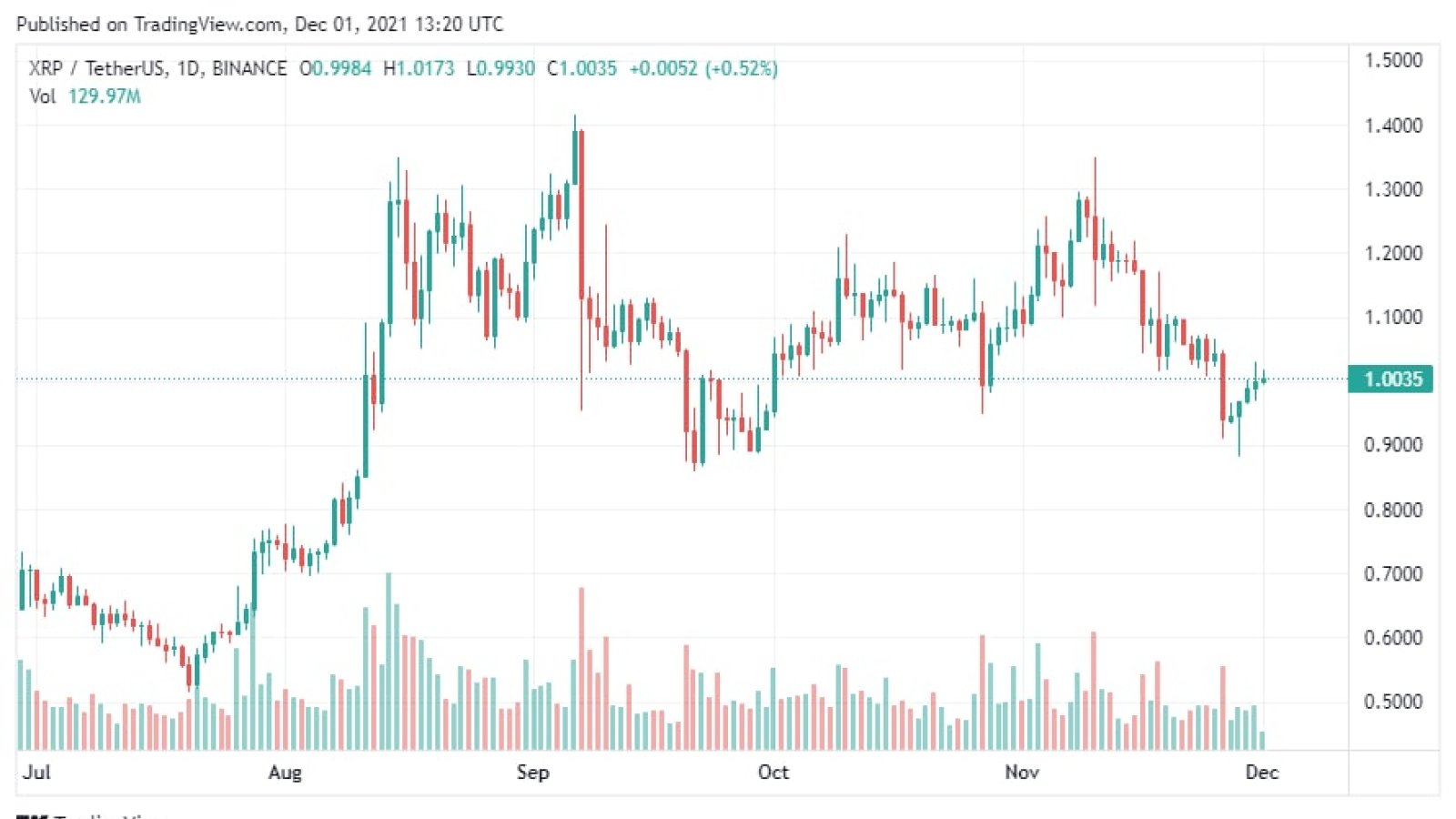 XRP/USDT Daily Chart, Courtesy: TradinView.com
XRP has improved in price since the Friday sell-off, where it marked lows at $0.87. The cross-border token currently trades at $1. If the buyers of the remittance token push above $1.00, pending buy orders will be filled and market makers will provide more liquidity.