Is Solana the Fastest Horse? Veteran Crypto Trader Shows Why SOL May Be Set to Outperform Everything
A closely followed trader suggests that smart contract platform Solana (SOL) might be the fastest horse in the crypto bull market.
The trader known as Cantering Clark shares with his 76,000 followers a snapshot of a collection of different cryptos throughout the day.
He notes that even while Bitcoin was receiving all of the attention during its rally past $60,000, SOL quietly outperformed the rest of the market.
"There are so many reasons to have been long SOL to this point. Are you seeing the trend yet? Even on a day where Bitcoin is the main show, Sol is outperforming. Fast horse."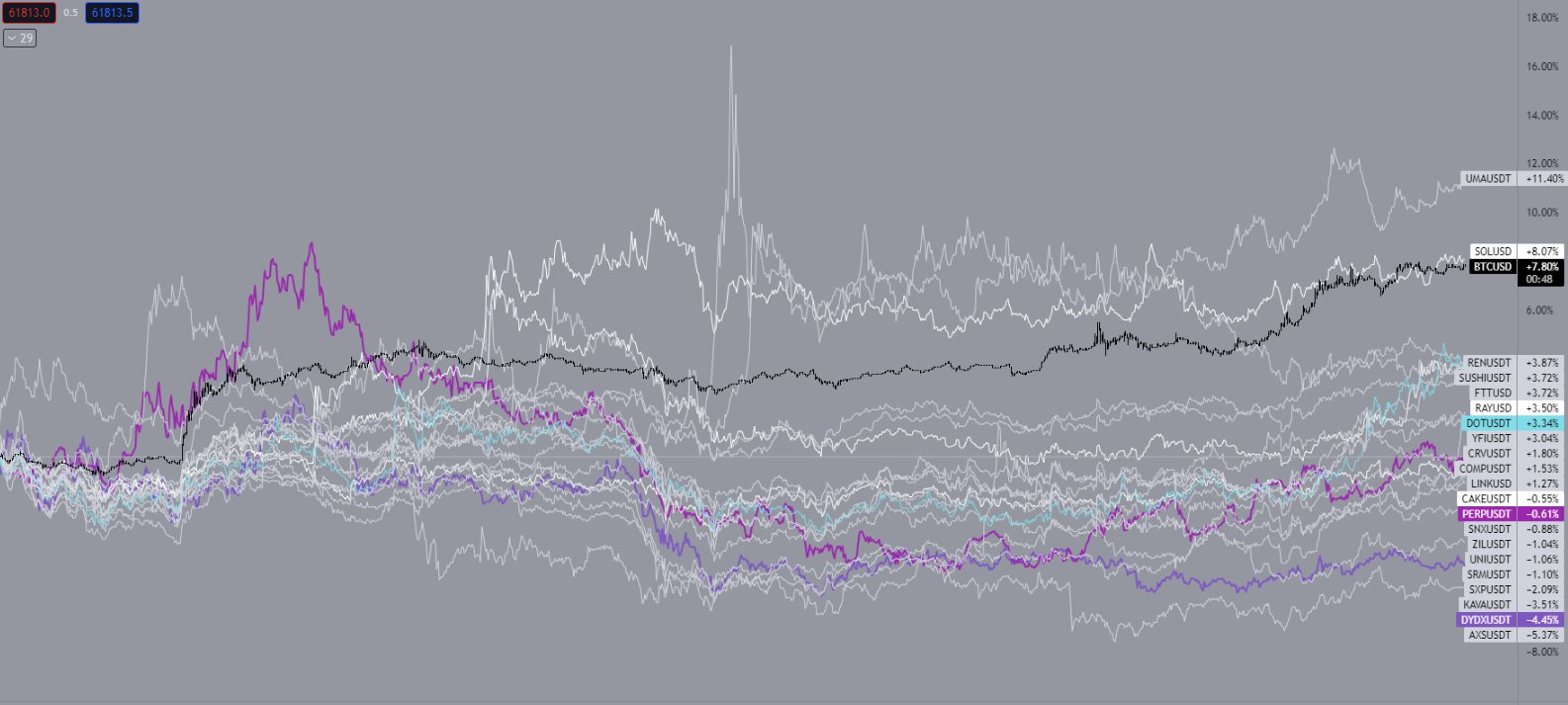 Looking at Bitcoin and the crypto markets in general, the trader says he's keeping his outlook simple. He sees the upcoming launch of a Bitcoin exchange-traded fund (ETF) as a bullish catalyst that should send prices higher.
"How many people are going to get long as hell thinking each confirmation is going to yield a higher result?
I believe in the inefficiency of this market.
ETF = ATH"
According to Canterin Clark, Bitcoin will take the lion's share of capital flows moving into the near term. He says he expects altcoins to underperform compared to BTC.
"If you think Bitcoin is going to break the ATH soon and you are also positioned heavily in alts, maybe rethink that…
Because when Bitcoin breaks the ATH alts are going to get cut down. So yes, the post absolutely makes sense."
Solana Price Analysis: SOL sets lower high at $204, slowly moves into a consolidation?
Solana price analysis is bearish today.
SOL/USD saw a rally to $204 today.
Higher low was previously set at $176.
Solana price analysis is bearish today as we expect the current rally to end with another lower local high set. Since SOL/USD also previously set a higher low, we expect the market to begin consolidating in an increasingly tighter range over the rest of the week.
The cryptocurrency market saw bullish momentum over the last 24 hours. The market leaders, Bitcoin and Ethereum, gained around 4.5 percent, while Solana (SOL) saw a strong increase of over 5 percent.
Solana price movement in the last 24 hours: Solana sets higher low at $176, rallies to $204
SOL/USD traded in a range of $186.20 – $204.12, indicating substantial volatility over the last 24 hours. Trading volume has declined by 19.72 percent, totaling $2.88 billion, while the total market cap trades around $60.18 billion, ranking the coin in 5th place overall.
SOL/USD 4-hour chart: SOL peaks at $204?
On the 4-hour chart, we can see another lower high likely set as further upside was rejected at $204 earlier today.
Solana price action has seen strong volatility over the past weeks. After a sharp rally during the last days of November, a slightly higher high was set at $243, indicating potential reversal forming for the overall bearish trend.
However, a sharp drop lower was seen across the market on Friday, with Solana not being the exception. SOL/USD quickly lost around 30 percent as it spiked to the $170 mark. There, support was quickly found, with the market reacting to $210 rather quickly.
The follow-up push lower was seen over the weekend, setting a slightly higher low at $176. From the newly found low, the Solana price action saw bullish momentum return overnight to Today. Bullish momentum continued until the $204 mark, likely meaning that another lower high has been established.
Solana Price Analysis: Conclusion
Solana price analysis is bearish today as we currently expect another push lower after a new lower high set around $204. Likely SOL/USD will move to set another higher low, indicating that the market is trading in an increasingly tighter range.
While waiting for Solana to move further, see our articles on How to mine Monero, XRP vs BTC, and DeFi Wallet Review.
$2.6 Billion Bug in Solana Program Library Disclosed: Details
Researchers from Neodyme, a boutique team focused on security audits, noticed a critical vulnerability in Solana's codebase
In their latest blog post, crypto security researchers from Neodyme shared the design of an attack that may be profitable for "expensive" tokens integrated into Solana (SOL) ecosystem.
"One Lambo per hour"
As per the announcement shared in Neodyme's social network and blog, its members noticed a bug in the token-lending contract of the Solana Program Library. As such, it affected numerous Solana-based DeFi protocols.
We recently discovered a critical bug in the token-lending contract of the solana-program-library (SPL). This blog post details our journey from discovery, through exploitation and coordinated disclosure, and finally the fix.— Neodyme (@Neodyme) December 3, 2021
Aggregated total value locked (TVL) at risk was over $2,600,000,000. The design of the hypothetical attack was quite simple: while depositing n fractional tokens, a user is able to withdraw n+1 fractional tokens.
With Solana's native token, SOL, it will not be effective economically, as 1 Lamport (the smallest fraction of SOL, like Satoshi for Bitcoin, Wei for Ether and Drop for XRP) is only worth about $0.000000220.
However, for Ether and Bitcoin, this scenario can be very profitable. With some technical upgrades, the attack can be executed about 300 times per second. In this case, losses can be dramatic:
We can get this transaction included about 300 times per second, stealing $7500 per second or about $27 million an hour (that is one Lamborghini Huracan every minute).
Bug fixed
In automated mode, this attack becomes profitable even for FTT and RAY tokens.
On Dec. 2-4, Neodyme's representatives contacted a number of decentralized finance protocols (DeFis) on Solana, e.g., Larix, Solend, Tulip, Accumen, Soda and so on.
All teams fixed the bugs in their architecture. Yesterday, software engineer Jordan Audet-Sexton shared in GitHub that the issue is fixed in Solana's main codebase as well.
Here's What's Next for Ethereum Rivals Solana and Avalanche, According to Analyst Nicholas Merten
Prominent crypto analyst Nicholas Merten is taking a look at two layer-1 digital assets stacked up against the Ethereum (ETH) trading pair.
In a new strategy session, the host of DataDash tells his 486,000 YouTube subscribers where he thinks smart contract platforms Avalanche (AVAX) and Solana (SOL) are headed.
According to Merten, it is better to compare both coins to ETH rather than the US dollar or Bitcoin (BTC) as Ethereum's greater success in recent years makes it a better barometer than Bitcoin.
"If you're really looking to see if your play is outpacing others in the market, you want to take a look against Ethereum. It is the second-largest cryptocurrency in this space and it has been outpacing Bitcoin around 380% to 400% in this cycle alone since 2019.
So we want to be able to find plays that are outpacing Ethereum because Ethereum is a really solid bet. It's a really good medium-risk, medium-reward play."
Looking at Avalanche, Merten says that a local top might be in for the AVAX against ETH after the altcoin's massive rally in the last few months.
"Avalanche has done phenomenally well against Ethereum. If you take a look back here since August, it's up 422% against Ethereum. Great rally, even after the [recent] pullback here…
When I look at this chart I definitely like seeing an asset that performs well against Ethereum, but each time it's come up to this range [0.034 ETH or $139.21] historically, it's been dragged down…
I think that again we might see some kind of repetition, or at least a revisit down to the previous support range [0.014 ETH or $57.32], which means that's it probably going to go down a little over 35% to 40% against Ethereum. A pretty decent decline.
At time of writing, AVAX is down 1% on the day to $107.20.
As for Solana's price action against Ethereum, Merten notes that the pair is flashing a bearish pattern after printing massive rallies in the last 18 months.
"But to be completely frank as a trader, Solana's had many rallies in the past. It's had one back here [from July to August of 2020], 336% rally in price. Then back here [December of 2020], if you want to take from the lows, in this case, 1,000% move, massive multiples in price.
We take a look here as well, from the recent rally here [August 2021] into September, very similar to history, a little over 350% to 400%. Not a bad rally.
But to be completely frank, we've been stagnant since September generally. The trend is starting to fade here. We don't have that same momentum, and it's seeing if it can hold out against Ethereum.
If you break below this range here [0.046 ETH or $188], I think it's very favorable that Ethereum is going to start to outpace Solana as well as other major layer-1 plays."
Solana is currently down nearly 10% and trading at $203.79.