Elon Musk and SHIB Whales Pushing Shiba Inu 15% Up, Here's How
Elon Musk's tweet is pushing Shiba Inu 15% up and recent analytics data has revealed another trigger behind the rise of SHIB aka "Dogecoin killer"
Elon Musk has published a tweet about what the community interpreted as "Shiba Inu to the moon", triggering SHIB price increase. Besides, Santiment on-chain data provider has shared another key reason for the rise SHIB meme cryptocurrency 15 percent rise.
Musk sends SHIB price 15 percent up
Once again the chief of Tesla and SpaceX, eccentric centibillionaire Elon Musk has shown that he has still got it when it comes to pumping meme coins with his tweets.
Earlier today, the world-famous innovative entrepreneur published a tweet, in which he "drew" an animal with a soaring rocket, which the community said was a Shiba Inu dog and can be related either to Dogecoin or to its "killer" SHIB.
In the comment threads, some crypto community members posted SHIB charts, pointing out that the meme cryptocurrency has risen over 10 percent on that tweet of Musk. However, overall the coin rose by almost 15 percent.
The coin reached the $0.00002885 level earlier today.
Shiba is up 10% since this tweet pic.twitter.com/ZxsBqrpxEz— Fintwit (@fintwit_news) October 17, 2021
Massive whale SHIB transfers are driving the price higher
Santiment data vendor's analytics team has spread the word about a recent rise in the number of SHIB transactions worth $100,000 and carrying SHIB.
The company's experts have stated that when these large transfers come in bunches, a coin's price usually goes up.
🐳 #ShibaInu is back up to $0.00002885 while the spotlight is back on #Bitcoin and its close-in on its new #AllTimeHigh. But keep an eye on $SHIB's whale transactions exceeding $100k. When these transactions come in bunches, price rises generally follow. https://t.co/oeGN85BpXS pic.twitter.com/G9kJopNTHE— Santiment (@santimentfeed) October 18, 2021
As reported by U.Today over the weekend, etherscan detected multiple large transfers of Shiba Inu token, many were carrying as much as up to 100 million coins.
Several consecutive transfers, though, contained around 86 billion SHIB each. In total, they carried approximately 260 billion SHIB tokens.
As a reminder the previous recent price rally of Shiba Inu was also driven by large SHIB transfers made by whales. One of them bought 6 trillion SHIB in a single transfer and then added 276 billion tokens to it, buying three lumps of this meme crypto.
Petition to list SHIB on Robinhood gets almost 300,000 signatures
As reported by U.Today earlier, the petition that had been started on Change.org to ask for SHIB to be listed on the Robinhood trading app has closely approached its goal of 300,000 signatures. By Sunday, 250,000 people have signed it.
Last week, SHIB was listed on India's oldest crypto exchange ZebPay and Turkey's biggest exchange BtcTurk also announced its plans to list the coin.
Such crypto trading giants as eToro and Coinbase have already added support for SHIB trading.
Shiba Inu Price Analysis: The SHIB Token Drops To The 0.618 Fibonacci Retracement Level; Will This Rally continue now?

The correction phase in the SHIB token took its sweet time to stabilize our famous meme coin. The token price has been dropped to the 0.618 FIB level, which has the potential to provide strong support. Over the past week, the token price was also subjected to some positive news, which has captured the attention of several crypto investors.
Key technical points:
The SHIB token price obtains dynamics resistance from the 20-day EMA
The intraday trading volume in the SHIB token is $2.35 Billion, indicating a 41.5% gain
Source- SHIB/USD chart by Tradingview
As mentioned in my previous article on SHIB/USD, the token price gave a bearish breakdown from the symmetrical triangle of the 4-hour time frame. This pattern pushed the token price back to the crucial support of $0.35.6, which also holds a great confluence with other technical levels.
These technical levels are
A strong horizontal support level of $0.356
The presence of the 0.618 FIB level
The 100 EMA line soon be reaching the token price
The crucial EMA levels(20, 50, 100, and 100) still maintain an uptrend in this token. The Relative Strength Index(43) suggests a bearish trend within this token. However, the RSI line also projects a bullish divergence, indicating the bears are trying to take control over the token.
SHIB/USD Chart In The 4-hour Time Frame
Above I have explained the importance of the bottom support level and it is also understandable that a breakout from this level, would create a significant impact on the SHIB token price. 
The weekly announcement for Shiba Inu(SHIB)
Newegg, the Electronic Retail giant, has officially announced on their Twitter page that they would be accepting the SHIB token as a payment in.'
The SHIB token surpasses the 1 million wallet holders milestone.
Thus, in case the price bounces back from this support level. The crypto trade can notice the 20-day EMA line, and a descending trendline provides dynamic support to the price. Once the price breached this level, the long trader would get an excellent confirmation for the long side.
Shiba Inu finds new friend in Newegg, as online retailer confirms it will accept the token
Meme coin Shiba Inu is determined to prove its dominance in the space and it has done so successfully, so far anyway. From being accepted as a method of payment by prominent companies such as AMC Theaters, to being the first meme coin to get a listing in South Korea, the altcoin has had a good run.
Its community has grown tremendously in the past few months and support has not faltered. Even Shiba Inu pups (i.e. other lesser-known, dog-themed coins ) have surged in market value.
Shiba Inu has a new friend
Electronics retailer Newegg just recently tweeted about its much-anticipated collaboration with Shiba Inu. As per the announcement, it will accept Shiba Inu, the second-biggest canine cryptocurrency in the market. The tweet below sheds light on the news.
🥚🥚 🥚 x $SHIB @Newegg #friendshib #ShibArmy https://t.co/v09WaZHey5— Shib (@Shibtoken) November 26, 2021
Both parties and their executives acknowledged the partnership in a tweet. The timing of this news is certainly an interesting one.
It all started with just rumors where the SHIB's community was bewildered by the #friendshib hashtag posted by the official Twitter account of the meme cryptocurrency. Rumors about Newegg adding Shiba Inu to its list of available cryptocurrency payment options started doing the rounds last week.
Indeed, this turned out to be a reality. Newegg, the leading tech-focused e-retailer in North America has become quite a name within the crypto community. At present, Newegg supports around 11 cryptocurrencies. Earlier, it even lent support to the daddy canine coin, DOGE.
Well, this news could be the catalyst required for SHIB to recover from its losses. Surprisingly, this certainly was the case. Despite trading in the red zone over the week, at press time, it surged to more than 5% in 24 hours. SHIB was trading at the $0.00003 mark, at the time of writing.
Furthermore, the flagship token has achieved some remarkable feats over a couple of weeks. Of late, it proved to be the top dog as it surpassed the one million holders milestone.
BREAKING: #SHIB tops 1,000,000 total holders, a new record. 🏆 https://t.co/YSbxXzq2Oc— Watcher.Guru (@WatcherGuru) November 25, 2021
Further, the SHIB community was rather quick to celebrate the said update on Twitter. In fact, Shiba Inu has dominated social media conversations since the digital asset found its way into the limelight a couple of months ago.
This Whale Bought 35 Billion SHIB While Market Was Crashing
Some whales are joining "buy the dip" sentiment by purchasing some SHIB.
During the market sell-off, short-term traders have dropped their positions and exited most markets. The smaller altcoins have experienced a greater loss compared to Bitcoin, including Shiba Inu and Doge.
Shiba Inu market performance
During the global market correction, Shiba Inu lost 16% of its value at the peak but then, shortly after, recovered back at a 10% daily loss, which correlated with Bitcoin's market performance.
Following yesterday's sell-off, Shiba Inu gained approximately 30% in one day but then dropped back at 15% daily profit. The token has been moving in a short rangebound since Nov. 26 and has not yet broken through either border of it.
While some whales buy a significant amount of Shib, the market does not seem to react in any way. The volatility of SHIB token remains low as both buying and selling pressure is reduced according to the volume indicator.
Whales are buying more Shib
Before the cryptocurrency market crashed by more than 10% in one day, the 1,000 largest Ethereum wallets dropped more than 8% of their Shib holdings by entering into USDT and other stablecoins on the Ethereum chain.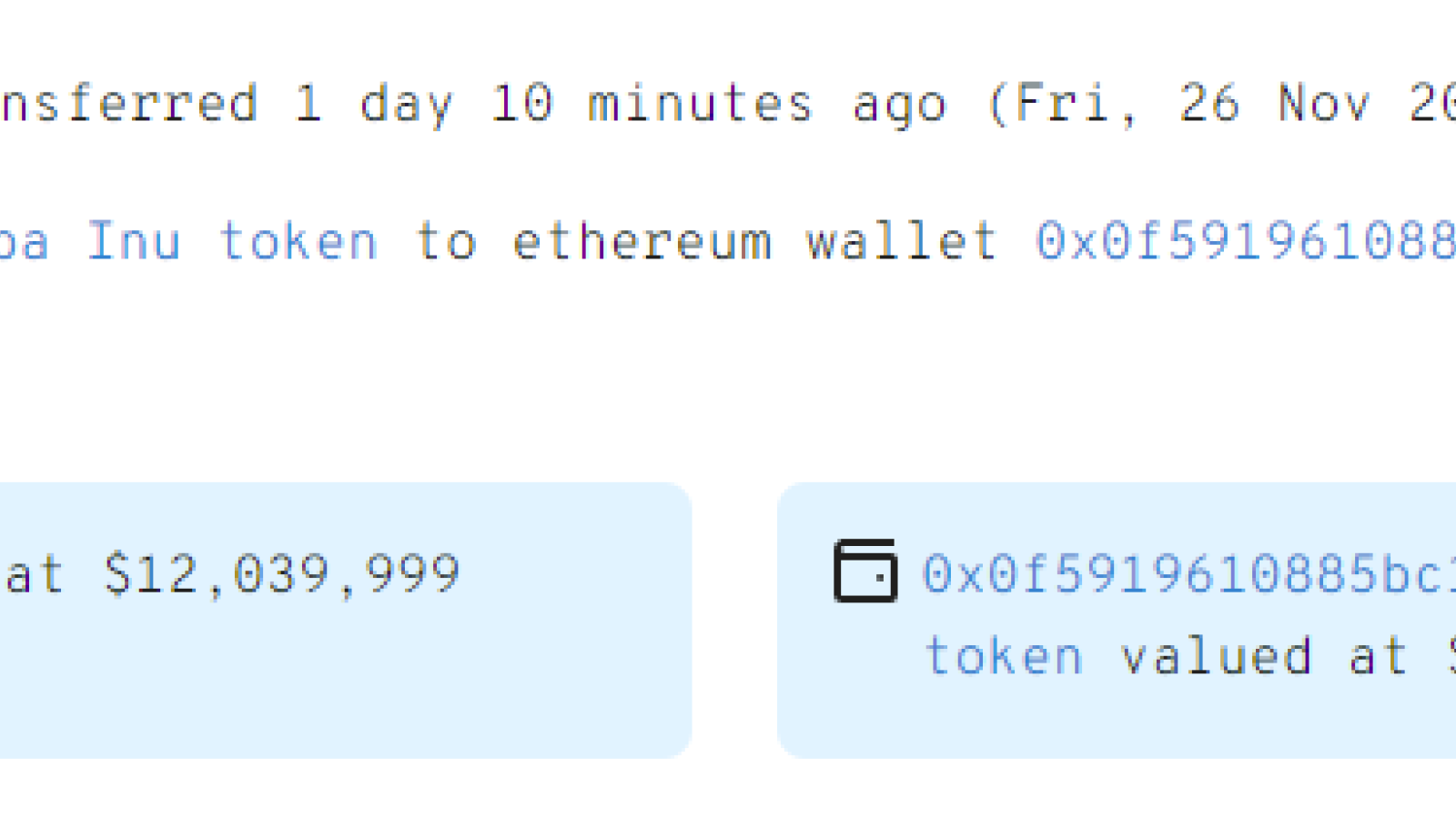 Currently, whale holding has increased back to pre-correction levels with approximately $1 billion worth of holdings remaining on whale-tier wallets at press time. Shiba Inu's price does not seem to react in a positive way, while the token trades at $0.000038 and 0.72% growth in one day.