Shiba Inu Spikes 8 Percent on Fake News About Robinhood Listing
No, Robinhood doesn't intend to list Shiba Inu (for now)
A fake headline about Robinhood listing the Shiba Inu cryptocurrency posted by a squawk account on Twitter has managed to make the meme cryptocurrency's price spike over 8% in minutes.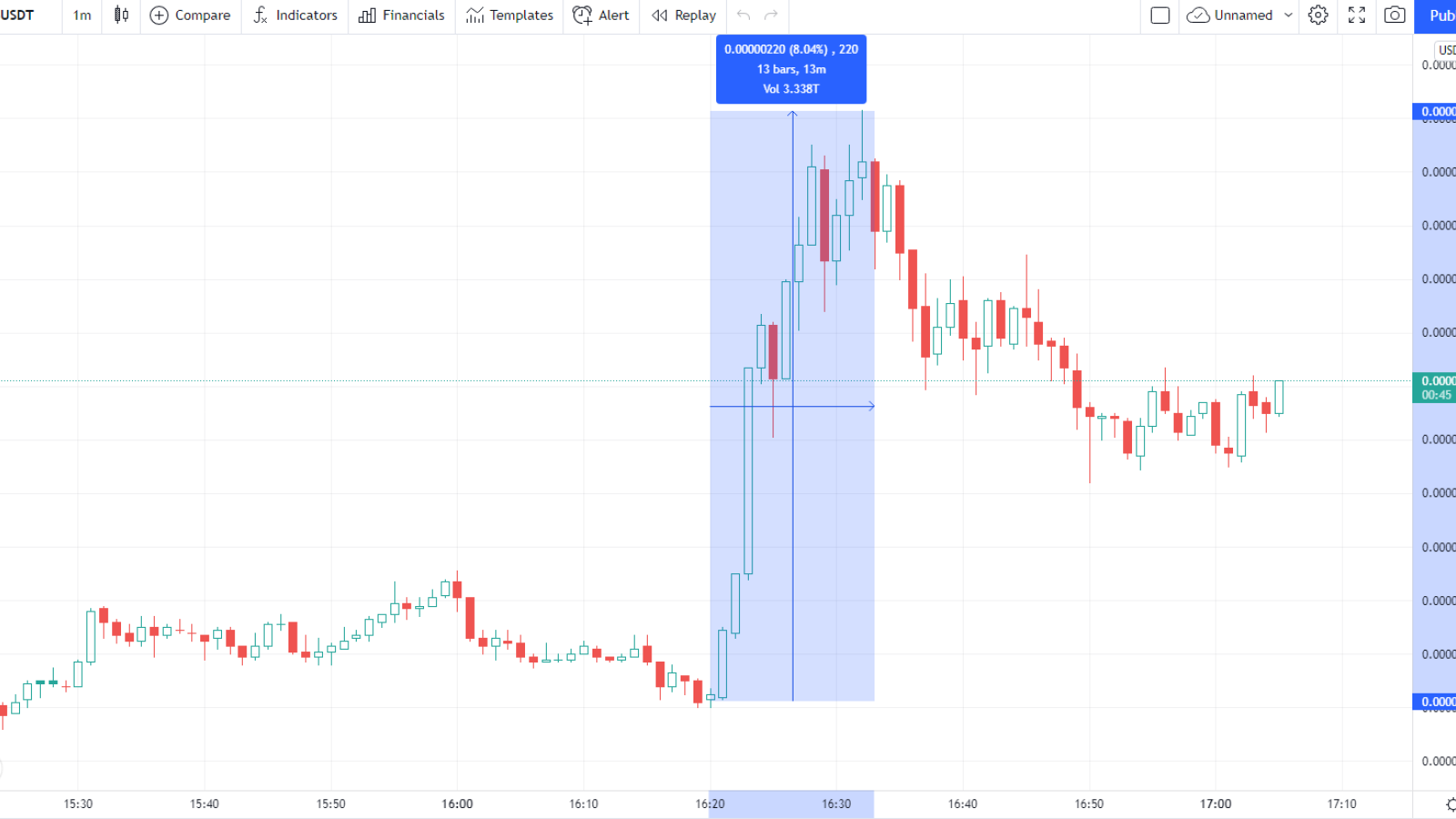 The rally, however, was very short-lived. Shiba Inu quickly gave up its gains after Robinhood debunked the news.

"First Squawk," the account that posted the headline, is yet to delete the tweet that has accrued over 1,400 likes at press time.
ROBINHOOD SAID TO LIST SHIBA INU TO ITS PLATFORMS: SOURCE— First Squawk (@FirstSquawk) October 18, 2021
As reported by U.Today, the account in question also spread a false rumor about Musk being investigated by the U.S. Securities and Exchange Commission over his Dogecoin tweets.
In the meantime, a Change.org petition to list the "Dogecoin killer" has now surpassed 250,000 signatures.
Shiba Inu is currently the 19th biggest cryptocurrency with a market capitalization of $4.4 billion.
Shiba Inu Can Now Be Used for Booking Over 2 Million Hotels
Travala has added support for the Shiba Inu cryptocurrency.
Cryptocurrency-focused travel company Travala has announced that it now accepts Shiba Inu as a means of payment after the community managed to win a "battle" against rival meme coin Floki Inu. 
Congratulations to @Shibtoken for winning the token battle on #Travala.$SHIB is now listed as a payment method method on https://t.co/CL8FxBfPc0 to book over 3M travel products worldwide

Join the $AVA Smart program to get up to 13% additional savings 👉 https://t.co/iqw9MLLbew pic.twitter.com/YiHDQvt2gN— Travala.com (@travalacom) December 7, 2021
This means that the red-hot cryptocurrency can now be used for booking over 2.2 million hotels and accommodations around the globe.
Dogecoin, the original joke cryptocurrency, was added to the list of available payment options in early May.
In July, Travala launched Dtravel, a decentralized home rental service that aims to compete with incumbents of the likes of Airbnb. Its ownership is managed with the help of the decentralized autonomous organization (DAO) model.
The service was launched in 2017 and quickly became popular with crypto-friendly travelers.
Last year, Travala merged with Binance-invested competitor TravelbyBit.   
Wealth Of US Billionaires $3 Trillion Shiba Inu Market Cap $20 Billion
Dan Held Expressed: Total wealth of US billionaires = $3 trillion.
If we confiscated all of their wealth, we'd only be able to run the federal government for less than 6 months. Perhaps our problem isn't how much billionaires have but how much politicians spend.
Community Response: Brilliant observation. Total wealth of US billionaires = $3 trillion. Shiba Inu market cap = $20 billion. Still early. +589 trillion tokens requires a lot of burning over the next millennium. Still early.
That's 100% our problem and anyone that tells you otherwise is pandering.
Who's saying confiscate their money. No one. Just be nice if they paid a higher effective tax rate than the regular Joe.
Sure and I agree but we would only get enough taxes out of them to run the government for like two weeks.
There are like 100 billionaires. The fact that so few people have wealth that could fund the entire US government, everything included, for 6 months is sort of a problem.
Nope, you've missed the point entirely.
If government spending was less, it would only mean that these individuals could fund it for even longer. How does that make it better?
The point is that government is a machine designed to reward inefficiency and failure. Literally every dept in the gov burns resources at the end of the fiscal year so they don't get a reduced budget the following year.
Have you ever worked in a business with a budget? Happens all the time.
Businesses subject to the free market cannot do this ad infinitum as the government can, a very notable difference, and when a private business makes bad financial decisions in that case, because I am not footing the bill.
It is, but I suspect you are confused as to the source of the problem.
You are way off if that statistic. The government money printer destroyed the natural mechanism of capital allocation. And still there are groups who are thinking that the government can solve every problem on earth. It's time to take them their printing machine away.
"Your problems are not caused by someone else being a billionaire"
Not everyone can be a billionaire. So actually, it is. Competition for wealth, yeah, but we don't need to have loosers in that system. The system of the future will allow people to opt of even playing the game, and still survive.
It could also be both. Why target one thing vs a broad and sweeping solution?
What if we take their money and yield farm with it? You want to take their money so you can make money for yourself then? And then, when you become the rich one, what happens then?
Not to mention in order to do that you will need to liquidate their companies where the residual value lies. This would effectively shut down things like Tesla and Amazon. They just keep spending though.
Should anyone in a civilized society have this much power (political influence) without accountability?
But also, the world's 2000 billionaires have as much wealth as the poorest 4 billion people.
News Source
Shiba Inu restarts bull run as global tailwinds take over
Shiba Inu has curbed the downtrend with a pickup in buying volume.
SHIB price looks bullish with a possible return to $0.00004490.
Expect a possible start of an uptrend towards $0.00008373 if current tailwinds persist.
Shiba Inu (SHIB) price has been under pressure over the weekend and accelerated its downtrend due to the spillover effect from the Bitcoin flash crash. SHIB price then bounced off the monthly S1 support level, however, and created a bullish knee-jerk reaction, reversing most of the incurred losses from the weekend. The short-squeeze could see SHIB price return, first to  $0.000004490, and then on the back of a global recovery, perhaps all the way back up to $0.00008373.
SHIB price sees bulls squaring incurred losses
Shiba Inu price sees bulls playing the global recovery story as the bear run was halted at the monthly S1 support level near $0.00003000, and the red descending trend line just below.. Expect bears that came too late to the party to now lick their wounds as the bullish knee-jerk reaction squeezes them out of their positions.. As global equity markets are recovering their losses from last week, more and more bears will be pushed out of their positions, obliged to revert to the buy side and square their losses.
This will result in SHIB price picking up steam to the upside, which will attract more investors to the price action and could easily see bulls reversing the fully incurred losses from past weekend towards the 61.8% Fibonacci level at $0.000004490. Bulls might face some resistance around that level as the 55-day Simple Moving Average (SMA) is hovering just above that 61.8% Fibonacci level. Current tailwinds look quite sound, expect further upside potential towards the 50% Fibonacci level at $0.00005690.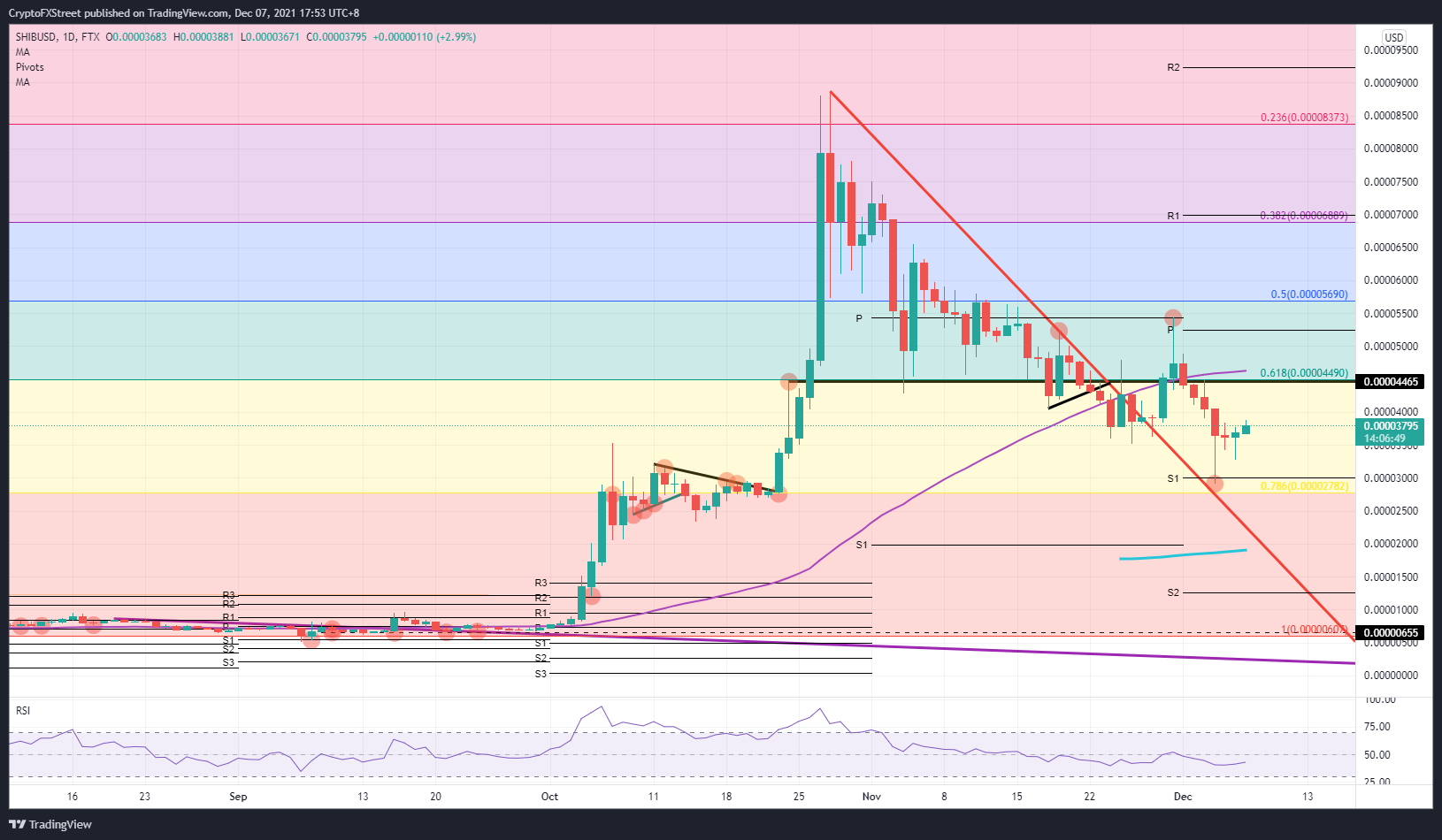 SHIB/USD daily chart
Expect bulls to further add to the rally as more technical levels get cleared, with equity markets pushing to new all-time highs and lifting investment sentiment. By the end of next week, SHIB price could be at $0.00008373, or the 23.6% Fibonacci level. If market sentiment flips back to the downside, expect bears to try and push price action below the red descending trend line with considerable support at $0.00002000 where the 200-day SMA is located.