Solana (SOL) Could Outperform All Digital Assets
There are all kinds of juicy predictions about the price of Solana these days. It's been just revealed that an important analyst and trader believes that SOL could outperform all the other digital assets.
The trader known as Cantering Clark posted online a snapshot of a collection of different cryptos throughout the day.
He noted that even while Bitcoin was receiving all of the attention during its rally past $60,000, SOL quietly outperformed the rest of the market.
"There are so many reasons to have been long SOL to this point. Are you seeing the trend yet? Even on a day where Bitcoin is the main show, Sol is outperforming. Fast horse."
Bitcoin bullish moves
He also addressed Bitcoin's bullish moves and he said that the upcoming ETF is the main catalyst for the king coin.
"How many people are going to get long as hell thinking each confirmation is going to yield a higher result? I believe in the inefficiency of this market. ETF = ATH"
According to Canterin Clark, altcoins to underperform compared to BTC.
"If you think Bitcoin is going to break the ATH soon and you are also positioned heavily in alts, maybe rethink that…Because when Bitcoin breaks the ATH alts are going to get cut down. So yes, the post absolutely makes sense."
At the moment of writing this article, BTC is trading in the green, and the digital asset is priced at $61,862.93.
Bitcoin to reach new ATH
Bitcoin could soon reach new ATHs, and analysts are expecting to see the king coin continue to explode.
Crypto analyst Benjamin Cowen said that Bitcoin bears are worried as BTC's technicals continue to look more and more bullish.
Not too long ago, Cowen said that traders that have been anticipating a bear market ever since the king coin suffered a correction back in May are running out of ways to justify it on the chart.
Solana price positioned for new bull rally towards $275
Solana price breaks out above bull flag, indicating uptrend continuation.
Moving and holding above $220 is essential to continue bullish momentum.
Failure to extend higher here could see new monthly lows.
Solana price has hugged the top of the Cloud (Senkou Span A) as its primary support level for the past week. The respect of Senkou Span A as support has resulted in Solana moving and closing above one of the two Ichimoku levels necessary to confirm a new uptrend.
Solana price must close above the $220 value area before testing $275
Solana price is up against its primary and final Ichimoku resistance level on the daily Ichimoku chart. The Kijun-Sen within the Ichimoku system represents medium-term support and resistance and is the primary level for intraday and intraweek trading strategies within the Ichimoku system. The Kijun-Sen at the $220 level is precisely where Solana finds itself pushing against.
A daily close of Solana price above $220 provides more protection from near-term downside movement than it does upside potential for a couple of reasons. First, a close above the Kijun-Sen would convert the Kijun-Sen from a resistance level to support. Second, because retests of breakouts from bull flags are extremely common, the combination of the Kijun-Sen and top of the bull flag create a double-support structure.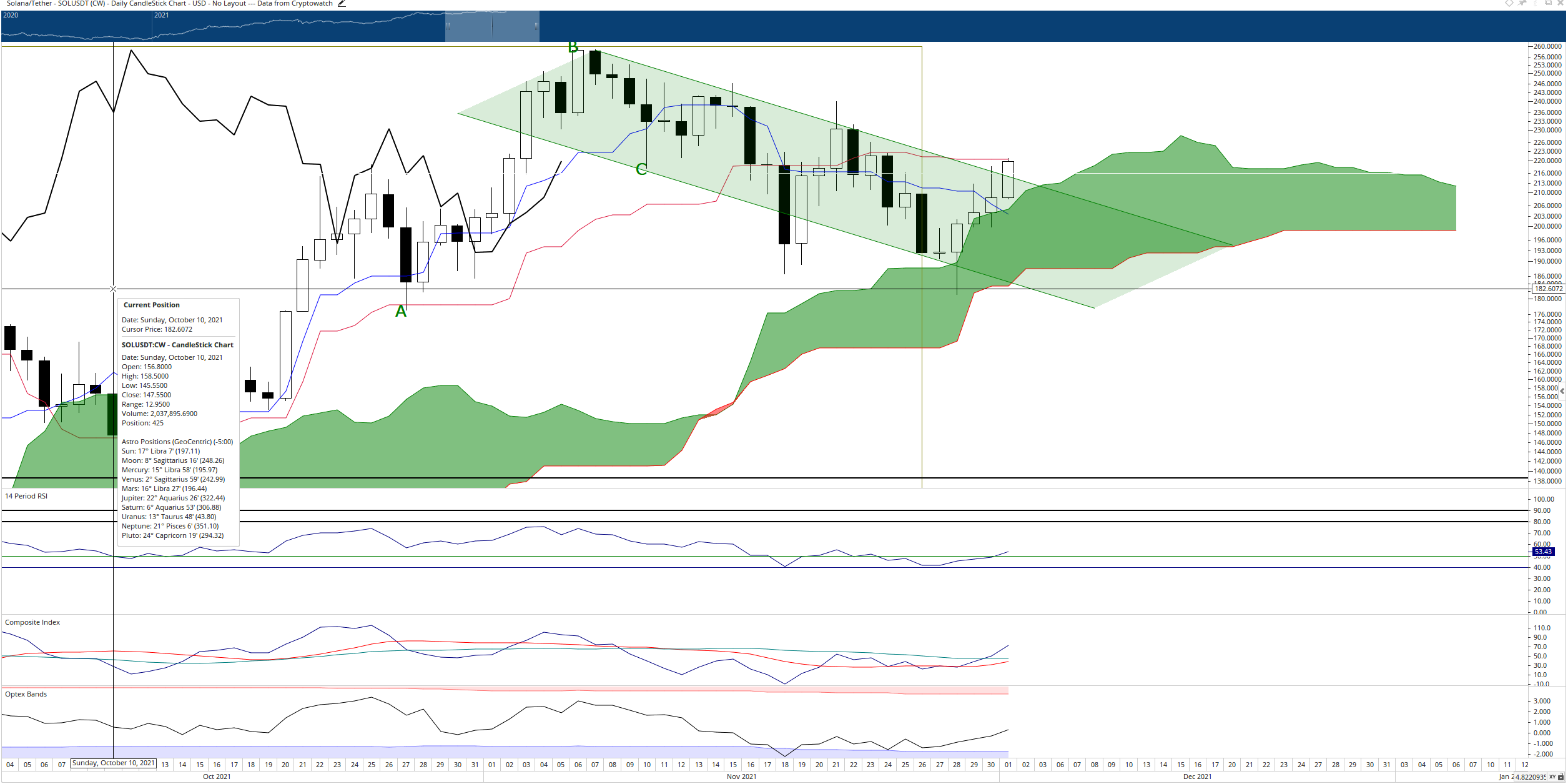 SOL/USDT Daily Ichimoku Chart
Solana price does have downside risks. The Composite Index has created a high above the previous high peak on November 21st, while the candlestick chart shows the current daily high is lower than the November 21st high. This creates a condition known as hidden bearish divergence – a warning that the current drive higher may fail.
It is essential that Solana price close above the November 21st open of $217, or the hidden bearish divergence may push Solana back into the bull flag and likely even lower to test the bottom of the Cloud (Senkou Span B) at $184.
Will Solana [SOL] give Ethereum [ETH] a run for the money?
Solana is showing a promising situation in terms of attracting more projects, and it seems the battle with Ethereum continues strongly. There are many projects announcing every day about migration from Ethereum to the Solana network.
It seems the gas price and scalability features of the latter are attracting them significantly. Although Ethereum itself is in a good position because of various sectors like DeFi, NFT, and metaverse running on it, Solana has been successful in hosting more projects and may give Ethereum a run for the money.
One of the latest projects announcing a migration to Ethereum is Crowny. Crowny is a platform that connects users to their loved brands. It rewards users for engaging with their lived brands and is growing fast in terms of attracting users. According to the latest announcement on Twitter, the platform is set to migrate from Ethereum to Solana on December 8th. The real reason behind this migration is lower costs per transaction on Solana compared to Ethereum.
Besides, the scalability features let Crowny and Raydium grow faster and attract more users. According to the announcement, the Crowny team believes in Solana's various features:
"Solana blockchain offers extremely low costs per transaction and ensures limitless scalability for years to come. This cutting-edge architecture is all about speed. It's the fastest blockchain around. As hardware improves, so does the network."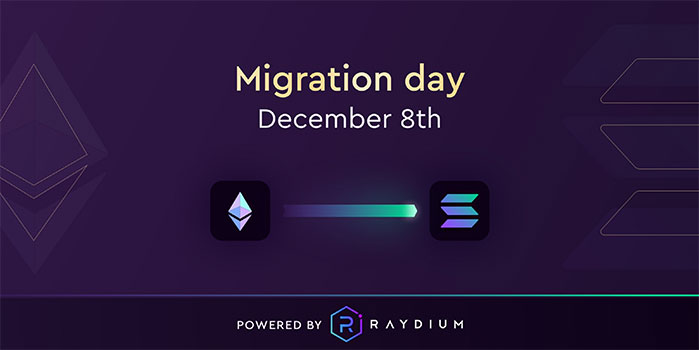 Another good news for the Solana community comes from the famous decentralized web browser Brave. Brave browser announced some days ago that it partners with Solana to integrate that blockchain into the browser and make it the default for dApp support. It's great news for Solana because Brave is currently one of the most famous browsers in the market. It can benefit developers on Solana who can provide their dApps to a bugger user-base in this scenario.
Brave has 42 million monthly active users and 1.3 million verified creators. The reason for choosing Solana is the same as Crowny. Lower transaction fees and supporting fast Web3 applications are great benefits of this blockchain. Brendan Eich, CEO, and co-founder of Brave said:
"With more and more users and creators requiring tools for fast and affordable access to the decentralized Web, this integration will seamlessly pave the way for the next billion crypto users to harness applications and tokens."
More users and projects on Solana means more opportunities for growth in this ecosystem. When the migrations from Ethereum to Solana grow, it shows great benefits in the competition that can even result in higher deployments and higher prices for the SOL token.
This is causing users to choose Solana over Ethereum
Ethereum's gas fees and speeds are costing not just users, but the ecosystem itself as more and more players are migrating to rival blockchains.
The latest stakeholder to make the move is Crowny – an app rewarding shoppers for various interactions with brands. The date for its migration to Solana is slated for 8 December.
The date for the Migration to @Solana is set!🚀

December 8th is when Crowny and @RaydiumProtocol make it happen, more details will follow!🔥 pic.twitter.com/Wzog22VoNc— Crowny 🔗 Our Beta App Is Live (@crownyio) November 29, 2021
In a Twitter thread, Crowny stated,
"Solana blockchain offers extremely low costs per transaction and ensures limitless scalability for years to come. This cutting edge architecture is all about speed. It's the fastest blockchain around. As hardware improves, so does the network."
At press time, Ethereum's gas fees were high, with an ERC20 transfer costing around $22.63 on average.
Moving day is here
Choosing Solana over Ethereum isn't a novel incident. In July 2021, Powerledger, an Australian company in the area of technology and energy, decided to move its platform from Ethereum to Solana.
Co-founder and executive chairman Dr. Jemma Green had commented,
"Our new blockchain platform based on Solana will be tens of thousands of times faster than Ethereum but also energy efficient. As we started this project to allow renewables to be scaled, part of our mission is to be light on our own carbon footprint."
Another example is the privacy-protecting Internet browser Brave. The company announced a partnership with Solana at the Breakpoint Lisbon event in Portugal. Brave's official release stated,
"High transaction fees seen on Ethereum (due to increased interest in crypto and DeFi) have held some users back from transacting. Solana is the fastest blockchain in the world and provides the opportunity to scale blockchain transactions for as little as $0.001 – $0.002 USD per transaction, providing significant cost savings for users."
Furthermore, the Brave crypto wallet is set to integrate Solana in 2022, for decentralized app support.
Looking at these migrations and the reasons for the same, it appears that speed, fees, and energy efficiency are thorns on Ethereum's side.
Time to pull out the roadmap
Needless to say, there's a lot of pressure to bring Ethereum up to speed – literally. At the last All Core Devs meeting, Ethereum developers discussed diverse proposals to reduce transaction fees, which are also rising in rollups. 
Developer Tim Beiko also noted that time was of the essence. He claimed that the proposals needed to ship before a fork in February.