XRP Gearing Up for Major Rally As Two Low-Cap Altcoins Carve Out Bottom, Predicts Top Crypto Analyst
A closely followed crypto strategist and trader says XRP is gearing up for a possible 50% surge as two low-cap altcoins carve out their bottoms.
Pseudonymous crypto analyst Credible tells his 249,100 followers that while XRP briefly traded below his support area of $0.90, it managed to recover a key price level and is now poised to rally to a new higher high.
"And here's one for my ZERPS! We deviated below the range rather than pushing up but now we have reclaimed it, so I am once again targeting the highs at $1.35 and beyond! XRP."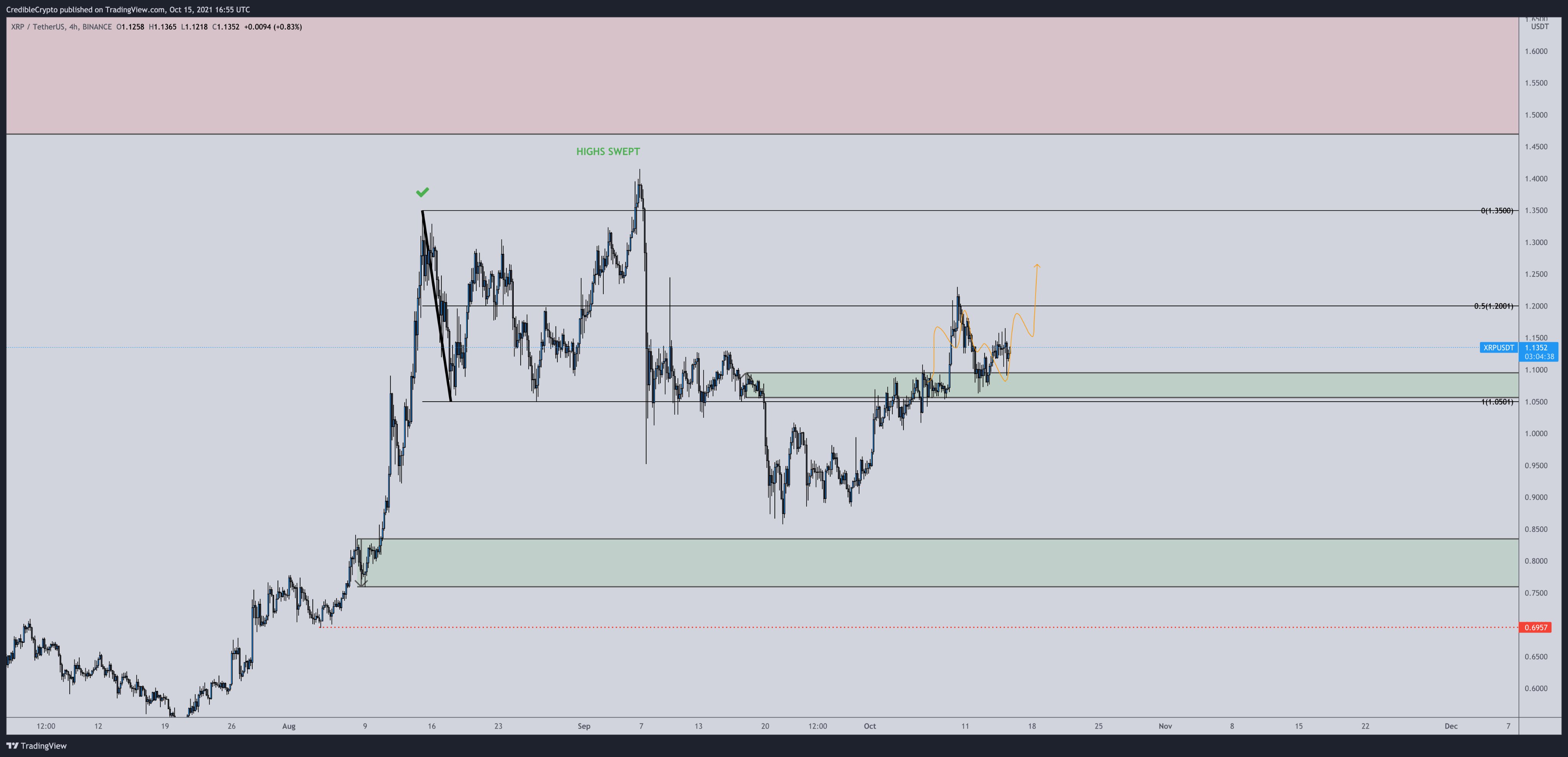 Credible is referencing a tweet that he posted in September where he plotted XRP's path from a low of $0.90 to as high as $1.70.
"Swept the highs then swept the lows into daily demand. Number go up now please. XRP."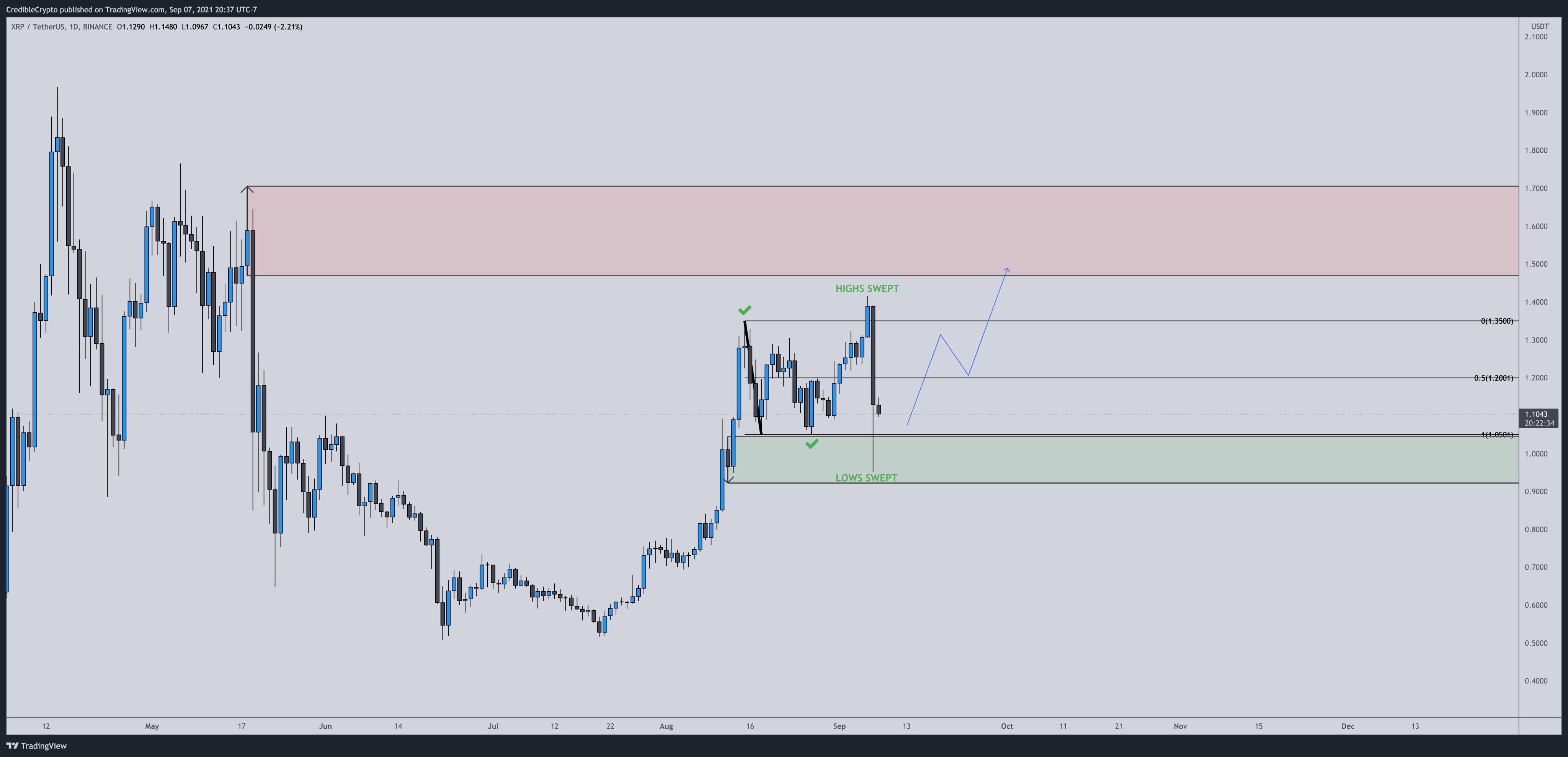 Should XRP follow Credible's script, the altcoin offers a potential upside of over 55% from its current value of $1.09.
As for the crypto analyst's long-term price target for the sixth-largest crypto, he believes XRP will skyrocket to between $20-$30 this bull cycle.
The widely followed analyst is also looking at Hedera Hashgraph (HBAR), a public network for peer-to-peer payments. According to Credible, he believes HBAR will carve out a bottom at $0.35.
"HBAR with a very important key reclaim here on the low timeframe. I think our bottom is likely in."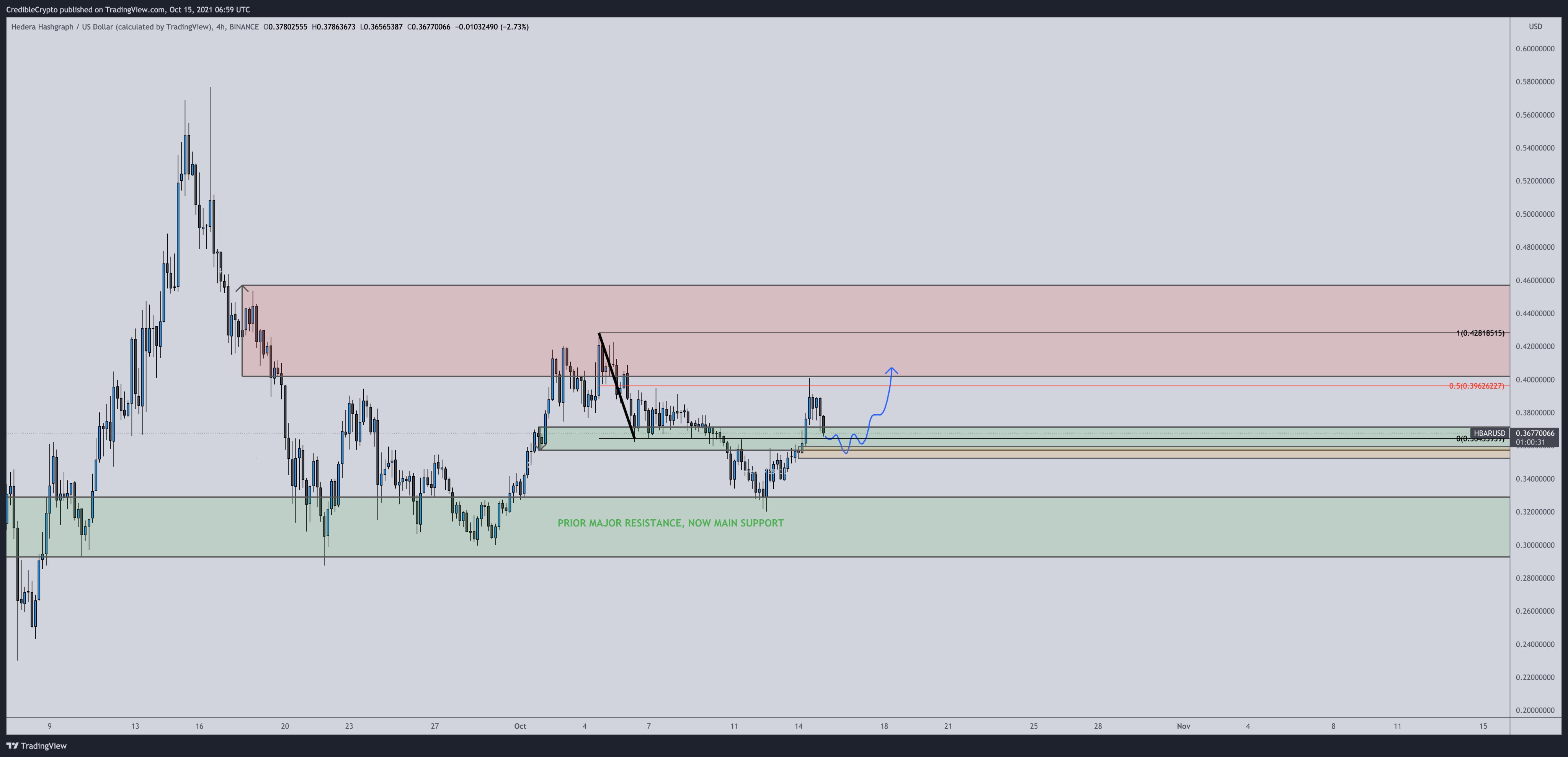 Another coin on the trader's radar is Convex Finance (CVX), the native token of decentralized finance (DeFi) protocol Convex. Credible predicts that CVX will create a new base of buyers around $12 before launching a rally to about $16.
"Expectations. CVX."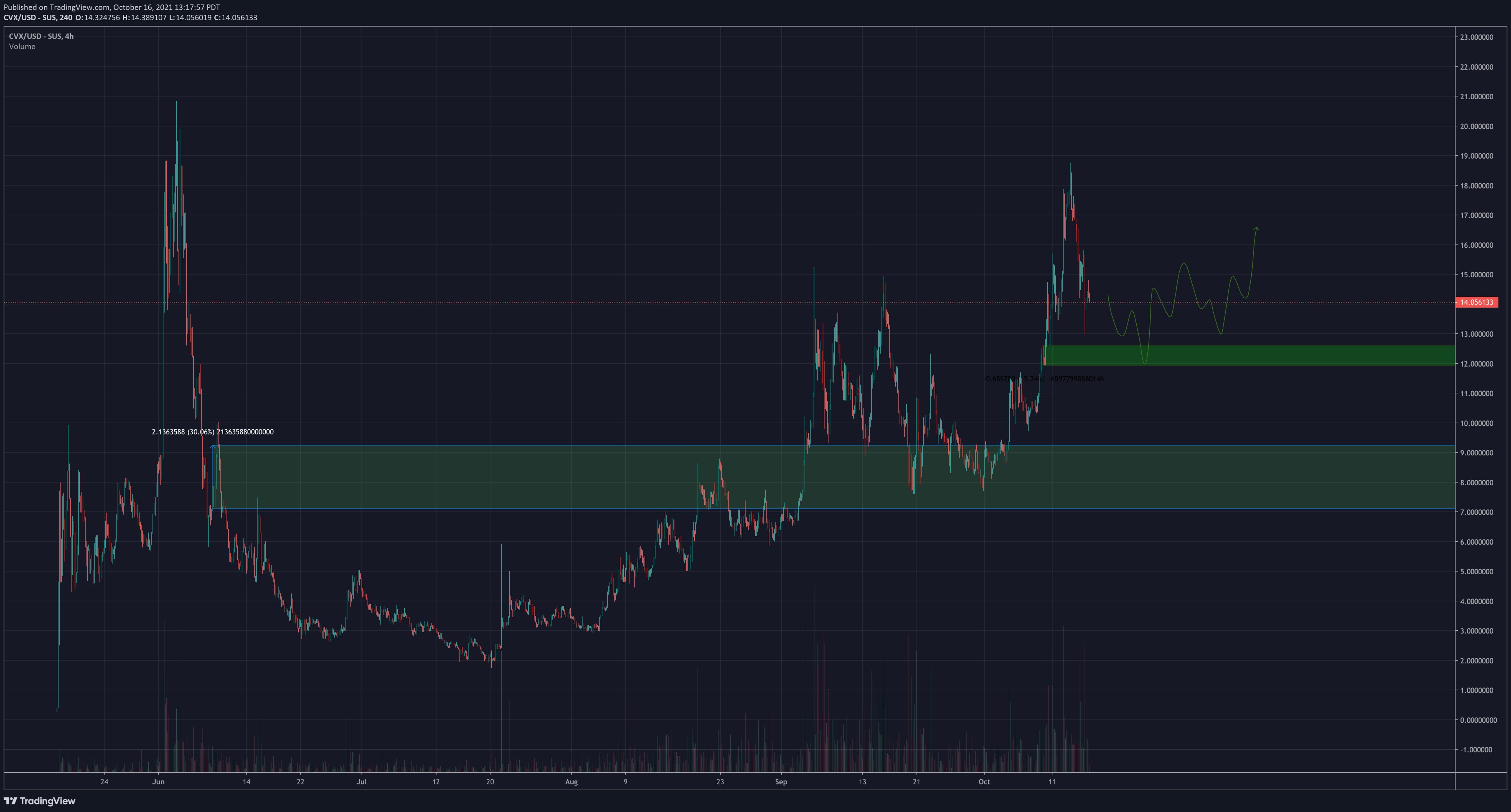 Macro Guru Raoul Pal Owns XRP, Says Crypto Asset Has Phenomenal Risk-Reward Despite Ripple Lawsuit
Real Vision chief executive Raoul Pal is explaining why he is a holder of the XRP and how he sees the crypto asset's risk/reward ratio.
The former Goldman Sachs executive says in a new interview with Thinking Crypto that he bought a position in XRP about a year ago, citing the U.S. Securities and Exchange Commission's (SEC) lawsuit against the payments company Ripple as a primary factor.
"I bought it for the reason that A) It does have use cases and it is being used, and B) The court case is a phenomenal risk/reward.
It got heavily discounted in the price, and then I looked at it and thought, 'Well, what's it going to do? Fall 100% from here to zero? But if it gets solved, it's [up] 10x.' And I'm like, 'Well that's a no-brainer.' Why would you not take a 10-1 risk/reward that has a catalyst around it?"
The SEC filed charges against Ripple last December alleging that the San Francisco-based payments company sold XRP as an unregistered security during its launch. The regulator alleges that XRP remains a security to this day.
Pal says his XRP bet hinges entirely on the court case.
"It's all about this court case, right?
Because the price can't go anywhere – it got delisted from everywhere. It can't go anywhere until it's resolved, because the richest, most powerful country on Earth is not allowed easily to invest in it."
Ripple chief executive Brad Garlinghouse said last month that he was hopeful the legal battle would be resolved next year.
XRP is trading at $0.814366 at time of writing and is down -0.86% in the past 24 hours.
XRP constricts before breaking out to $1
XRP price begins to move above the consolidation it has experienced post flash crash.
A key test of the $.90 value area would be the final hurdle before XRP hit $1.
Bullish entry setup is now present on XRP's Point and Figure chart.
XRP price, like almost every other cryptocurrency, showed strong signs of recovery after the shock of this past Saturday's flash crash wore off. The past three days of congestion after a strong rally from the lows may begin a new uptrend for XRP.
XRP price ready to test $0.90, $1.00 next
XRP price has held a strong level of support near the $0.83 value area every since Sunday. Concerns about further downside pressure remain, but the bullish behavior of XRP during the NY lunch hour showed evidence of some substantial buying volume.
There is a hypothetical long trade opportunity on the $0.05/3-box reversal Point and Figure XRP price chart. The entry is a buy stop at $1.05, a stop loss at $0.85 and profit target at $1.75. The entry is based on a Point and Figure pattern known as a Bearish Shakeout. This pattern is valid only when a trend reversal is anticipated and positioned to do so. A two-box trailing stop would help protect any implied profits.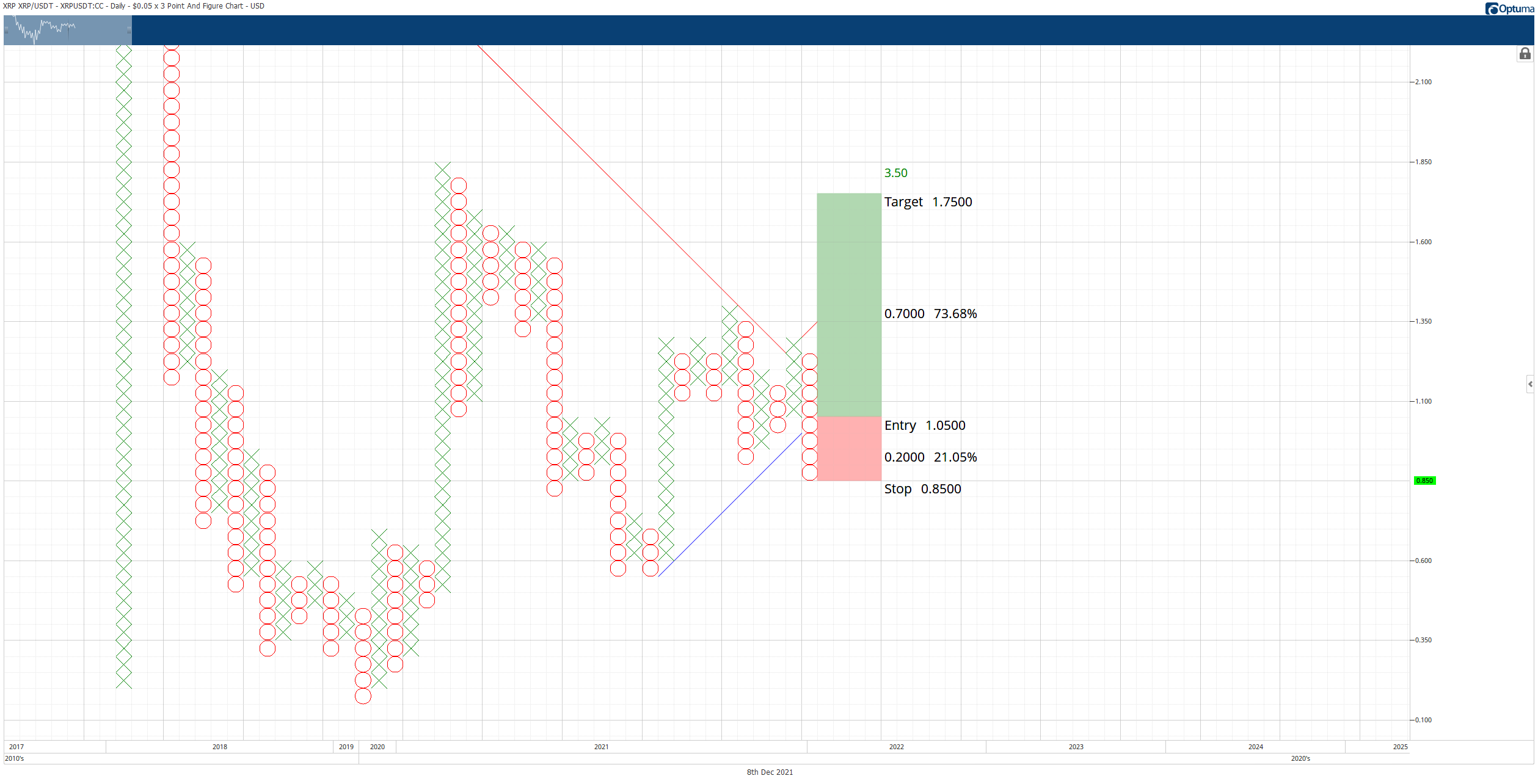 XRP/USDT $0.05/3-box Reversal Point and Figure Chart
If the hypothetical long entry triggers, traders should expect some resistance at the $1.15 and $1.25 value areas before any substantial rise occurs. Additionally, a pullback to the entry zone after $1.50 is another likely scenario that traders should watch out for.
However, bulls should be aware that downside risks remain for XRP. The biggest cloud hanging over XRP remains the unknowns with the ongoing SEC case, which will have ramifications market-wide.
XRP Forecast and Analysis December 8, 2021
XRP/USD are trading at 0.8206 and continue to move as part of the correction and the downward channel. The capitalization of the Ripple cryptocurrency at the time of the publication of the forecast is $39,508,554,960. Moving averages indicate a short-term bearish trend for Ripple. Prices went down from the area between the signal lines, which indicates pressure from the sellers of the asset and the potential continuation of the XRP rate decline in the market already from the current levels. At the moment, we should expect an attempt to develop asset growth and test the resistance level near the 0.8565 area. Further, a rebound downward and the continuation of the fall of the cryptocurrency to the area below the level of 0.4955.
XRP Forecast and Analysis December 8, 2021
In favor of falling XRP/USD quotes, a test of the resistance line on the relative strength index (RSI) will come out. The second signal in favor of a decline in asset quotes will be a rebound from the upper border of the descending channel. Cancellation of the option of falling cryptocurrency will be a strong rise and closing of quotations above the level of 1.1005. This will indicate a breakdown of the resistance area and continued growth of XRP/USD to the area above the level of 1.1565. Confirmation of the fall in the digital currency rate will be a breakdown of the support area and closing prices below 0.7245.
XRP Forecast and Analysis December 8, 2021 implies an attempt to test the resistance level near the 0.8565 area. Where can we expect the cryptocurrency to continue falling with a potential target at the level of 0.4955. An additional signal in favor of a decline in Ripple will be a test of the trend line on the relative strength index (RSI). Cancellation of the option of falling quotations will be a strong growth and a breakdown of the 1.1005 area. In this case, we should expect a continuation of the rise in the digital currency with a target above 1.1565.