Here's why the market might be overestimating the impact that new futures-based ETFs will bring to the market
While the cryptocurrency industry waits for the drop of the first Bitcoin exchange-traded fund to be delivered shortly, Bloomberg has released an article in which the agency covers how and why traders might miss even greater rewards while trying to catch big gains from a "new" product.
The primary basis of such a statement is the Bitcoin futures curve. Futures contracts with long expiration dates usually trade at a premium to the price of the underlying asset. The main reason for that is that most traders believe, due to its nature, cryptocurrency will rise in the future.
But the main problem with current ETF products is the underlying asset. While the fund may be called "Bitcoin ETF," it's not actually tied to Bitcoin. The underlying asset here is Bitcoin futures contracts that become a reason for funds to lose some of their profits since they have to pay fees to enter a new contract. Since longer futures contracts trade at the premium, it is more convenient to enter short-term futures contracts and pay the fee.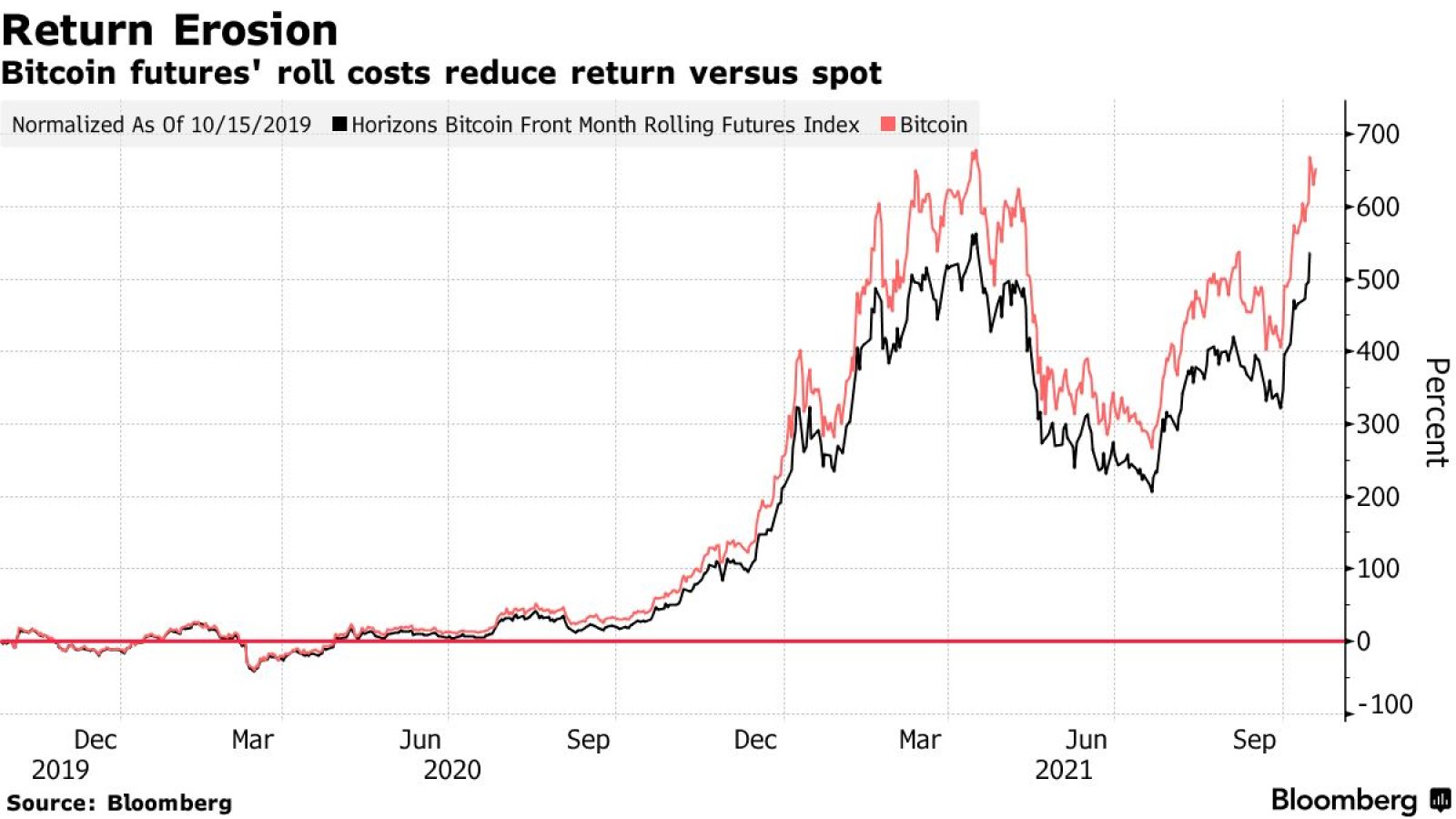 For the mentioned reason, Genesis Trading's Noelle Acheson said that Bitcoin traders are overestimating the potential upcoming demand for derivatives-based ETFs since, as was mentioned, they have more underlying management costs. As an example, the BITO fund currently carries an expense ratio of 0.95%, while the average equity-based ETF will function at around 0.7%.
With the number of underlying expenses behind futures-based Bitcoin ETFs, traders and investors might not choose the mentioned funds for long-term crypto market exposure. Instead, it is more reliable to simply buy the asset itself rather than invest in the ETF, especially for retail traders.
After the Dump: Crypto Markets Recover $300 Billion, Bitcoin Eyes $50K
The crypto market cap is up by $300 billion since yesterday's low as BTC targets $50,000 and ETH is up by 7.5% daily.
After yesterday's massive crash, bitcoin bounced off and added nearly $8,000. Most altcoins are also well in the green now, with Ethereum reclaiming $4,200 and Terra surging to yet another all-time high.
Bitcoin's Recovery Attempts
The cryptocurrency industry is well known for its highly volatile price movements and yesterday was a prime example of that. Bitcoin, for instance, traded around $58,000 after getting rejected at $59,000 a few days in a row when the landscape changed vigorously.
The asset plummeted in the following hours to a daily low of $42,000 (on Bitstamp), prompting many industry experts and analytics to speculate on the possible reasons behind this $16,000 drop.
Nevertheless, bitcoin reacted somewhat positively after touching the $42,000 bottom. It bounced off to around $47,000 initially and another leg up hours later drove it to just shy of $50,000.
So far, BTC is unable to breach that level, but it's still about 5% up on the day, and its market capitalization has risen well above $900 billion.
Altcoins in Green After the Bloodbath
The altcoins suffered even more than bitcoin yesterday. Ethereum went from nearly $4,700 to around $3,500. Now, though, the second-largest cryptocurrency trades around $4,200 after a 7.5% daily increase.
Binance Coin also fell hard, but a similar increase has driven it to above $570. Solana (3%), Cardano (2%), Polkadot (2%), and Shiba Inu (5%) also see some daily gains.
Even more impressive recoveries come from Ripple (12%), Dogecoin (8.5%), and Terra (30%). Consequently, LUNA even painted a new all-time high earlier at just under $80.
More daily increases are evident from Livepeer (22%), Loopring (20%), Elrond (20%), Quant (18%), Decentraland (18%), Enjin Coin (17%), Holo (16%), THORChain (15%), The Sandbox (12%), Helium (12%), and many more.
As such, the cryptocurrency market capitalization has recovered over $300 billion since yesterday's low of $2 trillion.
Selling Hits Crypto Market Again as New COVID Variant Spooks Traders
Selling pressure once again hit the crypto market on Friday, after stock markets in Asia and US stock futures all pointed lower on fears over a new variant of the coronavirus that is spreading rapidly in South Africa.
(Updated at 12:12 UTC; updates in bold.)
At 10:28 UTC, bitcoin (BTC) was down by 6.5% over the past 24 hours, trading at a price of USD 54,735. At the same time, ethereum (ETH) was down by 6.4% to a price of USD 4,077.
By noon UTC time, the market had fallen further, with BTC now down 6.8% over the past 24 hours to USD 54,151, and ETH down 8.1% to USD 4,027. BTC was up slightly from its low for the day of USD 53,618, while ETH was still reaching new lows at the time of writing.
Both cryptoassets fell today after seeing gains yesterday, with the sentiment then appearing to be turning positive after two weeks of mostly lower prices for bitcoin.
Following today's sell-off, however, bitcoin is now trading below its low from Tuesday this week of USD 55,300, which at the time marked the lowest price since October 13. With today's crash down to the USD 54,000-level, sentiment is once again turning negative among traders.
And as usual when selling pressure hits the market, leveraged traders who have bet on the wrong outcome get liquidated.
Over the past 4 hours, the overall crypto derivatives market saw close to USD 440m of mostly long positions liquidated, with the majority, as usual, being on major crypto exchange Binance. For BTC alone, total crypto market liquidations stood at USD 116m, with USD 50m of that seen on Binance, data from Coinglass showed.
Despite this, many industry insiders remained optimistic about the prospects of the crypto market, with for instance Hunter Horsley, CEO of crypto asset manager Bitwise, telling Bloomberg today that the current move looks like it is driven by "flows and transitory sentiment."
"When we look at the fundamental thesis and drivers of the space, they continue to look incredibly optimistic," Horsley said.
However, the sell-off did appear to lead some members of the community to realize that the path to USD 100,000 will not be a straight line higher.
"The Plan B idea of USD 98K is gone," the popular crypto trader Michaël van de Poppe said on Twitter today, referring to the widely criticized stock-to-flow (S2F) model by PlanB, which famously predicts a bitcoin price of at least USD 98,000 by the end of the year.
"The realization of a lengthening cycle is there. We're still fine, even if we drop some more. Just a longer cycle for Bitcoin," the crypto trader added.
Others, meanwhile, stressed that bitcoin is still a risk-on asset, and thus behaves more like the stock market than the traditional safe haven gold.
This was also pointed out by Nik Bhatia, author of bitcoin book Layered Money, who wrote on Twitter today that "Bitcoin investors are desperate for it to behave like a risk-off asset, but the simple fact is that it doesn't yet."
He added: "When will it? I have no idea. Price is truth."
More reactions:
While there have been signs that #Bitcoin is starting to behave as a risk-off asset, and that's what we want it to be, we have to face reality and the possibility that $BTC continues to predominantely behave as a risk-on asset. pic.twitter.com/fsfkNWi9QH— Jan Wuestenfeld (@JanWues) November 26, 2021
14/ While your NFTs were pumping, this is already happening!

Instead of crypto moving as a monolithic asset class, with the entire asset class moving into winter and bull simultaneously, sophisticated capital and quantifiable traction has led to massive decorrelation.— Jason Choi (@mrjasonchoi) November 25, 2021
South Korean Draft Law Calls for Life Sentences for Crypto Market Manipulators
The South Korean government has unveiled a new draft crypto law that includes strict punishment for token market manipulation-related offenses – proposing massive fines and hefty jail sentences for offenders.
Per Maeil Kyungjae and the Hankyoreh, in cases where offenders make over USD 4.2m from their market manipulation efforts, courts would be allowed to dish out life sentences. The bill covers insider trading in the crypto markets, making use of as-yet "undisclosed information," as well as illegal crypto transactions.
The bill is an indirect response to a number of high-profile instances of alleged and proven market manipulation controversies, with individuals and firms accused of artificially driving up trading volumes, releasing fake news stories about imminent token listings and more. Many South Korean exchanges have traditionally offered pairings in low-cap tokens that critics claims are ripe for market manipulation efforts.
The terms of the draft bill explain that even in cases where the manipulation brings in offenders less than USD 422,000 worth of "profits," courts must hand out a minimum sentence of one year in prison.
Convicted offenders will also be forced to pay courts x3-x5 the money they earned in fines.
And it is not just conventional cryptoassets that will be covered by the law: it will also apply to decentralized finance (DeFi), stablecoins, in-game currencies and security tokens, the media outlets explained.
The bill is not yet finalized and will first be examined by relevant parliamentary committees before being put to a vote in the National Assembly.
Meanwhile, the nation's top regulator, the Financial Services Commission (FSC), appears to be talking itself in circles on the issue of non-fungible tokens (NFTs) and whether they will be subject to taxation from January.
Traders will be obliged to pay 20% capital gains tax on annual profits of USD 2,100 or above as of next year – although the ruling party and both leading candidates for next year's presidential elections have supported measures to delay the tax launch by a year.
The FSC has previously stated that NFTs are not subject to taxation because they "are not cryptoassets" – but Seoul Shinmun reported the FSC Vice Chairman Do Kyu-sang has in fact told the National Assembly's Political Affairs Committee that "the government's position is that NFTs can be taxed even under the current regulations."
MPs have previously claimed it is unfair that traders buying and selling bitcoin (BTC) and other tokens will be taxed on their earners while NFT traders will escape taxation on their incomes.
The FSC did not rule out making further changes to legislation to help it enforce NFT taxation – although this might require National Assembly approval. Such approval may not be forthcoming in the lead-up to next year's election, with politicians hopeful of currying favor among younger, crypto-keen voters.
Critics have hit out at the FSC. The country's top crypto academic, Park Sung-joon, the head of the Blockchain Research Center at Dongguk University, was quoted by the Korea Times as stating:
"In [this] situation, where the financial authorities are contradicting each other, it is confusing for market players of virtual assets to know whether they must pay taxes or not."