Bitcoin Market Cap Hits New All-Time High as BTC Remains 2.2% Off Its April ATH
Market capitalization of Bitcoin has reached a $1.21 trillion peak, but the major crypto itself has still not surpassed its April all-time high
The market capitalization value of the leading digital currency, Bitcoin, soared to a new all-time high of $1,211,242,526,571 on Oct. 19.
Meanwhile, Bitcoin reserves held by crypto exchanges are drained to a three-year low, and Bitcoin is still facing a 2.2% gap from its April ATH of $64,850.
Bitcoin's market cap soars above $1.21 trillion
Dylan LeClair, an on-chain analyst and founder of 21stparadigm.com, has tweeted that currently Bitcoin market capitalization value has surpassed its $1.206 trillion all-time high, reaching $1.211 trillion.
The previous market cap ATH coincided with the Bitcoin price's historic peak of $64,850. At the moment, the biggest cryptocurrency is changing hands at $63,917 per unit. That is less than 2.2% away from the April historic peak.
While this is happening, Bitcoin is peaking at over one million active wallets per day, according to data shared by Santiment, a popular on-chain analytics provider.
In the meantime, Bitcoin reserves across crypto exchanges have dropped to a three-year low as investors are withdrawing BTC to their cold wallets for long-term storage.
BREAKING: The market capitalization of #Bitcoin has made a new all time high.

🚀🚀🚀 pic.twitter.com/r7f2SGYLmf— 🟠Dylan LeClair🟠 (@DylanLeClair_) October 19, 2021
First ever U.S. Bitcoin ETF starts trading
On Tuesday, Oct. 19, ProShares started trading its Bitcoin futures exchange-traded fund on the New York Stock Exchange. The launch of the ETF under the BITO ticker has caused the flagship cryptocurrency to rally to its current level.
The product that tracks CME Bitcoin futures contracts was not rejected by the SEC and its chairman, Gary Gensler, after a 75-day consideration period.
CNBC's expert and host, Jim Cramer, believes that after the launch of an ETF, Bitcoin is likely to reach a short-term peak or even a "real peak." He added that if the launch indeed happens, he may even cash out half of his Ethereum stash to buy into the Bitcoin futures ETF.
The new Bitcoin ETF trading volume hit a whopping $320 million during the first half hour on the NYSE.
Steve Hanke again attacks Bitcoin
Prominent economist Steve Hanke has tweeted that on the news of the Bitcoin ETF launch, the king crypto has reached another all-time high (calling it a bandwagon effect), while in reality Bitcoin has not.
Hanke has been a long-term opponent of Bitcoin and has been mocking BTC and its investors from time to time this year by publishing memes on his Twitter handle. He seems to have copied the Twitter strategy of Elon Musk, who also loves posting memes, but he uses them mainly to pump cryptocurrencies: Bitcoin and his favorite altcoin, DOGE.
In his previous tweets and in this new one as well, Hanke predicts a massive rollback for Bitcoin that, he believes, will definitely happen after the "Bitcoin bubble" gets big enough and then suddenly bursts, taking BTC bulls' investments down to zero.
#EconWatch: Following the first day of trading of a #Bitcoin-based ETF, #BTC has reached a new All-Time High. Talk about the "Bandwagon effect". While it lasts, enjoy the ride. pic.twitter.com/CbR7jo11UV— Steve Hanke (@steve_hanke) October 19, 2021
Wen moon? Data shows pro traders becoming more bullish on Bitcoin price
MicroStrategy's purchase of 7,002 BTC might have helped boost Bitcoin price today, but derivatives data also shows that pro traders are becoming more bullish.
The $4,700 Bitcoin (BTC) price spike on Nov. 29 was likely a great relief for holders, but it seems premature to call the bottom according to derivative metrics.
This should not come as a surprise because Bitcoin price is still 15% below the $69,000 all-time high set on Nov. 10. Just 15 days later, the cryptocurrency was testing the $53,500 support after an abrupt 22% correction.
Today's trend reversal was possibly encouraged by MicroStrategy's announcement that it had acquired 7,002 Bitcoin on Monday at an average price of $59,187 per coin. The listed company raised money by selling 571,001 shares between Oct. 1 and Nov. 29, raising a total of $414.4 million in cash.
More bullish news came after German stock market operator Deutsche Boerse announced the listing of the Invesco Physical Bitcoin exchange-traded note or ETN. The new product will trade under the ticker BTIC on Deutsche Boerse's Xetra digital stock exchange.
Data shows pro traders are still neutral-to-bullish
To understand how bullish or bearish professional traders are positioned, one should analyze the futures basis rate. That indicator is also known as the futures premium, and it measures the difference between futures contracts and the current spot market at regular exchanges.
Bitcoin's quarterly futures are the preferred instruments of whales and arbitrage desks. Even though derivatives might seem complicated for retail traders due to their settlement date and price difference from spot markets, the most notorious benefit is the lack of a fluctuating funding rate.
Bitcoin 3-month futures basis rate. Source: Laevitas.ch
The three-month futures typically trade with a 5%–15% annualized premium, which is deemed an opportunity cost for arbitrage trading. By postponing settlement, sellers demand a higher price and this causes the price difference.
Notice the 9% bottom on Nov. 27, as Bitcoin tested the $56,500 support. Then, after Monday's rally above $58,000, the indicator shifted back to a healthy 12%. Even with this movement, there is no sign of excitement, but none of the past few weeks could be described as a bearish period.
Lending markets provide additional insight
Margin trading allows investors to borrow cryptocurrency to leverage their trading position, therefore increasing the returns. For example, one can buy Bitcoin by borrowing Tether (USDT), thus increasing the exposure. On the other hand, borrowing Bitcoin can only be used to short it or bet on the price decrease.
Unlike futures contracts, the balance between margin longs and shorts isn't necessarily matched.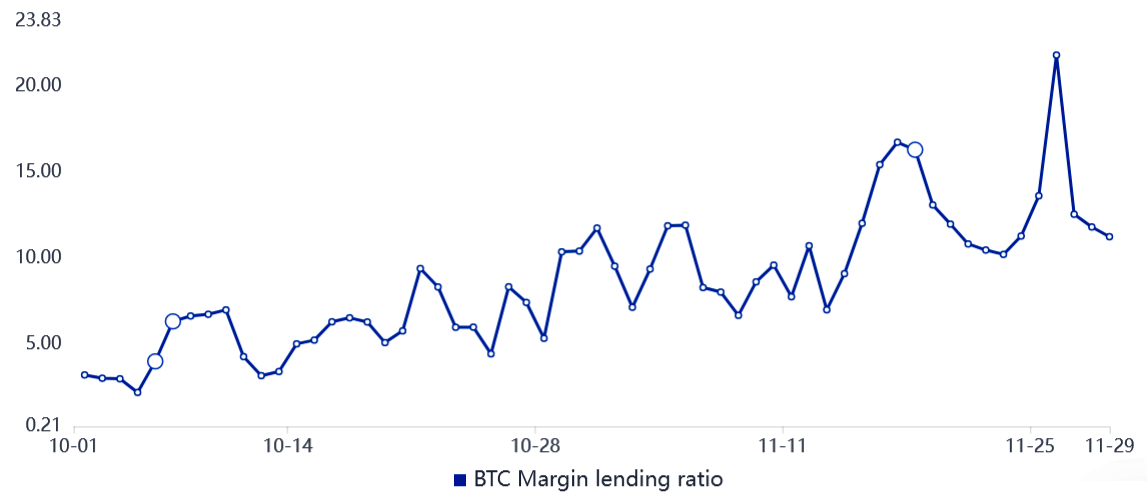 OKEx USDT/BTC margin lending ratio. Source: OKEx
When the margin lending ratio is high, it indicates that the market is bullish—the opposite, a low lending ratio signals that the market is bearish.
The chart above shows that traders have been borrowing more Bitcoin recently, because the ratio decreased from 21.9 on Nov. 26 to the current 11.3. However, the data leans bullish in absolute terms because the indicator favors stablecoin borrowing by a wide margin.
Derivatives data shows zero excitement from pro traders even as Bitcoin gained 9% from the $53,400 low on Nov. 28. Unlike retail traders, these experienced whales avoid FOMO, although the margin lending indicator shows signs of excessive optimism.
Bitcoin, Ethereum and Two Smart Contract Competitors Are the Winners Among Institutional Investors, According to Crypto Asset Manager CoinShares
Leading digital asset manager CoinShares says institutional investors have a strong appetite for Bitcoin (BTC) and three leading smart contract platforms.
According to the firm, the overall crypto market correction has left investors hungry for more.
"Digital asset investment products saw inflows of US$306m last week suggesting [a] continued appetite for digital assets."
As usual, BTC led all digital assets in terms of capital inflows, this time in the wake of a new exchange-traded product (ETP) set to launch on the Deutsche Borse exchange.
"Bitcoin saw the largest inflows in 5 weeks totaling US$247m following the launch of another investment product in Europe. This brings the 11 week run of inflows to US$2.7bn."
BTC is trading at $58,475 at time of writing, up nearly 6% on the day.
The leading smart contract platform Ethereum (ETH) concluded a strong month of inflows with a week totaling over $23 million.
"Ethereum saw inflows totaling US$23m last week, marking its 5th consecutive week of inflows."
This week's big winners in inflows relative to assets under management (AuM) also include the scalable smart contract platform Solana (SOL) and the interoperable blockchain Polkadot, which is designed to support multiple layer-1 smart contract protocols.
"In terms of inflows relative to AuM, Polkadot and Solana continue to be the winners, with inflows representing 8.6% (US$11.5m) and 5.9% (US$14.6m) of AuM respectively last week."
Ethereum is currently trading at $4,453.79, up 7.5% in the last 24 hours. SOL and DOT are trading at $211.48 and $36.82, respectively, at time of writing.
Nayib Bukele sends cryptic response to Bank of England over Bitcoin law criticism
Nayib Bukele questions England love for El Salvador over Bitcoin adoption.
England expreses concern over El Salvador Bitcoin law.
Outside England IMF also criticized El Salvador over Bitcoin law.
After he expressed concerns over Bitcoin adoption in the country, El Salvador President Nayib Bukele has sent a cryptic response to the Governor of the Bank of England, Andrew Bailey.
Over the weekend, Bailey said he is not a fan of bitcoin or its growing adoption in countries like El Salvador. He expressed concerns while speaking at Cambridge University, asking if Salvadorians are aware of Bitcoin's volatility.
"It concerns me that a country would choose it as its national currency," Bailey said in response to a question at an appearance at the Cambridge University student union on Thursday. "What would worry me most of all is, do the citizens of El Salvador understand the nature and volatility of the currency they have."
Bank of England is not the only international body to express concerns over Bitcoin adoption by El Salvador. Since June, when the Central American country announced its Bitcoin intention, numerous global financial organizations have tried to warn the country not to do it.
Outside the Bank of England, the IMF also criticized the move by the country.
Nayib Bukele's cryptic, Ironic response
While addressing Bailey's most recent comments, President Bukele responded in a tweet pointing at the "genuine" concerns that the BOE has for the people of El Salvador.
"Bank of England is "worried about El Salvador's adoption of Bitcoin? Really?
I guess the Bank of England's interest in the well-being of our people is genuine. Right?
I mean, they have always cared about our people. Always.
Gotta love Bank of England," he wrote.
Bank of England is "worried" about El Salvador's adoption of #Bitcoin?

Really?

I guess Bank of England's interest in the well-being of our people is genuine.

Right?

I mean, they have always cared about our people. Always.

Gotta love Bank of England 😍https://t.co/qsQNdw8h7L— Nayib Bukele 🇸🇻 (@nayibbukele) November 27, 2021
El Salvador adopted Bitcoin as its legal tender months back, and according to Nayib Bukele, there has been progress since the country made the move.
For instance, the nation has used the aforementioned volatility, especially when the price dips, to accumulate more portions of the asset and to use the profits when the price increases to make plans for buying pet hospitals or new schools.
El Salvador adopted Bitcoin as its legal tender months back, and according to Nayib Bukele, there has been progress since the country made the move.
For instance, the nation has used the aforementioned volatility, especially when the price dips, to accumulate more portions of the asset and to use the profits when the price increases to make plans for buying pet hospitals or new schools.