Uniswap Price Analysis: UNI consolidates above $25, slowly prepares to push higher?
Uniswap price analysis is bullish today.
UNI/USD continued to consolidate above $25.
Closest resistance at $27.
Uniswap price analysis is bullish today as a higher low has been established above $27 after a several-day consolidation. Therefore, we expect UNI/USD to move higher over the next 24 hours and likely test the $27 mark.
The overall market traded mostly with bullish momentum over the last 24 hours. The market leader, Bitcoin, gained 2.91 percent, while Ethereum gained 2.05 percent. Meanwhile, Terra (LUNA) is among the top performers, with a gain of 7.5 percent.
Uniswap price movement in the last 24 hours: Uniswap continues to consolidate above $25
UNI/USD traded in a range of $25.31 – $26.22, indicating mild volatility over the last 24 hours. Trading volume totals $236 million, while the total market cap trades around $15.8 billion, ranking the coin in 11th place overall.
UNI/USD 4-hour chart: Ready to test $27 next?
On the 4-hour chart, we can see bullish momentum slowly forming as Uniswap price targets the $27 mark next.
Uniswap price has struggled to reach further upside after a very strong advance at the end of September. During the first days of October, UNI/USD set another higher high at $27 after breaking the previous high at $26.
What followed was a several-day consolidation around the $25 mark. On the 11th of October, Uniswap finally broke lower, moving to the $22.5 mark. From there, a reversal was seen, pushing UNI/USD towards a new higher high at $28.
However, since then, a consolidation above $25 after a brief retracement has been seen. Overall, unless the Uniswap price action breaks below the $25 support, we expect further upside later this week.
Uniswap Price Analysis: Conclusion
Uniswap price analysis is bullish today as a higher low has been established around $25 after consolidation over the last 24 hours. Therefore, we expect UNI/USD to continue higher later today and test the $27 mark next.
While waiting for Fantom to move further, read our guides on LTC wallets, Gero wallets, and  DeFi wallets.
Uniswap price eyes 20% upswing if UNI can clear this crucial barrier
Uniswap price is on a journey to retest $25 after the recent downswing.
On-chain metrics hint at smooth sailing ride apart from the massive resistance at $20.84.
A daily close below $17.75 will invalidate the bullish thesis.
Uniswap price reverses its downtrend and is on its way to set up higher highs. The bullishness around UNI comes as investors are expecting t UNI price to see a quick run-up as the crypto market also sees a minor upswing.
Uniswap price to continue its ascent
Uniswap price has rallied roughly 11% over the past 24 hours after it sliced through the $18.73 swing low. This upswing is likely to fill the Fair Value Gap (FVG) that extends up to $21.13 and make a run at the $22.36 resistance level.
The buy stop liquidity resting above these highs will be the market makers' first target. Beyond this area is another FVG, extending from $22.49 to $24.51. So, investors can expect UNI to breeze through this area with ease. Resting above the $24.78 is another set of buy stops that the market makers will target.
This run-up will constitute a 20% surge in Uniswap price.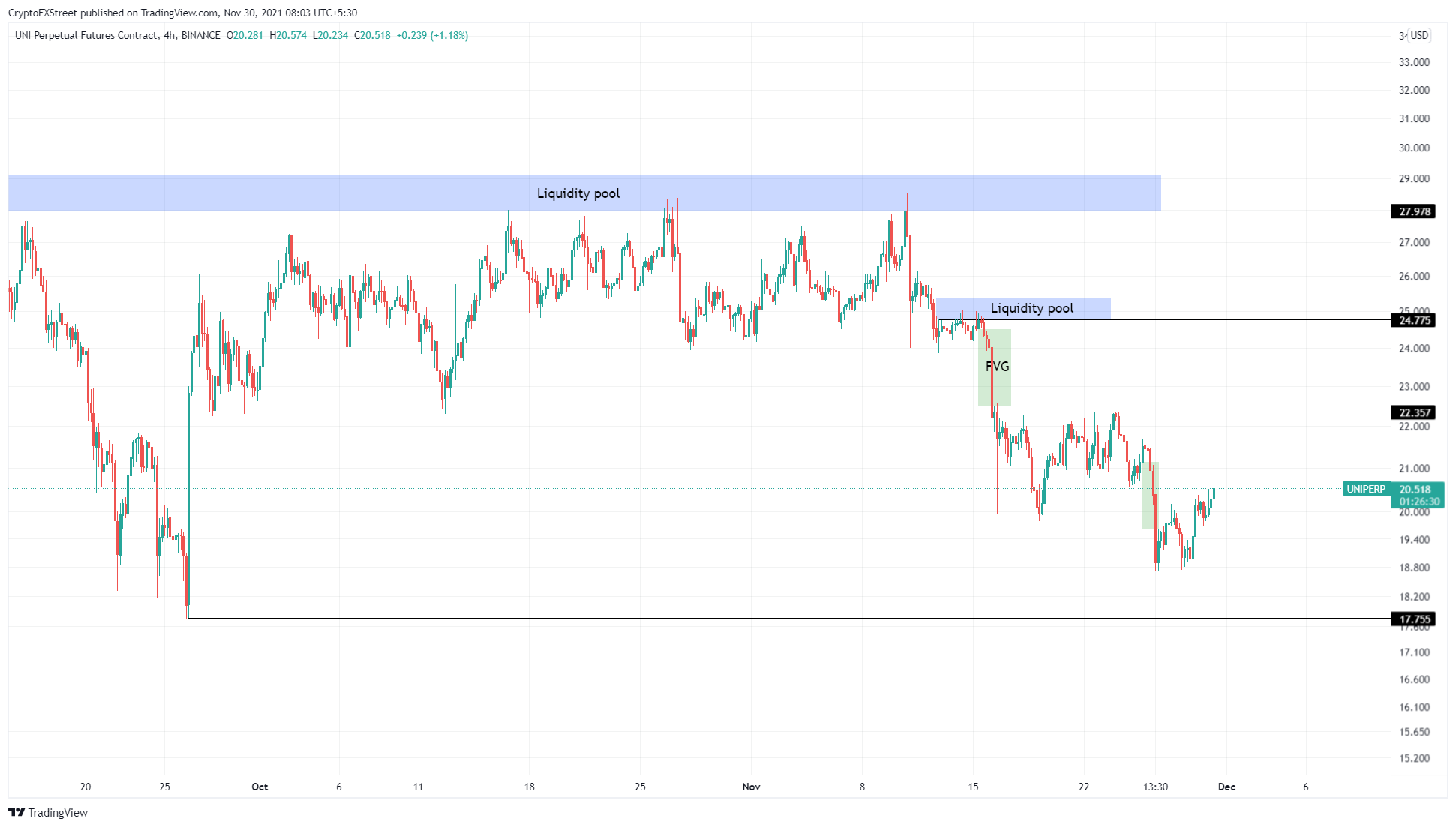 UNI/USDT 4-hour chart
The technicals are pointing at a bullish outlook for Uniswap price, and on-chain metrics also hint at a similar outlook. Take, for example, the 30-day Market Value to Realized Value (MVRV) model.
This on-chain metric is used to determine the average profit/loss of investors that purchased UNI over the past month. Since this indicator is hovering around -5%, it indicates that investors are at a loss. This area is where market participants accumulate the assets, suggesting it is an excellent place to see UNI price grow.

UNI 365-day MVRV chart
While things are looking up for Uniswap price, there is one hindrance that bulls will face in its upward journey. IntoTheBlock's In/Out of the Money Around Price (IOMAP) model shows a massive cluster of underwater investors at $20.84. Here, roughly 6,680 addresses purchased nearly 183 million of UNI.
These "Out of the Money" investors are likely to pose a threat to the upswing as they could sell their holdings to breakeven. Therefore, clearing this level will remove the sell-side pressure and trigger an upswing for Uniswap price.

UNI IOMAP chart
A rejection at $20.84 that results in Uniswap price correcting to $18.73 will be questionable and indicate that sellers are running amok. In such a situation, if UNI produces a daily close below $17.76, it will create a lower low and invalidate the bullish thesis.
Votes are in: over 7 million Uniswap holders in favor of Polygon's deployment proposal
The votes are in and the Uniswap community has spoken. Interestingly, almost 100% of the votes on a proposal to deploy Uniswap on Polygon were in favor of the integration. Thus, clearly highlighting the explosive popularity that layer-2 protocols have been receiving of late.
Almost a week ago, Polygon developers had put forward a proposal on Uniswap's governance portal. This, in order to pitch their goals of integration to the larger Uniswap community. The first phase of the governance process was initiated on 23 November. It encompassed the Temperature Check Poll, which tried to gauge an initial consensus on whether the proposal is even worth going ahead with.
Reportedly, over 7.79 million Uniswap holders voted yes to deploying Uniswap V3 to the Polygon PoS chain. Well, only 25,000 favorable votes were required for the proposal to move on to the next phase.
Polygon stated that "this is the right moment for this deployment to happen." Since it could drastically decrease the transaction fee and time that users spend on the network. Especially, while interacting with Ethereum. Besides, expanding the decentralized exchange's user base and revenues through scalability solutions.
The top DEXs like Sushiswap and Aave have already been deployed on Polygon. Well, the L2 protocol is ready to even allocate huge capital for this integration. Primarily, due to Uniswap's respectable market position.
This includes participation in the design and execution of liquidity mining campaigns. In addition to the promotion of Uniswap V3 as a "money lego."
Now that the temperature check poll has delivered a favorable outcome, the proposal will be moving to the next stage. It will be the "Consensus Check." It requires 50,000 affirmative votes to be passed to the final stage of governance. Well, the purpose of the Consensus Check is to start a formal discussion by creating a new poll based on the feedback from the Temperature Check.
When one Twitter user pointed out that it could take months for the deployment to go live, Polygon co-founder Mihailo Bjelic replied,
"It can be done much quicker, assuming the governance process finishes successfully."
Furthermore, with the overwhelming support from the Uniswap community, a delay in this process would rather be unlikely at this point.
In fact, owing to the soaring gas fee and longer transaction time, many are migrating to Layer-2 protocols. It scales the network and drastically increases its throughput. Not to forget, Polygon has turned out to be one of the most successful of those, with around $4.74 billion total value locked at press time.
Analyzing what exactly is the state of Uniswap's investors
Uniswap [UNI], despite being a top-20 cryptocurrency, has been going on without an entire cohort of investors in its bag. However, even though investors managed to turn that around, the altcoin has been relentless and investors are losing patience due to UNI's ongoing price action.
Uniswap going down?
Uniswap is one of the biggest DEXs on Ethereum and in the market. And yet, its performance week-on-week has made investors concerned about their investments.
According to a Crypto.com report, Uniswap was the worst-performing DEX over the previous week with almost 24.36% of its market cap and 14% of its average weekly volumes observing a depreciation.
While the month of October wasn't as harmful thanks to its consolidation, all of that safety was stripped away after UNI finally fell through the $23-support level. At the time of writing, it was looking at the critical support of $18.9.
On the other hand, thanks to the ongoing market movement, volatility has fallen to its all-time low. This could prove to be essential for a sustainable recovery on the charts.