Why Can't XRP Show Quality on the Basis of Price?
We want to hear from you! When it comes to Ripple and industry updates, what's your favourite way of learning more?
Community response: I sold all of my XRP coin 2 hours ago. Frankly XRP was the worst coin that I ever had. More than a year wasted – my time and my money. I shouldn't buy a coin that couldn't hit its previous ATH for 4 years.
Please consider sending a message to all XRP holders, to update us on the SEC case. Or at least, consider having someone from your team being on an interview with some of the you tubers/lawyers.
Why can't XRP show quality on the basis of price? Now we want XRPs features to be reflected in its price and not to lose its reputation. I hope you have an answer.
We expect serious attacks from Ripple, make a Coin Burn if necessary Let the supporters like it.
XRP is the bridge. RippleNet offers connections to hundreds of financial institutions around the world via a single API. It helps you reduce, the need to pre-fund accounts with On-Demand Liquidity (ODL)—a service that uses the digital asset XRP to source liquidity during cross-border transactions.
It is the bridge between currencies – so it effectively translates currency to XRP and then out to a different currency is the way I understand it. It's done in seconds so there's no loss during the currency transaction. Swift does this but takes a day and costs more.
As long as you invest in XRP before the Ripple lawsuit ends then you're still early.
By the time Ripple finds out that the Sec doesn't want to clarify, but only wants them out of the way, Ripple will be out dated. Actually they already are.
The price is being traded down by BTC and ETH whales. These same whales also fund other projects that they proposition as a "Ripple-killer", and XRP is being held down while they try to build and capture market share. XRP is superior tech, and threatens BTC and ETH whales.
Early XRP investors reported nearly twice the poverty compared to other crypto investments.
The answer is very simple. The XRPLedger uses a consensus mechanism to validate transactions at high speed and very low cost. Secondly, it's secure and highly decentralized which make it impossible for bad actors to behave dishonestly. And last the community is on point IMHO.
All of these factors make the XRPLedger much more effective then PoW and PoS systems which are known to undermine smaller players.
News Source
XRP price on edge of cliff as Ripple faces imminent collapse
XRP price falls below key Ichimoku levels on the weekly chart.
Key oscillator divergence may hint at near-term support.
The threat of a 34% drop, however, remains likely.
XRP price followed the rest of the cryptocurrency market lower over the weekend. The US Thanksgiving holiday gave cryptocurrency traders and investors some early Black Friday deals, but downside risks remain.
XRP price drops below weekly Ichimoku Cloud, threatening flash crash conditions
XRP price completed the most bearish weekly candlestick close within the Ichimoku system since the week of February 28th, 2020, last week.. The candlestick closed below its final Ichimoku support level, the Kijun-Sen ($0.957). XRP now has very little support structure remaining and will now rely on the Chikou Span as its final hope of support.
The saving grace for XRP bulls is where the Chikou Span is positioned. For an Ideal Bearish Ichimoku Breakout entry to occur, the Chikou Span must be below the bodies of the candlesticks and in open space. Open space is a condition where the Chikou Span won't intercept the body of any candlesticks horizontally over the next five to ten periods. For the open space condition to be accurate, XRP price would need to close at or below $0.59.
Some bullish warning signals are flashing, however, and could trigger some covering by short-sellers. Currently, XRP price has bounced off the 38.2% Fibonacci retracement at $0.84 to return above the Kijun-Sen. Another factor contributing to the bounce is the Chikou Span moving above the body of the candlesticks for the first time since the August 13th weekly candlestick.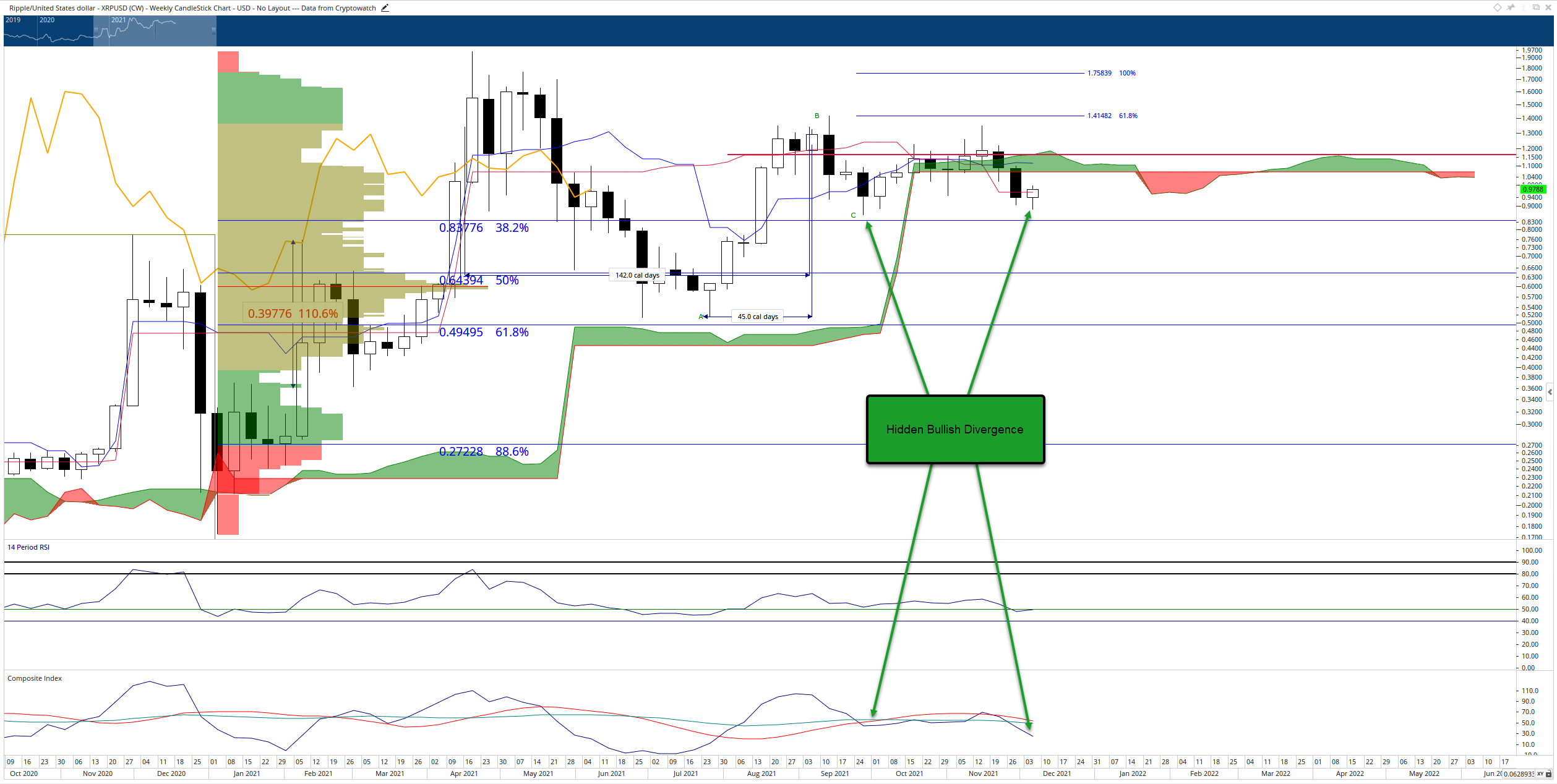 XRP/USDT Weekly Ichimoku Chart
There is an almost imperceptible hidden bullish divergence between the candlestick chart and the Composite Index. Hidden bullish divergence is when an oscillator creates lower lows while the price chart creates higher lows. Only valid if the prior trend was up – hidden bullish divergence is an early indicator that the prior uptrend will continue. Contributing further to some near-term support is the Relative Strength Index holding the oversold levels of 50 and 40 as support.
Bulls ultimately need XRP price to close at or above the $1.18 level to establish a clear and renewed bull market.
40 Million XRP Moved to Binance Exchange and Sold Immediately
Anonymous wallet moves a large number of coins to exchange while the cryptocurrency market recovers
While others decide to keep their coins in cold or hot wallets instead of exchanges, this XRP whale has moved a large volume of funds to a centralized exchange and, most likely, sold immediately.
According to transactional activity on the chain, an anonymous wallet ending in "kskkhi" has moved 40 million coins to a wallet owned by Binance centralized exchange.
Currently, the unknown wallet holds almost 13 million coins. The wallet received 40 million coins just a day before a large transaction from another unknown wallet that holds significantly more XRP.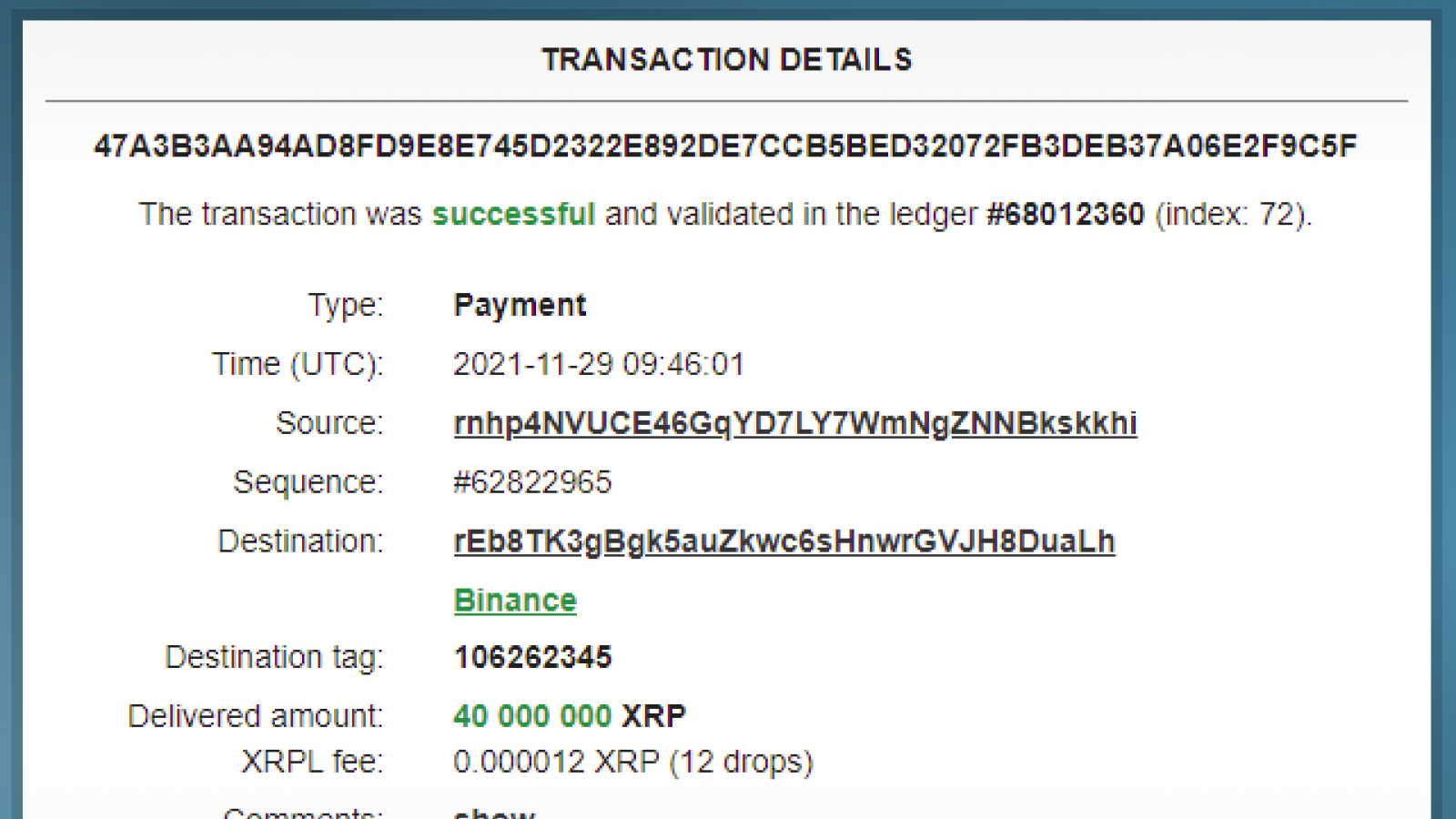 The exchange between undisclosed whales is purely anonymous and has not been known to the public. The second wallet, which initially transacted 40 million coins to the wallet that sold it on Binance, is currently holding 156 million XRP coins.
The larger wallet might somehow be connected to another centralized exchange since it has been constantly receiving a large number of funds from it, including those 40 million coins.
The realization of coins on the Binance exchange could have led to the rapid retrace of XRP that has been moving with a 2.5% profit today. The current daily XRP volume on Binance is at 156 million coins. The transacted amount represents approximately 25% of the current daily trading volume on the exchange.
At press time, XRP is trading at $0.97 with 0.17% of daily growth that has peaked at 2.5%. Previously, Ripple faced a strong recovery by dropping below the $0.90 zone and then spiking back up to $0.96 in one day.
WILL RIPPLE AND XRP STEAL THE SHOW AT THE JP MORGAN CRYPTO ECONOMY FORUM?
What will be the trends in the cryptocurrency space in 2022 and what will be the role of XRP once the SEC v. Ripple lawsuit is finished?
We're headed toward the last month of 2021, a year that saw the cryptocurrency market reaching new all-time highs both in overall market cap and asset prices.
Investors and the digital asset ecosystem are now looking for signals of what to expect in 2022 and onwards as the industry matures.
JP Morgan, one of the world's largest investment banks, will be hosting its JP Morgan Crypto Economy Forum tomorrow, November 30.
SEC V. RIPPLE AND XRP ADOPTION UNDER THE SPOTLIGHT
A JP Morgan report sent to investors earlier this month put XRP and the SEC v. Ripple lawsuit under the spotlight and concluded that a win would put the crypto asset on the road to mainstream adoption. More on that, here.
Coinbase, which was mentioned as a key player for relisting XRP, announced it will participate in the forum and will be represented by CEO Brian Armstrong and Lead Independent Director Fred Wilson. The exchange operator will share the fireside chat on a live webcast. For more information on time and link to the webcast, here.
Ripple has successfully accelerated its global expansion this year despite fears that the lawsuit could cause hesitancy among institutional partners. Now it seems that the blockchain firm will be hiring a few hundreds in 2022 as they prepare the launch of the upcoming Liquidity Hub.
On top of that, the XRP Ledger has just had a "game-changer" upgrade that took a year to come into effect and it's likely to strengthen its appeal. Ripple's CTO David Schwartz said it was "awesome news".
JP MORGAN MOVES IN CRYPTO
The bank is one of the big ones joining the crypto movement, having created its own digital coin for payments (JPM Coin) and providing wealth management clients with access to crypto via Grayscale and Osprey trusts as well as an in-house Bitcoin fund.
JP Morgan has also been on the headlines admitting that institutional investors are increasingly replacing gold with Bitcoin and are also shifting favorites from Bitcoin to Ether.
As part of the trend in the crypto industry, the financial institution is keeping an eye on Bitcoin, Ethereum, and Dogecoin, as well as Polkadot, Uniswap, and Chainlink.
The JP Morgan Crypto Economy Forum will focus on "Today's Ecosystem and Tomorrow's Marketplace". Conference attendance is by invitation only.
If you're a client who would like to receive an invitation to the upcoming conference, you can contact your J. P. Morgan representative or email the relevant regional conference team:
North America: [email protected]
Latin America: [email protected]
Asia Pacific: [email protected]
Europe, Middle East, Africa: [email protected]