Beyond the hype: Solana's [SOL] incredible price action sustainable or not?
Solana [SOL] joined the new high-club after smashing past the previously established peak. The major rally was spurred by the monumental debut of ProShares' Bitcoin ETF on Wall Street that marked the resumption of the second bullish wave this year.
On the other hand, Solana has not only managed to catch up to the uptrend but also extend the rally even as other top cryptocurrencies took a breather. Over the past week, SOL registered over 33% gains and was still up by nearly 10% in the last 24-hours. At a whopping $202, SOL is at a new ATH. The following charts reveal some interesting patterns.
Solana's [SOL] buying pressure is not exhausting anytime soon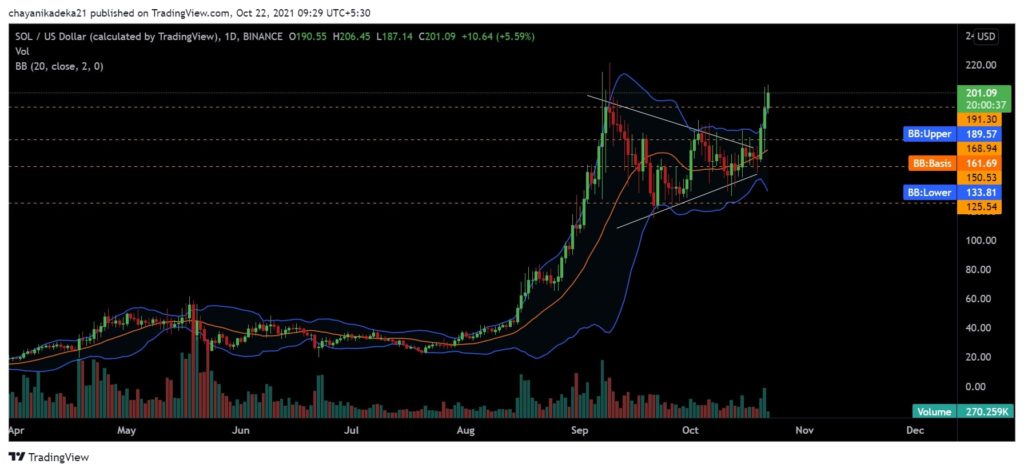 The last few weeks have been quite rough for Solana has been tough as it made lower highs after the late August ATH. The market lull can be attributed to the major network outage that pointed to serious security risks that was enough to shake the traders' confidence.
As a result, the price action was mostly confined within a symmetrical triangle that indicated a breakout in either direction. However, the latest uptrend has sparked a new high for asset after a subsequent bullish breakout.
The diverging Bollinger Bands [BB] depicted a period of high volatility in the SOL market while the increasing trading volume offered substantial backing to its price action.
What's the next price target for SOL?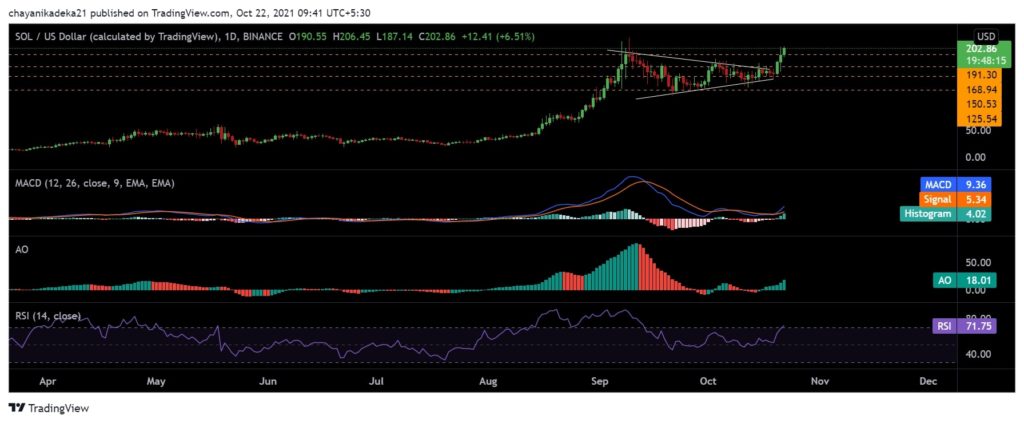 The MACD also aligned with the bulls, however it is yet to soar to levels seen during its previous all-time high. The Awesome Oscillator [AO] also depicted a similar sentiment as bullish momentum engulfed the market. The daily Relative Strength Index [RSI] is slowly climbing up and is closing in on the overbought territory, meaning there's more upside potential.
The above charts indicated an optimistic outlook as market players' interest with respect to Solana has evidently been picking up. The resistance level that the investors need to look out is $216. It is also important to note that SOL has followed a classic bullish continuation structure following September's tumble. Hence, a profit target of $250 may also come into play before the asset hits a consolidation phase.
Another bullish factor that may play an important role in determining SOL's growth structure is its performance against the USD over the last two days which has been way than the Bitcoin. This trend evidenced traders rotated capital out of the BTC market to enter the SOL market. 
The Solana Network Is Greener Than Google: Report
According to a Solana report, one transaction on the project's blockchain requires less energy than two Google searches.
Solana has emerged as a viable alternative to a host of blockchains. In fact, the network is not only efficient when it comes to conducting transactions but is also greener than web browsing giant Google, at least according to a recent report.
At a time when the carbon footprint of Proof-of-Work (PoW) based assets has come under scanner, Solana's latest Energy Use Report for November 2021 demonstrates a brand new trend taking shape that pushes towards a greener crypto sphere.
Solana Vs. Google: Which One's Greener?
According to the report, the Solana Foundation determined that a single Solana transaction takes 0.00051 kWh or 1,836 Joules of energy. To put things into perspective, the report presented a myriad of activities that consumes more energy. For instance, a single Google search reportedly consumes around 1,080 Joules. Meaning, two Google searches would consume more energy than one transaction on the Solana network.
It does not end there. Transaction on Solana also requires 24 times less energy than charging a mobile phone. It is also less energy exhausting than keeping an LED light bulb on for one hour, which consumes around 36,000 Joules, as well as working for an hour with a computer and monitor, which takes around 46,800 Joules.
What's even more interesting is that the entire Solana network only uses around 3,186,000 kWh per year. This is equivalent to the average electricity usage of 986 households in the USA.
Solana Vows Reduce Carbon Footprint
Meanwhile, leaders around the world are bickering about global efforts to minimize carbon emissions. For the cryptocurrency sector, the Solana Foundation appears to be keen on working towards carbon neutrality.
As such, the organization has vowed to reduce the SOL ecosystem's environmental effects even further. Its plans for the remainder of 2021 include the introduction of a program to assist in making Solana's validator network carbon neutral and offset the footprint of the ecosystem.
In addition to these steps, the foundation also revealed that it would release reports on the project's energy stats periodically. In a nutshell, Solana appears as the faster and less energy-hungry alternative to Ethereum, which has been riddled with high gas fees and an electricity bill that burns a big hole in the pocket. The race is now towards merging efficiency and eco-friendly tech.
However, Solana is not the only one that is putting tremendous effort into going green. From prominent blockchain firm Ripple to Avalanche and Neon Labs, several platforms are working towards becoming energy-efficient.
Solana will become the next Bitcoin, says FTX CEO Sam Bankman Fried
Sam Bankman-Fried told Kitco in an interview that the next Bitcoin would be a blockchain with high throughput like Solana and Avalanche.
Though the Solana blockchain has failed to gain mass adoption, it is likely that it becomes the largest DeFi base layer.
Institutions and influential investors are flocking to the Solana ecosystem, driving demand higher and increasing value captured by the altcoin.
Analysts are bullish on SOL price, predicting a rally to $305 as the altcoin continues to climb.
The next Bitcoin has to be a blockchain with the potential to process thousands of transactions per second. Since the Solana blockchain can process 50,000 transactions per second, Sam Bankman-Fried sees potential in SOL becoming the next Bitcoin. 
Analysts are bullish on Solana price, predict a rally to new all-time high
Solana price plunged below $200 in the Black Friday crypto bloodbath. The altcoin's price has recovered from the drop and is trading close to $200 at the time of writing. There is a spike in institutional inflow and capital rotation into Solana over the past two months.
Influential investors are bullish on Solana, contributing to a rise in the altcoin's adoption. In a recent interview with Kitco, Sam Bankman-Fried (SBF) lauded Solana for the protocol's ability to scale to millions of transactions per second. The FTX CEO said that it makes Solana an integral part of cryptocurrency adoption and the next Bitcoin. 
Solana's scalability could help it evolve into the new Ethereum or Bitcoin, and SBF was quoted as saying,
I am optimistic about Solana. She has every chance of doing this, which is very interesting, I think.
@venturefounder, a cryptocurrency analyst, believes that Solana may end up rivaling Ethereum with a rise in institutional adoption. 
#SOLANA is where many influential investors are betting on (including SBF & FTX), and it is fast and cheap to use

Cheap gas -> innovation -> value capture

GGSG is a blue-chip NFT for Solana, marketcap is tiny today, but if $SOL ends up rivaling $ETH, can easily go 10x from here pic.twitter.com/m1ToEzQPHi— venturefoundΞr (@venturefounder) November 26, 2021
Cryptocurrency analysts at "More Crypto Online" are bullish on Solana. Analysts have predicted a price rally to a new all-time high at $305 as the altcoin price trend reverses.
FXStreet analysts have evaluated the SOL price trend and predicted that by crossing $230, Solana could resume a parabolic trend. 
Solana price at now-or-never moment as whales continue accumulating the altcoin
Solana price has dropped by 10% over the past 24 hours, investors have continued accumulating the altcoin.
Over $43 million in institutional capital flowed into Solana over the past week.
Sam Bankman-Fried, the co-founder of FTX, believes that another competing blockchain could disrupt Solana.
Analysts argue that Solana price is likely to plunge to $169 before starting recovery to $200.
Solana price drops below $200 as crypto market capitalization drops. Analysts expect the Solana price trend to reverse with increasing capital inflow into the altcoin. 
Analysts await Solana trend reversal as whales buy the dip
Solana price dropped below $200 as billions were wiped off the total market capitalization on Black Friday. The altcoin price is currently on a downtrend, and analysts expect a trend reversal. Over the past week, over $43 million flowed into Solana from institutions.
Whales have continued accumulating the altcoin through the dip and have a bullish outlook on Solana. 65 wallet addresses hold over a million SOL tokens, amounting to a total of $31.3 billion. Solana ownership is concentrated; therefore whale accumulation implies an upcoming price rally in the altcoin.
Sam Bankman-Fried, the co-founder of FTX, believes that Solana could outperform Ethereum. At the same time, Bankman-Fried considers the possibility of Solana getting disrupted by a competing blockchain.
The FTX CEO commented on Solana taking over Ethereum, he said,
It could happen. It could never happen.
An analyst at the YouTube channel "Adam Coins" is bullish on Solana. The analyst has predicted a trend reversal in SOL price in a recent video. Identifying a double bottom, the analyst expects the SOL price to make a comeback above $200 before climbing to $225, the next price target.
Analysts expect the Solana price to remain above $200 over the weekend.
FXStreet analysts have evaluated the SOL price trend and predicted that breaking $230, the altcoin is expected to resume a parabolic uptrend.