Bitcoin Forecast and Analysis BTC/USD October 22, 2021
BTC/USD are trading at 64619 and continue to move as part of the correction and the bullish channel. Bitcoin cryptocurrency capitalization at the time of the publication of the forecast is $1,194,342,792,891. Moving averages indicate a short-term bullish trend for Bitcoin. Prices went up from the area between the signal lines up, which indicates pressure from buyers of "Digital Gold" and a potential continuation of the rise in the value of the asset already from the current levels. As part of the cryptocurrency rate forecast for tomorrow, October 22, 2021, we should expect an attempt to develop a decrease in the value of a digital asset and a test of the support level near the 57505 area. Where again should we expect a rebound and an attempt to raise the Bitcoin rate with a target above the 74055 area.
Bitcoin Forecast and Analysis BTC/USD October 22, 2021
An additional signal in favor of the growth of BTC/USD quotes will be a test of the rising trend line on the relative strength index (RSI). The second signal in favor of this option will be a rebound from the lower border of the bullish channel. Cancellation of the growth rate and value of Bitcoin will be a fall in the value of the asset and a breakdown of the area of ​​52205. This will indicate a breakdown of the support area and a continuation of the fall in the Bitcoin rate with a potential target at 42055. Confirmation of the rise in the price of the asset will be a breakdown of the resistance area with the price fixing above the level of 69205.
Bitcoin Forecast and Analysis BTC/USD October 22, 2021 suggests an attempt to test the support level near the 57505 area. And further, the cryptocurrency will continue to grow with a potential target at 74055. An additional signal in favor of the Bitcoin rate rise will be a test of the support line on the relative strength index (RSI). Cancellation of the cryptocurrency growth option will be a fall and a breakdown of the 52205 area. This will indicate a continued fall with a potential target below the 42055 area.
Miami Mayor, Strike's Jack Mallers discuss their take on Bitcoin as inflationary hedge
In early November, investment expert and business show host Anthony Pompliano asked which American politician would be the first to take their salary in Bitcoin.
In response, the Mayor of Miami city, Francis Suarez, expressed his willingness and asked for help. Several industry stakeholders, such as Coinbase's Brian Armstrong and the Strike company offered their expertise.
I'm going to take my next paycheck 100% in bitcoin…problem solved! @Sarasti can you help? https://t.co/v4YdPZ0tYc— Mayor Francis Suarez (@FrancisSuarez) November 2, 2021
During an episode of Pompliano's show, the investment exec interviewed both Suarez and Strike CEO Jack Mallers to learn more about getting paid in Bitcoin.
Rising prices, rising worries
Inflation was the word of the day for both interviewees, as Mallers and Suarez spoke about how they believed Bitcoin would serve as a hedge, or a new way of saving money. Mallers said he preferred to look at rising real estate prices and explained,
"If you, watching this, are not getting a 25% raise every single year, housing is getting more expensive than your earning income. So you are not making progress towards owning a home."
Mallers also spoke about Strike's feature that allowed users to be paid fully or partially in Bitcoin. In response, Suarez said,
"…particularly people that don't like Bitcoin, for whatever reason, they like to talk about the volatility, but they don't talk about the year over year gains, which is crazy. I don't understand how they can talk about one thing without the other, which is really the more relevant statistic, right?"
Suarez also suggested plans for residents to pay taxes in Bitcoin and for the government to hold BTC on its balance sheet. But regarding the link between Bitcoin adoption and inflation, he claimed,
"And with inflation certainly being under-reported – as we all know – you know, it's [Bitcoin] an important hedge, and it's becoming the base currency for many, many people."
'Tip' of the iceberg
The Twitter-Strike API integration in September caused a buzz as crypto watchers worldwide wanted to know when the app would reach them. However, as of press time, the Strike website stated that only the United States (minus New York and Hawaii) and El Salvador could support the app.
Speaking about the Twitter tips feature, Mallers said,
"And so we're working with Twitter on how to make sure that can be outside of just our service – we don't want to be the only ones supporting [it] – and how they can make it extensible to everyone in the world."
Bitcoin Traders Should Pay Close Attention to This Price Level Amid Crypto Market Pullback, Says On-Chain Analyst Will Clemente
Popular on-chain analyst Will Clemente says he's identified the new support level for Bitcoin (BTC) after the crypto market's latest Covid-induced price drop.
Clemente tells his 430,000 Twitter followers that $53,000 is the price level to keep an eye on, and it wouldn't surprise him to see the largest crypto asset by market cap tested at this support as he has yet to see any sizable flushes.
"Covid variant news isn't ideal. Yet to see any sizable amount of [liquidations] or [open interest] flush, so a wick lower is very possible.
However, STH (short-term holder) cost basis, or what I've been calling the 'on-chain bull market support band,' sits at $53,000."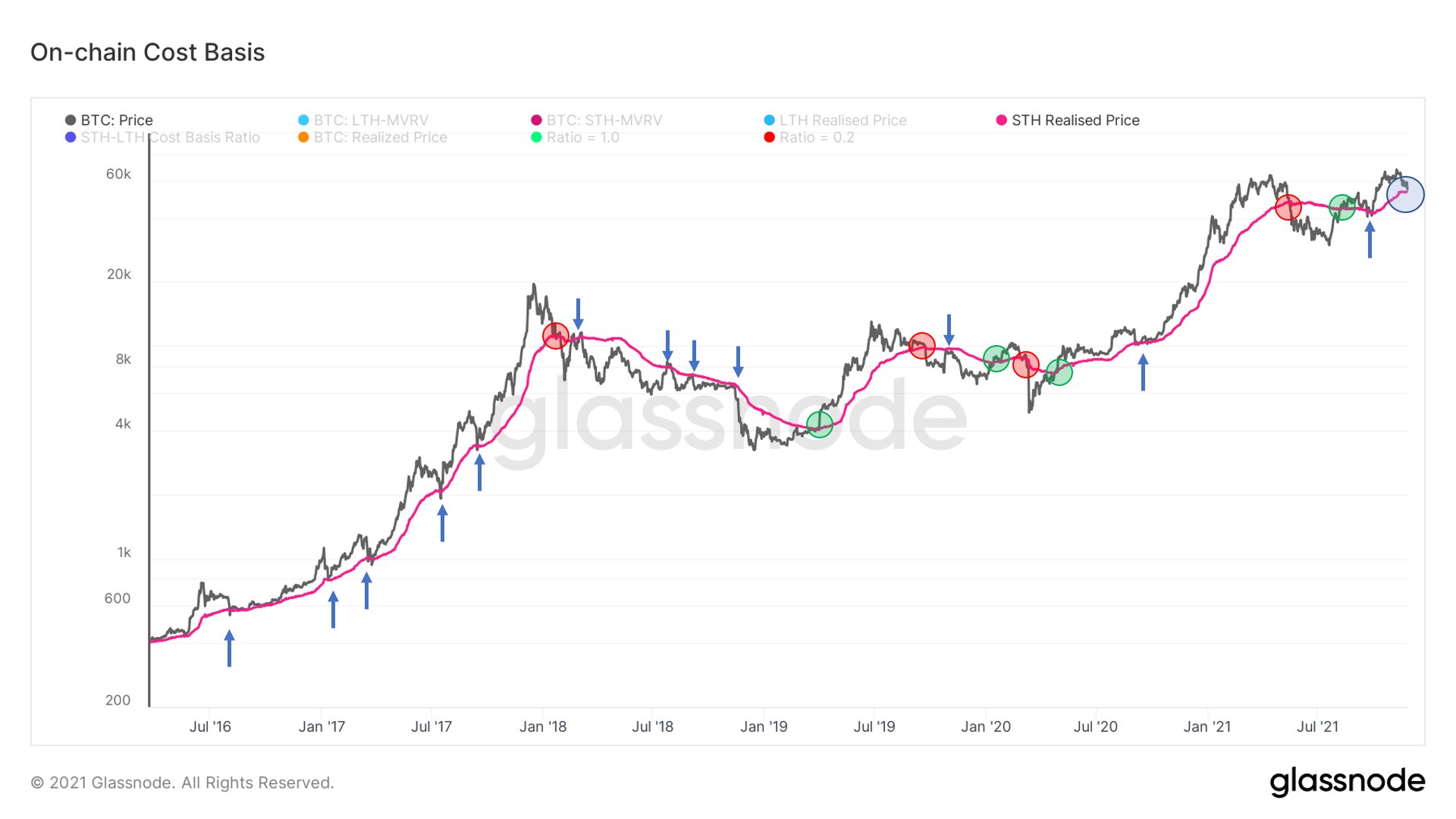 Bitcoin is exchanging hands at $54,350 at time of writing, an 8.6% decrease from its 24-hour high of $59,445.
In a new Blockware Solutions Market Intelligence Newsletter blog post, Clemente says spent output profit ratio (SOPR) data shows BTC investors are not yet ready to start selling their tokens at a loss, a signal that the support band could hold. The SOPR is an on-chain metric the indicates whether BTC holders are selling at a profit or a loss.
Clemente also says that there he's seeing a pattern where strong Bitcoin holders are absorbing selling pressure from short-term holders.
"There's a clear bullish divergence between illiquid supply shock ratio and price right now. Illiquid supply shock compares liquid entities (sell 50% of the BTC they take in) and highly liquid entities (sell 75% of the coins they take in) to illiquid entities (hold 75% of the coins they take in). This means supply is moving to entities with little history of selling. If this does start to decline I will become bearish, but for now, it is continuing a steady incline."
Clemente concludes that he's still bullish on BTC despite the recent correction, but he's ready to change his stance once he sees key on-chain metrics print clear bearish signals.
"In conclusion, if we are indeed in a bull market, the asymmetry is very skewed to the upside right now. Invalidation would be starting to close below $53,000 for several days, seeing SOPR breaking below and failing to retake 1 from the underside, as well as starting to see illiquid supply shock rolling over."
Bitcoin to Boost $98k in 4 Days, Analyst So Bullish
Analyst bullish about Bitcoin.
Bitcoin remains the favorite crypto in the space.
The crypto world is back on its feet once again and is showing no sign of slowing down. In fact, the whole crypto space market cap amounts to over $2.5 trillion. Furthermore, Bitcoin, the king of crypto assets also continues to perform aggressively in the space. As a result, traders and crypto analysts in the crypto market cannot stop thinking about the future of Bitcoin.
This made Mr. Whale, CEO of DigiWhales, react in a tweet post:
PlanB says $98K in 4 days.

Thoughts? #Bitcoin— Mr. Whale (@CryptoWhale) November 26, 2021
The post created by Mr. Whale asked the reaction of the Twitter community about the tweet made by PlanB in Bitcoin hitting the skyrocketing price of $98k in 4 days. This tweet gathered different reactions from the crypto community, with some being bullish while others say it might take some time. But of course, in the end, the market will still decide the fate of all virtual assets in the space including Bitcoin.
On the other hand, Bitcoin remains to be the favorite cryptocurrency of investors around the world. Interestingly, El Salvador President Nayib Bukele announced that it would build a Bitcoin city where investors can experience zero tax. Indeed, this news brings joy to all Bitcoin fans and investors around the world.
At the time of writing, Bitcoin trades a bullish price of over $55k with a growth rate of over +200% in the past 12 months. In addition, BTC has a huge market capitalization of over $1 trillion and a 24-hour trading volume of almost $40 billion. This market position of the crypto enables Bitcoin to be the number one crypto asset in the market.