Chainlink [LINK] gets fresh boost from Associated Press; here's how
Chainlink announced the launch of a node on its network by Associated Press for delivering real-world data to smart contracts. The famous news outlet will provide high-quality economic data, sports outcomes, and business financials to blockchain projects that use Chainlink.
It's a very big announcement for Chainlink because of the importance of data that AP can provide to the customers and can be considered as one of the most crucial bridges between the two worlds.
Connecting the Worlds More
Accessing data from off-chain networks is always attractive. When blockchains can interact with other networks in the form of sending and receiving data and processing it, they can claim to provide real-world solutions.
This approach is among the top for connecting the traditional networks to the innovative world of smart contracts and blockchains. Chainlink is one of the best solutions for this connection with the largest decentralized network of oracles.
Many big blockchains in the industry use Chainlink for accessing off-chain data. It's the reason that a famous news outlet like Associated Press decided to work with this network for providing its data to blockchains.
According to the latest announcement, AP will make its datasets available to blockchains via Chainlin oracles. The datasets include economic, sports, and race calls. The data will be provided and sold to blockchains that need to interact and process for further use-cases.

The off-chain data can be used for various goals in blockchains. For example, smart contracts can be triggered when something happens in real-world data like election race calls.
Another example is when a trade is triggered on a smart contract when a business releases its quarterly report.
Chainlink execs believe that AP can help many blockchains by running a node and providing data. William Herkelrath, managing director at Chainlink Labs, said:
"AP has established itself as one of the most trusted independent news organizations in the world for real-time news in all formats. Given its large and continually growing repository of facts and data, combined with Chainlink's proven oracle infrastructure for providing reliable data feeds across leading blockchain networks, it makes sense for the AP to launch a Chainlink oracle node and support innovation within emerging smart contract industries."
The latest announcement from AP is a step they have started for some time. The famous news outlet is among the most active ones in embracing blockchain technology and moving toward its world.
Some of the previous works are collaborating with Everipedia to publish U.S. race calls on Ethereum and issuing the first media NFT in early 2021.
Former Google CEO is now a strategic advisor for Chainlink Labs
Eric Schmidt, the chief executive officer of Google until 2011 who later served as executive chair at the tech company and its parent firm Alphabet, has joined oracle solutions provider Chainlink Labs as a strategic advisor.
According to a Tuesday announcement, Chainlink said Schmidt would guide the firm's scaling strategy in its use of oracle networks to trigger smart contracts. Chainlink co-founder Sergey Nazarov cited Schmidt's experience "building global software platforms for next-generation innovation" in the firm's decision to bring the former Google exec on board.
"The launch of blockchains and smart contracts has demonstrated tremendous potential for the building of new business models, but it has become clear that one of blockchain's greatest advantages — a lack of connection to the world outside itself — is also its biggest challenge," said Schmidt.
In addition to his time at Google and Alphabet, Schmidt was chair of the Department of Defense's Innovation Board, chair of the National Security's Commission on Artificial Intelligence and served on the boards of Apple, Princeton University, Carnegie Mellon University and the Mayo Clinic. With an estimated net worth of roughly $23.6 billion, Schmidt will likely be one of the wealthiest individuals to act as an advisor to a crypto firm.
Shiba Inu, Chainlink Among Top 10 Purchased Tokens as Market Volatility Continues
In last 24 hours, Shiba Inu, Chainlink among top 10 most purchased tokens
According to WhaleStats data, Shiba Inu and Chainlink are among the top 20 most-purchased tokens in the last 24 hours. Following the sell-off on Dec.4, market volatility continued on Monday, with the majority of tokens losing value as of press time.
Bitcoin (BTC) and most altcoins had a major price dip on Dec. 4, with massive liquidations seen in derivatives markets. Likewise, market sentiment is presently at "extreme fear" as indicated by the crypto fear and greed index.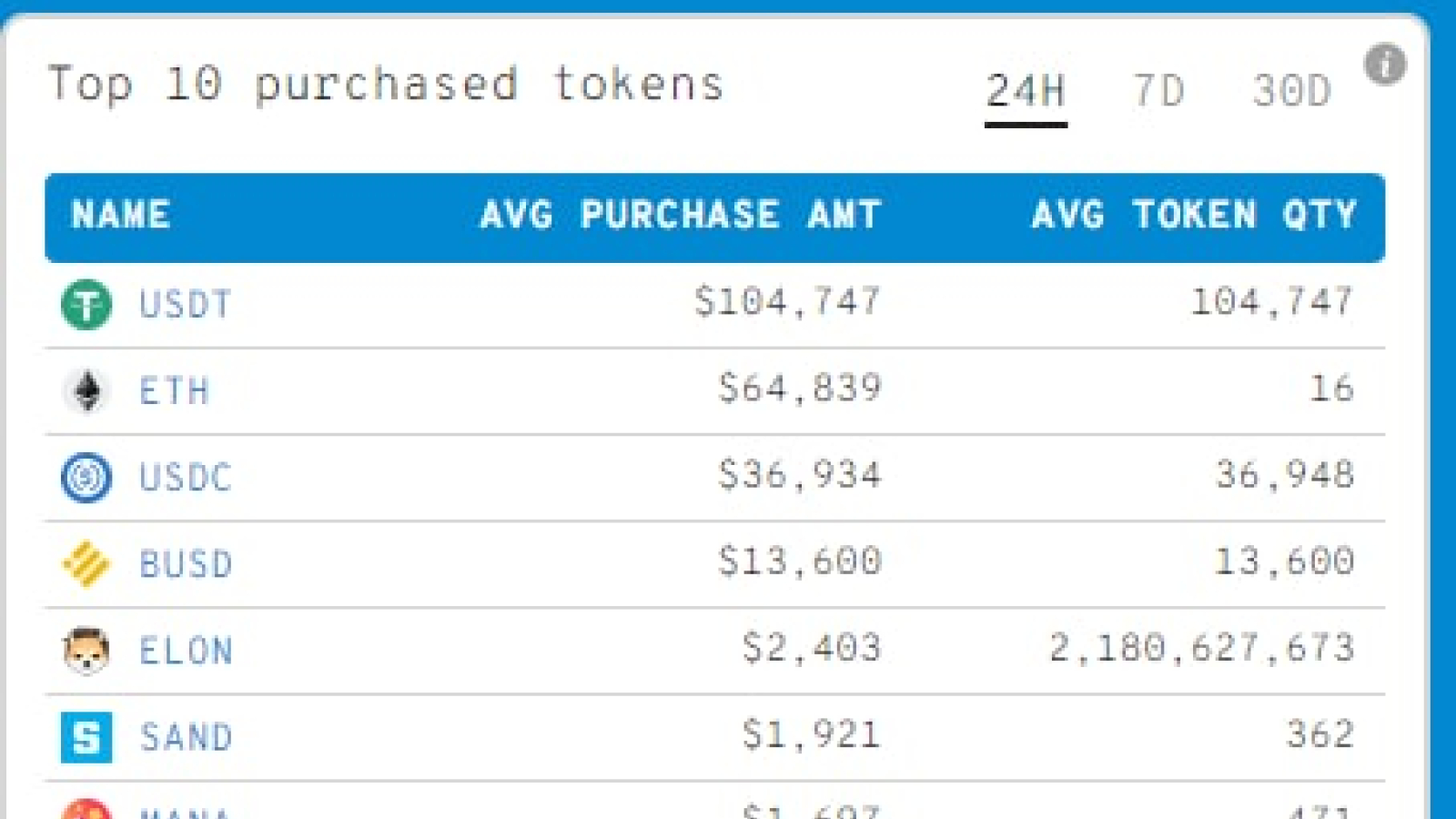 Despite this, contrarian investors have used this period to accumulate their favorite tokens, with SHIB and LINK coming up among the top 10 purchased tokens over 24 hours, as indicated by WhaleStats. WhaleStats tracks the 1,000 largest Ethereum wallets, referred to as "whales."
Shiba Inu also places second among the top 10 holdings, falling behind Ethereum, which came up on top. This might suggest Shiba Inu hodlers have not given up much ground despite market volatility.
Although Shiba Inu and Chainlink remain down 8.27% and 9.58% at their current prices of $0.00003395 and $17.89 respectively, long-term investors' optimism, however, seems to be intact.
Chainlink Price Analysis: LINK/USD set to record gains today
Chainlink price analysis is bearish today.
LINK/USD retraced to $21 Yesterday.
LINK is trading at $19.
Link price analysis is bearish today, as selling pressure has resumed after resistance was met at $21 late last night. As a result, we anticipate LINK/USD to move lower later in the day. A retest of the $20 support level is likely, with a potential move down to $18 should that break.
Technical indicators are currently bearish, with the RSI in oversold territory and the MACD trending lower. The Stochastic also indicates increased selling pressure, as it has moved below its signal line.mIn short, we believe that LINK/USD will continue to move lower throughout the day, with a test of the $20 support level likely. A break below that could see the price move down to $18.
Chainlink price movement in the last 24 hours: Bears takes comand again
Earlier today,  LINK/USD  traded around the $20 mark, meeting resistance. The price could not break above that level and has since started moving lower again. As a result of the increased selling pressure, we have seen another downside test, which is currently in progress. With this drop below $20, should it continue into a retest of the $18 support level, expect to see some stability at that point before any further movement takes place.
LINK/USD 4-hour chart: LINK starts to decline again
After resistance was found at $21, the Chainlink price gradually fell on the 4-hour chart as bears looked to retest the downside.
Looking at the 4-hour chart, we can see that LINK/USD has been downtrend since reaching a high of $25.50 on September 10. The pair has dipped below the 50 and 100-hour exponential moving averages (EMAs). The most recent of these dips have brought us to lows of $19.40, only to be met with quick rejection as the price sought support at the 100-EMA.
Chainlink is down about 15% from its high of $33 in early November. Chainlink's price action has gradually declined for the past several weeks, with the November low established at $23. From there, LINK/USD gradually retraced and formed a new lower peak at $27 on December 1.
The price per link fell to around $27 over the next few days. After a period of consolidation around $24.5 on Thursday, a powerful selling began late Friday night. The value of LINK/USD plummeted by 35 percent until it hit the $17 level.
Following a happy hour rejection, prices advanced early this morning, leading to a 25 percent recovery by the end of the day. Resistance was established at $21 around midnight, causing bearish momentum to return overnight gradually.
Chainlink Price Analysis: Conclusion
The Chainlink price is bearish today, as we anticipate the downside to be challenged once more after a brief retracement to the $21 mark, where resistance was previously found. Before additional upside can be reclaimed, LINK/USD must establish a higher low.