Chainlink Whales Now Hold Almost 25% of Supply: Here's Why It Might Be Concerning
The number of Chainlink whales is on the rise in accordance with the price
Chainlink's 14% run on the market did not end with price action only. Following the price increase, the number of whale-tier wallets also increased and reached a four-year high, according to Santiment. While the supply is tied more to whale-tier addresses, in the correction period, retail traders and investors may face significant losses due to increased potential selling pressure.
Unpleasant correlation
According to the chart provided, we can clearly see a negative correlation between the increasing number of whales and the negative price action that took place from May to July and September.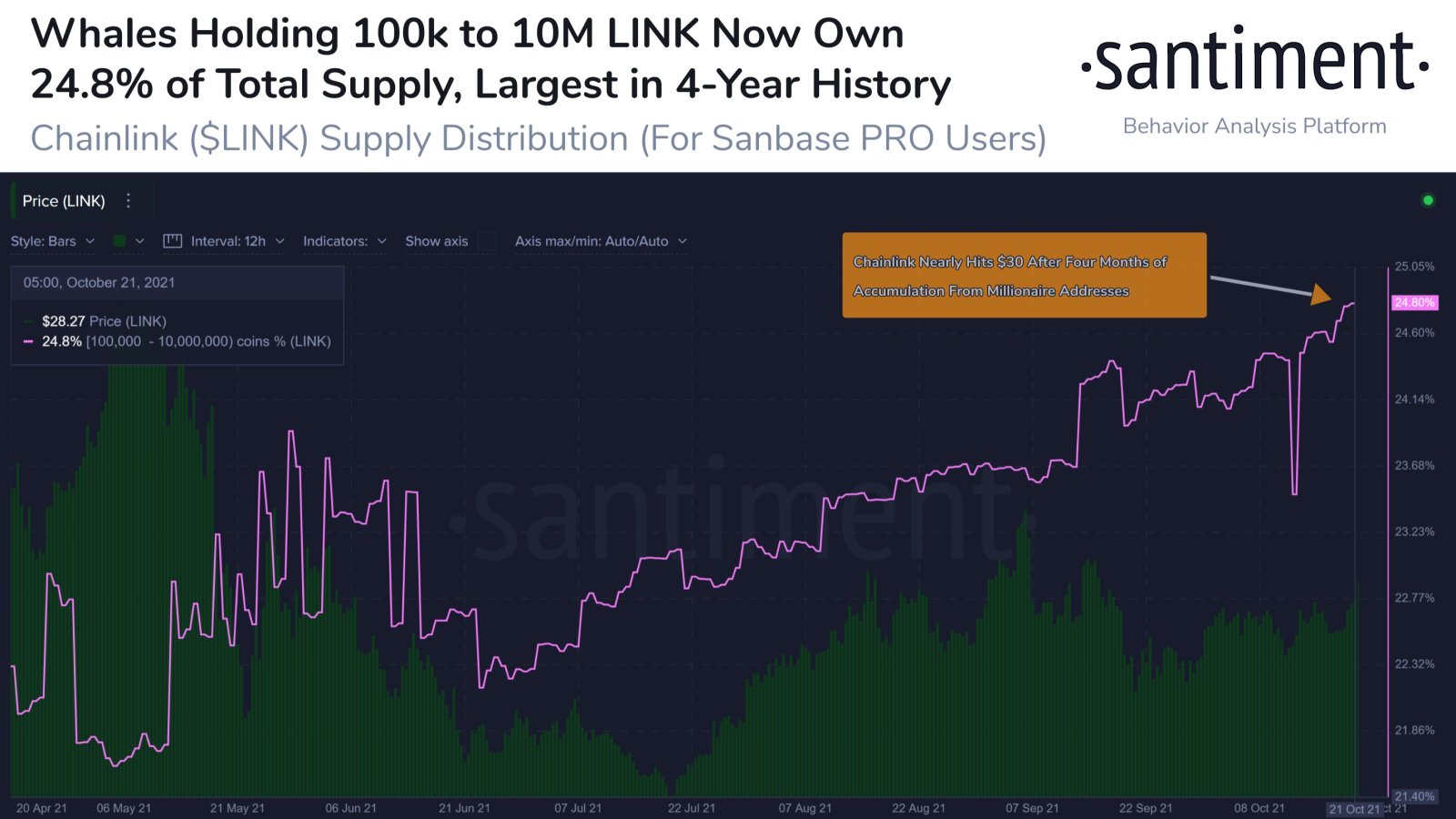 Previously, Chainlink's prices stayed at the $52 peak with whale-tier addresses staying at 23.9%. After the sell-off on the cryptocurrency market, LINK lost close to 70% of its value with whale-tier addresses dropping 8% of their total holdings.
Concerning history
With the progressive increase in the number of whales on the market, in periods of correction, the market faces increased selling pressure incoming from the aforementioned wallets. The same might be present on the market whenever a more significant correction hits the market.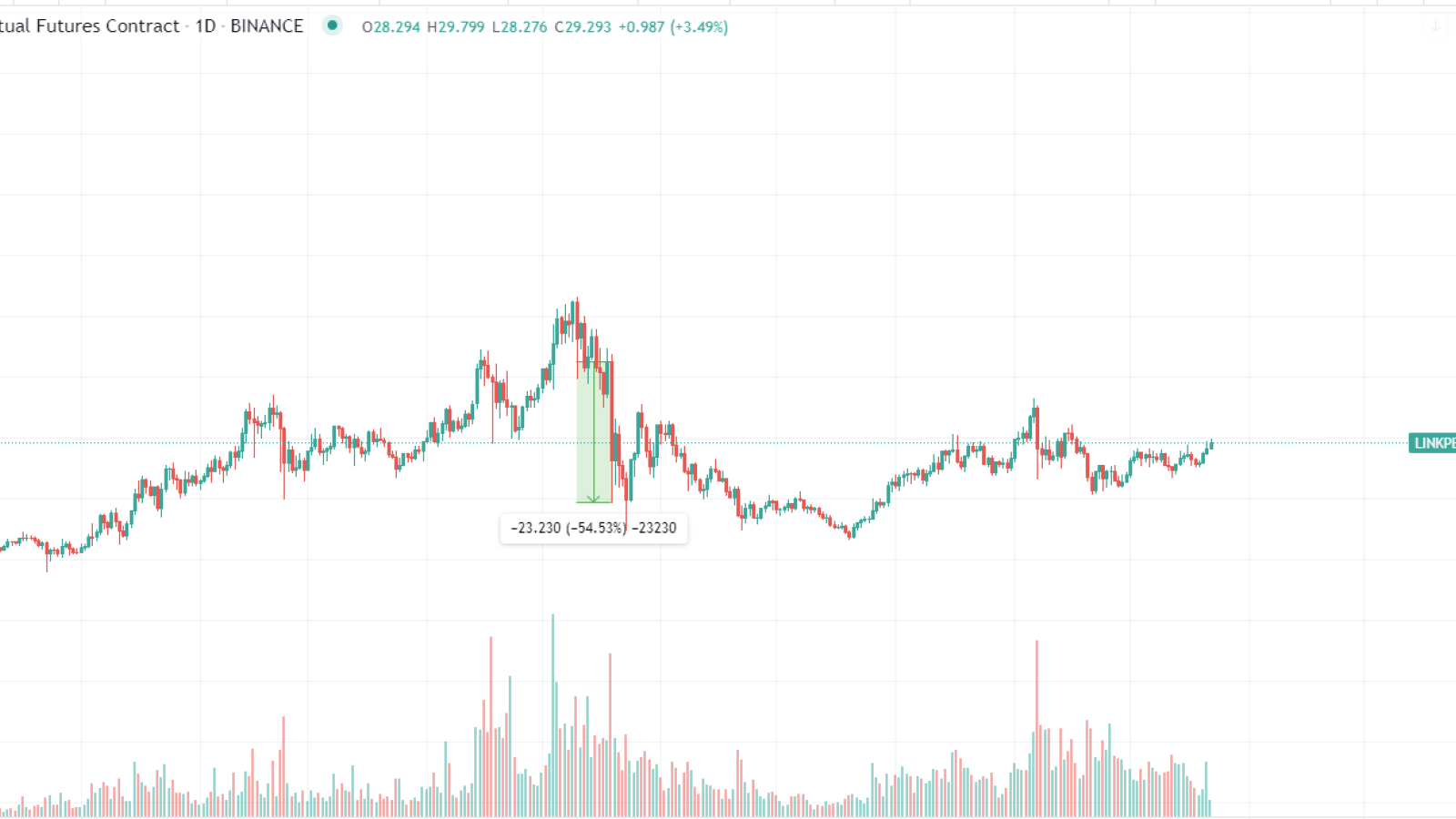 According to data from various exchanges, Chainlink is becoming a "victim" of large-volume sell-offs, which lead to a 50% correction inside of one daily candle. Such a trend in the number of whale-tier addresses may raise concerns among investors.
Chainlink price support weakens, LINK at risk of 30% correction
Chainlink price is positioned above its final support level before a massive 30% drop could occur.
Key resistance must be broken to prevent a collapse.
Oscillator levels and price action support a bounce from the sell-off.
Chainlink price has dropped by more than 40% since November 10th, representing three weeks of intense selling pressure. Bulls are looking for a reprieve, however, as December is just around the corner. Bears, meanwhile, are awaiting support to give way for further downside price action to unfold.
Chainlink price must hold $22 to continue higher
Chainlink price action, like many of the top market cap cryptocurrencies, is at risk of a significant downside move. Chainlink is currently in the weakest trading condition it has been in since June 5th, 2021. All conditions necessary for an Ideal Bearish Ichimoku Breakout are present:
1. Current close below the Tenkan-Sen.
2. Current close below the Kijun-Sen.
3. Current close below the Cloud (Senkou Span A and Senkou Span B).
4. Chikou Span below the candlesticks and in open space.
5. Future Senkou Span A below Future Senkou Span B.
Bulls have a difficult road ahead if they want to return to a bull market. The first resistance zone ahead is $25.80, where the daily Tenkan-Sen and 50% Fibonacci retracement exist. Above that resistance level, Chainlink price will face the most potent resistance at the 2021 Volume Point Of Control and Senkou Span B (the strongest Ichimoku level) at $27.50. Rejection at either of these two resistance levels could trigger renewed selling and another test of Chainlink's final support at $22.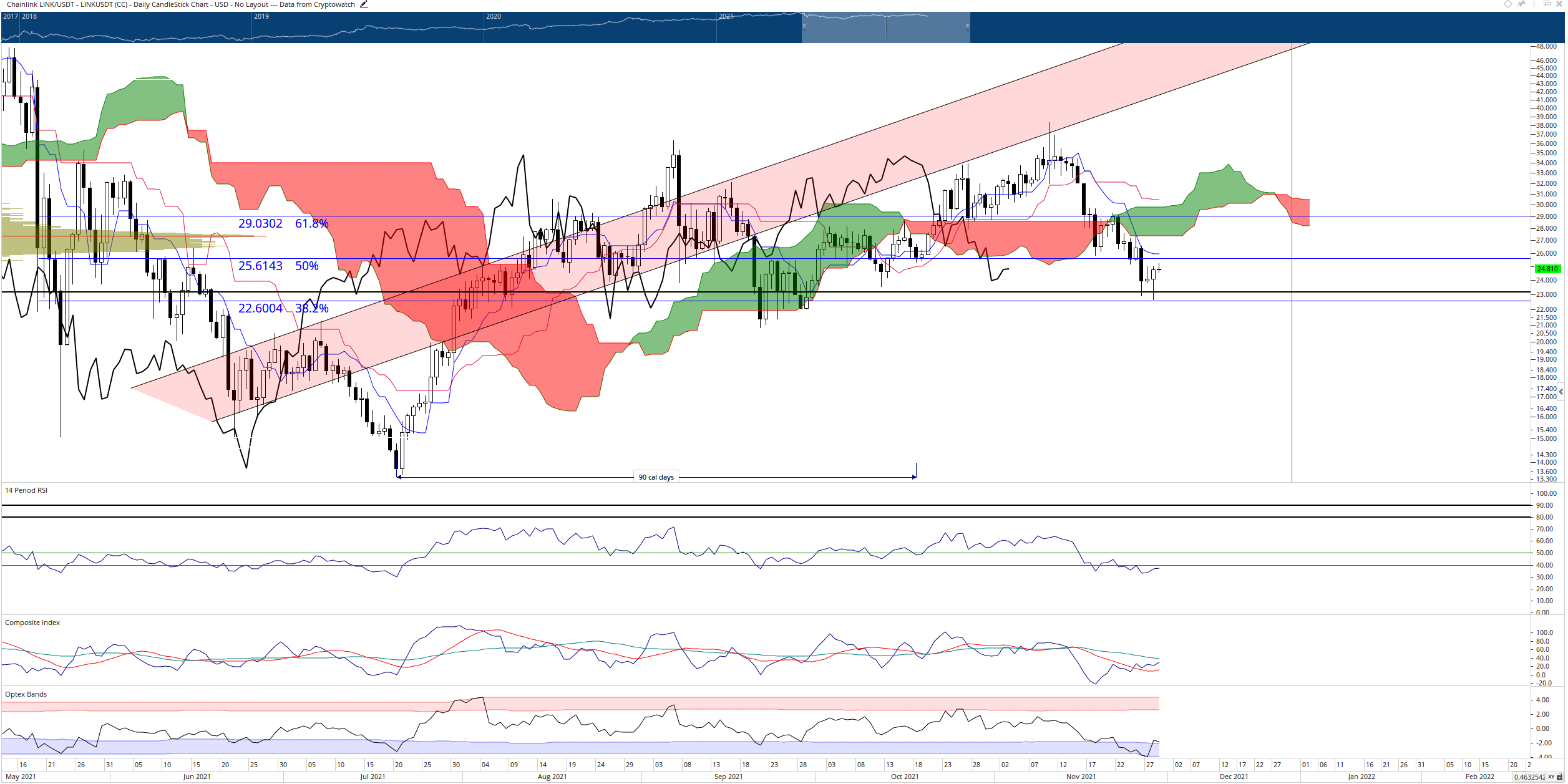 LINK/USDT Daily Ichimoku Chart
Because the Optex Bands oscillator shows Chainlink price at extreme lows, the downside risk may be limited. Additionally, there is regular bullish divergence now between the price chart and the Composite Index. The Relative Strength Index shows that Chainlink is currently below the final oversold level of 40, however, a condition that could transition into a bear market.
Failure to hold $22 as support could trigger a swift sell-off to the $17 value area.
Chainlink Price Analysis: LINK tests previous low at $23, more downside to follow?
Chainlink price analysis is bearish.
LINK/USD retraced to $25 yesterday.
The previous low at $23 is currently tested again.
Chainlink price analysis is bearish today as we expect another lower low to be set past the current support at $23 as the overall bearish pressure is still strong. Next support for LINK/USD is seen at $22 and likely will be reached over the next 24 hours.
The cryptocurrency market traded in the red over the last 24 hours. Bitcoin lost 0.47 percent, while Ethereum 0.54 percent. Meanwhile, Terra (LUNA) still holds in the green, with a gain of 5.6 percent.
Chainlink price movement in the last 24 hours: Chainlink recovers to $25, continues moving lower
LINK/USD traded in a range of $23.23 – $24.77, indicating a moderate amount of volatility over the last 24 hours. Trading volume has declined by 29.63 percent, totaling $689 million, while the total market cap trades around $11 billion, ranking the coin in 20th place overall.
LINK/USD 4-hour chart: LINK set to drop further?
On the 4-hour chart, we can see the Chasinlink price returning back to the $23 previous low this morning, likely leading to further downside later today.
Chainlink price action has continued to move lower this week. From the previous major swing high at $38, which was set on the 10the of November, LINK/USD has already retraced around 40 percent to the $23 mark.
Yesterday, we saw LINK recover some of the loss and move to retest previous support at $25 as resistance. After some consolidation, bearish momentum slowly returned by the end of the day, leading to more downside overnight.
The $23 mark was reached around midnight, with small consolidation seen since bears are not yet ready to break lower. However, the Chainlink price should continue lower later today as the overall momentum is still very bearish.
Chainlink Price Analysis: Conclusion
Chainlink price analysis is bearish today as we expect further drop lower after bearish momentum saw return this morning. Likely, LINK/USD will see a break lower by the end of the day, with the next support at $22.
While waiting for Chainlink to move further, see our articles on the Best Crypto Wallet 2021, Decred Wallet, and Ripple vs SEC.
The how, when, why of Chainlink hitching a ride with Bitcoin, to get to $40
Ever since 2018, Chainlink has shared quite a good bond with Bitcoin. Whenever the king coin pumped, so did LINK. Similarly, whenever BTC lost value, LINK followed in its footsteps.
Over the long term, having a strong correlation with Bitcoin is undeniably healthy. But, in the short term, especially during periods of downtrends, this factor has acted like a major spoilsport for LINK.
LINK witnessed quite a good rally in the period between 22 September to 10 November. In the aforementioned timeframe, the alt's value witnessed a massive jump from $21 to $38.
Nevertheless, as BTC started going south, LINK was forced to deviate from its uptrend. And in effect, the alt was back to square one, at the time of writing.
Previous articles have highlighted how HODLers passively benefited from Chainlink's partnerships with smart contract developers. However, the same factor, hasn't been able to do much this time around.
Consider this – Just a day back, Chainlink took Twitter to announce its recent integrations. The list included a host of projects – right from NFT market places to lending pools based on the Binance Smart Chain.
Had it been a normal non-Black Friday, LINK's price would have likely reacted positively to the aforementioned set of developments. However, Bitcoin's choppiness didn't allow LINK to relish and acknowledge the same.
Other x-factors
Well, most of LINK's metrics have been in their finest shape of late. Yet, the token hasn't been able to rally. It is a known fact that a major chunk of Chainlink's supply is held by whales. Data from Glassnode pointed out that the percent of supply held by the top 1% addresses had witnessed a steep incline over the past week.
Additionally, the majority of LINK investors have steadily been clinging on to their respective tokens. The same was highlighted by the rising slopes of the mean coin age and the mean dollar invested age.
Well, LINK's depreciating value amidst the healthy state of its metrics indicate one thing – it desperately needs Bitcoin's support to rally back from this point. In fact, $40 is definitely an attainable target for LINK in the near future.
Nevertheless, keeping the current state of the market in mind, it can be said that it will still take time for Bitcoin to recover from its dip. As a result, LINK's anticipated rally might just procrastinate a little.