Ethereum Dips Turn Attractive, Key Indicators Point Fresh Increase
Ethereum extended its increase above the $4,200 resistance against the US Dollar. ETH corrected gains, but it is well supported above the $4,000 pivot level.
Ethereum started a fresh increase above the $4,000 and $4,200 resistance levels.
The price is now trading above $4,100 and the 100 hourly simple moving average.
There is a key bullish trend line forming with support near $4,050 on the hourly chart of ETH/USD (data feed via Kraken).
The pair could start a fresh increase if it stays above the $4,010 support zone.
Ethereum Price Eyes Fresh Increase
Ethereum gained pace above the $4,200 level and the 100 hourly simple moving average. ETH price traded as high as $4,371 before it started a downside correction.
The price is now trading below the $4,200 level. It even spiked below $4,100, but the bulls were active above the $4,000 level. A low is formed near $4,012 and the price is now rising. There was a break above the $4,050 and $4,100 resistance levels.
Ether price climbed above the 23.6% Fib retracement level of the recent decline from the $4,371 swing high to $4,012 low. An immediate resistance on the upside is near the $4,200 level.
The 50% Fib retracement level of the recent decline from the $4,371 swing high to $4,012 low is also near the $4,200 zone. The next major resistance is near the $4,240 level, above which the price might gain bullish momentum.
Source: ETHUSD on TradingView.com
In the stated case, the price might rise towards the $4,300 level. Any more gains could lift the price towards the next key hurdle at $4,500.
Dips Limited in ETH?
If ethereum fails to continue higher above the $4,200 and $4,240 resistance levels, it could start a fresh downside correction. An initial support on the downside is near the $4,080 level.
The first key support is now forming near the $4,050 level and the trend line zone. A downside break below the trend line might even push the price below the $4,000 support. The next key support is near $3,950, below which the price might decline towards the $3,800 level in the near term.
Technical Indicators
Hourly MACD – The MACD for ETH/USD is losing pace in the bullish zone.
Hourly RSI – The RSI for ETH/USD is now above the 50 level.
Major Support Level – $4,000
Major Resistance Level – $4,240
What Is Ethereum 2.0? How Is It Different from Ethereum?
Ethereum 2.0 is a project, enthusiastically termed as the merge, to scale up Ethereum (ETH) on a number of counts, facilitating enhanced transactions' capacity, reduced fees, and sustainability of the network. Storing the instructions on utilizing ETH holdings in a digital wallet, certifying ownership, method of exchange of assets, and the value and amount of assets transferred is possible.
Proposed changes in the mechanism – To accomplish the objective, ETH would alter its consensus mechanism from proof-of-work (POW) to proof-of-stake (POS). Existing ETH holders may run their validators by staking ETH 2.0 in increments of 32. Another way is to stake rewards through a staking provider like ConsenSys Codefi or join a staking pool. Let's glance through likely technological changes proposed in the upgraded version without getting into its technicalities – Consensus algorithms, state transition, concurrency, crypto-economics, cryptographic interface, peer-to-peer networking, and contract programming.
Transition phase 0 – It's termed as beacon chain, has gone live on test-net sapphire, onyx, and Altona.
Transition phase 1 – Altair hard fork task is scheduled for October'21. Though the entire process is spanned over three years, the first step is moving towards a proof-of-stake platform from the existing one. As a result, POS would have a competitive advantage, preventing ETH's killer digital currencies over its blockchain. ETH claims that this move is expected to slash power consumption by almost 99% while mining ETH.
Transition phase 2 – To enhance ETH's efficiency and scalability, ETH is introducing a processing technique called shard chains, enabling parallel transaction validation, which would increase the efficiency of its resource usage in a big way.
Transition phase 3 – It would introduce ETH web assembly (eWASM), replacing the existing ETH virtual machine (EVM), thereby providing programmers the option of using multiple programming languages than the existing ETH-only language. Assuming a seamless transition to ETH 2.0, one might see the emergence of a great platform, ending Bitcoin's long run as cryptocurrency king.
ETH 2.0 – Its consensus mechanism POS relies on validators, viz. virtual miners and deposits of ether. Another significant difference is the usage of shard chains, enabling processing of transactions parallelly.
ETH 1.0 – Joe Lubin launched it in 2015. It is a decentralized, open-source blockchain platform that runs smart contracts for its cryptocurrency, known as Ether (ETH) or Ethereum, besides owning a programming language called Solidity. According to Ethereum, its platform could be used for coding, decentralization, securing, and trading activities. Ether is ranked 2nd as a cryptocurrency behind leader Bitcoin, having a market capitalization of approximately USD 425 billion. To buy Ether, an investor has to currently pay USD 3625 for one unit, though the all-time high of US$ 4,196 was attained on 13th May 2021.
Ether price in India is hovering around Rs 275,000/- level. Unlike peers, ETH has no limit on the total number of coins, thereby ensuring an abundant supply. Moreover, the ETH blocks could be mined in just 12 seconds against the 10-minutes required for Bitcoin. However, the present cost of executing transactions on ETH's network is quite high, dissuading many from using it.
The emphasis is on digital transactions, and digital currencies are becoming a lucrative investment opportunity in the digital era. The buoyancy is evident from the number of crypto-owners which has crossed 100 million-mark in India; the US is distant 2nd with 27.4 million crypto-owners, and Russia holds 3rd position with 17.4 million crypto-owners. Investors could buy Ether through a cryptocurrency exchange in India, where ETH is regularly traded, including weekends. ZebPay, launched in 2014, is the oldest cryptocurrency exchange in India.
Factual data and statistics except historical prices are dynamic. Therefore, an investor must consult a Financial Advisor before making any investment decision based on the blog's contents.
Ethereum Strength Sends Bitcoin Ratio To 2018 Highs
As Bitcoin (BTC) is coming out of a harsh weekend with a 5% drop and a huge sellout, ether (ETH) still maintains its strength in comparison, which has been happening since October. 
Arcane Research's weekly update shows that the ETHBTC pair reached its highest level since May 2018 reaching 0.085 BTC, seeing possible signals of maturity and an upcoming alt-season.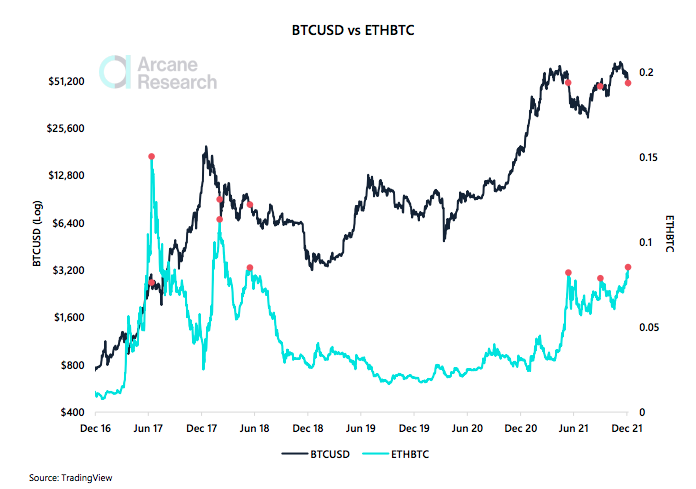 In 2021, ETH has shown greater strength than bitcoin. The cryptocurrency could be signaling its maturity as it sees higher lows –compared to BTC– than it did in 2017 and 2018.
However, Arcane Research noted that back in 2021 and 2018 the strength of ETH and altcoins' performances in periods when BTC saw lows also signaled lower prices to come, so a similar scenario could happen during 2021's fourth quarter.
The current ETHBTC pair peak is similar to the one seen in May, which was followed by May 19th's crash during massive liquidations and new buyers panic –which some users called the second worse day ever for Ethereum, although similar phenomenons had happened in earlier years–. Then, the ETHBTC pair saw another spike at the beginning of September as Bitcoin saw lows on the 7th.
Furthermore, we could be facing froth in the market as altcoin's strength has signaled before.
Ether was also down on Saturday but surged to the mentioned 0.086 Bitcoin high during Sunday. The price dropped 5.5% on Monday to $3,965, and overall, it traded down by 0.51% in the past week compared to BTC's 10.06% decline.
Today, the Ethereum price is up again around $4,352.74, up 2.93% in the day-to-day, surging more than 24% from the low. Even though it's 9% away from its all-time high, it is also 496% up in comparison to 2021's early days. ETH also shows a 24-hour trading volume of $23,566,690,676 and a market cap of $512,648,545,331.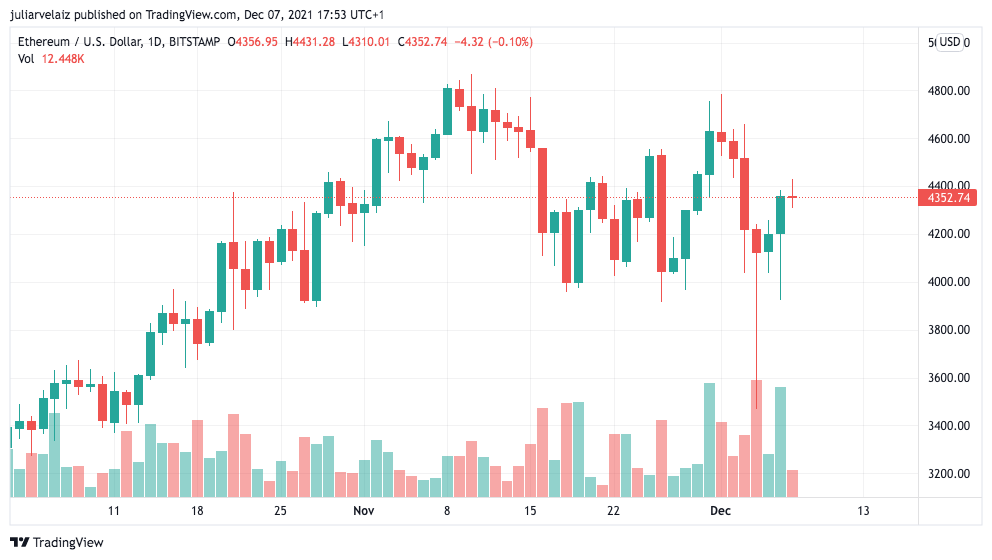 Bitcoin Dominance Sees New Lows
Today, Bitcoin's dominance is 40.65%, seeing no increase over the day. It had fallen towards 40% on December 5th as it saw its newest bloodshed. BTC also saw its dominance drop in September and May, but it has not seen other lows alike since May 2018.
As the crypto market started to fall on Friday –with 372,000 liquidated crypto accounts by Monday totaling $2.3 billion-, Saturday's early morning saw bitcoin drop $10,000 in price, going from around $57,000 to $47,000.
Over the weekend, the drop reached a $14,000 loss and experts saw no clear reason for it, but since then traders have suggested a connection with the fear around the Omicron variant plus market moves exaggerated by lower trading liquidity.
Compared to its November all-time-high, BTC is down by $21,000, but also up over 75% in all 2021. The price has climbed back up to over $50,000, more than 4% higher, and the total crypto market cap surged 5% to $2.5 trillion.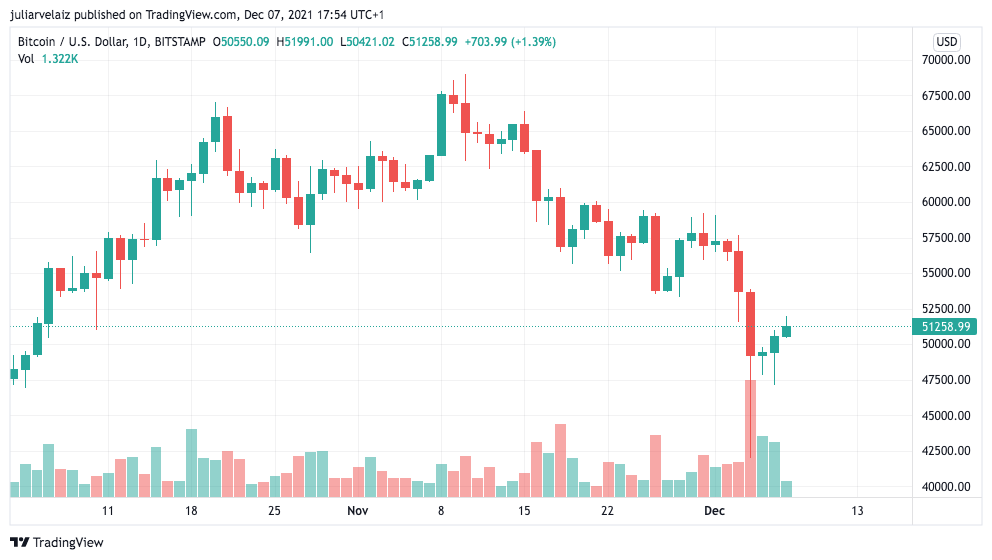 Some expect a hard end of the year for Bitcoin as it has not shown its regular strength, but at the same CNBC quoted Will Clemente, insights analyst at Blockware Solutions, who thinks these dynamics are "healthy and show supply continues to move to long term investors" and BTC could actually see a new bull run at the start of next year:
There's a reasonable case that we could see the opposite effect heading into Q1, as funds are willing to take on more risk for the new year with fresh profit and loss, … This effect assisted in bitcoin's massive move in January 2021.
Top 3 Price Prediction Bitcoin, Ethereum, XRP: Crypto market dazed post flash crash
Bitcoin price finds support against a combination of key price levels.
Ethereum price returns inside the bear flag, creating mixed sentiment.
XRP price is developing an insanely bullish reversal weekly candlestick.
Bitcoin price gets a big bounce off the $44,000 value area, moving more than $7,000 higher. Ethereum is now sandwiched between solid support and strong resistance. XRP price has one of the most potent and sought-after bullish reversal candlesticks forming on its chart: the hammer.
Bitcoin price retraces nearly all of Saturday's flash-crash
Bitcoin price action has been a strong performer since the recent flash crash. Significant support for Bitcoin was found where the 61.8% Fibonacci retracement and top of the Ichimoku Cloud (Senkou Span A) share the $44,000 price level. The support was strong enough to rally Bitcoin above the 50% Fibonacci retracement at $48,000 and the Kijun-Sen at $49,300.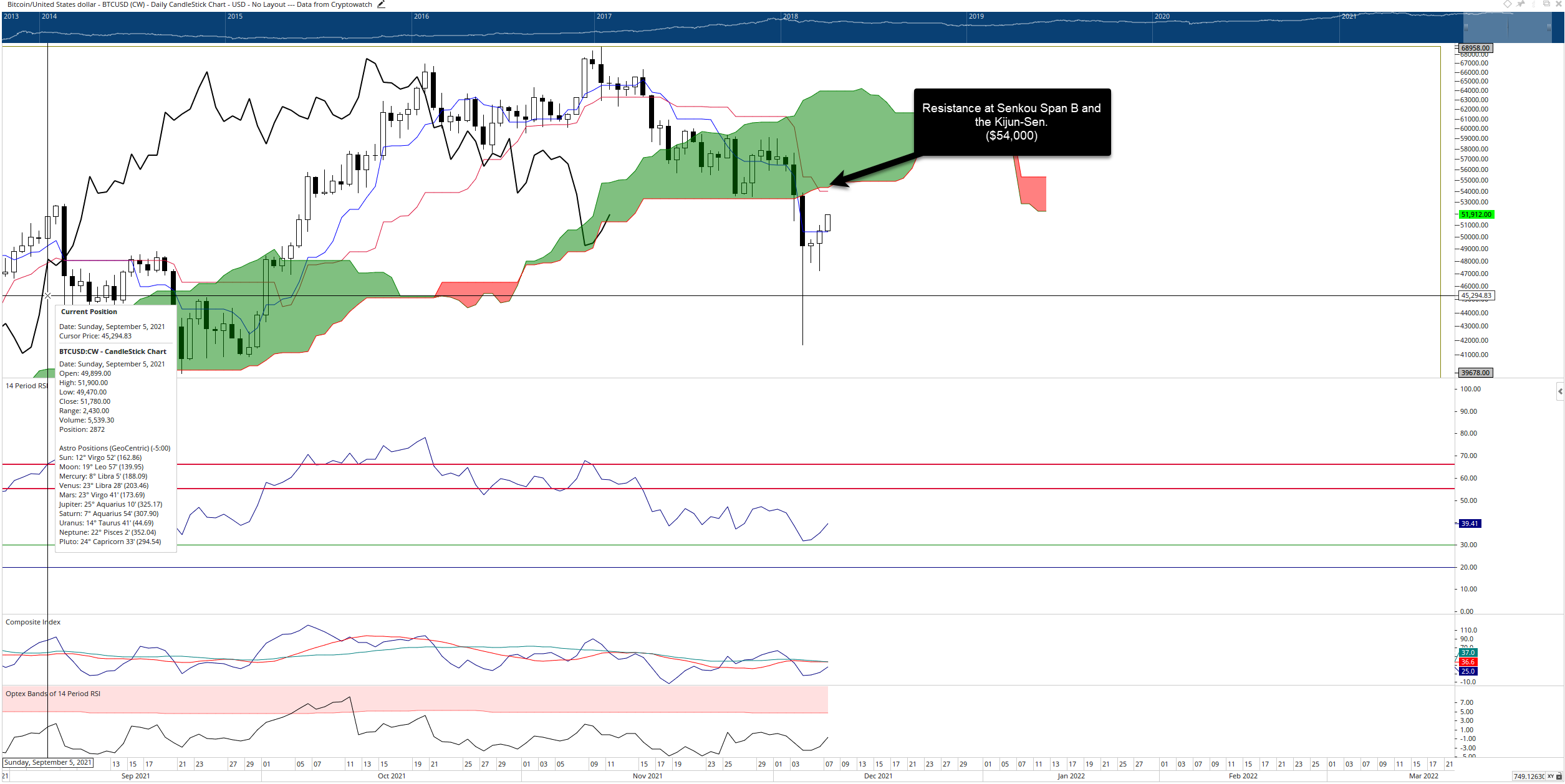 BTC/USDT Weekly Ichimoku Chart
However, the upside potential may be limited. There is significant resistance within the Ichimoku Kinko Hyo system on the daily chart. The daily Kijun-Sen and Senkou Span B share the $54,000 price range. Longs may take profit at $54,000, and short-sellers may open up new short positions on any weakness. A close at or above $55,100 would like to remove any further near-term bearish sentiment.
Ethereum price between a rock and a hard place
Ethereum price had a spectacular Saturday close on the daily chart, closing above the dominant interior trend line (black diagonal line). Then, on Sunday and Monday, Ethereum continues to press on higher with closes above the Tenkan-Sen and Kijun-Sen at $4,100. ETH has not returned inside the channel of the former bear flag but finds itself facing resistance against the top of the Cloud (Senkou Span A).
A close at or above $4,500 would put Ethereum price above the Cloud, but the Chikou Span would still be slightly below the candlesticks. However, the oscillators support a sustained breakout. So, if Ethereum does close to at least $4,500, there is enough momentum and space for it to move higher and get to a close that would position the Chikou Span above the candlesticks – to at least $4,725.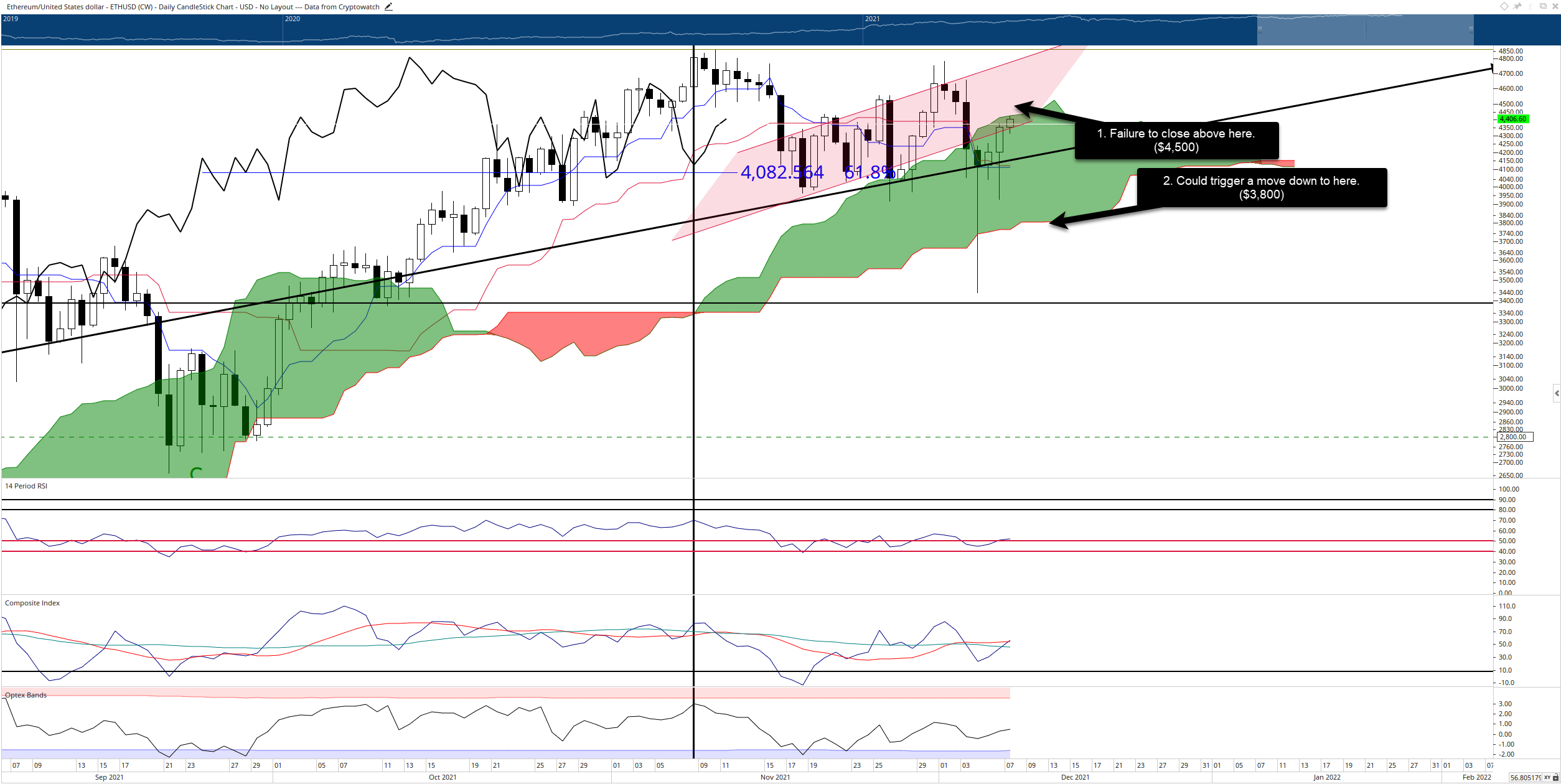 ETH/USDT Weekly Ichimoku Chart
From there, the $5,000 value are will likely be tested, and new all-time highs are likely soon after. However, any failure by Ethereum to successfully breakout above the Cloud could see a deeper retracement to test the bottom of the Cloud at Senkou Span B ($3,800).
XRP price weekly candlestick hints at a bullish reversal
XRP price action suffered some of the most bearish price action during Saturday's flash crash. XRP dropped nearly 38% before finding massive support at the 50% Fibonacci retracement and 2021 Volume Point of control in the %0.65 value area. From there, it shot up higher, past the 38.2% Fibonacci retracement at $0.84 to settle just above that price level.
The resulting price action has created a bullish hammer candlestick pattern on the weekly chart. The positioning and timing of this pattern could not have been more fortuitous for XRP price. The hammer pattern will help confirm the likelihood of a bullish reversal with the Relatives Strength Index and Composite Index oscillators. Combining the bullish hammer, the Relative Strength Index between two support levels, and the Composite Index at a historical low gives XRP a very high probability of moving higher.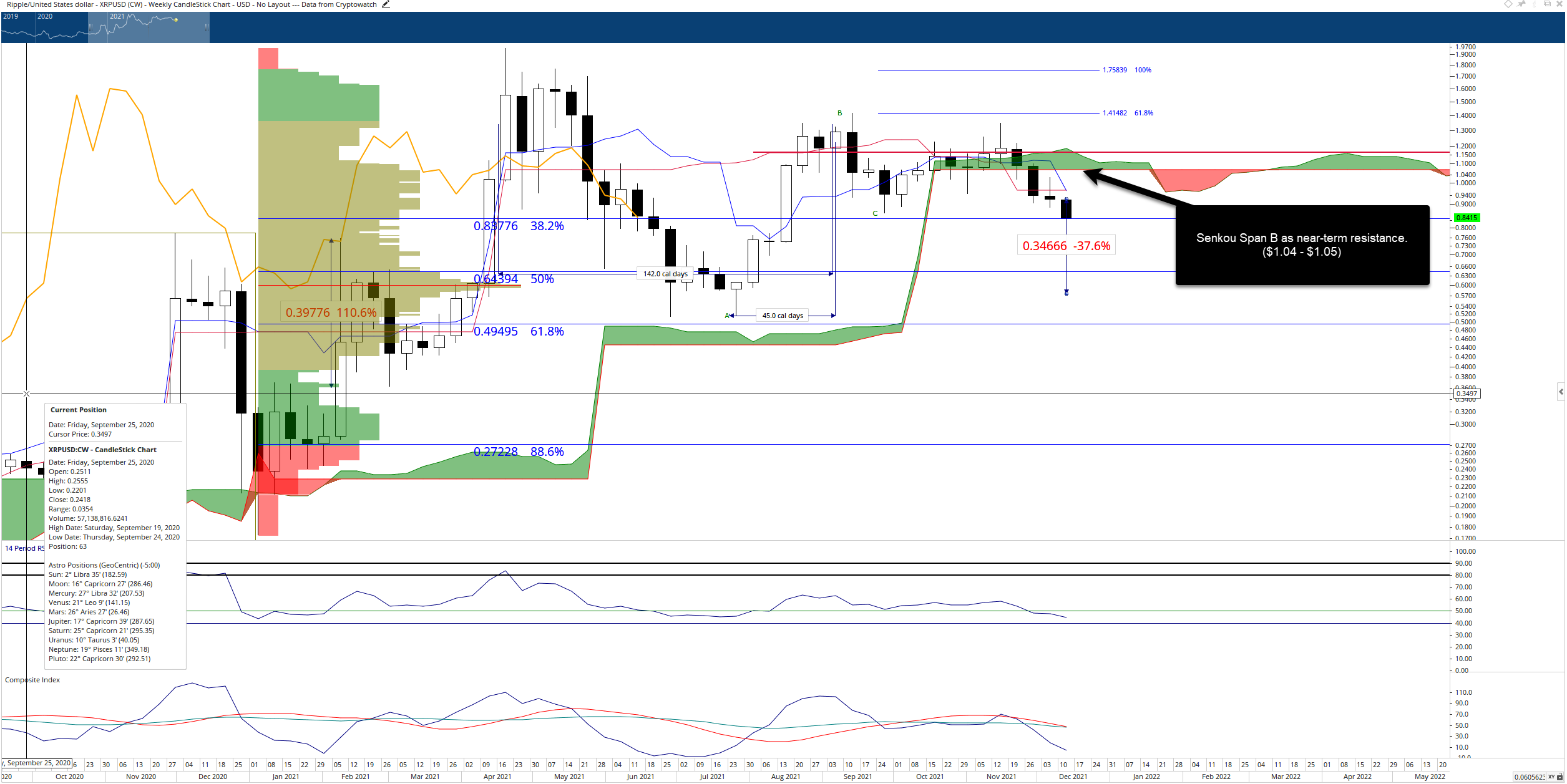 XRP/USDT Weekly Ichimoku Chart
Initial resistance will likely be Senkou Span B at $1.04. Given how long Senkou Span B has traded in a flat condition, if XRP can rally above, it will be a significant, bullish event.