Garlinghouse Speaks About XRP Based ETF ! XRP Price Sees no Action!
Ripple Price Action
The price of Ripple has been static for the previous week, disappointing investors. The price of XRP bounced between $1 (support) and $1.16 (resistance) multiple times, forming a descending triangle.
Nonetheless, due to the compression against the downtrend resistance line, the approaching week offers more intriguing price movement. The anticipation is that price will break away from the blue apex of this formation, signalling a shift in trend.
Until then, XRP will be caught between the resistance and support levels. Due to the MACD moving to the negative side this week, the indicators predict a bearish bias.
However, it is too early to predict that XRP would plummet to lower levels unless the price breaks below the $1 support level.
At the time of writing, XRP is trading at $1.08 down by 2.3% in the last 24 hours.
An XRP based ETF?
The chief executive, while speaking to Fox Business with Charles Gasparino, among other things also spoke about the possibility of having an XRP based ETF.
When asked about the possibility of an XRP ETF in the United States, he simply stated
Garlinghouse, on the other hand, gave an indirect response to the issue rather than explicitly answering it.
The Securities and Exchange Commission (SEC) has finally approved Bitcoin Futures ETFs in the United States. More ETFs of this type are expected to appear in the near future, according to experts.
According to Garlinghouse, because Bitcoin consumes so much energy, prioritising it is incompatible with the SEC Chair's climate objective. The executive, who has often criticised Bitcoin's energy use, believes that XRP is 100,000 times more energy efficient than Bitcoin.
Finally, Garlinghouse expressed his dissatisfaction with Gensler's reticence on Ethereum's regulatory status. Particularly considering Ether ETFs are expected to be popular once they are legalised.
On-Chain Data Indicates XRP Price Is "Suppressed" and Has Room to Grow
According to Santiment, XRP is still "suppressed" at its current price and, hence, has room to expand.
On-chain data from Santiment suggests that XRP remains "suppressed" at its present price and, therefore, has the potential to grow. Recent volatility in the crypto market caused short-term price extremes, pushing the XRP price to the brink of the low of $0.57.
In terms of on-chain analytics, Santiment's "strong and oversold" indicates that XRP is showing signs of having an "undervalued" price in comparison to its fundamentals. XRP was marginally up at $0.83 as of press time.
📊 Our 'Strong and Oversold' screener indicates some assets are showing signs of having suppressed prices compared to their fundamentals. Our requirements for this list include high market cap, volume, and address activity. $BTC $XRP $HEX $SHIB $WBTC $LTC https://t.co/CUCuCsS1ju pic.twitter.com/ZjWFjqzy3R— Santiment (@santimentfeed) December 6, 2021
When the price of an asset has decreased abruptly and to a level below where its true value resides, it is said to be oversold. This usually happens as a result of overreaction in the market or panic selling. Assets that have witnessed large decreases over a short period are often considered to be oversold in this instance.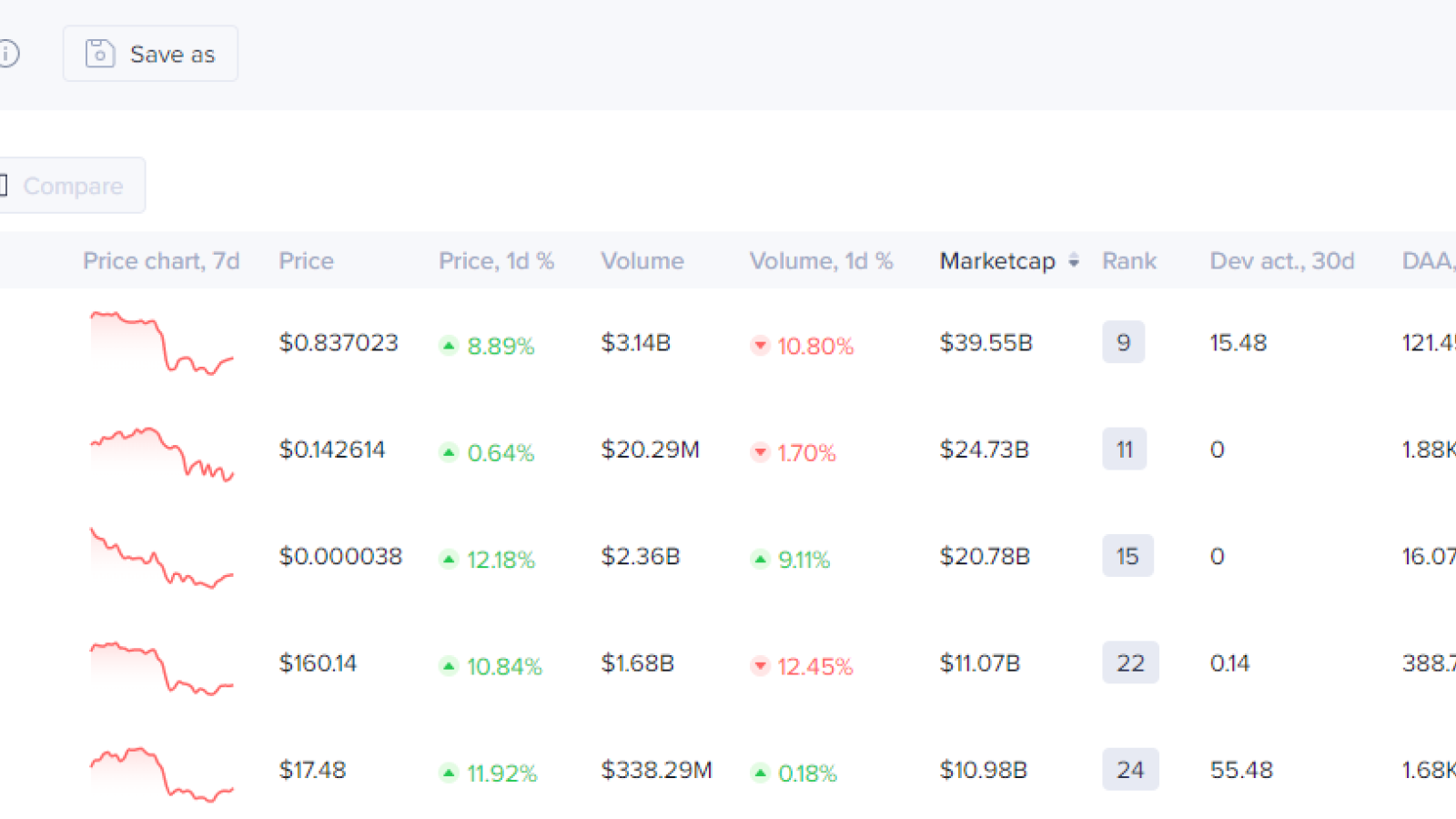 XRP began this year trading at $0.21 after a drastic drop to the low of $0.16 in December 2020 when the SEC announced its lawsuit against Ripple. According to the SEC lawsuit, Ripple began raising funds in 2013 by selling unregistered securities of digital assets known as XRP.
Since then, it has been a challenging road for the cross-border token as crypto exchanges have delisted the XRP token. Despite these setbacks, Ripple seems undeterred, highlighting the "significant growth and traction of ODL" in its Q3 report.
The year 2021 has seen significant partnerships as Ripple's on-demand liquidity (ODL) solutions expanded into the Middle East. In November, Ripple announced its partnership with the Republic of Palau to explore the country's first national digital currency using the XRPL. The $250 million "Creator Fund" was launched to rope in NFT creators to XRP Ledger, which may result in the onboarding of new users.
Investors await a positive outcome on the XRP price in the aftermath of the SEC lawsuit, which Ripple CEO Brad Garlinghouse states would likely conclude by next year.
80 Million XRP Transferred Within One Hour, Here's What It Was
A large number of XRP coins were transferred from the project's official wallet to exchange.
A series of large Ripple coin transactions have appeared on the blockchain prior to the cryptocurrency market recovery. The total value of transferred funds equals approximately $76 million.
Three transactions appeared on the blockchain 15 hours ago, right before the recovery on the crypto market began. At that time, XRP was trading at $0.80 without any significant movements noticed on the market.
Official account transaction
The first transaction of 40 million XRP has been made from the official Ripple account to an unknown wallet that now holds 30 million coins. The transacted coins were not sitting in the wallet for a long time and were almost immediately transferred to another anonymous wallet, which then sent funds to a centralized exchange.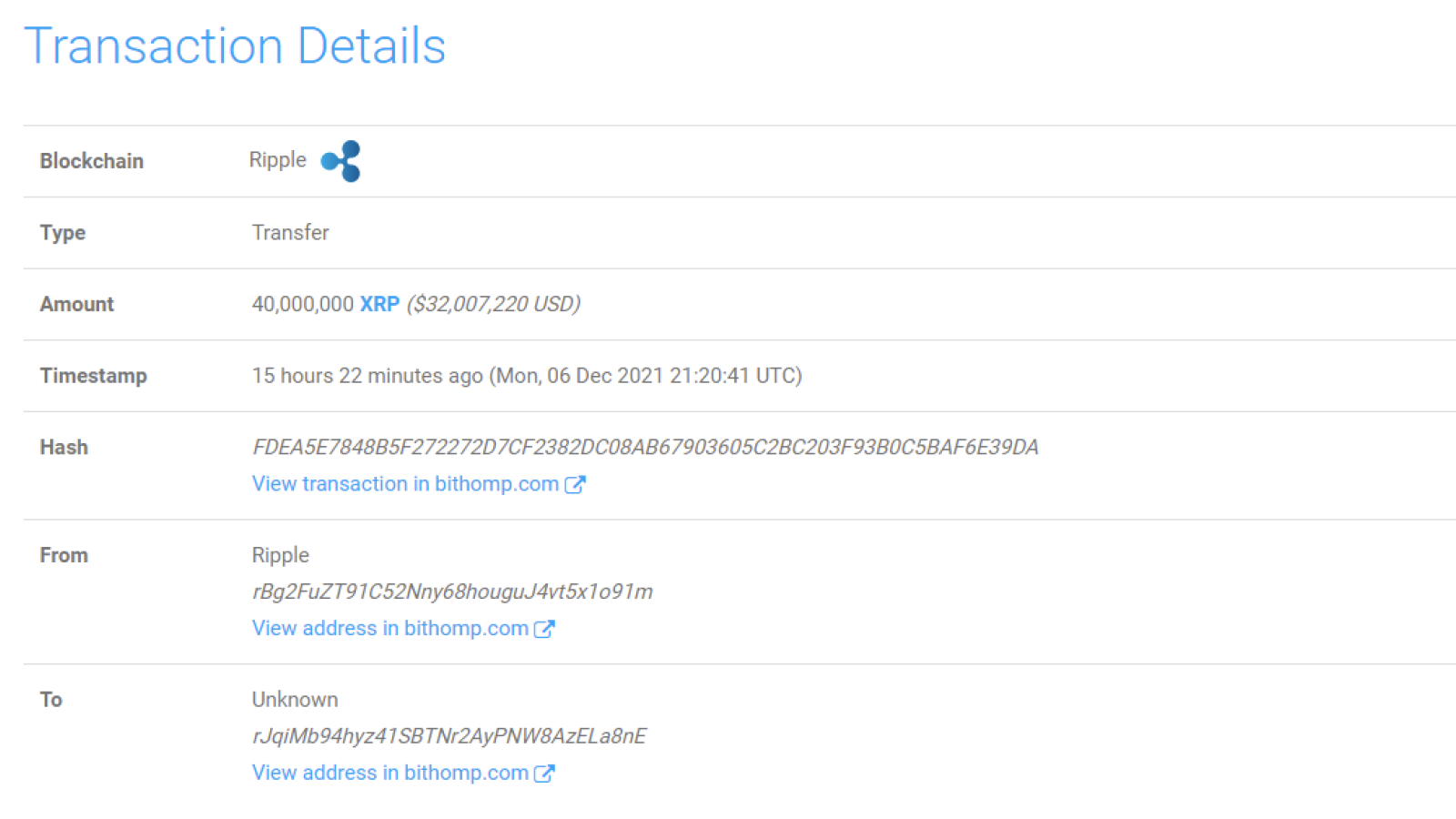 Community members have assumed that Ripple used two unknown wallets to sell their holdings on the exchange without making a direct transaction to the exchange's address.
1.8 million sell order
While the official account's transaction was made with the help of two unknown wallets, the next transaction is less suspicious and more direct. The anonymous whale transferred 20 million coins to the Bitso exchange 15 hours ago and receive almost the same amount back only an hour later.
According to the fund's movement, this person, for whatever reason, transferred 20 million to the centralized exchange, left 1.8 million coins in the exchange's hot wallet and transferred 18.2 million coins back to his own wallet. The reason behind such unusual fund movement remains undisclosed.
The coins themselves have not reacted to large funds movements with high volatility and have remained in the same trading range. At press time, XRP trades at $0.81 with negative 0.7% 24-hour performance.
XRP Could Pull Off Giant 420% Rally, According to Crypto Analyst Michaël Van De Poppe – Here's How
Cryptocurrency analyst and trader Michaël van de Poppe is analyzing what XRP has in store price-wise going into next year.
XRP is trading at $0.83 at time of writing and is up 3.77% in the past 24 hours. The eighth-ranked crypto asset by market cap is down nearly 40% from its 30-day high of $1.35.
Van de Poppe tells his 153,000 YouTube subscribers that he's watching the price area roughly between $0.81 and $0.97. If the open-source digital currency can hold those levels, it puts XRP in a position to ignite a strong 140% rally.
"If these are going to hold, we're most likely going to have a scenario like this (rally to $2.00) in which we start to break out, and these are the triggers here ($0.90, $1.00 and $1.20)… Then, we get a vertical move."
From there, Van de Poppe uses a Fibonacci extension tool to indicate that XRP's next target points are $2.87 and $4.33. Should XRP follow Van de Poppe's script, the altcoin can potentially rise over 420% from current prices.
The analyst notes in the comments section of his YouTube video that he made those price predictions before XRP's value crashed over the weekend. However, he says his predictions have not changed.
Overall, Van de Poppe tells his 521,800 Twitter followers that he isn't bothered by the bearish sentiment in the crypto markets right now.
"The fear hasn't been so low since May's crash.
The sentiment is literally comparable to a funeral. I like it."