Mainstream media channel Associated Press (AP) employs Chainlink to provide real-time news
Associated Press media organization and Chainlink oracle network partnered, with the latter seeking to provide blockchain applications with real-time news.
LINK at press time had gained 4.5 percent in the day to trade at $29.54, owing to the latest development.
---
The Associated Press (AP) has now integrated with Chainlink (LINK) decentralized oracle to boost the latter's information feed. AP, an independent global news organization, will provide Chainlink with news on US economic, sports, and elections matters.
Notably, Chainlink connects blockchains with external data using nodes and application programming interfaces (APIs). The same will be done for AP's data, after which it will be sold directly to blockchain applications. All news feeds from AP will be cryptographically signed to verify that they are actually from AP.
The collaboration will use smart contracts to trigger several on-chain events, including informing markets of election race calls. The release of, for instance, a company's quarterly financial report, could inform an on-chain trade. Media reports could further be used to improve non-fungible token (NFT) designs based on real-world occurrences.
Founded in 2017, Chainlink's open-source oracle infrastructure has been rising in popularity due to its accuracy, reliability, and security. The network's APIs have also been touted as easily compatible, accessible, and monetizable within any blockchain.
AP boasts of being a source of "trusted, fast, accurate and unbiased news in all formats". The news agency has recently been making what it calls an "industry-leading foray into blockchain markets." In 2020, AP jointly with Everipedia, published US race calls on the Ethereum blockchain.
Moreover, the organization sold its first media NFT in early 2021 and it continues to tokenize news for collectors. More recently, AP made its first venture into digital generative artworks by delivering them news feeds.
Its latest integration now furthers blockchain tech adoption and drives further penetration of Chainlink into the DeFi market.
Chainlink recent patnerships
Among Chainlink's latest developments in the recent integration with Trader Joe, one of the biggest DeFi projects on Avalanche. Banker Joe will use Chainlink Price Feeds to assess users' borrowing capacity before issuing loans and to perform loan checks during liquidations.
Trader Joe is delighted to officially announce that the Banker Joe Lending Protocol, is powered by @chainlink Price Feeds 🔗

Check out the below article for details on the role Chainlink plays for Banker Joe and why it is the #1 Price Oracle 👇https://t.co/1MigFMMDIj— Trader Joe (🎩,🔺) (@traderjoe_xyz) October 20, 2021
The oracle also announced a new collaboration with the NFT play-to-earn game POCOLAND on Binance Smart Chain (BSC). POCOLAND is now able to provide real-time price feeds for user purchases besides increasing fairness in its gaming mechanism.
Pocoland Has Integrated Chainlink Price Feeds & Chainlink VRF on Binance Smart Chain Mainnet 🔥🔥@PocoNFTsGame @chainlink #BHpoco #nftgame pic.twitter.com/Tf47Vf6UaT— BrotherHood (@BrotherHoodGems) October 18, 2021
LINK price action
LINK, ranked the 17th cryptocurrency by market cap, has been riding in on the recent Bitcoin-led market rally. The digital asset has gained 10.7 percent in the past week. The news of its development with AP has also contributed to recent bullishness. According to our data, LINK at press time was trading at $29.54, up 4.5 percent in the day.
Austin Arnold, crypto enthusiast and host of the Altcoin Daily, forecasts a significant uptrend in LINK in the coming months. He attributes such a movement to Chainlink's rise in partnerships. His sentiments align with those of popular crypto strategist and trader, Michaël van de Poppe.
Chainlink price analysis: LINK breaks below $25. More downside ahead?
Chainlink price analysis is bearish today.
Strong resistance is present at $26.4.
Support for LINK/USD is present at $24.1.
Chainlink faced rejection at $25.3 as LINK started to decline during the late hours yesterday, and the decline continued today as well. However, LINK managed to get support, and some upwards price movement has been observed recently. The current bullish wave has formed a short-term upwards pattern as the coin has been rising for the past few days, while the overall trend has been bearish.
LINK/USD 1-day price chart: Price drops as bears intervene in the bullish trend
The 1-day price chart for Chainlink price analysis shows the price declined from $25.3 to $24.8 today and is trading hands at the later value at the time of writing. The LINK/USD pair reports a loss of 4.58 percent in price value over the last 24 hours and a loss of 6.03 percent over the past week. The trading volume has also decreased by 5.65 percent, and the market cap suffered by 4.76 percent.
The volatility for the crypto pair is quite high despite the price fluctuations being small after 26th November. The price is trading below the Bollinger band average, which is standing at $27.4, representing the resistance level and the lower end of the Bollinger bands is present at $21.6, representing the support level for LINK.
The relative strength index (RSI) is trading in the lower half of the neutral zone and is present at index 37, though the indicator is still in the neutral zone but shows sellers outpowering the buyers in the market for LINK/USD.
Chainlink price analysis: Recent developments and further technical indications
The 4-hour price chart for Chainlink price analysis shows the coin corrected for 12 hours continuously, including the first hours of today's trading session. However, during the last eight hours, an improvement in price was observed as the bulls managed to make a comeback.
The volatility is comparatively mild on the 4-hour chart; the price stepped below the average line of the Bollinger bands during the past hours, which was representing the support level for the coin, which now turned into a resistance level at $25.3. The RSI, after sinking into the lower half of the neutral zone, shows a little upwards curve hinting at the recently started buying activity as it trades at index 46.
Overall the technical indicators are also favoring the bearish side as a majority of 15 technical indicators are giving sell signals, including the SMAs, EMAs, the MACD oscillator. On the other hand, only one technical indicator is giving a buy signal, which is the momentum oscillator. The remaining 10 technical indicators stand neutral and do not issue any signal for buying or selling.
Chainlink price analysis: Conclusion
The Chainlink price analysis for today favors bears as the price level is below then yesterday's price cap. However, we anticipate LINK to continue upside for the coming hours as the price has been elevated during the last hours before continuing downside later today.
Chainlink price ready to reverse, 30% upswing likely for LINK
Chainlink price is reversing its downtrend and is eyeing a higher high to solidify the bullish thesis.
On-chain metrics suggest that LINK is in a place of accumulation, adding a tailwind to the rally.
A breakdown of the $21.35 support level will invalidate the optimistic outlook.
Chainlink price seems ready for a reversal of its two-week downswing as it attempts to create a higher high. This outlook is also supported by on-chain metrics, which suggest the possibility of accumulation at the current levels for LINK.
Chainlink price to kick-start a rally
Chainlink price has dropped roughly 41% over the past 18 days, creating a swing low at $22.65, which could potentially be the reversal point. From this pivot point, LINK has rallied 14% to where it currently trades – $25.93.
Investors can expect Chainlink price to continue its upswing toward the 50% retracement level at $30.51. This run-up will represent a 17% ascent and in some cases, the uptrend could extend to the 62% Fibonacci retracement level at $32.40. This move, however, would indicate a 30% upswing for LINK.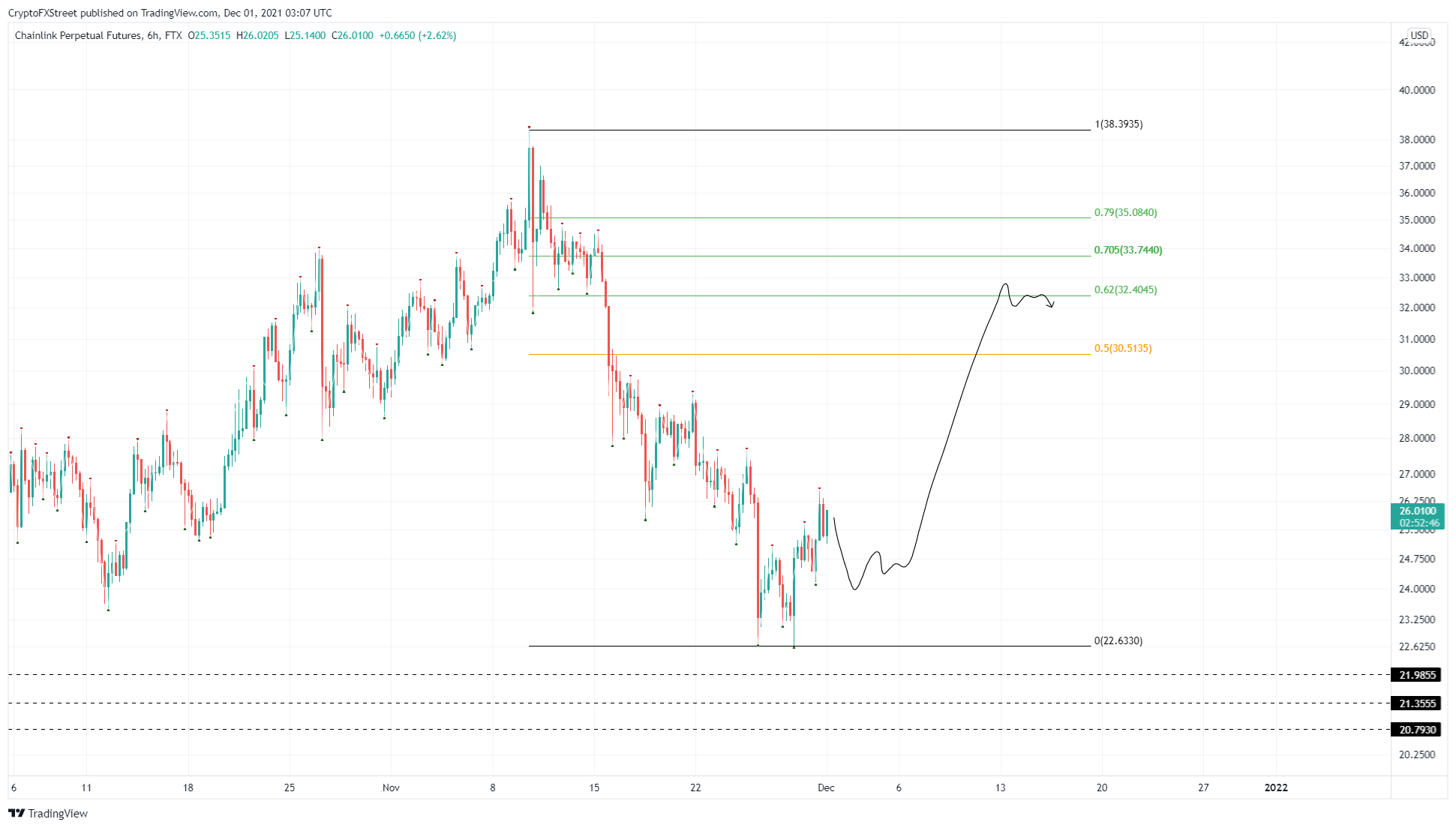 LINK/USDT 6-hour chart
The technicals are clearly indicating a bullish outlook for the oracle token and the Market Value to Realized Value (MVRV) model also suggests a similar outcome as it hovers around -11.5%.
This on-chain metric is used to determine the average profit/loss of investors that purchased LINK over the past month. A negative value indicates that the short-term investors are in the red and this is where long-term holders tend to accumulate.
Therefore, market participants can expect Chainlink price to see a bullish reaction and trigger an upswing.

LINK MVRV 30-day chart
On a similar note, IntoTheBlock's Global In/Out of the Money (GIOM) model shows that Chainlink price has a free path up to roughly $30. Here, nearly 85,000 addresses purchased 117.45 million LINK tokens.
Therefore, these underwater investors might offload their holdings if the LINK price rises to their breakeven levels. Hence, market participants need to pay close attention to $30.

LINK GIOM chart
Regardless of the bullish outlook from both technical and on-chain perspectives, there is a chance Chainlink price might head below the range low at $22.63 to collect liquidity. This move will invalidate the bullish thesis if LINK produces a lower low below $21.35.
In such a scenario, Chainlink price could head lower to retest an immediate support level at $20.79.
Chainlink Becomes Most-Traded Token Among Whales
Ethereum whales are actively trading Chainlink, and here's how the market reacts.
Chainlink flips UNI token in trading volume among 1,000 largest Ethereum addresses. Currently, the token reacts with a small 2.8% growth.
Whale activity
While UNI remains the most-held token among large addresses, Link has the greatest trading volume, which means that whales were either selling or buying the asset. But according to the current price action, buying power exceeds selling pressure.
Whales currently hold $360 million worth of Link tokens, which is only 1.85% of all funds concentrated among the largest Ethereum blockchain wallets, excluding exchanges and projects.
Ascending volumes
Though Link has taken first place as the most traded token in the last 24 hours, it is still losing to Shiba Inu, which remains in 5th place among the top 10 most purchased tokens, while Link remains in 6th place.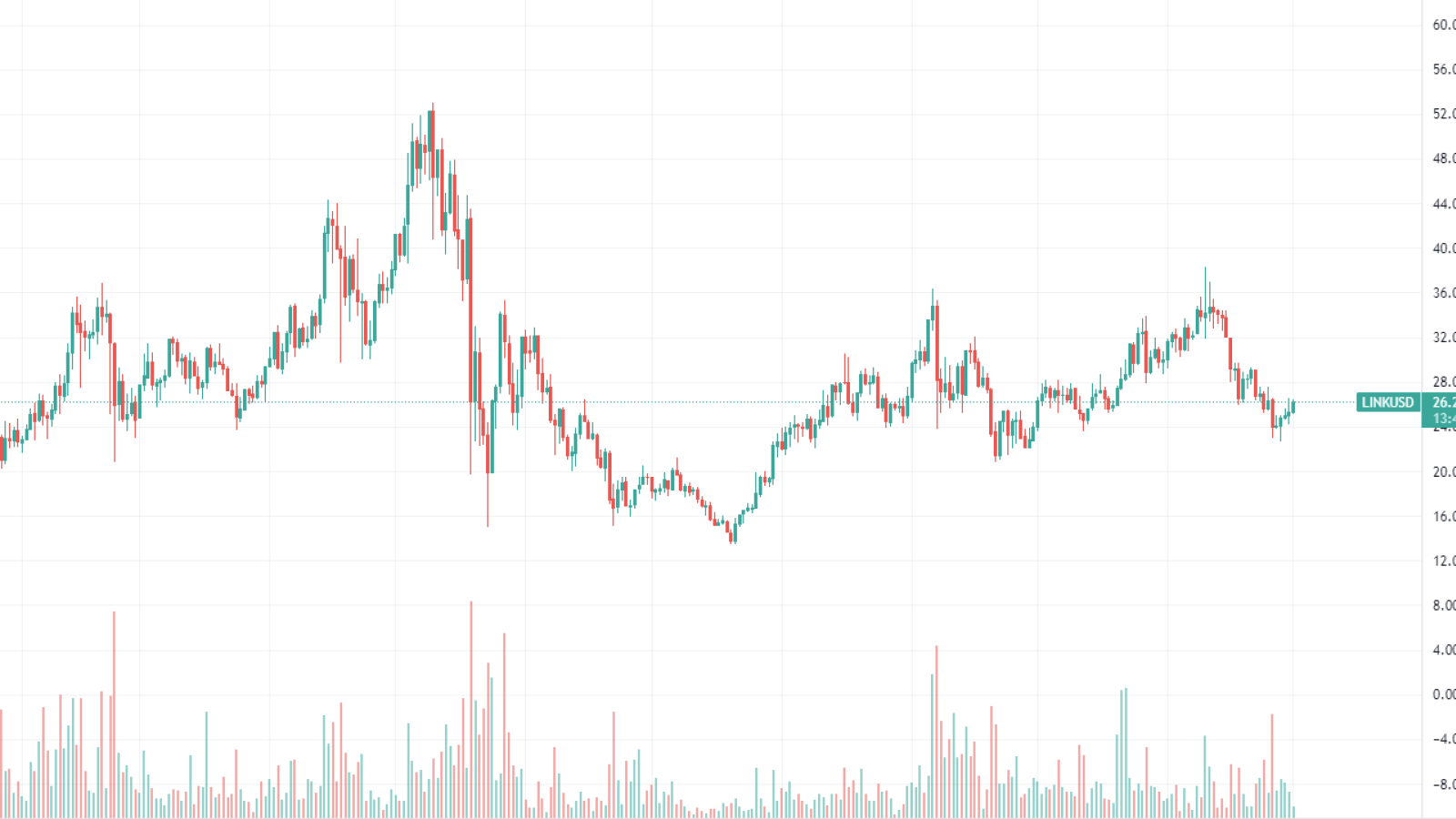 The increased trading volume on Link token can be considered a positive sign for the market since higher trading volume for an asset in a bullish trend might act as fuel for a continuation. Trading volumes tend to decrease at the top of the current trend. In the case of Link, the current trading volume tends to decrease but still remains above average.
At press time, Chainlink is trading at $26.40, with a 9.7% price increase in the last four days. Previously, Chainlink lost 30% of its value from the ATH point on the chart. After the global cryptocurrency market correction, Link became even cheaper after dropping by an additional 8%.