Once SHIB Regains $0.00003, It May Reach New ATH: Candidate for US Senate 2022 Shannon Bray
U.S. politician Shannon Bray joins the Shiba Inu army, wants to push SHIB back to $0.00003 and higher
Looks like the SHIB community has got itself a new powerful member: U.S. politician Shannon Bray.
Politician from Libertarian party touts SHIB
Candidate for U.S. Senate 2022 Shannon Bray has published a tweet about the Shiba Inu meme cryptocurrency, saying that once it recaptures the $0.00003 zone, it may reach a new all-time high soon after with little resistance.
Bray has urged the SHIB army to "make some noise" to drive the coin to close Friday with an over 20% rise.
Bray is a Senate candidate from the Libertarian Party. He has worked in the spheres of software development, information security and management.
I changed my Twitter background. It's time to kick $shib back into the 30's.

Come on #SHIBARMY … Make some noise. Let's close Friday over 20%.

Once we break the 30s again, we should have little resistance for a new ATH. pic.twitter.com/pt6yAm7Bsu— Shannon Bray (@ShannonBrayNC) October 22, 2021
Another influencer tweeting Shiba Inu picture
Elon Musk is not the only crypto influencer who likes tweeting pictures of Shiba Inu dogs. David Gokhshtein has now followed Musk's example, posting a picture of the dog breed that inspired the first Dogecoin and then SHIB and FLOKI as well.
Gokhshtein has been holding Dogecoin and recently tweeted that he had gotten into SHIB and FLOKI too.
Who dis? pic.twitter.com/huItClDp0B— David Gokhshtein (@davidgokhshtein) October 21, 2021
Will SHIB go to $0.01 soon?
Recently, SHIB has been listed by Robinhood app's rival, Public, and it is now accepted by real estate agency Candoli Propiedades based in Argentina. Besides, the coin has been added by two crypto exchanges—India-based ZebPay and Turkish BtcTurk, both the oldest and biggest platforms in their countries.
The community is expecting Robinhood app to list SHIB as well one of these days, hoping that it would push the price as high as $0.01.
Shiba Inu below capitulation zone, SHIBA at risk of returning to $0.000030
Shiba Inu price traded below a critical Volume Profile level.
Bearish sentiment remains robust, and little support exists within the Ichimoku system.
Downside pressure could be sustained with marginal relief in sight.
Shiba Inu price, like the rest of the cryptocurrency market, has struggled since the flash-crash on early Saturday. While traders were able to rally SHIBA 25% above the Saturday lows, selling pressure resumed on Sunday.
Shiba Inu inside a highly volatile and weak price range
Shiba Inu price close its Sunday candlestick below a critical support level that indicates a fast sell-off is likely. The large, red, rectangular area represents a range between $0.000030 and $0.000036. The Volume Profile between those two levels is extremely thin and warns that any move below $0.000036 could trigger a quick and easy move lower.
Evidence of the speed of the drop was observed somewhat during Saturday's sell-off, but that was mostly an episode of NOS (Non-Organic Selling). NOS is a technical term to describe any price action that is done mainly due to resting buy and sell orders or, as is often the case in the cryptocurrency market, forced liquidations from leveraged positions in derivatives markets. The flash-crash on Saturday is a perfect example of what NOS looks like and what the expected recovery should look like.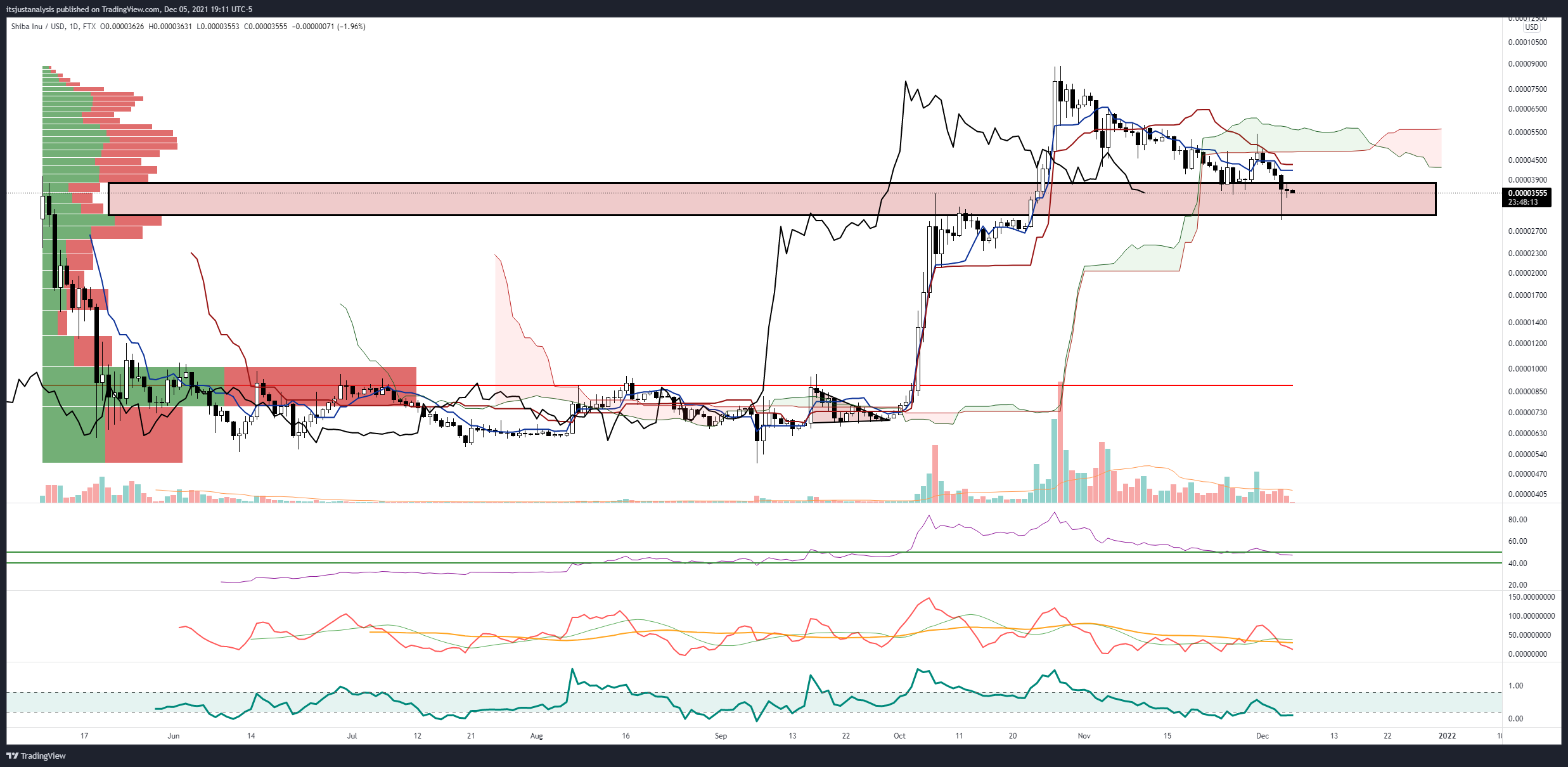 SHIBA/USDT Daily Ichimoku Chart
Traders will likely see a lower test due to Shiba Inu price closing inside that price zone. The closest Ichimoku support is at $0.000025 when the Chikou Span hit the top of the Cloud (Senkou Span A).
To invalidate or at least give pause to the current bearish setup, Shiba Inu price would need to close above the daily Kijun-Sen at or above $0.000042.
Shiba Inu (SHIB) Up 2,600,000% in the Last 365 Days
Shiba Inu (SHIB) is up 2,600,000% in the last 365 days.
Watcher.Guru disclosed the SHIB's yearly volume.
Shiba Inu (SHIB) is still up by 2,600,000% for the past 365 days, according to Watcher.Guru. This shows that regardless of how several other cryptos struggled with the ups and downs of the market beginning of this year, the SHIB token was not affected heavily.
In some way, the yearly volume of the SHIB's 2,600,000% figure tells that all the seemingly hypes and sentiments about Shiba Inu of late weren't in vain. Instead, it was otherwise preparing SHIB for a better and lucrative phase ahead. Even in the past months, a day will not pass, without a piece of Shiba-related news.
#SHIB is still up 2,600,000% in the last 365 days.— Watcher.Guru (@WatcherGuru) December 5, 2021
The SHIB token has subtly climbed ranks even more than how the crypto world expected. Meanwhile, at the beginning of its inception, traders didn't have much interest in the SHIB token like today before it started a staggering spike in price.
Unlike how many other cryptocurrencies die off a short time after their price increase, Shiba Inu has maintained a stunning price performance. This makes it a direct threat to many other cryptos including Dogecoin (DOGE).
At writing time, SHIB trades at a decent price of $0.00003739. Also, it has more than $20 billion as its market capitalization volume, ranking as the 13th biggest cryptocurrency in the world on CoinMarketCap.
SHIBA INU Weekly Forecast December 6 — 10, 2021
SHIBA INU ends the trading week at 0.00004117 and continues to move within the fall and the downtrend channel. Moving averages indicate a bearish trend. Prices moved down from the area between the signal lines, which indicates pressure from sellers of the coin and a potential continuation of the fall. As part of the SHIB/USD rate forecast for the next trading week, we should expect an attempt to develop a bullish correction in the value of a digital asset and a test of the support area near the level of 0.00003855. From where a rebound is expected again and an attempt to grow the SHIBA INU cryptocurrency with a potential target above the level of 0.00008005.
SHIBA INU Weekly Forecast December 6 — 10, 2021
An additional signal in favor of raising the SHIB/USD quotes in the current trading week on December 6 — 10, 2021 will be a test of the support line on the relative strength index (RSI). The second signal will be a rebound from an important support area, as we can see, there were also rebounds from this level. Cancellation of the growth option for the SHIBA INU cryptocurrency next trading week will be a fall and a breakdown of the 0.00002355 area. This will indicate a breakdown of the support area and a continued decline in SHIB/USD quotes with a target below the level of 0.00001505. Confirmation of the rise in the cryptocurrency will be the breakdown of the resistance area and the closing of quotations above the level of 0.00005505, which will indicate a breakdown of the upper border of the downward correction channel.
SHIBA INU Weekly Forecast December 6 — 10, 2021 implies an attempt to test the support area near the level of 0.00003855. Then continued growth to the area above the level of 0.00008005. An additional signal in favor of a rise in SHIBA INU will be a test of the trend line on the relative strength index (RSI). Cancellation of the growth option will be a fall and a breakdown of the 0.00002355 area. This will indicate a continued decline in cryptocurrency with a target below 0.00001505.