Polygon pays $2 million to hacker who discovered flaw that put $850 million at risk
Polygon, a scalability solution for the Ethereum network, gave a $2 million reward to a hacker who discovered a vulnerability that had put $850 million of capital at risk.
According to Immunefi, security services and "bug bounty" platform and responsible for Polygon's rewards program, this was the highest paid reward in the world of Decentralized Finance (DeFi).
The vulnerability, found by Gerhard Wagner at the Polygon Plasma Bridge on October 5, allowed a hacker to enter and exit the bridge 223 times.
Polygon Plasma Bridge is a trustless transaction channel that ensures communication between Polygon (formerly known as Matic) and the Ethereum networks, allowing tokens to be moved between the two blockchains.
According to a post-mortem statement shared with Decrypt, an attack launched with just $100,000 would result in a loss of $22.3 million or a combined total of approximately $850 million for a series of attacks.
It took Polygon 30 minutes to start fixing the issue after Wagner reported the vulnerability. The bug has been fixed and no user backgrounds are affected.
"We congratulate Gerhard on his outstanding work and excellent report and appreciate his quick response, immediate correction and prompt payment for Polygon," said Mitchell Amador, Founder and CEO of Immunefi.
Polygon's "Bug-hunting" Program
In September, the Polygon team released the program for the team to eliminate potential security holes.
Basically, the bug-hunting program is an open invitation for "good hackers" (or "white-hat hackers" in English) to discover and report vulnerabilities in Polygon's autonomous contracts and decentralized applications (dapps).
Security researchers will be rewarded for their efforts based on Immunefi's Severity and Vulnerability Rating System, which ranks threats according to the severity of identified issues.
The minimum possible reward is $1,000 for low-level threats while the maximum is $2 million, awarded to those who discover critical vulnerabilities, just as Wagner discovered.
"We hope this reward at Immunefi will set an example for other Web 3.0 projects and attract bright minds from the security research community for 'good hackers' and make it [o setor] more resilient to future security threats," said Jaynti Kanani, co-founder of Polygon.
Previously, the Polygon network had successfully audited its standalone contracts by cybersecurity firm Certik. Polygon is currently ranked 17th on Certik's security panel.
MATIC price analysis: Polygon token's price crashes as it jumps to 19th position
MATIC reached a daily high of $1.967 today.
The MATIC price analysis turned bearish, dropping to a daily low of $1.6
The nearest unbroken price support is present at $1.559
Polygon (MATIC) ranks among the top 20 biggest cryptocurrencies, rising from $0.01478 to $2.68 in the past 52 weeks. This is an extremely bullish performance shown by the MATIC token. Therefore our view on Polygon remains bullish for the long term.
MATIC's price turned bullish on Thursday after the announcement of MATIC getting listed on the Bit2Me exchange, Spain's largest cryptocurrency exchange. Following the creation of the weekly high early Friday, the MATIC price analysis also turned bullish as the token surpassed Chainlink in terms of market capitalization and claimed the 18th position in the market.
As per the data from CoinMarketCap, the trading volume surged by 36.72%, standing at $1.88 billion. Furthermore, the market cap of the token dropped by 9.71%, standing at $11.24 billion.
MATIC price analysis on the daily chart
MATIC price analysis on the daily chart remains bearish because the bulls are unable to keep up with the sellers who are cashing in their profits. The price action is currently testing the 50-day Moving Average while the 100-day Moving Averages remains intact as a key price zone and support level.
The prices were progressing in the upper end of the Bollinger Bands after the sudden bearish wave brought it down to the lower region, teasing an imminent breakout. If the prices break out, we will definitely see lower levels.
The RSI indicator turned bearish and is now entering the bearish region, i.e., below the 50-level. Furthermore, the MATIC price analysis also reveals that lower prices are possible since the gradient is sharply negative and selling pressure increases.
The MACD indicator witnessed a bullish divergence on the daily chart. However, this incredible surge in selling activity might help the signal line (orange) find its way above the MACD (blue) line, leading to a bearish divergence
Conclusion
Polygon (MATIC) snatched the 19th position from Chainlink and is now ruling the position with a dominating trading volume. However, Chainlink is also not slowing down. The two tokens will continue to battle it out as Bitcoin remains sluggish and altcoins bleed. However, as per our MATIC price analysis, this is a great time to buy the Polygon token MATIC.
Nexo lists Polygon, sending MATIC prices to higher highs
Nexo, a regulated digital assets institution, offers MATIC holders 20% APR as a promotional campaign welcoming the Polygon network.
In addition to lending initiatives, Polygon is one of the prime chains for minting NFTs and expanding Nexo's offerings in the metaverse.
Polygon network is among the top protocols that successfully onboarded the highest number of new users over the past eight weeks.
Nexo finance announces Polygon's arrival on its platform. Investors can now earn 20% APR on MATIC as part of Nexo's promotional campaign.
MATIC arrives on Nexo finance offering higher returns to investors
Polygon network is now on Nexo finance, offering holders and investors higher returns on the DeFi platform. The regulated crypto assets provider offers 150 market pairs to users. Users can now buy, swap and borrow against MATIC. 
The ongoing promotional offer gives users 20% interest and distributes daily. With the rising importance of multi-chain networks, activity on the Polygon network is on the rise. Nexo's team is engaging with the Polygon network for various initiatives.
Polygon network will help Nexo expand their offerings through NFTs, helping the DeFi protocol get into the metaverse. NFTs have high potential as a new asset class; Polygon's blockchain network offers Nexo an opportunity to offer metaverse products.
Users that purchase MATIC on Nexo's exchange can earn 20% interest and grow their passive income till the promotional offer lasts (Jan 3, 2022). 
Polygon network has reached out to enterprise projects looking for sovereignty, their own blockchain and don't want to derive security from Ethereum's scaling solutions. Mihailo Bjelic, co-founder of Polygon network, tweeted:
We're in touch with a lot of projects (many of them from the enterprise world, but not all) who want sovereignty, i.e. their own chain/L1, and simply do not want/need to derive security from Eth L1.

This is a realistic and big use case that we're addressing with Polygon SDK.— Mihailo Bjelic (@MihailoBjelic) November 24, 2021
Analysts have evaluated MATIC price trends and predicted a trend reversal. @Koolaid_crypto, a cryptocurrency analyst, believes that MATIC price is testing old resistance and is likely to breach resistance in the coming days. 
$MATIC testing old resistance. The 0.618 fib is above the downward sloping trend line so we may see a breach of resistance in the coming days. #MATIC #MATICusdt pic.twitter.com/Hq0kVZryoM— Crypto Koolaid (@Koolaid_crypto) November 24, 2021
MATIC price forms bear trap as Polygon heads to $2.6
MATIC price develops bear trap, creating a short-squeeze opportunity for bulls.
Key bullish entry levels are necessary to prevent a selloff.
Downside risks remain despite bullish reversal signals.
MATIC price remains inside a broader rising wedge pattern on its candlestick chart and has struggled to find support. However, the Point and Figure chart shows that a move above $1.70 could trigger some intense buying pressure and deny bears their selloff.
MATIC price prepares for a nearly 50% price spike higher despite current downside risks
MATIC price has a long opportunity on its $0.05/3-box Reversal Point and Figure chart. The long idea is a buy stop order at $1.75, a stop loss at $1.55 and a profit target at $2.55. The entry would complete a breakout out of a double-top while simultaneously confirming a bullish Point and Figure reversal pattern known as a Bear Trap.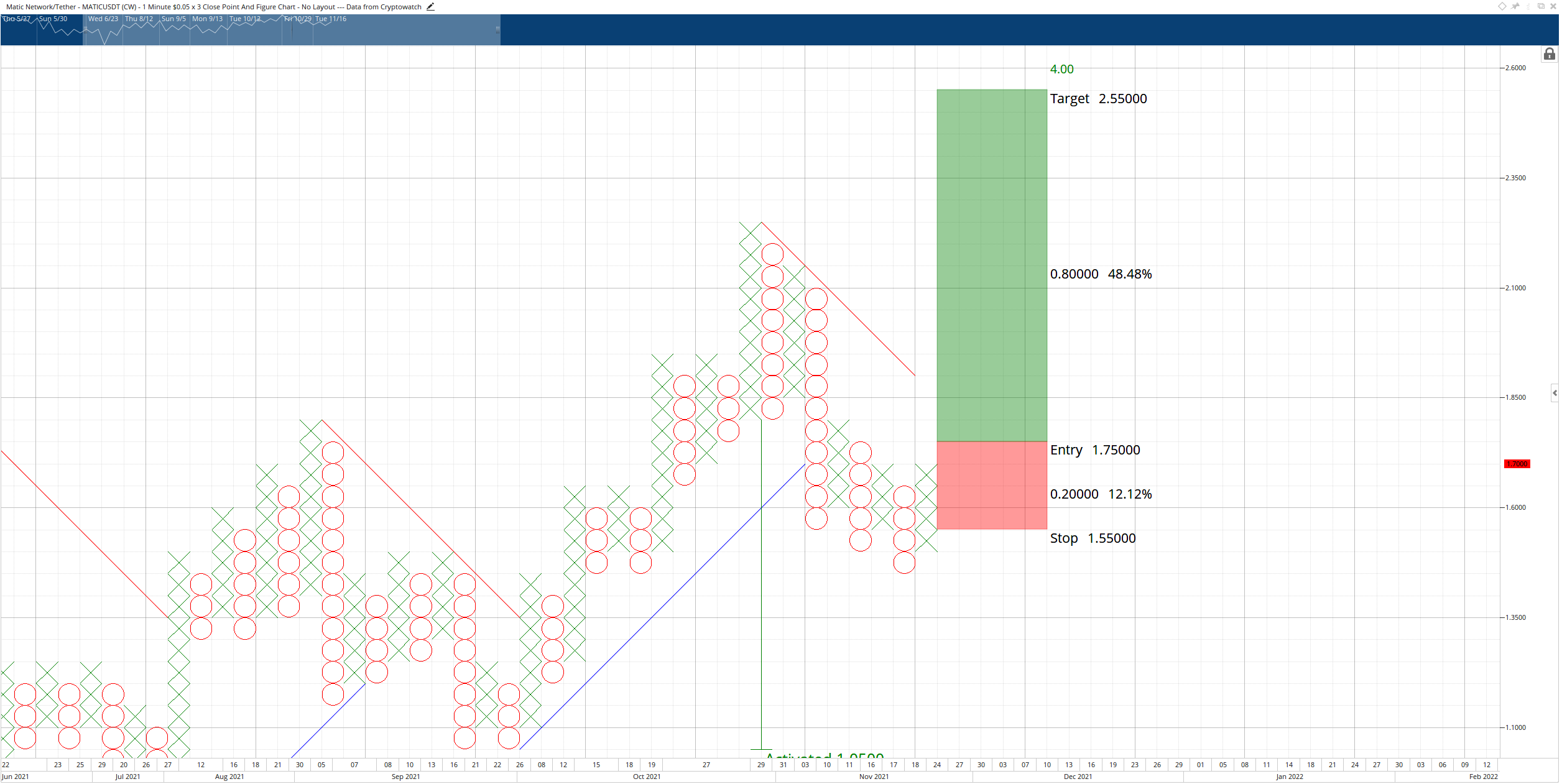 MATIC/USD $0.05/3-box Reversal Point and Figure Chart
Buyers are not entirely out of bearish territory, however – the daily Ichimoku chart shows MATIC is very close to completing an Ideal Bearish Ichimoku Breakout entry. The 50% Fibonacci retracement at $1.53 is acting as immediate support, but failure to hold there means MATIC price could drop even lower.
MATIC price will enter a capitulation zone at or below $1.40. A close at $1.40 would position MATIC price below the Cloud, the 100% Fibonacci expansion, and the lower trendline of the rising wedge pattern. More importantly, though, the Chikou Span would be below Senkou Span B. A close at $1.40 would mean MATIC may not find support until the 161.8% Fibonacci expansion at $0.95.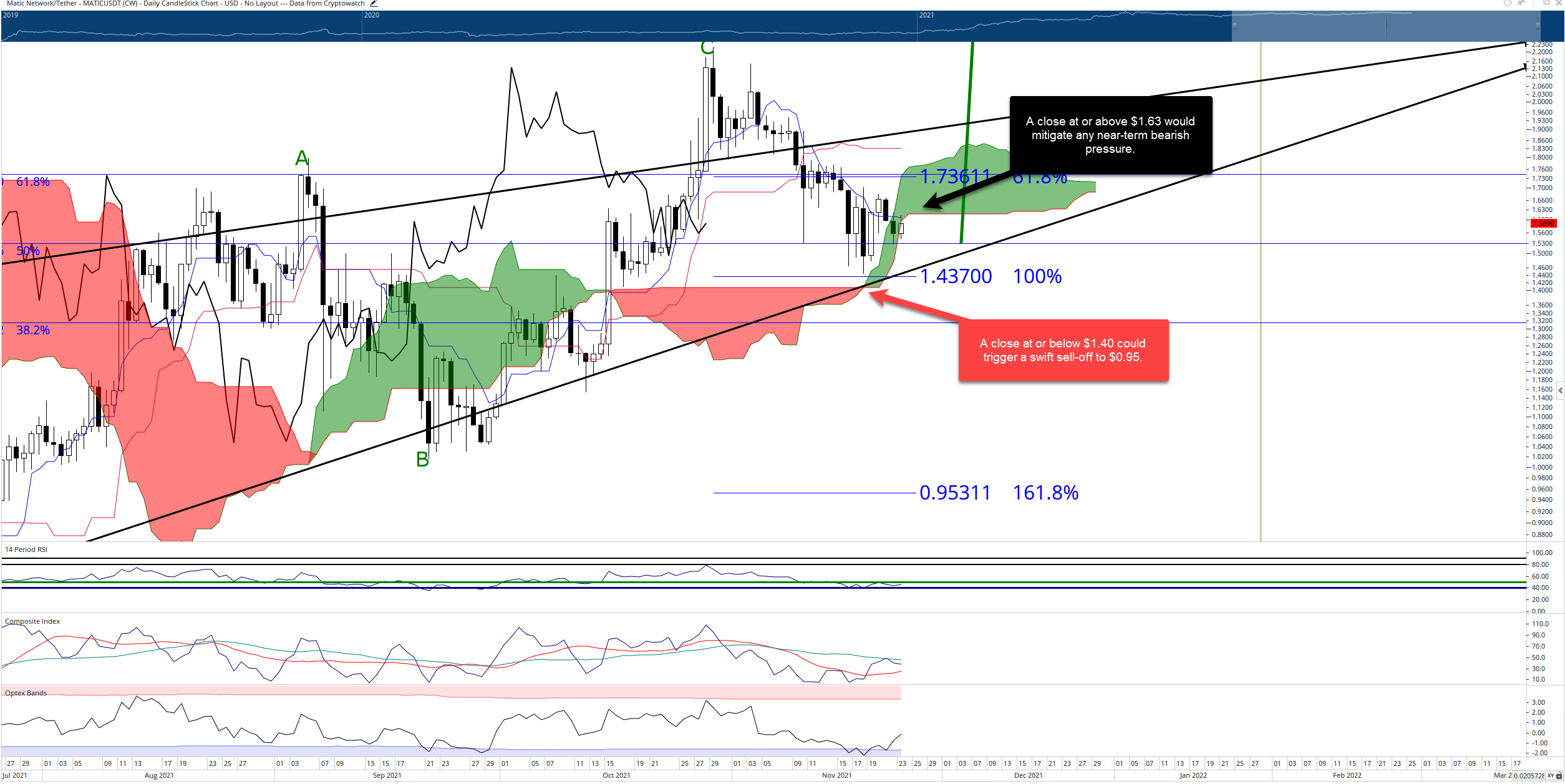 MATIC/USDT Daily Ichimoku Chart
The near-term bearish outlook could be mitigated if MATIC price closes above the Tenkan-Sen and Senkou Span B at $1.63. From there, the road to the Point and Figure buy stop entry is more straightforward and more probable.