JPMorgan Has Bearish Warning About Dogecoin and Robinhood
JPMorgan's analyst maintains his bearish view on Robinhood due to low retail interest in Dogecoin
JPMorgan has maintained an "underweight" rating on the Robinhood stock, sticking to its $35 price target.  

In a Friday note, analyst Kenneth Worthington cites weak Dogecoin volumes as the key reason why he thinks that the leading online brokerage app is vulnerable.    

As reported by U.Today, the meme cryptocurrency accounted for a whopping 62%  of the firm's crypto-related revenue in Q2.   

Worthington writes that, unlike cryptocurrency-focused trading platforms, Robinhood has failed to record an upsurge in trading volumes this October:
While 3Q21 volumes remain robust, they slowed down materially from 2Q21 levels.
Dogecoin is only up a modest 15% this month, significantly underperforming its canine rival Shiba Inu. Yesterday, Robinhood CEO Vladimir Tenev seemingly dodged a question about listing plans for SHIB amid rampant speculation on social media.

In late September, Worthington also wrote that the company's stock could experience significant selling pressure after the expiration of the lockup period on Dec. 1. More than half a million shares will be unlocked on that day.
Robinhood is set to announce its Q3 earnings on Oct. 26.  
Here's What Dogecoin and Billie Eilish Have in Common
Dogecoin and Billie Eilish have one thing in common
The name of the iconic meme cryptocurrency, which turned eight years old yesterday, has made it to the list of the most mispronounced words on television that is compiled annually by the U.S. Captioning Company.
Newscasters also struggled to pronounce Ethereum, the name of the second-largest blockchain, "cheugy," the pejorative neologism that mocks trends started by millennials, and "Dalgona," the name of the South Korean candy popularized by Netflix's popular survival drama series "Squid Games."
Surprisingly enough, teen superstar Billie Eilish still has her surname mispronounced on TV despite being in the spotlight for years. The pop singer rose to immense fame after her gargantuan hit, "Bad Guy," topped the charts around the world in 2019. Her debut studio album, "When We All Fall Asleep, Where Do We Go?" won the top award at the 2020 Grammys.
People also tend to botch the surnames of Greek tennis star Stefanos Tsitsipas and football player Jason Kelce.
Last year, immunologist Anthony Fauci and Vice President Kamala Harris also appeared on the list.
Dogecoin price to rally 25% as capital begins to flow into DOGE
Dogecoin price is grappling with the trading range's midpoint at $0.178, eyeing further gains.
Investors can expect DOGE to shatter the $0.197 barrier and make a run at the $0.22 hurdle.
On-chain metrics hint bullish as they display the entry of high networth individuals at the current levels.
Dogecoin price is trying to move past its recent swing high to set up higher highs. While a minor and brief downswing might be possible, the overall short-term outlook for DOGE is bullish.
Dogecoin price eyes higher highs
Dogecoin price is grappling with the trading range's midpoint at $0.178 and shows its intention to move higher. There is a minor possibility that DOGE might take a brief dip before it heads higher. Regardless of this outcome, Dogecoin price is ready to move higher.
The first hurdle that the buyers will encounter is the $0.197 resistance barrier after a 10% climb. Beyond this level, DOGE will revisit the $0.22 ceiling and make a run at the liquidity resting above it.
In total, this leg-up would constitute a 25% ascent.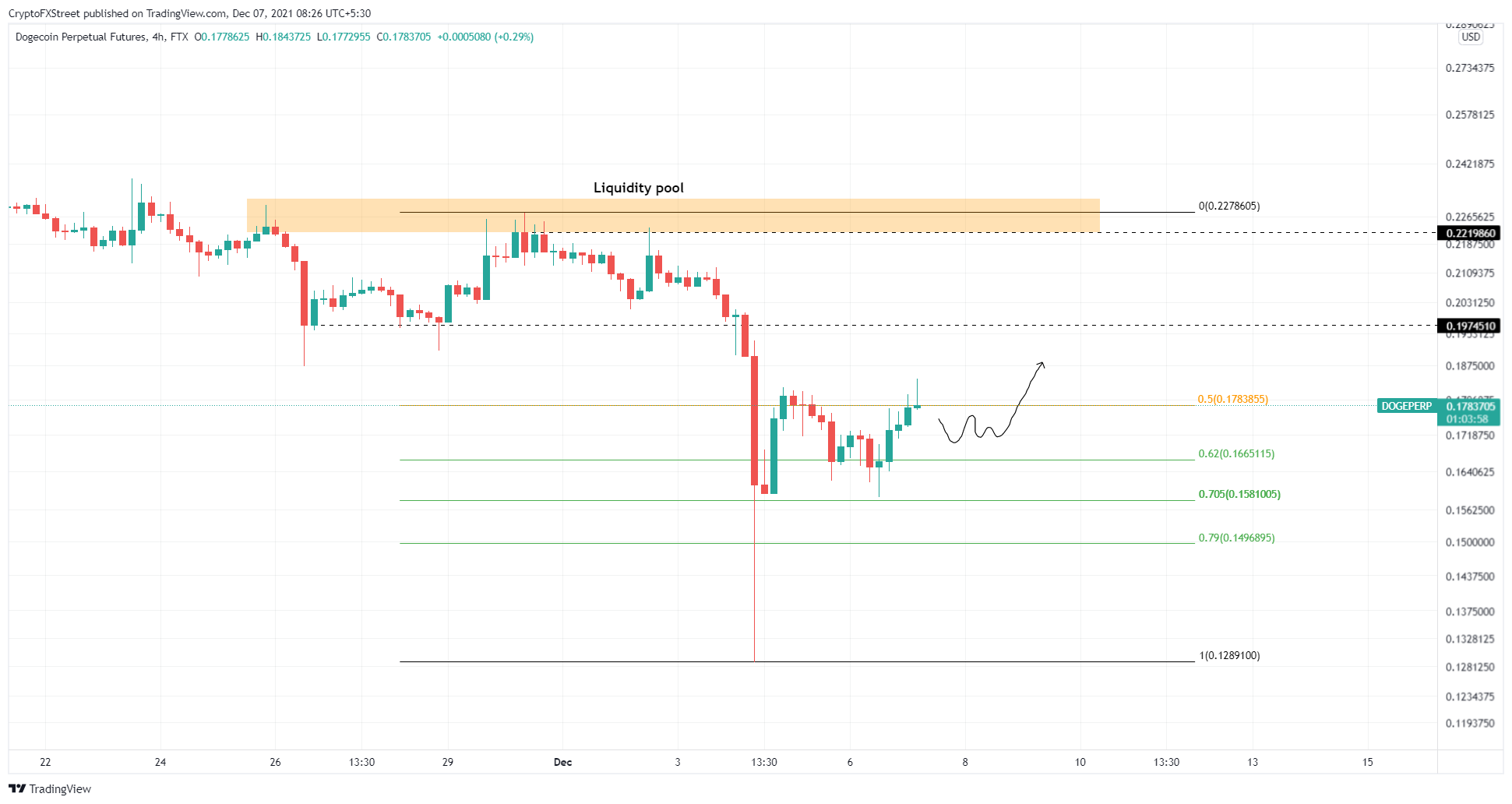 DOGE/USDT 4-hour chart
From a technical perspective, tagging the $0.22 level might seem like overreaching, but IntoTheBlock's Global In/Out of the Money (GIOM) model shows a significant cluster of underwater investors resting around $0.22.
Here, roughly 430,000 addresses that purchased 18.36 billion DOGE are "Out of the Money." Therefore, any more beyond this level might be a high resistance run as these holders might want to break even.

DOGE GIOM chart
Further supporting the bullish outlook is the 272% uptick in transactions worth $100,000 or more. Since November 20, these transfers have gone from 862 to 3,261.
This trend indicates that high networth investors are interested in DOGE at the current price levels.

DOGE large transactions chart
While things are looking up for Dogecoin price, a failure to maintain the bullish momentum could lead to a retracement. If this correction pushes DOGE to produce a lower low below $0.158, it will invalidate the bullish thesis.
In such a situation, market participants can expect Dogecoin price to venture lower and potentially retest the $0.13 support level.
Dogecoin, Elon Musk's Favorite Cryptocurrency, Turns 8. Here's How It Has Performed This Year
The original meme coin has turned eight.
Dogecoin, the meme coin that started it all, has already turned eight, becoming a major player in the crypto industry. 
In May, the joke cryptocurrency, which was launched by Billy Markus and Jackson Palmer on Dec. 6, 2013, to ridicule altcoins, was worth over $90 billion in early May after experiencing a massive rally.

With the help of high-profile proponent Elon Musk, other celebrities and incessant media coverage, Dogecoin had surged an eye-popping 17,000% in just four months in early 2021, captivating the entire investing community.
The Bitcoin parody has also inspired a whole bunch of copycats, with Ethereum-based Shiba Inu becoming its most prominent knock-off and stealing the top dog's luster in October.
Dogecoin is down 76.1% from its all-time high, but it is still up a staggering 6,943% since the start of the year, making its long-term holders part of the crypto nouveau riche.
Markus, who now frequently interacts with Musk on Twitter, claims that 2021 has been his second strangest year because of Dogecoin.  
2021 was the second strangest year of my life, only eclipsed by 2013.

The year dogecoin was born.

Happy 8th birthday to you, cryptocurrency plus funny yellow dog ~ pic.twitter.com/SID1SF30z3— Shibetoshi Nakamoto (@BillyM2k) December 6, 2021
 Palmer, however, is unlikely to celebrate the birthday of the joke cryptocurrency he co-created since the Australian programmer abandoned the community a long time ago. In a July tweet, he claimed that the crypto industry was controlled by "a powerful cartel."