Ripple (XRP) Committed to the Crypto Climate Accord (CCA) To Provide for Sustainability
With cryptocurrency becoming mainstream, to provide for a long-term future together sustainability practices are very important. Major Fintech companies like PayPal, Visa, Tesla, and several others leverage this technology. This in turn has led to increased energy consumption to already unsustainable levels. To break even, the industry has a choice to make. Either continue down the unsustainable path to be doomed or work together and reduce the collective environmental impact.
Decarbonizing public blockchains is about bringing down the carbon footprint. In2020, Ripple partnered with Energy Web (EW) and the Rocky Mountain Institute (RMI) in their efforts to decarbonize public blockchains beginning with the XRP ledger. Further, Ripple has pledged to achieve carbon net-zero by 2030 or sooner.
Ripple is committed to the Crypto Climate Accord (CCA), which is a new initiative organized by EW, RMI, and the Alliance for Innovation Regulation (AIR) to ensure that the cryptocurrency industry is 100% renewable.
Ripple will also be joining more than 20 supporters from different industries and blockchains, which consists of the United Nations, CoinShares, Compass Mining, the XRP Ledger Foundation, and ConsenSys to provide for sustainability and scalability, thus creating value for all.
The cryptocurrency market cap is at $2 trillion, which is twice the previous all-time high that was reached about three months ago, thus underscoring how quickly this industry is growing.
The growth of the cryptocurrency industry comes at a cost. The damages caused by climate change cover for nearly 3% of GDP by 2060. The challenge to sustain global financial prosperity without compromising on the environment is a thing to be considered.
Emissions reduction and renewable energy use are steps to ensure progress in the right direction.
The Paris Climate Accord, fintech, and crypto industry leaders have partnered to set the objectives to ensure sustainability.
Key objectives include: "Enable all of the world's blockchains to be powered by 100% renewables by the 2025 UNFCCC COP Conference; Develop an open-source accounting standard for measuring emissions from the cryptocurrency industry; Achieve net-zero emissions for the entire crypto industry, including all business operations beyond blockchain and retroactive emissions by 2040."
Ripple's journey in ensuring sustainability consists of recognition of financial technologies like blockchain and cryptocurrency to position financial empowerment without compromising on the sustainable future. Thus, providing for the critical years of commitment in the process of cryptocurrency adoption. Reverse engineering the characteristic of the technology after progress has been achieved can be tricking and sustainability will, in turn, have to wait longer. Therefore, Ripple is leading the effort and they feel it is time to solve the problem now.
Ripple is committed to progressing this effort by a strategic partnership with organizations like Rocky Mountain Institute, Energy Web, and AIR, eventually contributing to policy ideas and financing for innovations to help achieve the long-term objectives of Accord.
The attempt is expected to save the global economy an estimated $26 trillion by 2030, contributing to a robust and sustainable global financial system leading to a sustainable world.
Ripple (XRP) Liquidity Hub Digital Rights Management and A Cocktail of Innovations Brewing
Ripple recently expressed: ICYMI: We announced plans to launch our Liquidity Hub in 2022 to help financial services firms offer their customers the ability to buy and sell.
Community Reaction: Can someone tell me the difference between a crypto exchange and the Liquidity Hub?
I believe the liquidity hub searches all the exchanged and gets the best prices for your spending. Like for example Expedia searching all the flight companies looking for the best price to fly somewhere. This is like Fireblocks, but made by Ripple for member banks to be able to seamlessly custody crypto for their customers. Liquidity hub will be used by financial companies not anyone like exchanges.
What does XRP mean in life? XRP makes no sense at all. Therefore, it should not exist in this market.
What is Ripple doing to solve the digital rights issue especially since they were late to NFTs? Might as well find a niche that they can tackle head on and be early this time.
Late for crappy JPEGs that I can copy paste without consequence. Super early for real-estate, real art, contracts, copyrights, etc.
What timeframe do you see this taking place? David Schwartz expressed: I think it mostly depends on whether anyone wants to champion it. Technology could gradually move in that direction but also someone could take up the torch and really drive it to market.
I find that interesting, with the advancements made in technology and how quickly technology advances you would think this would already be moving forward. Give it 3-5 years it will be on Ripplenet.
If XRP and ripple are ready for ISO 20022 compliancy/regulation does that mean everything being built on the XRPL/XUMM are also compliant to meet with regulations?
When Ripple Entertainment subsidiary?
Recently, Joel left a golden thread on rights. Just wait a few months and wait for either Ripple to make it happen. Brilliant!
Digital Rights management for both the buyer and the seller is what is needed and I am sure there are solutions that can address this also from the XRPL and ALGO like OPUL and many others.
With airline tickets and concert tickets they have expiry dates on them so how will that work as semi fungible will they be considered as memorabilia or some sort.
Is it possible to create different levels of fungibles rather than creating new terms? For example Fungible-1 is money, crypto and gold. Fungible-4 are concert tickets and airplane tickets and Fungible-10 are non-fungible items.
We need to see stuff unfold with time.
News Source
Top 3 Price Prediction Bitcoin, Ethereum, XRP: Leading cryptos take the back seat
Bitcoin price may experience constricted trading conditions as capital enters the broader altcoin market.
Ethereum price approaches new all-time highs.
XRP extends bullish momentum to the fourth consecutive daily close above the open.
Bitcoin price is likely to face some underperformance against Ethereum, XRP, and the broader altcoin market. Ethereum price action pushes higher during the Tuesday trading session, making another attempt at new all-time highs. XRP price is close to recovering all of the losses it sustained on Black Friday.
Bitcoin price action to consolidate in the interim
Bitcoin price is currently in a horrible place from a technical analysis perspective. It is in its twelfth consecutive day trading inside the Cloud. The Cloud (red and green shaded areas) within the Ichimoku Kinko Hyo system is an area of indecision, volatility and frustration. It's the place where trading accounts go to die. Traders should expect to see sideways activity followed by false breakouts until a clear breakout above or below the Cloud.
Altcoins should catch a bid throughout December, as Bitcoin trades mostly sideways. A trading range between $53,000 as support and $65,000 as resistance is expected. Any breakout above the Cloud will likely see Bitcoin push new all-time highs near the $77,000 value area.
Ethereum charges higher towards new all-time highs
Ethereum price has been somewhat of a surprise given the bearish sentiment and exiting the bear channel. Ethereum is currently just $200 shy of hitting the prior all-time high, showing resilience and outperformance of the broader cryptocurrency market. However, some warning signs should be observed.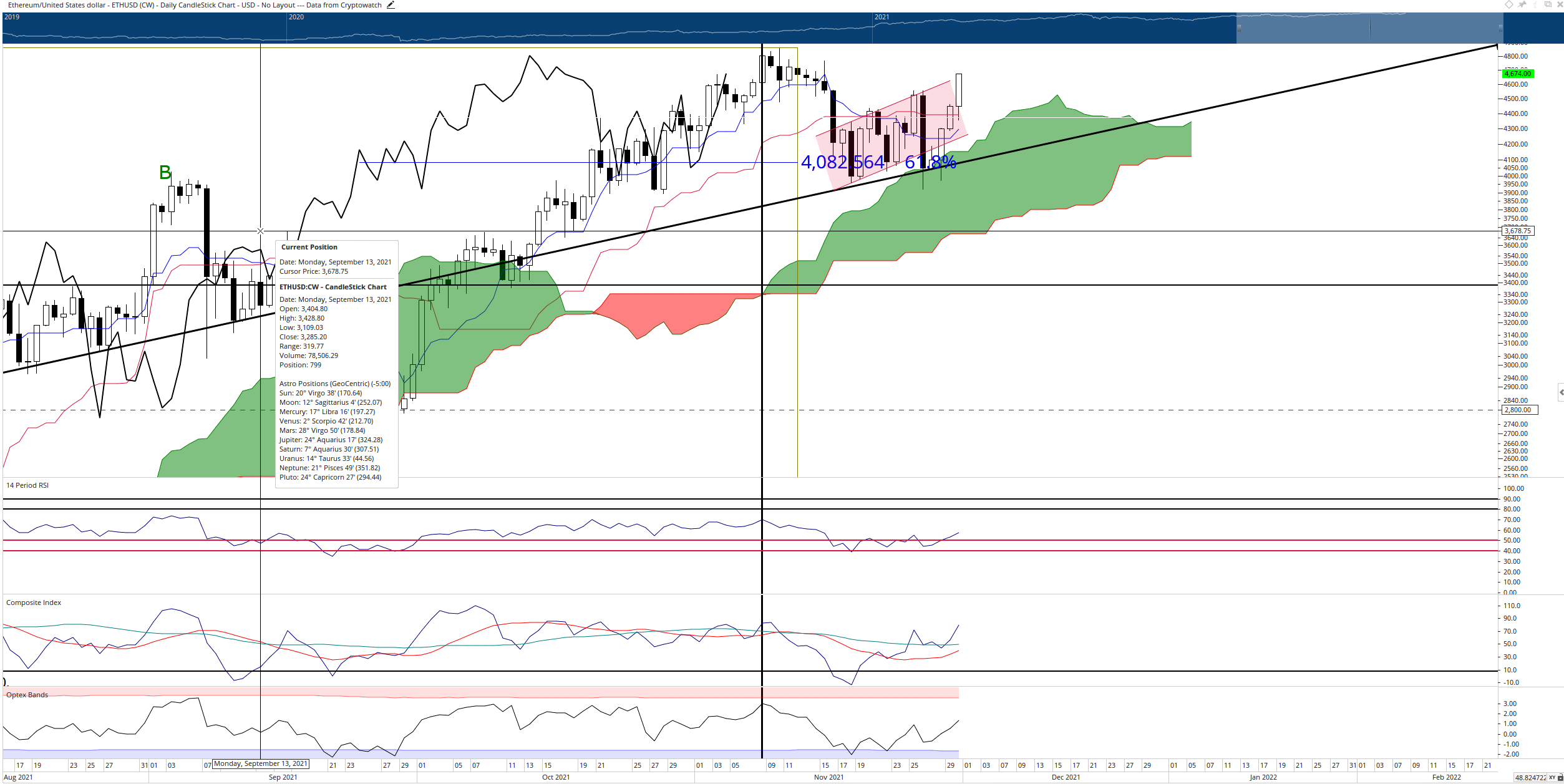 ETH/USD Daily Ichimoku Chart
Ethereum is trading up against the upper trendline of a bear flag. At the same time, the Composite Index has printed a high above November 9th high while the corresponding price levels on those dates show lower highs. This creates a form of divergence known as hidden bearish divergence. It is a warning sign that the current swing higher may not be as honest of a move as it appears.
If Ethereum fails to close above the $4,600 value area on the daily chart, a pullback to $4,000 is likely.
XRP price up over 16% from Sunday lows, looks to extend higher
XRP price may be a barometer for how the rest of the altcoin market may behave in December. XRP's daily Ichimoku chart forms a significant bear trap, which looks very similar to its peers'. Unlike Ethereum's chart, which shows evidence of overbought conditions, XRP's chart shows that a bullish extension is very likely to be sustained.
XRP's behavior over the past two months has been one of epic frustration for bears. There have been nine occasions when XRP has fulfilled all the Ideal Bearish Ichimoku Breakout entry requirements. Unfortunately for the bears, all nine of those occasions have failed to generate any substantive or sustained selling pressure. This repeated failure has undoubtedly trapped a significant number of short-sellers – creating prime conditions for a short squeeze.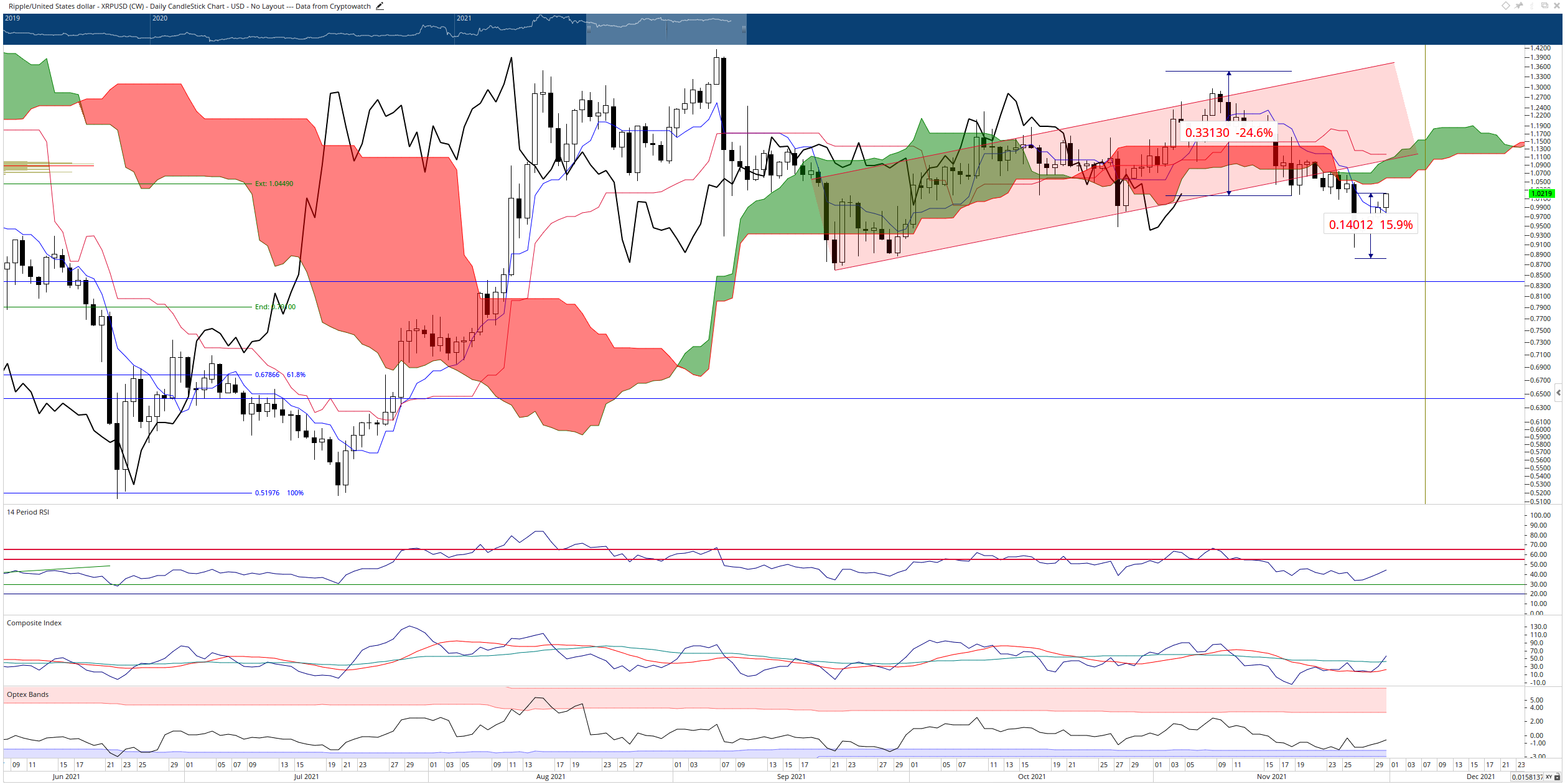 XRP/USDT Daily Ichimoku Chart
The critical price level for XRP to close above is the $1.15 value area. From there, XRP price would be positioned in a favorable bullish Ichimoku entry condition that positions XRP towards the $3.00 value area. Down-side risks remain limited to the $0.65 value area. 
Ripple Price Analysis: A Bullish Reversal From The $0.88 Support Hints At A 35% Gain In The Upcoming Trading Session

The XRP coin is currently in a short-term sideways trend. The coin price has recently rejected from the overhead resistance of this range and has plunged back to the bottom support of 0.88. However, The technical chart and indicators suggest a positive turn for them coin
Key technical points:
The XRP coin price action forms a consolidation range in the daily chart.
The 200-day EMA line is providing constant dynamic strong support to the coin price.
The intraday trading volume of the XRP coin is $1.5 Billion, indicating a 70.25% gain.
Source- XRP/USD chart by Tradingview
The XRP coin price consolidates within a range as it resonates within the $1.40 and $.088 mark, as shown in the price chart. However, despite multiple breaches, the support zone near the $1 mark acts as a crucial support zone, and the breakout above it can be an excellent entry opportunity for traders.
The 200-day EMA coincides with the $1 support zone providing multiple factors to bring a bullish reversal. However, the price is below the 50-day EMA, which is falling to give a bearish crossover with the 200 days EMA.
The Relative Strength Index(44) continues to move in a downtrend after facing rejection within the overbought zone. Nonetheless, the recovery in the slope from the oversold territory brings bullish indications.
XRP/USD Chart In The 4-hour Time Frame
Source- XRP/USD chart by Tradingview
The falling XRP prices show huge potential for a bull run as it breaks above the resistance trendline of the falling channel in the 4-hour chart. Hence, once the prices are stable above the $1 mark, we can observe the price jump to the $1.40 mark. 
However, traders need to be careful with the pivot points showcasing resistance levels at the $1.06 and $1.16 mark. Moreover, on the flip side, the support levels are at the $0.97 and $0.87 mark.