SafeMoon primed for bullish breakout that extends to $0.000003
SafeMoon price spiked as much as 37% during the week.
Buyers are currently testing the final Ichimoku resistance at Senkou Span B.
Strong commitment from buyers is required to push SafeMoon above the Cloud.
SafeMoon price is one the best performers of the week in the cryptocurrency space. It has gained as much as 113% from the beginning of October. Even though SafeMoon found intense selling pressure at $0.0000026, it is still up over 95% for the month.
SafeMoon price temporarily halted against the top of the Cloud and a critical Fibonacci expansion level
SafeMoon price has made several attempts to close above Senkou Span B and the 100% Fibonacci expansion, both at $0.0000024. Thus, a Friday close just below $0.0000024 could be a boon for bulls or bears as liquidity dries up and volatility increases during the weekend.
Despite the strong rally that SafeMoon price has experienced, it is still massively underperforming the broader cryptocurrency market. While many cryptocurrencies hit new all-time highs and continue to form new all-time highs, SafeMoon is just coming off of making new all-time lows. If momentum remains strong, then bulls may be able to push SafeMoon above the Cloud and to the profit target level at the 161.8% Fibonacci expansion at $0.0000030.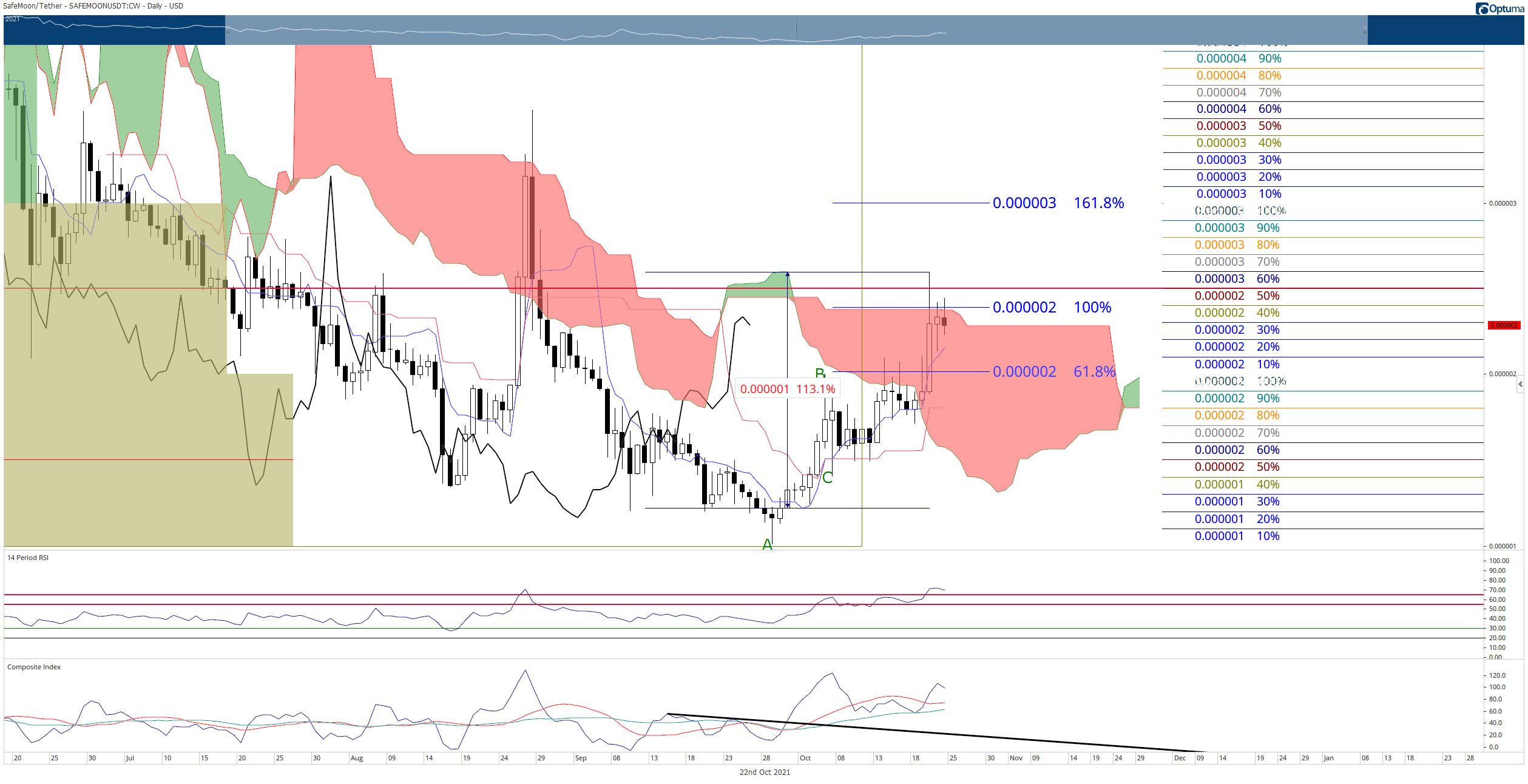 SafeMoon/USDT Daily Ichimoku Chart
While the downside risk is more limited, SafeMoon is at the mercy of Bitcoin's price action. If Bitcoin experiences some profit-taking and additional selling pressure on Saturday and Sunday, SafeMoon will likely face similar weakness.
The first support level that SafeMoon price will test is the 61.8% Fibonacci expansion at $0.0000020. Below that is the Kijun-Sen at $0.0000018. Any close below the Kijun-Sen and the Cloud will probably push SafeMoon to its all-time low at $0.0000010.
SafeMoon simultaneously hit with flash-crash and BitMart hack, new all-time lows reached
SafeMoon price made new all-time lows.
Cryptocurrency exchange BitMart hacked with an estimated $200 million in crypto stolen.
Low risk, high reward trade setup – but trust is now an issue.
SafeMoon price action is, perhaps, the saddest and least safe story of any altcoin presently traded. Unfortunately, a combination of horrible circumstances has brought SafeMoon close to worthless valuations.
SafeMoon trades below $0.00001, punishing hodlers and bulls with new all-time lows
SafeMoon was one of the glowing success stories of the last couple of months. It may be hard to forget, but SafeMoon pushed a new all-time low (at the time) on September 27th to $0.000001 and then rallied through October 29th for a 593% gain to $0.000007. Then, from October 29th to December 4th, SafeMoon capitulated over 88% to a new all-time low at $0.0000009.
If the Saturday flash-crash wasn't enough to generate significant selling pressure, insult was added to injury with the news of the BitMart hack. According to PeckShield Inc., losses were estimated at $200 million with SafeMoon, Binance Coin, and Floki Inu among the crypto taken via a hot wallet weakness between Binance's Smart Chain network and Ethereum.
However, this may create a trading opportunity that could yield some significant gains. SafeMoon maintains a large fan base, and retail speculators adore SafeMoon as a favored altcoin. Already, a substantial number of speculators have piled in on SafeMoon at the new all-time lows, rallying SafeMoon over 54% from the all-time lows. The daily Tenkan-Sen at $0.000002 is where SafeMoon price will likely face its first resistance test.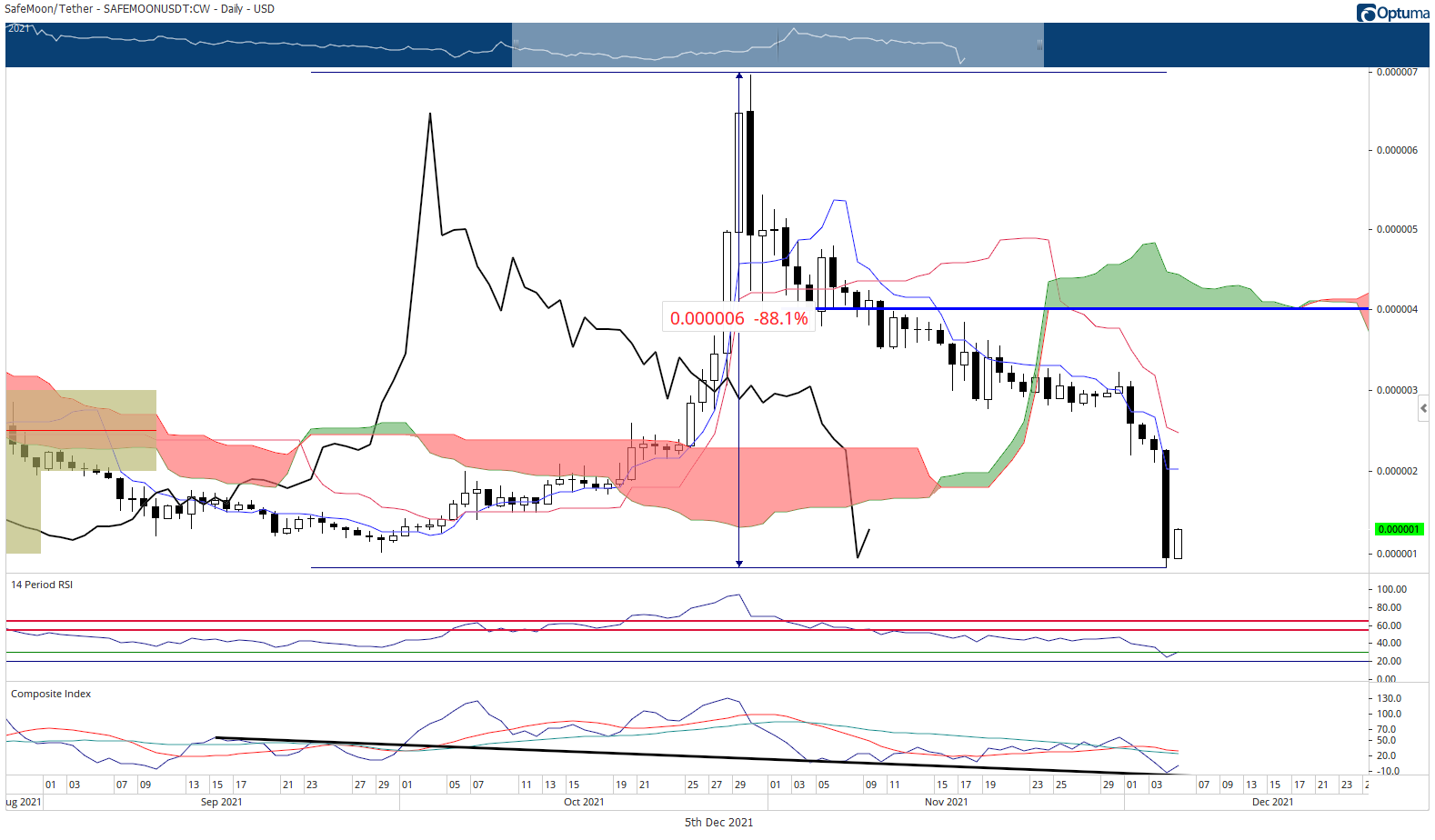 SafeMoon/USDT Daily Ichimoku Chart
Traders should be cautious of concerns over SafeMoon's ability to maintain a consistent value area and what kind of an impact, if any, the stolen SafeMoon will have on its current price.
SafeMoon ready to bounce after 30% bearish fakeout
SafeMoon price collapsed nearly 30% on the Tuesday trading session.
Bears are unable to break the supportive structure in SafeMoon's oscillators.
Sell-off is likely a stop-loss run and a fakeout.
SafeMoon price action is nearly singular in its current behavior and structure. Very few, if any, significant altcoins have displayed the kind of price behavior SafeMoon has.
SafeMoon price sell-off is likely a fakeout, massive buying opportunity ahead
SafeMoon price faced a strong sell-off during the early part of the Tuesday trading session, collapsing nearly 30% from the daily open of $0.0000030 to $0.0000023. However, that sell-off was met with immediate and significant support – rallying 21% from the 0.0000023 low to $0.0000028.
SafeMoon has moved nearly 70% below the all-time high of $0.0000070 that was achieved on October 29th. Additionally, the move today represents the second-largest percentage drop of the entire downswing. From a time cycle and price action perspective, SafeMoon price is primed for one heck of a massive rally.
The 2021 Volume Point Of Control and the daily Tenkan-Sen both sit at $0.0000027. If SafeMoon price can close its daily candlestick at or slightly above that level, then moving to the Kijun-Sen at $0.0000036 is all but inevitable. That would represent a 35% spike.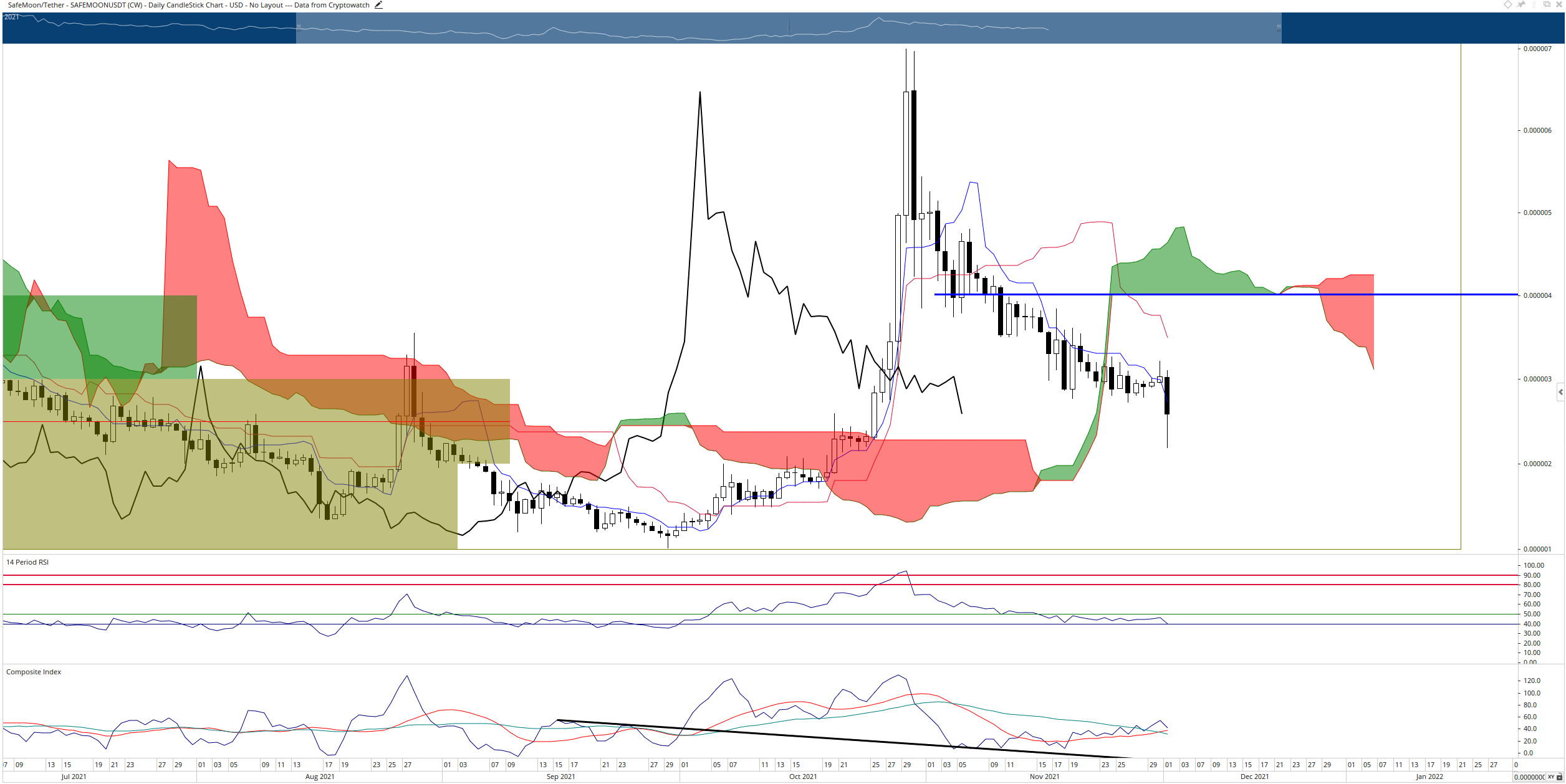 SafeMoon/USDT Daily Ichimoku Chart
SafeMoon's oscillators, shockingly, have not transitioned into bear market territory despite the nearly 70% drop in November and the current 30% drop today. Instead, the Relative Strength Index remains in a bull market territory with the final oversold level of 40 holding support. Likewise, the Composite Index remains above both of its moving averages.
While downside risks remain extremely low at these present value areas, they do exist. Any daily close below $0.0000023 would likely trigger a capitulation move that would push SafeMoon towards the all-time low of $0.0000010.
SafeMoon price gears up for upcoming V2 launch with drop in circulating token supply
Ahead of the SafeMoon V2 upgrade, there is a drop in the supply of circulating tokens.
SafeMoon price hit an all-time high seven months ago; since then, the token has plunged nearly 75%.
The petition to rename Jazz arena to "SafeMoon arena" gathered 4,878 signatures from the community.
Analysts note a bullish uptick in the RSI and target $0.000004 as the first target after a month of downtrend in SafeMoon price.
Despite being stuck in a downtrend, analysts predict a bullish breakout in the token. The shrinking supply of SafeMoon coupled with the upcoming V2 upgrade is likely to trigger a rally in the token.
SafeMoon price prepares for announcement of V2 upgrade launch date
The supply of SafeMoon has dropped to 571,000,000,000, and the shrinking supply is expected to drive the token's price higher. Historically, a drop in supply or implementation of burn policy fuels a bullish narrative in the token's price. 
SafeMoon hit a new all-time high several months ago; the token's price has plunged nearly 75% since then. Holders are awaiting the announcement of the V2 upgrade launch date. SafeMoon price has posted 16% losses over the past week and nearly 20% over the past two weeks. 
SafeMoon community added 4,878 signatures on a petition to rename Jazz Arena in Salt Lake City, Utah, to "SafeMoon Arena." SafeMoon plans to make Utah its future base of operations. Therefore SafeMoon HQ will be located in the Vivint Arena (Jazz Arena).
Cryptocurrency analysts at the YouTube channel "SafeMoon Army" have noted a bullish uptick in RSI. Analysts consider $0.000004 as the first target after nearly a month of downtrend in the token's price. 
The analyst has identified $0.00000271 as the base, and with the rise in interest from buyers, RSI is rising, providing support for a rebound in SafeMoon price.