Bitcoin BTC Price Analysis: Bearish Divergence on Weekly Time Frame Erased Earlier Gains Of The Week, Prepares the BTC For a Price Correction

Recent news headlines show that Wall Street welcomes the first bitcoin exchange trading fund (ETF) with Proshares Bitcoin Strategy (BITO) listed on the New York stock exchange.
The fund brought about 1 billion in trading volume in one day, influencing bitcoin price to an all-time high of $67,000, though bitcoin price later corrected by about 11% raising fears of sell-offs.
We believe you must have heard of the popular quote "buy the rumor, sell the news" correction right? There have been historic multi-month price slumps associated with major launches of bitcoin-related products. Lark Davis (@TheCryptoLark) October 8, 2021- thinks this will play out for the ETF as in the likes of the 2017 launch of CME that was followed by a prolonged bearish outlook.
Let's analyze the BTCUSDT charts for insights into possible bearish and bullish scenarios.
Bitcoin BTC Weekly Chart Analysis
This week Tuesday and Wednesday, some traders got caught in the fear of missing out [FOMO], ignoring the regular bearish divergence pattern on the weekly time frame above. Although the Bitcoin BTC price set a new all-time high at $67000 on most crypto exchanges, it didn't take long before the bears jumped in after some early bulls started to take some profits off the table.
We expect a dipper price correction if the BTCUSDT exchange rate plunge below the $39600.00 support level.
Bitcoin BTC Daily Chart Analysis
Viewing from the daily time frame, the BTCUSDT appears to be building up a hidden bullish divergence pattern if the BTC price fails to penetrate the $53700.00 support.
The daily chart maintains a steep uptrend as the BTCUSDT trades above level-25. On the other hand, RSI levels below level-25 should confirm a price bottom for the correction wave on the weekly time frame.
Bitcoin BTC 4HR Chart Analysis
Looking at the BTCUSDT from an intraday 4HR level, the largest cryptocurrency by market cap seems to be finding a price floor around the $59562.15 hidden bullish divergence support following a 10% price slump from its new ATH.
The on-chart RSI also signals a shorter range bullish divergence showing confidence towards a price increase at the intraday level.
However, a breakdown of the $59562.14 support would imply bearish sentiment at the intraday level. The intraday sentiment is bullish at press time.
Bitcoin BTC Intraday Levels
Spot rate: 61250.16
Mid–Term Trend [H4]: Strong Bullish
Volatility: High
Support: $59562.15 and $56818.05
Resistance:  $67000.00  
Bitcoin Whales Accumulated $3,400,000,000 in BTC During Market Panic, According to Crypto Insights Firm Santiment
Bitcoin (BTC) whales are playing the latest crypto market dip "to perfection," according to leading crypto analytics firm Santiment.
Recent data shared by Santiment over Twitter show that Bitcoin whales bought $3,405,790,900 worth of BTC during its latest dip below $43.5K.
"Bitcoin has recovered back to $50.1k Monday, and whale traders played the dip to perfection."
However, the data also shows that they sold the same amount before the dump.
"Beginning during the dump to $43.5k, addresses holding 100 to 10k BTC have accumulated 67k more BTC after dumping the same amount before the price drop."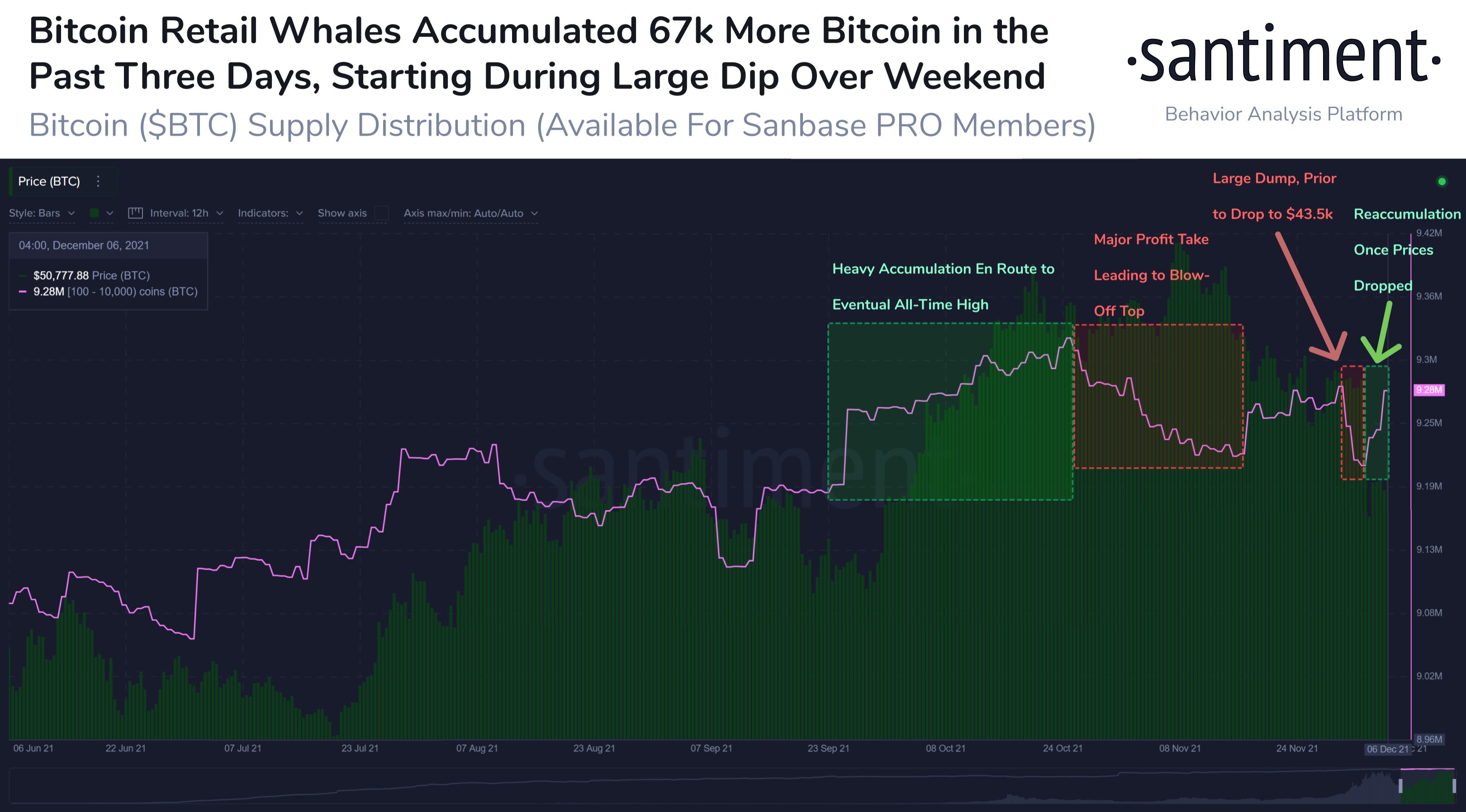 BTC is trading at $51,159 at time of writing, an approximately 17% increase from $43,500.
Despite recent market volatility, Santiment reminds its Twitter followers that BTC is still up in a huge way from two years ago, majorly outperforming other asset classes over the same period.
"Bitcoin is back at $48.2k, and its price is still +563% compared to where it was two years ago ($7.4k).
This chart shows the progress of BTC, compared to the SP500 (+44%) & gold (+22%), indicating each sector's highs and lows over this timeframe."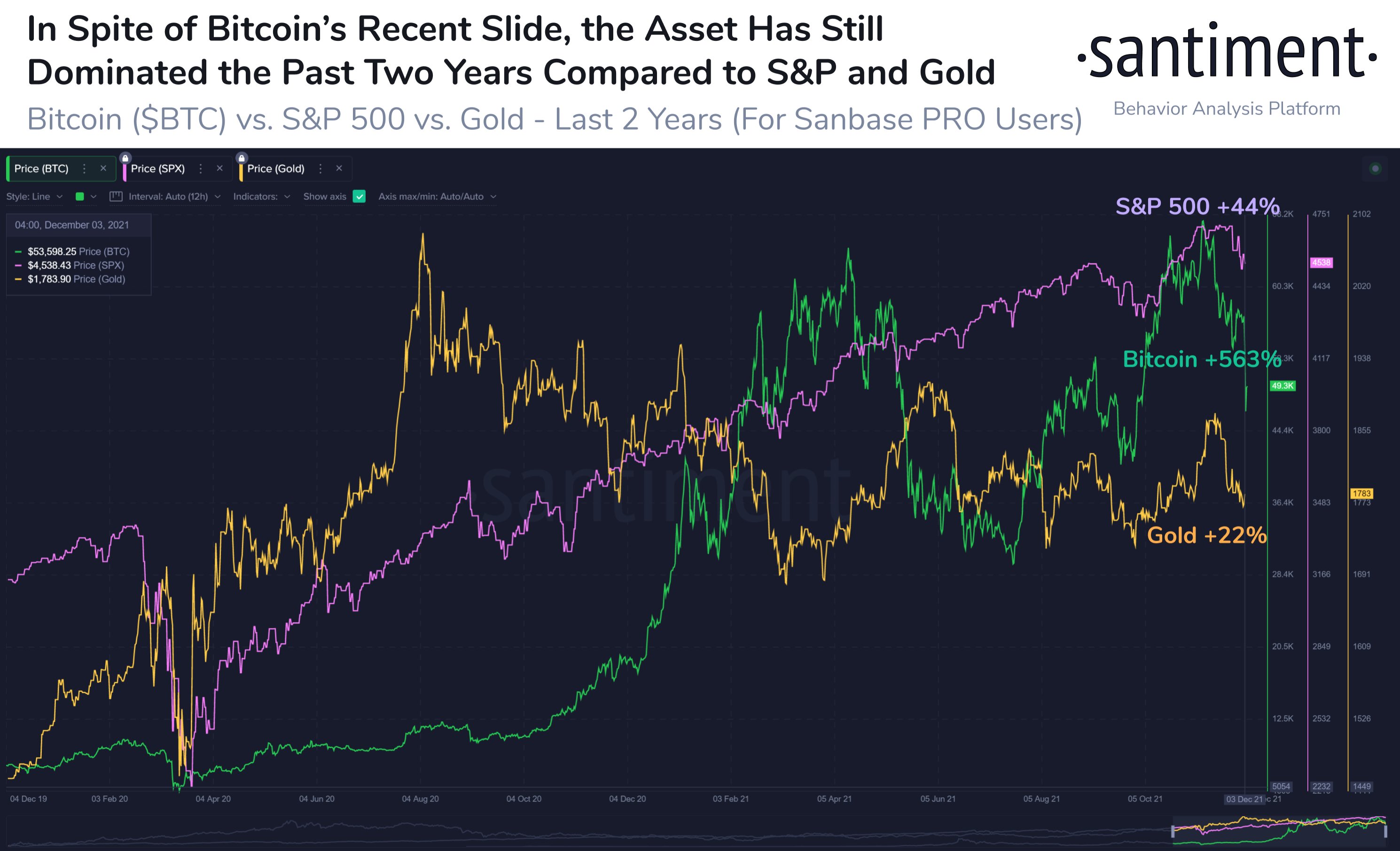 Santiment says its indicators are suggesting that Bitcoin and few other cryptos like XRP, Shiba Inu (SHIB) and Litecoin (LTC) still have more room to grow.
"Our 'Strong and Oversold' screener indicates some assets are showing signs of having suppressed prices compared to their fundamentals.
Our requirements for this list include high market cap, volume, and address activity."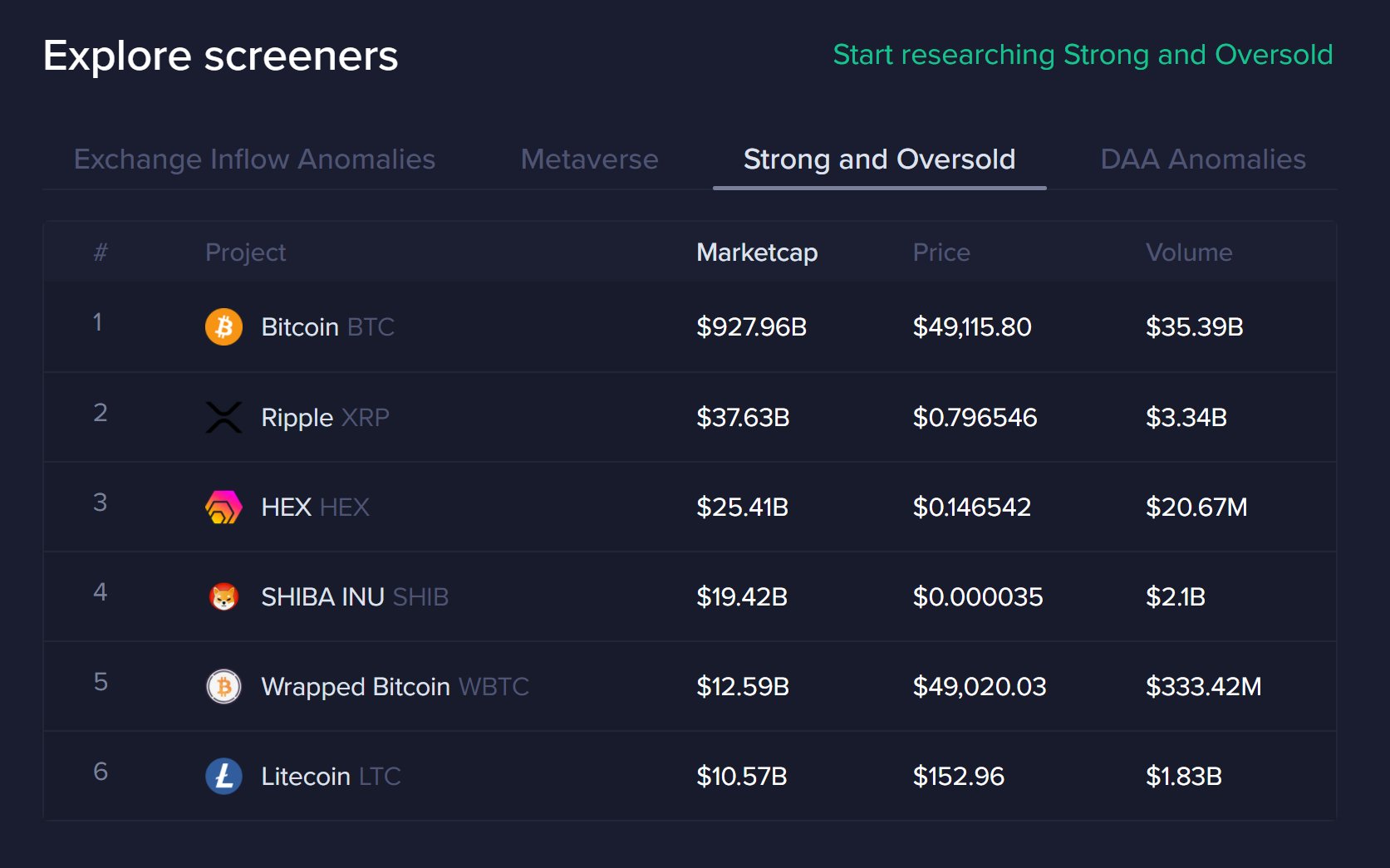 Ethereum Strength Sends Bitcoin Ratio To 2018 Highs
As Bitcoin (BTC) is coming out of a harsh weekend with a 5% drop and a huge sellout, ether (ETH) still maintains its strength in comparison, which has been happening since October. 
Arcane Research's weekly update shows that the ETHBTC pair reached its highest level since May 2018 reaching 0.085 BTC, seeing possible signals of maturity and an upcoming alt-season.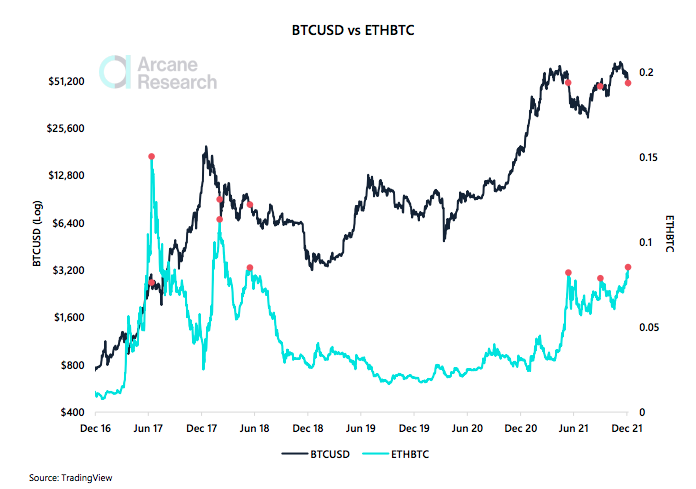 In 2021, ETH has shown greater strength than bitcoin. The cryptocurrency could be signaling its maturity as it sees higher lows –compared to BTC– than it did in 2017 and 2018.
However, Arcane Research noted that back in 2021 and 2018 the strength of ETH and altcoins' performances in periods when BTC saw lows also signaled lower prices to come, so a similar scenario could happen during 2021's fourth quarter.
The current ETHBTC pair peak is similar to the one seen in May, which was followed by May 19th's crash during massive liquidations and new buyers panic –which some users called the second worse day ever for Ethereum, although similar phenomenons had happened in earlier years–. Then, the ETHBTC pair saw another spike at the beginning of September as Bitcoin saw lows on the 7th.
Furthermore, we could be facing froth in the market as altcoin's strength has signaled before.
Ether was also down on Saturday but surged to the mentioned 0.086 Bitcoin high during Sunday. The price dropped 5.5% on Monday to $3,965, and overall, it traded down by 0.51% in the past week compared to BTC's 10.06% decline.
Today, the Ethereum price is up again around $4,352.74, up 2.93% in the day-to-day, surging more than 24% from the low. Even though it's 9% away from its all-time high, it is also 496% up in comparison to 2021's early days. ETH also shows a 24-hour trading volume of $23,566,690,676 and a market cap of $512,648,545,331.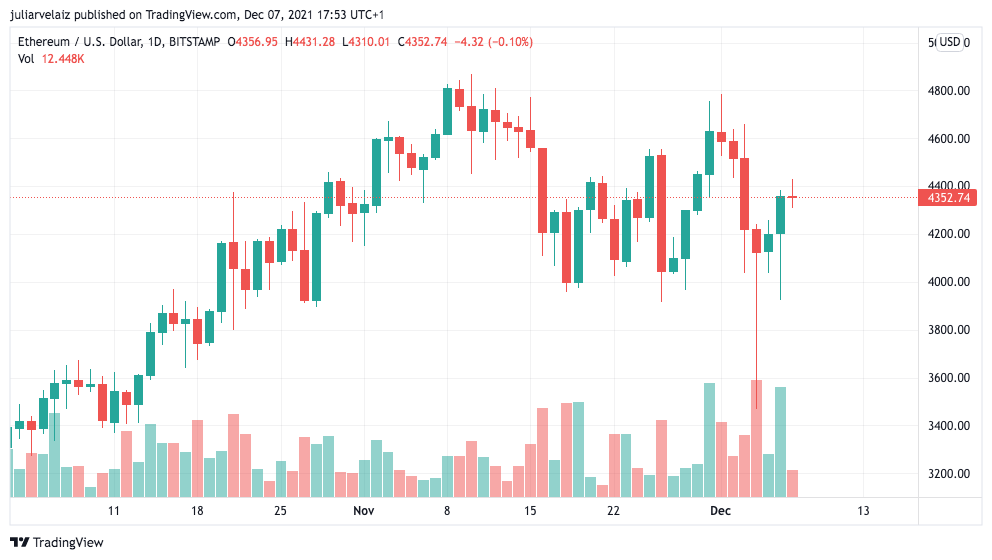 Bitcoin Dominance Sees New Lows
Today, Bitcoin's dominance is 40.65%, seeing no increase over the day. It had fallen towards 40% on December 5th as it saw its newest bloodshed. BTC also saw its dominance drop in September and May, but it has not seen other lows alike since May 2018.
As the crypto market started to fall on Friday –with 372,000 liquidated crypto accounts by Monday totaling $2.3 billion-, Saturday's early morning saw bitcoin drop $10,000 in price, going from around $57,000 to $47,000.
Over the weekend, the drop reached a $14,000 loss and experts saw no clear reason for it, but since then traders have suggested a connection with the fear around the Omicron variant plus market moves exaggerated by lower trading liquidity.
Compared to its November all-time-high, BTC is down by $21,000, but also up over 75% in all 2021. The price has climbed back up to over $50,000, more than 4% higher, and the total crypto market cap surged 5% to $2.5 trillion.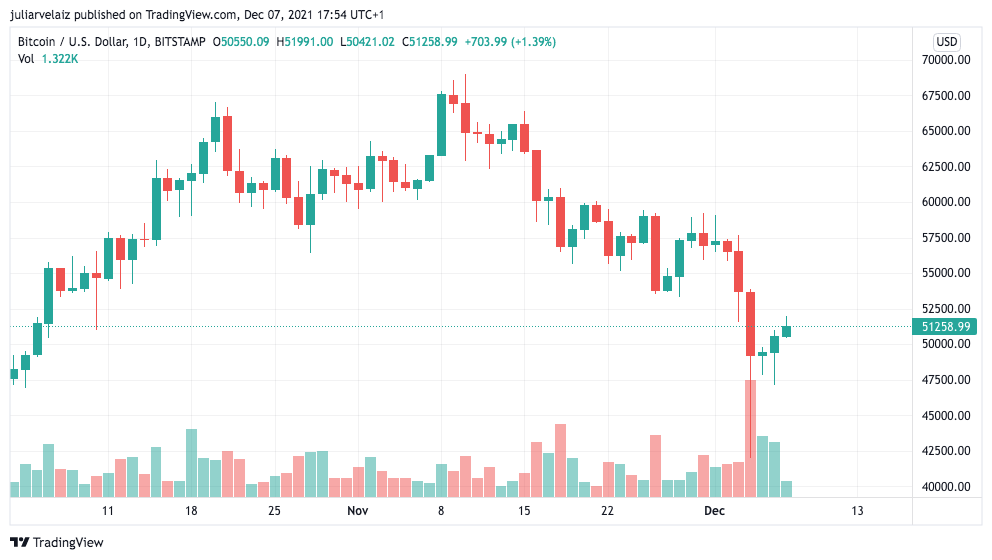 Some expect a hard end of the year for Bitcoin as it has not shown its regular strength, but at the same CNBC quoted Will Clemente, insights analyst at Blockware Solutions, who thinks these dynamics are "healthy and show supply continues to move to long term investors" and BTC could actually see a new bull run at the start of next year:
There's a reasonable case that we could see the opposite effect heading into Q1, as funds are willing to take on more risk for the new year with fresh profit and loss, … This effect assisted in bitcoin's massive move in January 2021.
Top 3 Price Prediction Bitcoin, Ethereum, XRP: Crypto market dazed post flash crash
Bitcoin price finds support against a combination of key price levels.
Ethereum price returns inside the bear flag, creating mixed sentiment.
XRP price is developing an insanely bullish reversal weekly candlestick.
Bitcoin price gets a big bounce off the $44,000 value area, moving more than $7,000 higher. Ethereum is now sandwiched between solid support and strong resistance. XRP price has one of the most potent and sought-after bullish reversal candlesticks forming on its chart: the hammer.
Bitcoin price retraces nearly all of Saturday's flash-crash
Bitcoin price action has been a strong performer since the recent flash crash. Significant support for Bitcoin was found where the 61.8% Fibonacci retracement and top of the Ichimoku Cloud (Senkou Span A) share the $44,000 price level. The support was strong enough to rally Bitcoin above the 50% Fibonacci retracement at $48,000 and the Kijun-Sen at $49,300.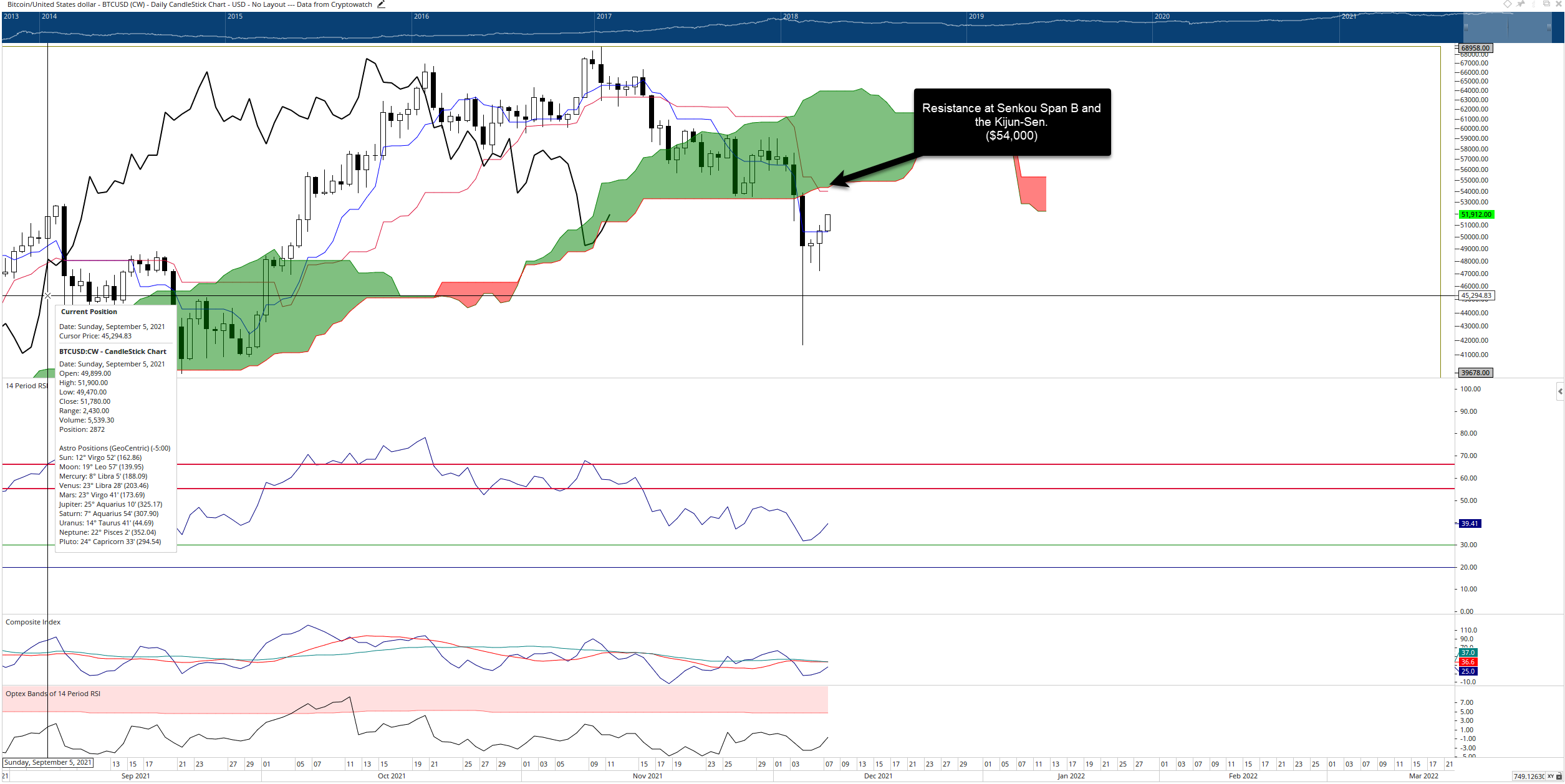 BTC/USDT Weekly Ichimoku Chart
However, the upside potential may be limited. There is significant resistance within the Ichimoku Kinko Hyo system on the daily chart. The daily Kijun-Sen and Senkou Span B share the $54,000 price range. Longs may take profit at $54,000, and short-sellers may open up new short positions on any weakness. A close at or above $55,100 would like to remove any further near-term bearish sentiment.
Ethereum price between a rock and a hard place
Ethereum price had a spectacular Saturday close on the daily chart, closing above the dominant interior trend line (black diagonal line). Then, on Sunday and Monday, Ethereum continues to press on higher with closes above the Tenkan-Sen and Kijun-Sen at $4,100. ETH has not returned inside the channel of the former bear flag but finds itself facing resistance against the top of the Cloud (Senkou Span A).
A close at or above $4,500 would put Ethereum price above the Cloud, but the Chikou Span would still be slightly below the candlesticks. However, the oscillators support a sustained breakout. So, if Ethereum does close to at least $4,500, there is enough momentum and space for it to move higher and get to a close that would position the Chikou Span above the candlesticks – to at least $4,725.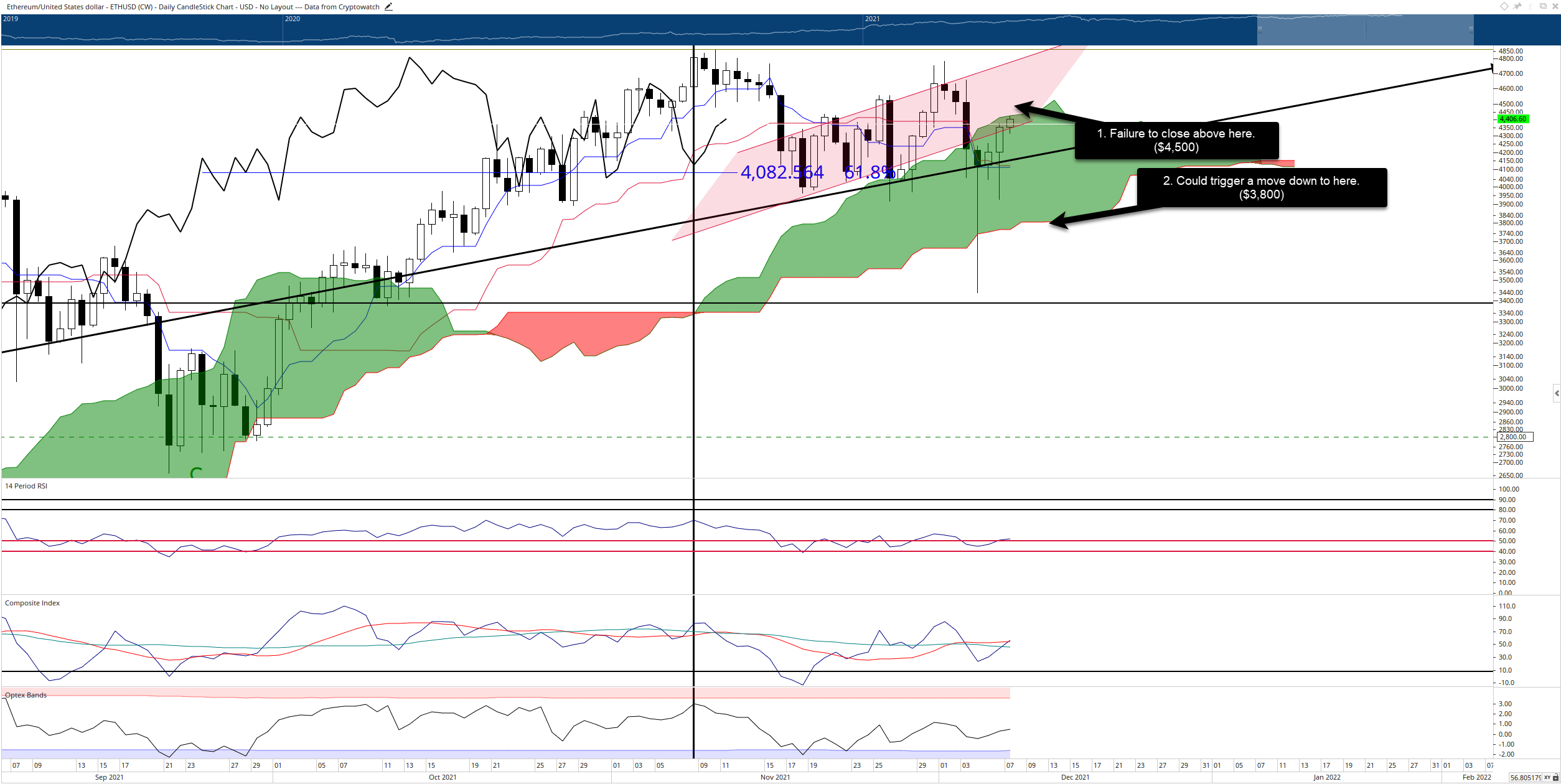 ETH/USDT Weekly Ichimoku Chart
From there, the $5,000 value are will likely be tested, and new all-time highs are likely soon after. However, any failure by Ethereum to successfully breakout above the Cloud could see a deeper retracement to test the bottom of the Cloud at Senkou Span B ($3,800).
XRP price weekly candlestick hints at a bullish reversal
XRP price action suffered some of the most bearish price action during Saturday's flash crash. XRP dropped nearly 38% before finding massive support at the 50% Fibonacci retracement and 2021 Volume Point of control in the %0.65 value area. From there, it shot up higher, past the 38.2% Fibonacci retracement at $0.84 to settle just above that price level.
The resulting price action has created a bullish hammer candlestick pattern on the weekly chart. The positioning and timing of this pattern could not have been more fortuitous for XRP price. The hammer pattern will help confirm the likelihood of a bullish reversal with the Relatives Strength Index and Composite Index oscillators. Combining the bullish hammer, the Relative Strength Index between two support levels, and the Composite Index at a historical low gives XRP a very high probability of moving higher.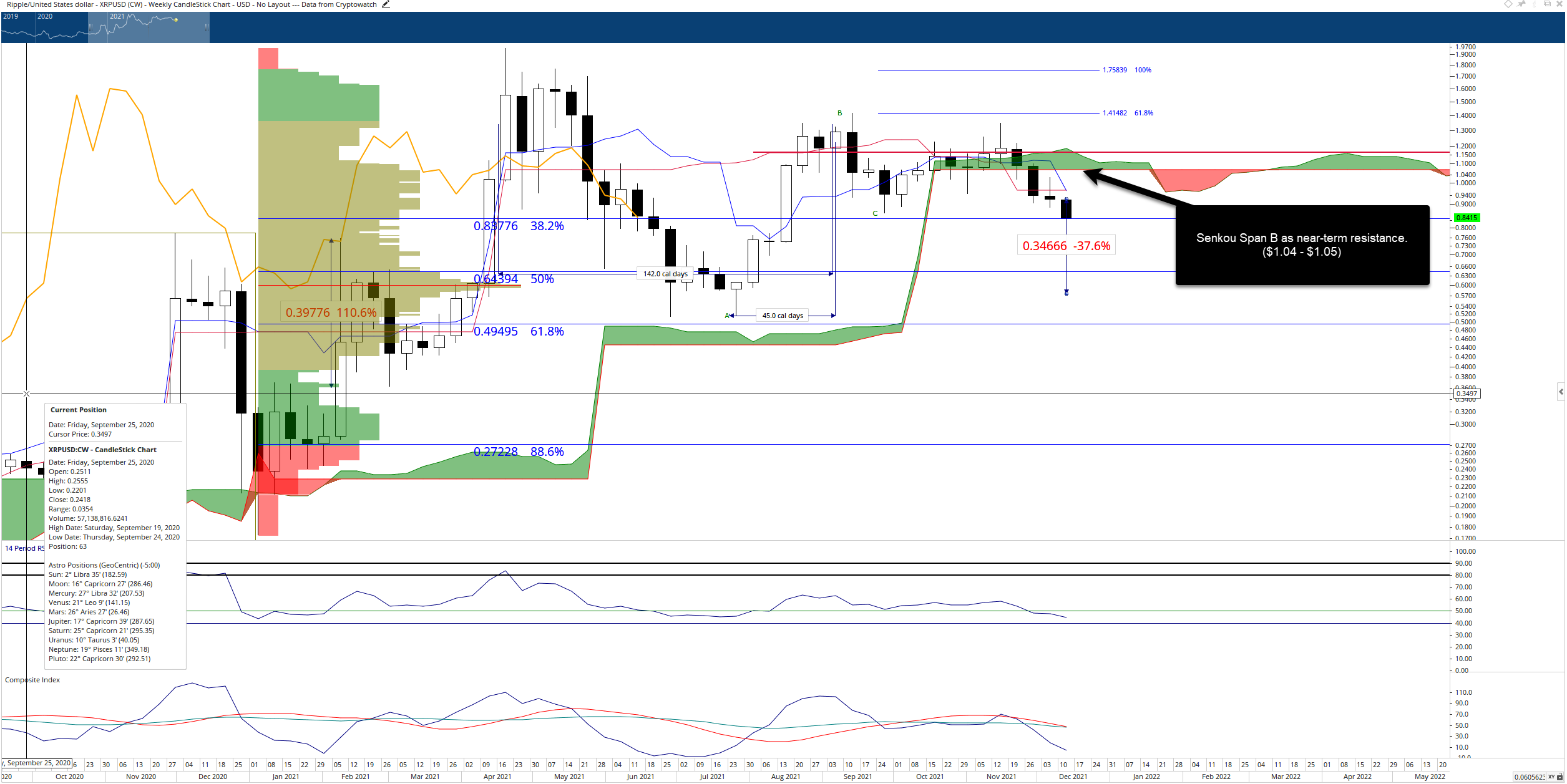 XRP/USDT Weekly Ichimoku Chart
Initial resistance will likely be Senkou Span B at $1.04. Given how long Senkou Span B has traded in a flat condition, if XRP can rally above, it will be a significant, bullish event.