Justin Sun of TRON (TRX) and His Winning Statements and Marketing Enthusiasm
Not many people will be willing to pay over $4M to have a dinner with Warren Buffet. The sales pressure exerted by Justin is so much and many of them have invested in TRX/BTT/WIN trusting Sun.
Some of the interesting sales statements read like: The Total accounts on TRON have exceeded 58 million. TRON ecosystem is continuously making efforts to decentralize the web. Appreciation to all TRONICS.
And there are several winning statements followed by claim your rewards events being organized by the different projects in the ecosystem. Winners, excited and announcements make frequent rounds in the ecosystem.
Just like the Sun never fails to rise every day, Justin Sun never fails to exert sales pressure and publishing exciting growth updates about the TRON ecosystem. Even normal statistical information gets updated like an interesting growth pattern. Thus, establishing that every IOTA of change in the ecosystem matters to the growth.
Not only does Justin Sun appreciate the TRON Ecosystem members, but every partnership which becomes a part of the TRON ecosystem.
Justin Sun recently expressed: "I'm super excited to share with you all that @ValkyrieFunds, which I helped to launch as a key investor, has obtained the SEC's approval to list one of the first #Bitcoin #ETFs in the US.
This long-overdue breakthrough with the SEC for Bitcoin ETF completes the ongoing recognition by leading global regulators for cryptocurrency across Canada, Europe and the US to integrate with the traditional financial markets.
Since this year, TRON has successfully advanced its vision to bridge the crypto world with financial markets, including the listing of TRX ETP (VTRX) on Xetra that can be traded in 14 EU countries as well as a TRON trust in the US with Valkyrie.
Recently, Justin Sun expressed his excitement about BTF starting to trade. And, Further BTT will be having BTTC launch on 30th Oct.
BitTorrent, the leader in peer-to-peer protocols and products have declared the launch of BitTorrent Chain (BTTC). BTTC points to TRON and BitTorrents' first-ever foray into the cross-chain field, thus heralding the advent of a whole new era. BTTC is significant because it will play an essential role in the TRON protocol as a Layer 2 solution. Thus, it will be a new era where all chains are connected.
BTTC is all set to be fully compatible with the Ethereum Virtual Machine. Worth noting TRON have invested $450 million in its DeFi strategy and it will continue to commit another $1 billion to BTTC developer support and DeFi mining.
TRON bears remain in control but TRX price downside limited at $0.08
TRON price action shows a bearish Ichimoku breakout developing.
Oscillator readings indicate that any move lower could be limited.
Strong support exists near the $0.08 value area.
TRON price has entered into the most bearish trading conditions on its daily Ichimoku chart since June 2021. An Ideal Bearish Ichimoku Breakout entry was generated last Friday, but it could be a developing bear trap.
TRON price action has mixed signals, may dip to $0.08 before creating new highs
TRON price has displayed a relatively muted response to the steep drop on Friday. The resulting sell-off on Friday positioned TRON into extremely bearish trading conditions, but the bears have been unable or unwilling to keep up with the selling pressure.
Reasons why the perceived inability for short-sellers to take control could be due to the gap between the daily candlestick bodies and the Tenkan-Sen. Additionally, the Optex Bands oscillator shows TRON price trading in extreme oversold levels, not seen since July 2021.
A key test of near-term resistance is ahead at the critical $0.10 value area. $0.10 is not just an important psychological number, but it also contains the 2021 Volume Point Of Control, Tenkan-Sen, and Senkou Span A. Sellers may be waiting to trigger bearish pressure on TRON price at that level.
The 50% Fibonacci retracement and second-highest high volume node in the 2021 Volume Profile, share the $0.09 level. If TRON price falls below that support, then a quick trip towards $0.08 is probable. The 61.8% Fibonacci retracement is at $0.08, along with a high volume node.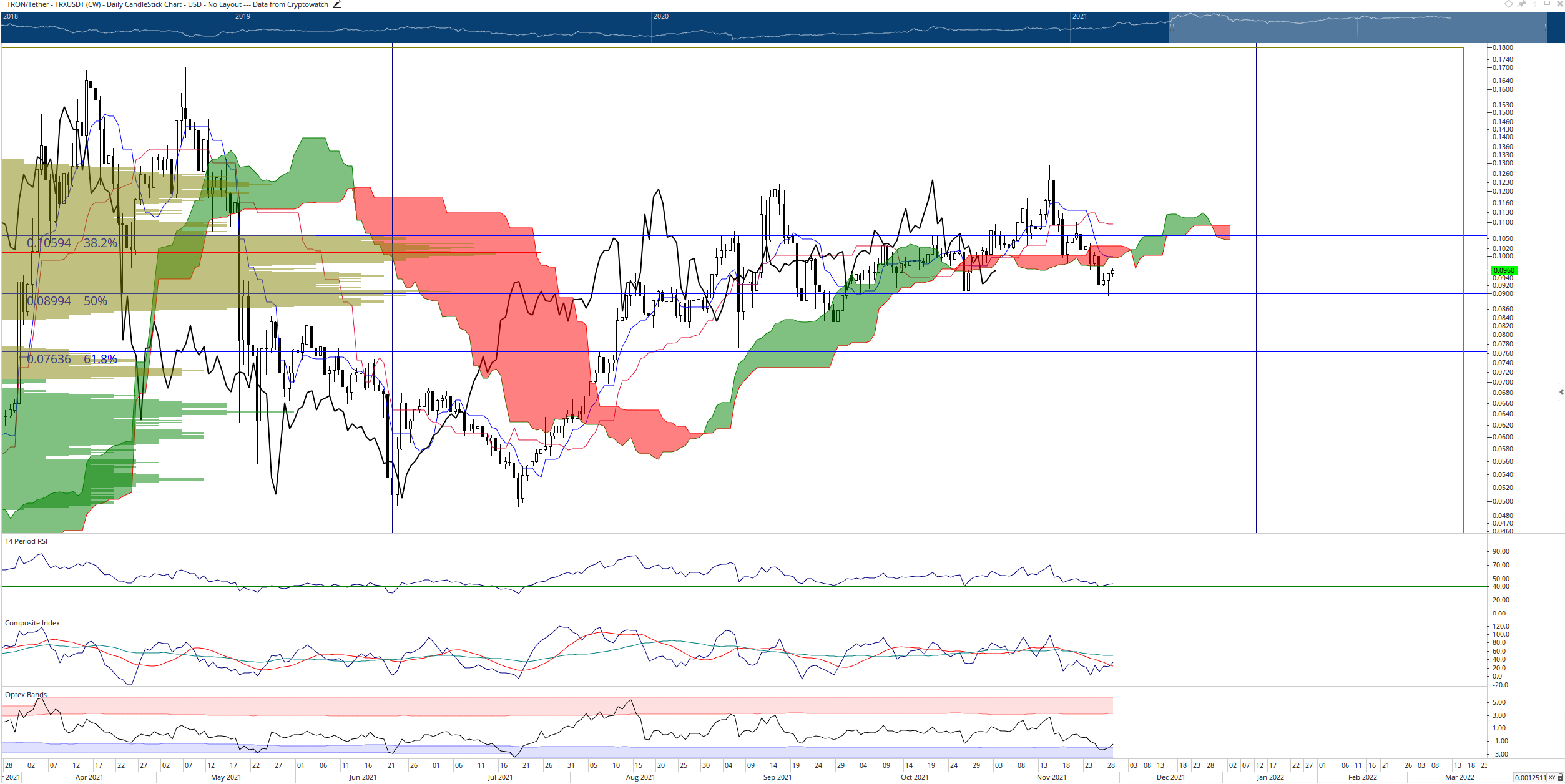 TRX/USDT Daily Ichimoku Chart
For TRON to resume a clear uptrend and a move towards new all-time highs, it must fulfill an Idea Bullish Ichimoku breakout entry. For that to occur, TRON has an extensive road ahead of it. TRON would need to close at or above the $0.115 value area to resume the prior bull market.
Cardano and Tron Will Soon Be Removed From eToro
The trading app has cited unspecified regulations as the reason behind the delistings.
Trading platform eToro has announced that it will delist Cardano (ADA) and Tron (TRX) for American users.
The company did not explain why those assets were targeted or which regulations influenced its decision.
The new policy will take effect in late December.
Trading app eToro has announced that it will remove Cardano (ADA) and Tron (TRX) from its listings before the end of the year.
Policy Will Hit eToro Users in December
The new policy means that eToro users will not be able to open positions in those cryptocurrencies beginning on Dec. 26.
Additionally, users will not be able to receive staking rewards for the two cryptocurrencies beginning on Dec. 31.
These restrictions will only apply to users in the United States, according to the policy update posted by eToro on Tuesday.
The company cited "business-related considerations in the evolving regulatory environment" as the reason for the delistings, but did not say which regulations influenced its decision.
Neither TRX nor ADA has been targeted by regulatory action. It is possible that new reporting requirements for crypto brokerages in the U.S. have played a part in eToro's decision, but this does not explain why TRX and ADA were specifically targeted.
Crypto Market Is Largely Unaffected
Though early reports suggested that each token had seen losses, both had recovered by the time of writing. As of 3:30 PST on Nov. 25, Both ADA and TRX saw gains of roughly 0.5% over 24 hours.
Given that Cardano ranks among the top six tokens, it seems unlikely that other exchanges will follow eToro's lead and delist it. TRX ranks somewhat lower as the 32nd largest cryptocurrency, but it does not seem to be a target for delistings, either.
In fact, both coins have recently gained new listings elsewhere. Cardano's ADA token was listed on Bitstamp on Wednesday, while Tron saw a TRX ETN listed on Deutsche Börse in September.
Furthermore, eToro is primarily a stock trading app with crypto features, meaning that its regulatory concerns may not reflect those of dedicated crypto exchanges.
Tron Price Prediction: eToro Limiting Trade To US Users May Pull TRX Below $0.088

Tron price comes under immense pressure with eToro limiting access for U.S. users. Tron price slumped into the red during on Wednesday amid news that eToro, a social trading platform will delist it in the United States. Following the announcement, TRX shed off over 8.83% from $0.1038 to an intraday low of $0.0946 on November 24. Tron (TRX) teeters $1.68 at press time.
eToro To Limit Tron Trading in The U.S.
eToro announced earlier this week that its users in the U.S. will soon not be able to open new positions or receive staking rewards from Tron (TRX) and Cardano (ADA). The announcement that was made of Tuesday November 23 said that the platform "will be limiting ADA and TRX for users in the US." Citing regulatory concerns, but did not explain why the two cryptos were singled out.
The crypto trading platform stresses that it will not force users to sell their positions yet, however, users will not be able to open new ADA or TRX positions starting on December 26, 2021 while staking for TRX and ADA will end on December 31, 2021.
The news extended Tron's last week losses clearly defined by an inverted-V chart pattern after losing the 50-day Simple Moving Average (SMA) support.
Tron Price V-Shaped Top Correction Aims For $0.0889
TRX price action has been spelling out a V-shaped top chart pattern after turning down from the November 15 high around $0.13. The losses intensified on Wednesday following the news from eToro, forcing TRX to retest support at $0.0987 embraced by the 100-day SMA. The pattern's downtrend line has capped the price, with Tron currently exchanging hands at $0.0991.
If this pattern holds, it is expected that TRX will complete the V-shaped top correction to tag the October 28 low at $0.8896, an 11% drop from the current price.
The bearish narrative has been reinforced by downward movement of the Moving Average Convergence Divergence (MACD) indicator and its movement below the zero line into the negative region.
In addition, the position of the RSI at 43.69 close to the oversold region shows that Tron price is firmly in the hands of the bears.
TRX/USD Daily Chart Live Chart
On the flipside, a daily closure above the 50-day SMA at  $0.1028 may trigger an upswing. If this happens,  Tron price could rise to re-test the resistance at at $0.1084 and the November 15 high at $1.329