After Dogecoin and Shiba Inu, is SafeMoon Inu the Next Big Memecoin?
Dogecoin and Shiba Inu are the most popular memecoins.
Will SafeMoon Inu be the next big memecoin?
Since the beginning of 2021, memecoins have come to become today's alternative cryptocurrencies. Their growing demand shows a shift from it being a joke to a more serious investment. This became a reality thanks to the wider acceptance of Dogecoin (DOGE).
Dogecoin acceptance opened doors to other memecoins to sprung up and climb the crypto ladder to compete with mainstream cryptocurrencies. This is the case of Shiba Inu, the "Dogecoin Killer."
For a couple of days, Shiba Inu is gradually taking the center stage among the 150 other memecoins. The buzz, speculations, and media surrounding the crypto are adding to its pump. SHIB surged by over 350.9% over the last 30 days. This means the value of this beloved crypto has gone up from $0.00000697 to $0.000046 in just a few weeks. Thus, Shiba Inu became the third most traded crypto on Binance.
Following this, people are eyeing another memecoin for similar profits with Shiba Inu and Dogecoin. This crypto is nothing else but SafeMoon Inu.
According to CoinMarketCap, SafeMoon Inu is trading at $0.000026 with a 24-hour trading volume of $3,209,867. Launched on May 13, 2021, the token is a community-driven meme and gaming token. It has a circulating supply of 1,000,000,000,000 SMI coins and a maximum supply of 1,000,000,000,000 SMI coins.
In addition, the token caught the attention of the crypto community as investors are looking forward to investing, hoping to make a huge profit.
So the real question here is, can Safemoon Inu follow the footsteps of Dogecoin and Shiba Inu?
Note that the team behind the token asserted that it is not just a meme token as they are developing a crypto gaming platform called SMI Play. Moreover, this play-to-earn gaming platform with in-game non-fungible tokens (NFTs) will provide rewards for SMI token holders.
SafeMoon price hits rock bottom, 45% advance likely
SafeMoon price suffered a 63% fatal crash on December 4 and set up a swing low at $0.000000811.
This downswing collected liquidity resting below $0.00000108 swing low, priming SAFEMOON for a 45% upswing to $0.00000228.
A breakdown of the $0.000000617 support level will invalidate the bullish thesis.
SafeMoon price has failed to hold up as the market crashed on December 4. This downswing pushed the altcoin down below a crucial support floor and into an oversold territory, suggesting that a bullish outlook is around the corner.
SafeMoon price tries to recover
SafeMoon price crashed 63% on December 4 and sliced through the September 28 swing low at $0.00000104, collecting liquidity resting below it. The severe crash and the correction serve as a perfect combination to kick-start an upswing.
So far, SafeMoon price has rallied 103% to where it currently stands – $0.00000165. Going forward, investors can expect SAFEMOOON to continue recovering its losses and tag the immediate resistance level at $0.0000022. This run-up would constitute a 45% climb and indicate that the bulls are back.
In some cases, the climb could extend well beyond the said barrier, allowing SafeMoon price to revisit the $0.00000287 hurdle. In total, the advance from $0.00000165 to $0.00000287 would represent a whopping 80% gain.
Therefore, investors need to pay close attention to the SAFEMOON price action over the next few days as it could provide users with a huge opportunity to realize profits.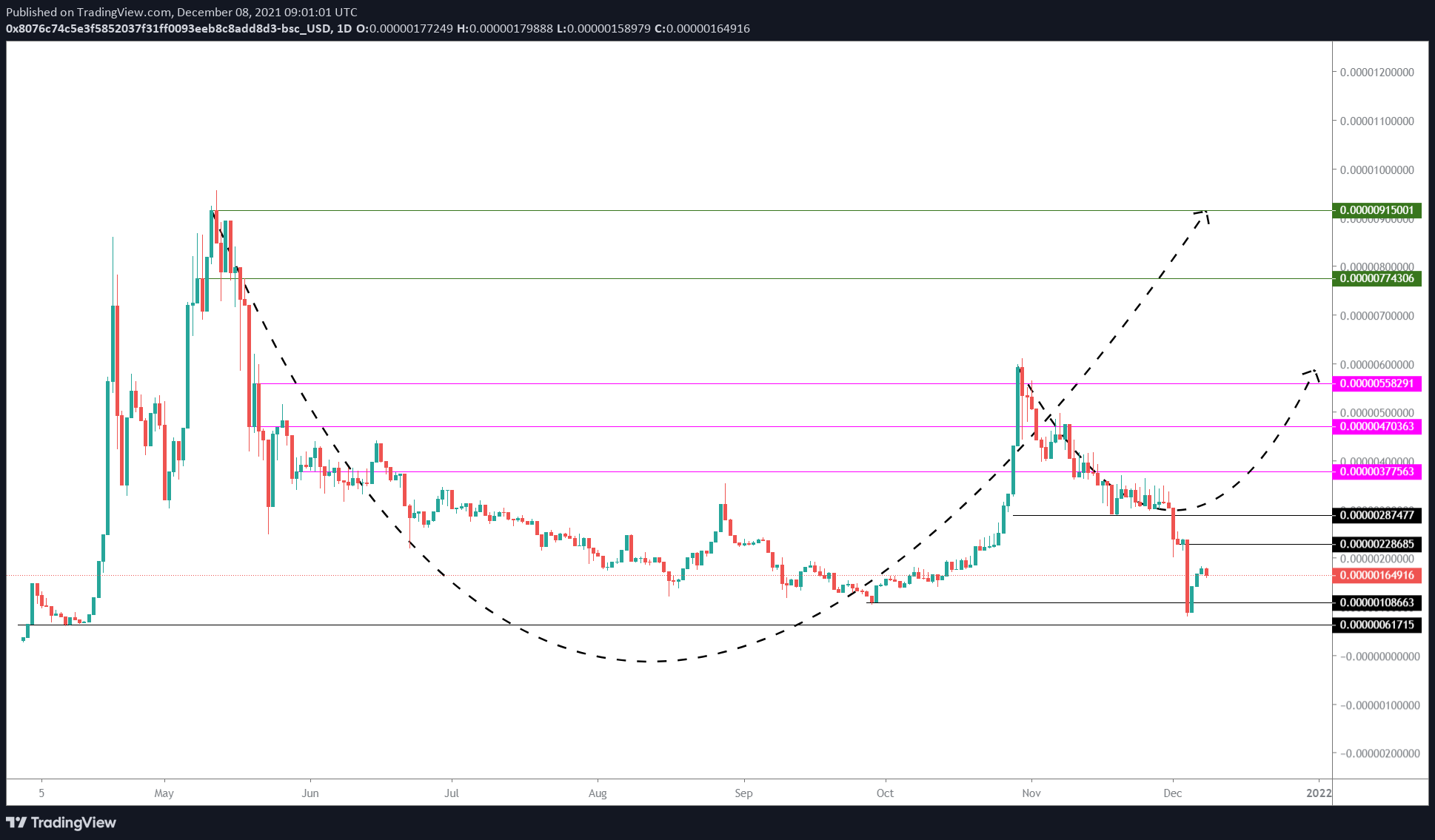 SAFEMOON/USDT 1-day chart
While things are looking up for SafeMoon price, the upswing could fail to sustain, knocking the altcoin back to $0.00000108. In this scenario, if the bearish momentum pushes SAFEMOON to produce a lower low below $0.000000617, it will invalidate the bullish thesis outlined above.
Why a SafeMoon price break above $0.00000208 is vital to trigger a major recovery
SafeMoon price is showing signs of recovery as it continues to record higher lows.
The governing technical pattern projects a bullish target of a 55% ascent.
Only a break above $0.00000208 could see SAFEMOON fulfill its optimistic outlook.
SafeMoon price has dropped to a new low following the Bitmart hack that witnessed over $200 million stolen from the crypto exchange. However, SAFEMOON appears to be gearing up for a massive move toward the upside as it nears a critical resistance level.
SafeMoon price eyes 55% ascent
SafeMoon price has formed a symmetrical triangle pattern on the 4-hour chart, as the token creates higher lows and lower highs. Following the local bottom reached on December 5 at $0.00000103, SAFEMOON is preparing for a major recovery, targeting a 55% upswing toward $0.00000321.
In order for the bullish outlook to be validated, SafeMoon price would need to slice above the upper boundary of the prevailing chart pattern at $0.00000208, coinciding with the 38.2% Fibonacci retracement level. 
Investors should note that additional resistance may emerge for SafeMoon price at the 50 four-hour Simple Moving Average (SMA) at $0.00000241 corresponding to the 50% retracement level.
SafeMoon price would also face an obstacle at the 100 four-hour SMA at $0.00000274, which intersects with the 61.8% Fibonacci retracement level. Should buying pressure continue to increase, SAFEMOON may eventually reach its optimistic target at $0.00000321, coinciding with the 200 four-hour SMA.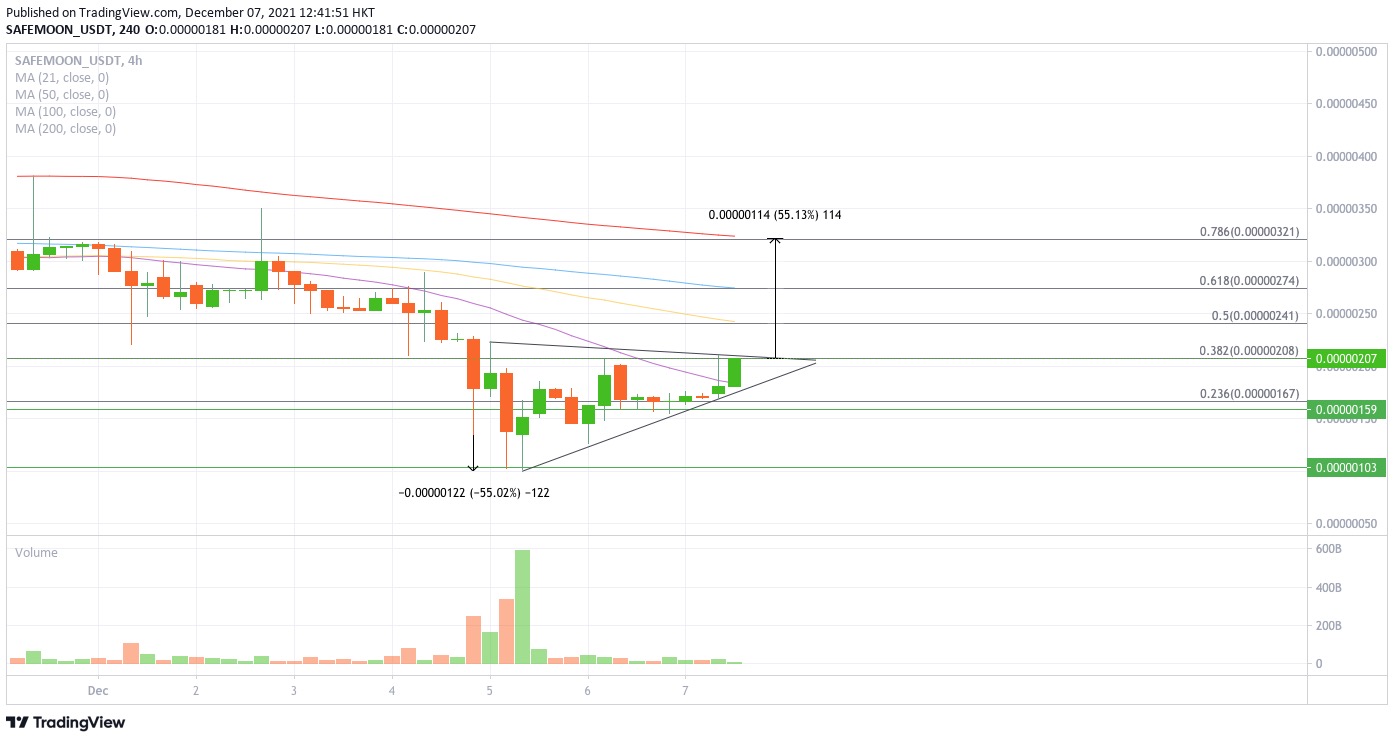 SAFEMOON/USDT 4-hour chart
However, if a spike in sell orders occurs, SafeMoon price may discover immediate support at the 21 four-hour SMA at $0.00000185. An additional line of defense will emerge at the lower boundary of the symmetrical triangle at $0.00000176.
If SafeMoon price slides below the aforementioned support level, this could trigger a sell-off that could see SAFEMOON at risk of sliding lower. However, the token would find additional foothold at the October 8 low at $0.00000159, then at the September 9 low at $0.00000103.
SafeMoon presents massive buying opportunity before 80% breakout
SafeMoon price was obliterated during Saturday's flash crash.
New-all time lows halted further downside momentum.
Enormous Ichimoku and price gaps have created fantastic buying opportunities.
SafeMoon price, one of the most outstanding performers of 2021, is now one of the biggest pump and dump examples of 2021. After rising nearly 600% between September 29th and October 29th, SafeMoon crashed more than 88% to create a new all-time low on December 4th
SafeMoon price trade setup is the definition of low risk, high reward
SafeMoon price has a fantastic trade setup on its daily chart. The hypothetical long entry is a buy stop order between $0.0000010 and $0.0000014, with a stop-loss order at $0.00000090 and a profit target at $0.0000022. The projected profit target is the daily Kijun-Sen, but some conservative traders would likely consider the Tenkan-Sen at $0.0000020 as a more appropriate exit to protect profit.
The positive expectancy ratio of the hypothetical long trade is increased due to SafeMoon's oscillators. The Composite Index is trading at all-time lows, indicating a likely market bottom. That market bottom is probably confirmed by the Relative Strength Index finding support between the two oversold levels in a bear market, 30 and 20.
It is very likely that, due to the massive sell-off on Saturday, many current SafeMoon bulls and future buyers will wait to see if there is any further downside momentum. A short period of consolidation near the $0.0000010 value area would be perfectly appropriate and expected.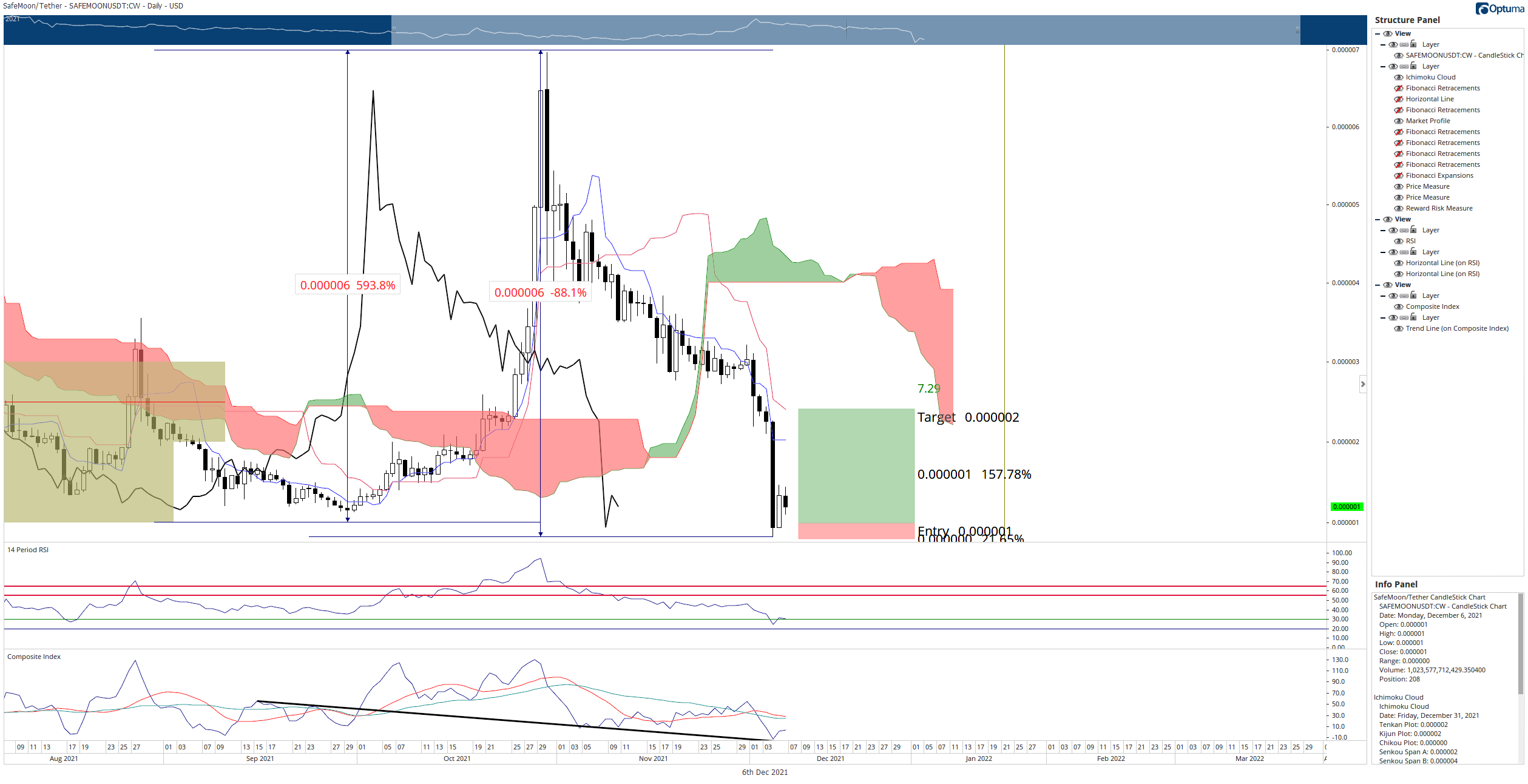 SafeMoon/USDT Daily Ichimoku Chart
The hypothetical long entry will be invalid if SafeMoon price makes a new low near the $0.00000080 price levels. If that occurs, any further speculators could likely abandon SafeMoon in the long term.