Bitcoin Is the Apex Property of the Human Race, Says MicroStrategy's Michael Saylor – Here's Why
MicroStrategy CEO and Bitcoin bull Michael Saylor says Bitcoin (BTC) is second to none in the history of humanity in terms of property.
In an interview on mixed martial arts YouTube channel Tristar Gym, Saylor unveils what he believes is the big value proposition behind Bitcoin. ADVERTISEMENT
"Bitcoin is property rights. It's technology to deliver property rights to eight billion people for the first time in the history of the human race and that's life, liberty, and property. That's what John Locke was all about: property rights.
People diminish property rights saying, 'Well they don't matter.' They sort of do, because if I can steal your life's work from you, like that, what was your life worth? I mean it's completely and utterly demoralizing. You've stolen someone's sovereignty and their freedom and their liberty, so property rights does matter.
Half the world doesn't have any hope of accumulating property and the other half has property at risk, and Bitcoin is technology that gives you back a right to your own personal sovereignty and your own property."
Saylor also says Bitcoin beats gold, fiat currency and even real estate when it comes to storing value.
"Bitcoin is more efficient than gold. It's more efficient than fiat money. It's more efficient than storing your money in an Airbnb rental apartment. It's just the most efficient energy system and rational people everywhere in the world, they're looking at it saying 'Why wouldn't I want to store my money in a property that is the apex property of the human race?'"ADVERTISEMENT
The head of the business intelligence firm also highlights a number of advantages in storing your wealth in BTC.
"If you put your money in Bitcoin, no property tax. It'll last a million years, a thousand years. It's not going to decay. It doesn't get rained on.
You can loan it to anybody in the world. Any bank in the world might give you a loan against it, so you can use it as collateral anywhere in the world. You can generate rent on it anywhere in the world, and in the day when you need to sell it, every wealthy person on Earth is going to want it. That's why it's apex."
Top 3 Price Prediction Bitcoin, Ethereum, XRP: Crypto market dazed post flash crash
Bitcoin price finds support against a combination of key price levels.
Ethereum price returns inside the bear flag, creating mixed sentiment.
XRP price is developing an insanely bullish reversal weekly candlestick.
Bitcoin price gets a big bounce off the $44,000 value area, moving more than $7,000 higher. Ethereum is now sandwiched between solid support and strong resistance. XRP price has one of the most potent and sought-after bullish reversal candlesticks forming on its chart: the hammer.
Bitcoin price retraces nearly all of Saturday's flash-crash
Bitcoin price action has been a strong performer since the recent flash crash. Significant support for Bitcoin was found where the 61.8% Fibonacci retracement and top of the Ichimoku Cloud (Senkou Span A) share the $44,000 price level. The support was strong enough to rally Bitcoin above the 50% Fibonacci retracement at $48,000 and the Kijun-Sen at $49,300.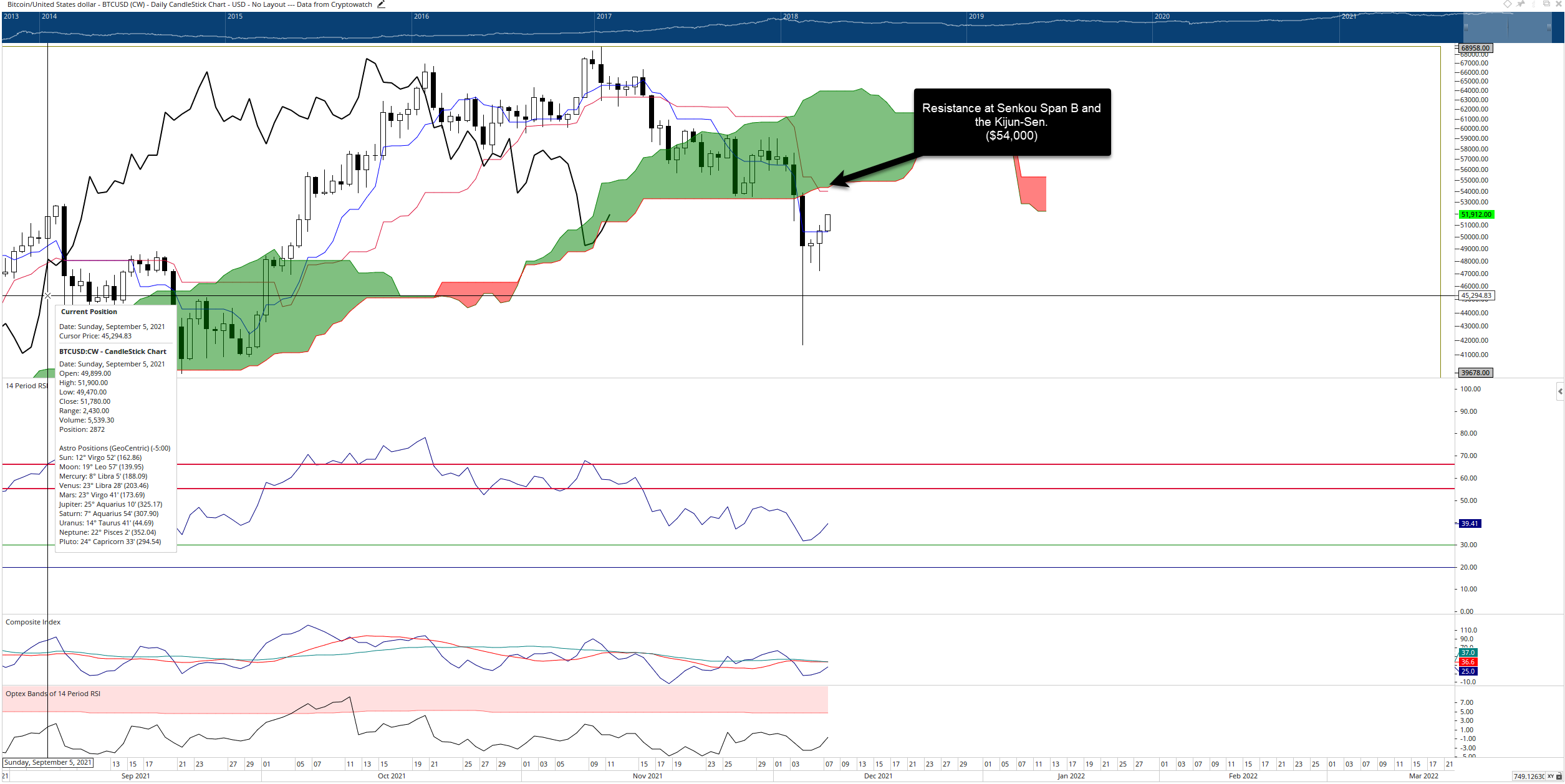 BTC/USDT Weekly Ichimoku Chart
However, the upside potential may be limited. There is significant resistance within the Ichimoku Kinko Hyo system on the daily chart. The daily Kijun-Sen and Senkou Span B share the $54,000 price range. Longs may take profit at $54,000, and short-sellers may open up new short positions on any weakness. A close at or above $55,100 would like to remove any further near-term bearish sentiment.
Ethereum price between a rock and a hard place
Ethereum price had a spectacular Saturday close on the daily chart, closing above the dominant interior trend line (black diagonal line). Then, on Sunday and Monday, Ethereum continues to press on higher with closes above the Tenkan-Sen and Kijun-Sen at $4,100. ETH has not returned inside the channel of the former bear flag but finds itself facing resistance against the top of the Cloud (Senkou Span A).
A close at or above $4,500 would put Ethereum price above the Cloud, but the Chikou Span would still be slightly below the candlesticks. However, the oscillators support a sustained breakout. So, if Ethereum does close to at least $4,500, there is enough momentum and space for it to move higher and get to a close that would position the Chikou Span above the candlesticks – to at least $4,725.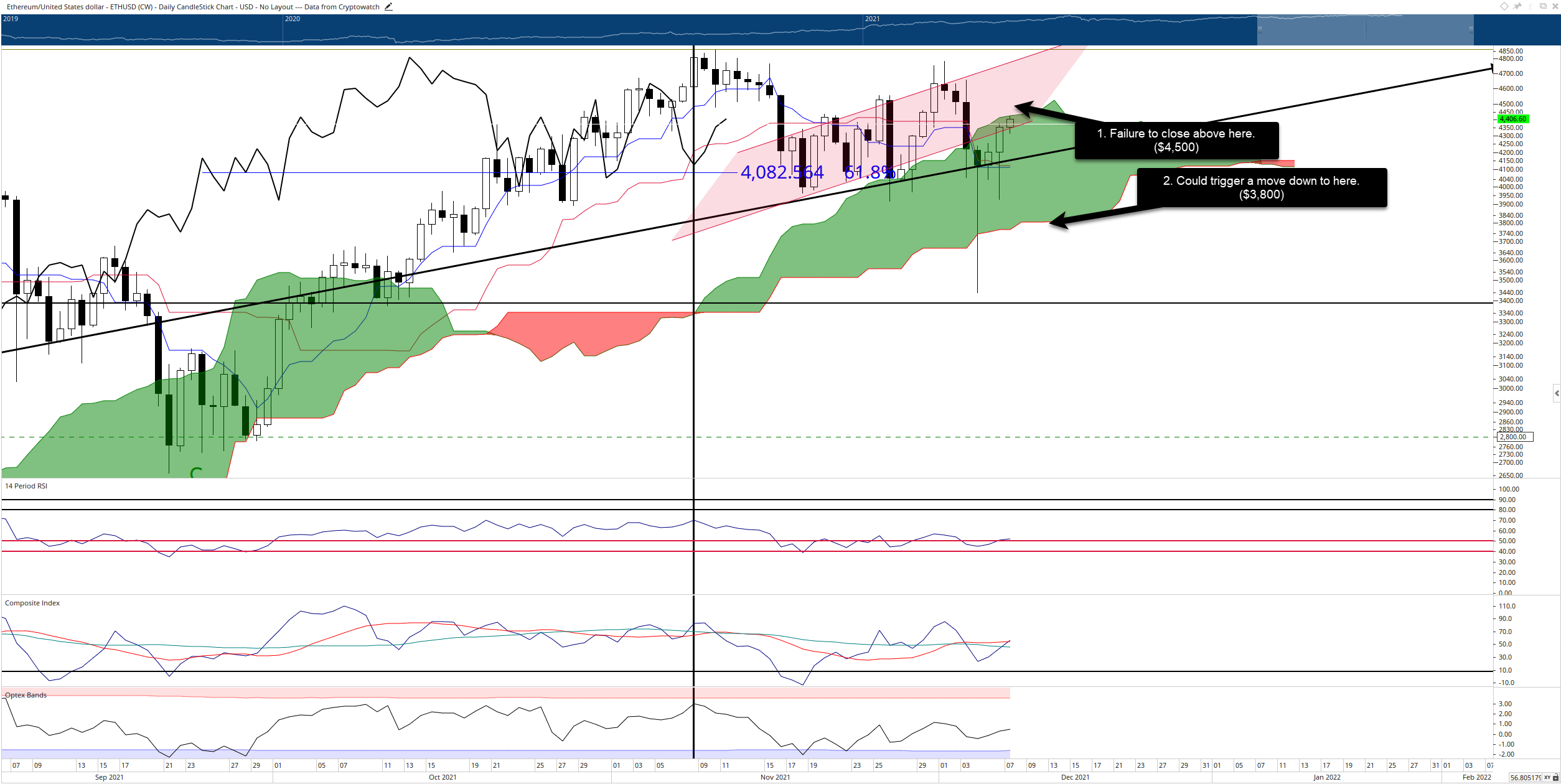 ETH/USDT Weekly Ichimoku Chart
From there, the $5,000 value are will likely be tested, and new all-time highs are likely soon after. However, any failure by Ethereum to successfully breakout above the Cloud could see a deeper retracement to test the bottom of the Cloud at Senkou Span B ($3,800).
XRP price weekly candlestick hints at a bullish reversal
XRP price action suffered some of the most bearish price action during Saturday's flash crash. XRP dropped nearly 38% before finding massive support at the 50% Fibonacci retracement and 2021 Volume Point of control in the %0.65 value area. From there, it shot up higher, past the 38.2% Fibonacci retracement at $0.84 to settle just above that price level.
The resulting price action has created a bullish hammer candlestick pattern on the weekly chart. The positioning and timing of this pattern could not have been more fortuitous for XRP price. The hammer pattern will help confirm the likelihood of a bullish reversal with the Relatives Strength Index and Composite Index oscillators. Combining the bullish hammer, the Relative Strength Index between two support levels, and the Composite Index at a historical low gives XRP a very high probability of moving higher.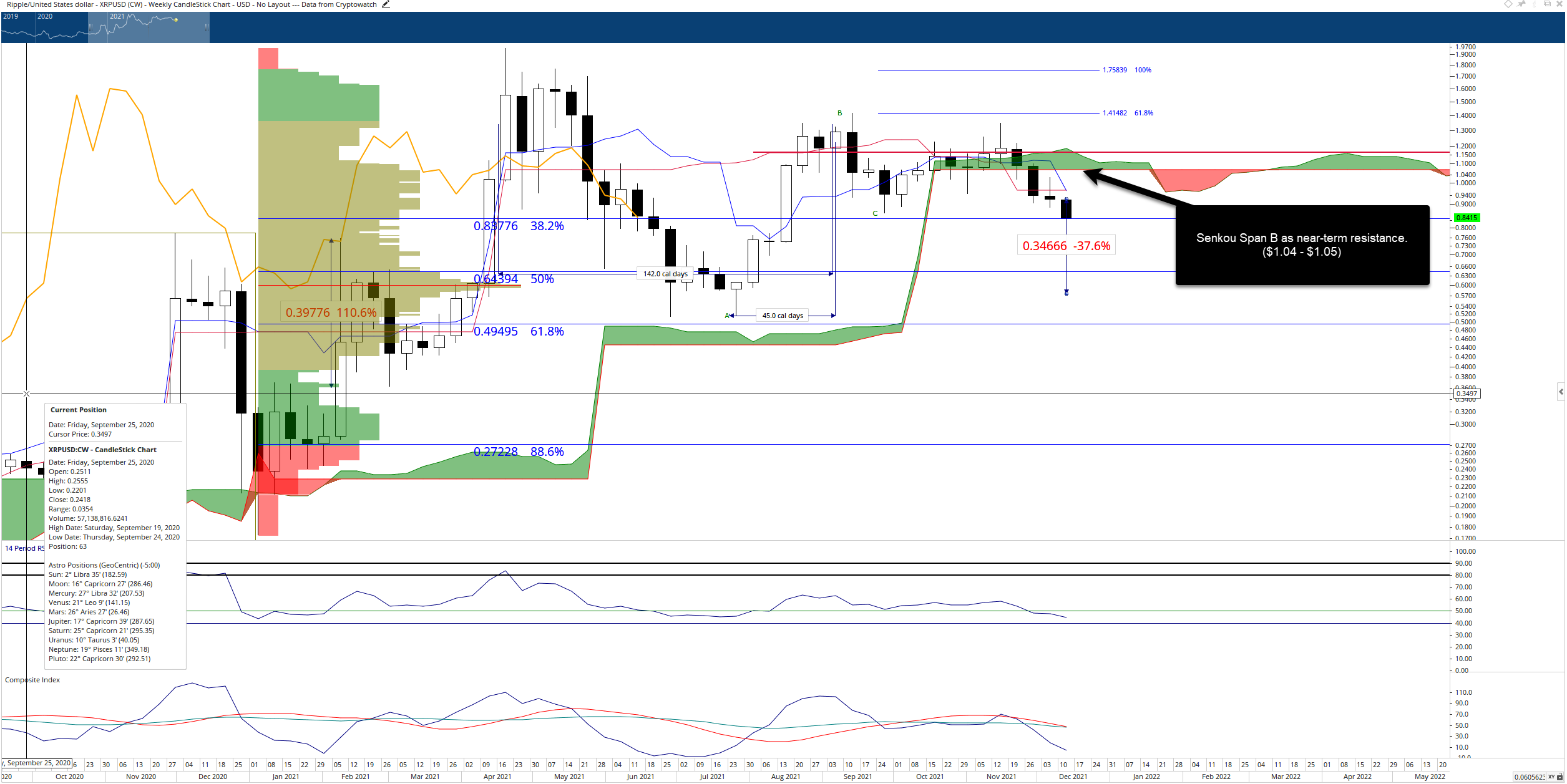 XRP/USDT Weekly Ichimoku Chart
Initial resistance will likely be Senkou Span B at $1.04. Given how long Senkou Span B has traded in a flat condition, if XRP can rally above, it will be a significant, bullish event.
Jack Dorsey's Spiral Unveils Bitcoin Lightning Development Kit

Payments company Spiral, previously called Square Crypto, has unveiled the Lightning Development Kit (LDK), a tool that allows developers to integrate instant bitcoin (BTC) payments into their applications.
The crypto arm of Block (previously Square) published a video on Monday, introducing the LDK and highlighting the benefits of the Bitcoin Lightning network.
The Bitcoin Lightning Network is a layer 2 solution designed on top of Bitcoin that aims to tackle the flagship cryptocurrency's scalability problem. Lightning transactions are fast and cheap, but developers face various problems when trying to implement the network.
"When our team formed, we went out and interviewed dozens of wallet projects and developers," Steve Lee, lead at Spiral, said in the film. "What we learned is that they were having a lot of problems adding Lightning Network capabilities."
Spiral has developed the LDK to tackle this issue. According to Conor Okus, project manager at Spiral, the "Lightning Development Kit is a way to easily integrate instant bitcoin payments into any application."
Summarizing the LDK's objective, former Twitter CEO Jack Dorsey said that the tool intends to make "it easy for any developer in the world to build a wallet."
In the video, Spiral noted that their team has been working on the kit for the past couple of years.
Aside from the LDK, Spiral is also working on the Bitcoin Development Kit (BDK), a set of tools for developing Bitcoin wallets that can interact with different platforms.
Jack Dorsey's payments firm Square announced earlier this month that it has rebranded to Block. The crypto arm of the company, Square Crypto, a "separate initiative of the company dedicated to advancing Bitcoin," also changed its name to Spiral.
21Shares Listed Bitcoin and Ethereum ETNs on Nasdaq Stockholm
21Shares became the first issuer of cryptocurrency Exchange-Traded Notes on Nasdaq Stockholm.
The Swiss-based investment product issuer – 21Shares – listed its first two physically-backed Exchange-Traded Notes (ETNs) on Nasdaq Stockholm. The underlying assets of the financial products are respectively Bitcoin and Ethereum.
First Issuer of ETNs on Nasdaq Stockholm
According to a recent press release, Nasdaq released a new segment for ETNs, a type of debt securities that track specific assets and trade on a major exchange like a stock. Exchange-Traded Notes are similar to bonds but do not have periodic interest payments.
21Shares – a Swiss organization that enables people to invest in various cryptocurrencies through conventional ETPs – became the first issuer of physically-backed crypto ETNs on Nasdaq Stockholm with Bitcoin (ticker symbol: ABTC) and Ethereum (AETH) as underlying assets.
As of November 2021, 21Shares managed nearly $3 billion in 20 European cryptocurrency exchange-traded products and 82 listings. The CEO – Hany Rashwan – commented on the most recent initiative:
"We are excited to become the first issuer of physically-backed ETNs for Nasdaq Stockholm, one of the most tech-forward global exchanges. Our partnership is a strong endorsement of 21Shares' mission to make cryptos more accessible in a simple and regulated manner."
In 2015, Nasdaq Stockholm became one of the first trading venues to trade exchange-listed products with bitcoin as an underlying asset. Helena Wedin – European Head of ETPs at the global marketplace – explained more about ETNs and 21Shares' move:
"Exchange-Traded Notes provide access to alternative investments while maintaining the transparency of a regulated marketplace, and we are happy to launch this new segment at Nasdaq Stockholm with 21Shares as the first issuer."
21Shares Offers Crypto ETPs for Saving Accounts
Earlier this year, 21Shares partnered with the German online retail platform – Comdirect – to bring its cryptocurrency exchange-traded products to the latter's savings plan program (Spar plan). Following the development, Comdirect's nearly three million customers were allowed to gain digital asset exposure in their savings accounts.
Rashwan highlighted his firm's previous endeavors on the German market, saying that 21Shares was the first crypto issuer to list a "fully collateralized, 100% physically-backed bitcoin ETP" on most German exchanges back in 2019.
Marco Infuso – Managing Director of Business Development of the DACH region (the countries of Germany, Austria, and Switzerland) – described this collaboration as a "milestone in democratization crypto investments." In his opinion, many investors have been considering purchasing BTC, but until now, they did not have the proper investment tools to store the asset in a savings plan.