Elon Musk Says He Doesn't Own Shiba Inu Tokens, Enraging SHIB Hodlers
The Shiba Inu commuity is not happy with Elon Musk. $SHIB crashed after Musk revealed he didn't own it and only had BTC, ETH and DOGE.
Elon Musk has a Shiba Inu puppy at home. Elon Musk has joked about Shiba Inu, but Elon Musk doesn't hodl Shiba Inu.
Replying to one of the many Shiba Inu accounts on Crypto Twitter, the famous Elon Musk confirmed that he didn't own Shiba Inu, despite being a highly influential figure for that community.
Elon Musk Has no Shiba, Floki, or Any Other Dogecoin Spin-Off
And although his puppy's name is Floki, Elon Musk does not have a single Floki token either.
Elon Musk said he only owned Bitcoin, Ethereum, and Dogecoin (a portfolio he had already revealed). The disclosure came with a piece of advice for all maximalists —be it Bitcoin, Shiba Inu, or any other cryptocurrency: faith in a coin does not matter as much as the ecosystem of services built around it.
It seems that Elon Musk prefers the original meme to the copy. The world's richest man has been actively working to improve Dogecoin and make it globally viable as a fast, cheap, and scalable medium of exchange.
The Dogecoin Foundation even appointed an associate of Elon Musk as a member of its board of advisors, so it could be said that the entrepreneur's relationship with Dogecoin goes far beyond memes.
Elon Musk's love for Dogecoin has spread throughout his company. In a subsequent tweet, the entrepreneur claimed that many of his employees also owned Dogecoin, and this was one of the things that motivated him to get into this cryptocurrency.
Lots of people I talked to on the production lines at Tesla or building rockets at SpaceX own Doge. They aren't financial experts or Silicon Valley technologists. That's why I decided to support Doge – it felt like the people's crypto.— Elon Musk (@elonmusk) October 24, 2021
The Cute Puppy Shows Its Teeth
Shiba Inu, which until then had embarked on a nearly 50% bull run over the weekend, had an almost instantaneous drop after Elon Musk's Tweet.
The cryptocurrency had reached an ATH of $0.00004217. As Cryptopotato reported, this was enough to lift a $1K purchase of $SHIB earlier in the year to $500 Million in October. But after Elon's tweet, the token crashed to $0.00003282, a dangerous loss of over 27%. From there, it managed to recover a bit to its current price of $0.00003770.
Of course, this unleashed the wrath of the Shiba Inu community, which, upset by the losses, called to cancel Elon, criticizing his excessive influence and clamoring to "break free" from the Musk effect.
I hope you've learned to never ask Musk again. From ATH to almost no increase in a few hours time. We came all this way without him just for you to get greedy. 👍— jbraden (@jbraden59481456) October 24, 2021
Way to poke someone and screw up the gains that were just made. Hoping for a positive reply to help boost prices shows you want Elon's support. Don't worry about it as it was doing just fine without it. Now his influence just helped drop the price.— Keith Greenwood (@keithgreenwood) October 24, 2021
We need to stop asking this man questions lmbo. No need to reaffirm what Shiba Army controls. We can't let another man control our future. We took a dip after his answer…. pic.twitter.com/I1cCeF7sNT— IronLuxxTrader (@PeterGSanchez1) October 24, 2021
But maybe that grudge will pass when Elon releases a new photo of his puppy, raising the token to the heights… Again.
New SHIB Whale Holds 3.2 Trillion Shiba Inu Tokens Amid Accumulation Spree
An anonymous buyer has over 3.2 trillion SHIB tokens in his possession after a recent  accumulation spree
According to WhaleStats, the crypto market has witnessed the birth of a new SHIB whale. The anonymous buyer, who has been on a recent accumulation spree, now holds nearly 3.2 trillion SHIB tokens.
In three large transactions, the SHIB whale bought $120,342,829 million worth of Shiba Inu to join the growing list of large holders for the dog-themed coin.
Woof! Woof! 🐕

👏🤔 New #SHIB whale was born!!!

Holds 3,243,484,849,528 $SHIB ($120,342,829 USD)

Transactions:
1⃣https://t.co/s75pLi2zme
2⃣https://t.co/9Dgz2ZybXN
3⃣https://t.co/Z3RYcqwRyv

Welcome to the #ShibArmy Family! pic.twitter.com/vM4Ei3SHlg— WhaleStats – the top 1000 Ethereum richlist (@WhaleStats) December 8, 2021
The first large transaction appeared on the blockchain about two days ago when the whale bought nearly 3.15 trillion Shiba Inu tokens, or $105,487,757 worth. This was followed by two transactions within a period of 30 minutes of 84.7 billion SHIB ($3,233,066) and 8 billion SHIB ($275,776) on Dec. 7.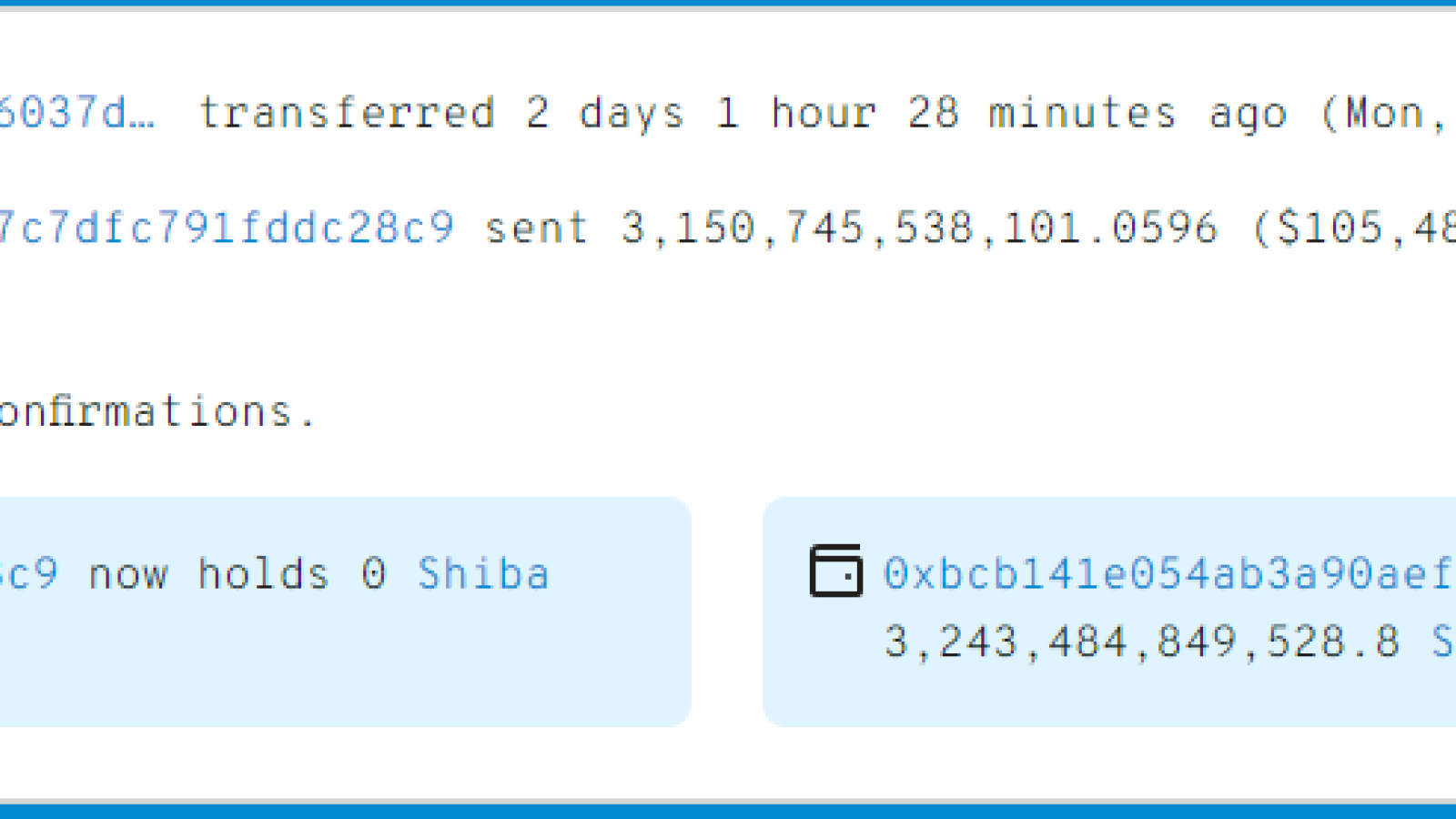 As of press time, SHIB was trading at $0.00003620.
SHIB adoption continues to grow
As reported by U.Today, SHIB is now listed as a payment method on Travala.com to book over 3 million travel products worldwide. California-headquartered electronics seller Newegg stated in late November, integrating Shiba Inu through a partnership with payment processing service BitPay.
Likewise, AMC, the number one movie theater chain in the world, became the first BitPay customer to decide to accept Shiba Inu. In mid-November, CEO Adam Aron confirmed that the new payment option would be added in early 2022.
Dogecoin Killer Shiba Inu to Start Trading on Bitstamp
Despite snubbing Dogecoin earlier this year, Bitstamp has now listed rival Shiba Inu.
Bitstamp, one of the longest-standing cryptocurrency trading platforms in the world, has listed Shiba Inu (SHIB) in what appears to be one of the most significant endorsements for the meme coin to date.

Deposits and withdrawals have already been opened, with trading kicking off on Dec. 9 at 8:00 a.m. UTC.

Apart from Shiba Inu, Perpetual Protocol (PERP), dYdX (DYDX) and Gala (GALA) have also been added to Bitstamp.

It is worth mentioning that the aforementioned cryptocurrencies will not be available in the U.S. and Singapore for now.

As reported by U.Today, Bitstamp also listed Cardano (ADA) in late November.
Quality over quantity
Bitstamp, which was launched all the way back in 2011 as a European alternative to the now-defunct Mt. Gox exchange, is known for its strong emphasis on regulatory compliance.

Sticking to its conservative listing policies, the Luxemburg-headquartered exchange chose to ignore Dogecoin despite the immense retail interest that pushed the price of the original meme coin through the roof in early 2021.

Bitstamp CEO Julian Sawyer commented on the snub in September, claiming that the exchange chooses quality over quantity. He took issue with centibillionaire Elon Musk's influence on Dogecoin's price action:
The issue is that if you go to some that are hyped up by a billionaire's tweet, or crashes on a billionaire's tweet, we don't think that's right.
Bitstamp remains the largest European exchange by trading volume.
SHIBA INU Forecast December 8, 2021
SHIBA INU is trading at the time of the publication of the forecast at the level of 0.00003715, and continues to move within the correction and the downward channel. Moving averages indicate a bullish trend. Prices broke through the area between the signal lines upward, which indicates pressure from buyers of the coin and a potential continuation of growth from the current levels. As part of the SHIB/USD rate forecast, one should not consider an attempt to develop a bullish correction in the value of a digital asset and a test of the resistance area near the level of 0.00003995. From where a rebound is expected again downward and an attempt to continue the fall of the SHIBA INU cryptocurrency with a potential target below the level of 0.00003005.
SHIBA INU Forecast December 8, 2021
An additional signal in favor of reducing SHIB/USD quotes for tomorrow will be a rebound from the resistance line on the relative strength index (RSI). The second signal will be a rebound from the upper border of the descending channel. Cancellation of the growth option for the SHIBA INU cryptocurrency will be a fall and a breakdown of the 0.00004695 area. This will indicate a breakdown of the resistance area and continued growth of SHIB/USD quotes with a target above the level of 0.00004995. Confirmation of the fall in the cryptocurrency will be the breakdown of the support area and the closing of quotations below 0.00003155.
SHIBA INU Forecast December 8, 2021 suggests an attempt to develop a small correction of the coin and test the resistance area near the level of 0.00003995. Then, the continuation of the fall to the area below the level of 0.00003005. An additional signal in favor of reducing SHIBA INU will be a test of the trend line on the relative strength index (RSI). Cancellation of the fall option will be a strong growth and a breakdown of the 0.00004695 area. This will indicate a continued rise in the cryptocurrency with a target above the level of 0.00004995.