Ethereum Price Analysis: ETH still holds below $4,200, swift breakout to follow today?
Ethereum price analysis is bullish today.
ETH/USD set a higher low at $4,000 yesterday.
Ethereum looking to break $4,200 today.
Ethereum price analysis is bullish today as another higher low was set yesterday, leading to a move higher overnight. Therefore, we expect ETH/USD to continue higher and break the $4,200 mark later today.
The cryptocurrency market traded in the green over the last 24 hours, with Bitcoin up by 3.36 percent. Meanwhile, Ethereum gained 1.32 percent, while Solana (SOL) is the top performer with an 8 percent gain.
Ethereum price movement in the last 24 hours: Ethereum sets higher low at $4,000, returns below $4,200 resistance
ETH/USD traded in a range of $3,967.12 – $4,175.12, indicating substantial volatility over the last 24 hours. Trading volume has increased by 13.58 percent and totals $16.559 billion, while the total market cap trades around $488.65 billion, resulting in market dominance of 18.82 percent.
ETH/USD 4-hour chart: ETH ready to break $4,200?
On the 4-hour chart, we can see bullish momentum strong today as the $4,200 mark gets tested again.
Ethereum price action has seen a strong performance so far in October. After breaking out of a more than week-long consolidation on the 1st of October, a strong advance followed until the first resistance at $3,650.
Over th next weeks, two further waves higher were set. The first one took ETH/USD to just under $4,000, while the second one all-the-way to the previous all-time high at $4,400.
Since then, the Ethereum price has retraced again. Previous swing highs were retested over the weekend, with support found at $3,900. Yesterday, ETH/USD moved to $4,200, with no further upside seen, leading to another retracement. 
Another higher low was set, pushing ETH back to $4,200 earlier today, which will likely lead to more upside over the next 24 hours.
Ethereum Price Analysis: Conclusion
Ethereum price analysis is bullish as a new high thigh was set yesterday, leading ETH back to the $4,200 local resistance. Therefore, we expect ETH/USD to break higher over the next 24 hours.
While waiting for Ethereum to move further, read our guides on LTC wallets, Gero wallets, and  DeFi wallets.
Vitalik Buterin proposes calldata limit per block to lower ETH gas costs
Ethereum co-founder Vitalik Buterin has proposed a new limit on the total transaction calldata in a block to decrease the overall transaction calldata gas cost over the ETH network. 
Buterin's post on the Ethereum Magicians forum, EIP-4488, highlights concerns regarding high transaction fees on layer-one blockchains for rollups and the considerable amount of time to implement and deploy data sharding:
"Hence, a short-term solution to further cut costs for rollups and to incentivize an ecosystem-wide transition to a rollup-centric Ethereum is desired."
While the entrepreneur cited an alternative wherein the gas costs parameters could be decreased without further adding a limit to the block size, he foresees a security concern in decreasing the calldata gas cost from 16 to 3:
"[This] would increase the maximum block size to 10M bytes and push the Ethereum p2p networking layer to unprecedented levels of strain and risk breaking the network."
Some think layer 2 fees on ETH are too high, because each byte of data a rollup uses cost 16 gas. To lower fees, the gas cost could be reduced to 3. This should be a large benefit, with 5x lower fees. However, in the long term, this may mean blocksize is a new network constraint pic.twitter.com/ffbTQ4zXOz— BitMEX Research (@BitMEXResearch) November 26, 2021
Buterin issued a decrease-cost-and-cap proposal, which aims to achieve the goal of reducing unprecedented levels of strain and risk breaking the network, and believes that "1.5 MB will be sufficient while preventing most of the security risk." As for advice to the Ethereum community, he wrote:
"It's worth rethinking the historical opposition to multi-dimensional resource limits and considering them as a pragmatic way to simultaneously achieve moderate scalability gains while retaining security."
If accepted, the implementation of the proposal will require a scheduled network upgrade, resulting in a backward-incompatible gas repricing for the Ethereum ecosystem. This upgrade will also mean that miners will have to comply with a new rule that prevents the addition of new transactions into a block when the total calldata size reaches the maximum. "A worst-case scenario would be a theoretical long-run maximum of ~1,262,861 bytes per 12 sec slot, or ~3.0 TB per year," the proposal read.
However, the community is discussing other options like the implementation of a soft limit. Others raised concerns about the congestion during nonfungible token (NFT) sales, which may require users to compensate for the lack of execution gas by paying a higher total fee.
Rising gas fees have resulted in an outflow of users from the Ethereum network to lower the cost of Ethereum Virtual Machine-compatible networks.
As Cointelegraph reported on Nov. 4, Etherscan data shows that approving a token to be transacted on Uniswap decentralized finance protocol can cost as much as $50 worth in Ether (ETH).
Additionally, layer-two solutions, which were billed as the protocols that would help solve the fee issue, have been charging high fees due to network congestion amid the onboarding of new users.
isnt arbitrum supposed to be cheap lol what a joke pic.twitter.com/v839tZ4nch— satsdart 🔺 (@satsdart) November 2, 2021
Ethereum price could easily double as ETH long term outlook screams bullish
Ethereum price has formed a chart pattern on the weekly chart that indicates an optimistic outlook of a 97% ascent.
ETH must clear a few critical resistances before the bullish forecast could be validated.
Holding above $3,917 is crucial for the token's rise toward $10,000.
Ethereum price continues to consolidate and discover reliable support above $4,000. ETH appears to be preparing for a massive bull run, as a technical pattern suggests that the second-largest cryptocurrency by market capitalization is looking to double its value in the longer term.
Ethereum price eyes $10,000
Ethereum price has printed a bull pennant pattern on the weekly chart, suggesting that ETH is eyeing higher prices. The prevailing chart pattern suggests that if the token slices above the upper boundary at $5,252, a 97% ascent toward $10,418 is on the radar.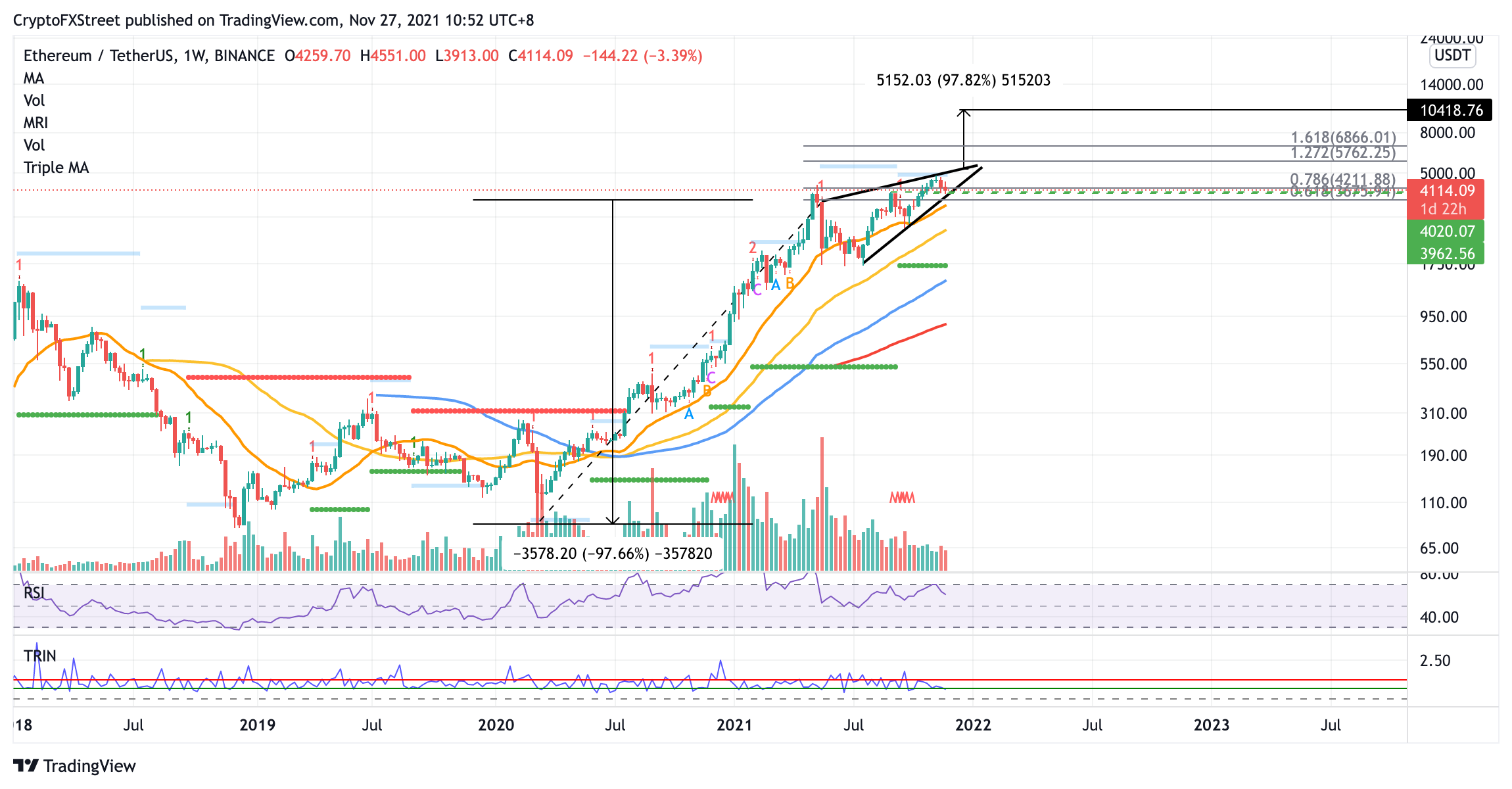 ETH/USDT weekly chart
The first area of resistance for Ethereum price appears to be at $4,211, where the 50-day Simple Moving Average (SMA) and the 78.6% Fibonacci retracement level coincide. Additional resistance will emerge at the 21-day SMA at $4,421. 
The token's all-time high at $4,884 will then act as an additional obstacle for Ethereum price, but slicing above this level could unravel further bullish intentions for ETH.
If Ethereum price manages to break above the aforementioned resistances, ETH may target the last remaining obstacle before the bullish outlook is validated, at the upper boundary of the bull pennant at $5,252. The 97% climb toward $10,418 would then be on the radar, but the token would be confronted by several hurdles, including the 127.2% Fibonacci retracement level at $5,762, then at the 161.8% Fibonacci retracement level at $6,866.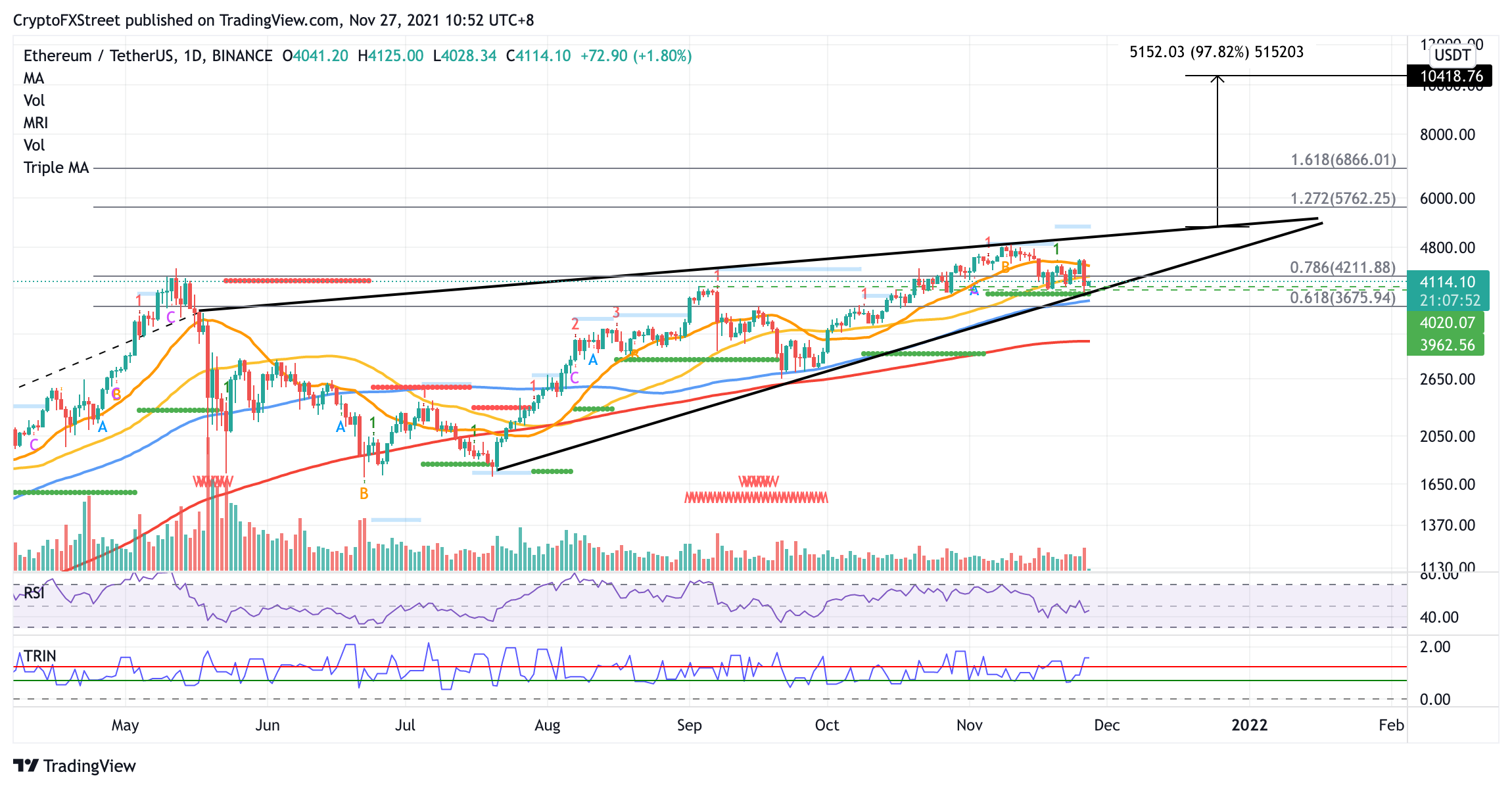 ETH/USDT daily chart
However, if Ethereum price faces profit-taking, ETH would discover the first line of defense at the September 3 high at $4,020, then at the October 16 high at $3,962. The lower boundary of the governing technical pattern at $3,917, coinciding with the support line given by the Momentum Reversal Indicator (MRI).
Investors should note that if Ethereum price slices below the aforementioned foothold, the bullish thesis may be invalidated and ETH could continue to slide lower, as it searches for reliable support at the 100-day SMA at $3,762, then at the 61.8% Fibonacci retracement level at $3,675. 
Raoul Pal Details Four Favorite Altcoins After Bitcoin and Ethereum, Outlines 'Most Important' Chart in Crypto
Real Vision founder and chief executive Raoul Pal is updating his followers on his favorite altcoins outside of Ethereum (ETH).
Pal, a vocal Ethereum bull, tells his 795,200 Twitter followers that ETH competitor and smart contract platform Solana (SOL) is one of his favorite altcoins. Solana's native token SOL, the fifth-ranked crypto asset by market cap, is trading at $200.10 at time of writing, down nearly 7% on the day.
Pal also lists three other smart contract platforms, Avalanche (AVAX), Terra (LUNA) and Polkadot (DOT), among his favorite altcoins.
AVAX, the 11th-ranked crypto asset by market cap, is trading at $110.06 at time of writing, down nearly 9% on the day. In the same time period, LUNA is down 2.36%, trading at $41.81 at time of writing. DOT, the 9th-ranked crypto asset by market cap, is trading at $35.83 at time of writing, down 11.69% on the day.
Despite listing four smart contract platforms, Pal agrees with a theory laid out by Chris Dixon, a general partner at Andreessen Horowitz, stating that "ETH killers" are a myth.
Dixon believes demand for blockchains will outpace supply.
Another great thread by @cdixon 100% agree. The pie is getting bigger and slices may vary in size and will increase in number over time, but most are getting bigger too.. https://t.co/xRMau2aLbD— Raoul Pal (@RaoulGMI) November 21, 2021
Pal also thinks the Ethereum/Bitcoin (ETH/BTC) chart is currently the "most important chart" in the crypto markets.
"The ETH/BTC chart is in my opinion the most important chart in digital asset markets right now. A break higher will lead to more risk-seeking into year-end. BTC will go higher too."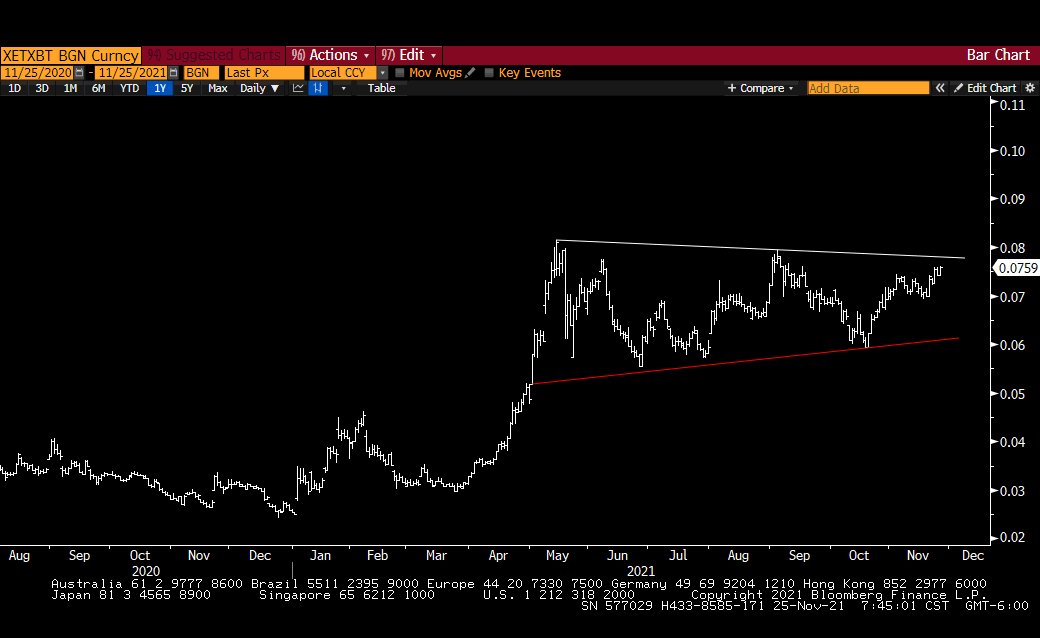 Ethereum is trading at $4,125.15, or about 0.076 BTC, at time of writing.