Is It Right Time To Buy Shiba Inu(SHIB) Or Selling Is A Better Option?
The crypto space is experiencing some sort of turmoil as the Shiba Inu token emerged out of the blue. Moreover, in times when the major assets are falling apart or maintaining a silent trend, meme coins roar out of the space. Bitcoin price dumped notably ever since it managed to form new ATH, Ethereum price also followed. No doubt both have buckled up the recovery phase and SHIB price again making a huge move.
The growing market sentiments and the social engagements for the crypto also spike the trading volume on the Shibaswap. It recorded a massive spike of 500% exceeding $230 million trading volume in the past trading day. Moreover, the transaction fees were close to $700K that led to the massive rally to the ATH at $0.00004442
Yet similar to any rally or bull run, SHIB price also exhausted a little bit and ended up dumping close to $0.00003800. Within no time, the asset rebounded, squashing the bearish divergence to leap beyond $0.000039.
The past weekend rally ended a huge consolidation within a parallel channel and broke the upper resistance levels. The asset also pierced through the important resistance levels at $0.00003469 and ranged higher. However, the price is experiencing a slight pullback at the press time. Yet it sustained well above the resistance flipped to support levels.
On the other hand, the technicals are also pretty bullish, the RSI and MACD showcase a deflection from the downtrend. However, the uptrend could be confirmed once the Shiba Inu price reclaim a spot above $0.00004000 levels. Until then the fear of plunging or corrections would hover the SHIB price.
Shiba Inu Team Issues Warning to SHIB Holders As Scams Proliferate Across Social Channels
The creators of popular crypto asset Shiba Inu (SHIB) are issuing a warning to investors that scams involving the dog-themed meme coin are rapidly spreading across social media.
The Shiba Inu team tells its 2.1 million Twitter followers that bad actors offering fake SHIB giveaways, airdrops, gifts, and bonuses are rapidly proliferating their scams over the Internet by masquerading as official members of the Shiba Inu organization.
"A fake Shiba Telegram group is being shared across social media. The scammers impersonate official accounts, and create fake users. These scammers reply to general posts. They target your hashtags."
According to the video posted by the Shiba Inu team, the most commonly targeted hashtags include #SHIB, #SHIBarmy, #Leash, #SHIBAswap and #Bone.
The group emphasizes that there are currently no SHIB airdrops or giveaways and that Shiba Inu holders should never give up their wallet keys, email addresses, personal information or tokens to anyone.
"Do not reply to the bots of fake accounts on social media. Block, report, and stay alert."
SHIB, the 12th-ranked cryptocurrency by market cap, recently reached a milestone of having 1 million holders worldwide and is currently exchanging hands at $0.000039 as of writing, a 29% decrease from its 14-day high of $0.000055.
Shiba Inu Is Second Most Popular Cryptocurrency on Twitter This November
Shiba Inu continues to enjoy great popularity on social media in spite of the price slump
Despite the fact that the Shiba Inu (SHIB) price is down 43.1% this November, the meme coin's Twitter game remains strong.

According to data shared by cryptocurrency analytics platform CryptoRank, the canine token is the second-most popular cryptocurrency on the social platform this November with a total of 4.02 million mentions.

Bitcoin (BTC), the largest cryptocurrency, is in first place with over 10 million mentions.
Ether (ETH) has managed to log 2.7 million mentions and secure third place.
PancakeSwap (CAKE) and Dogecoin (DOGE) are also within the top five with 1.86 million and 1.76 million Twitter mentions, respectively.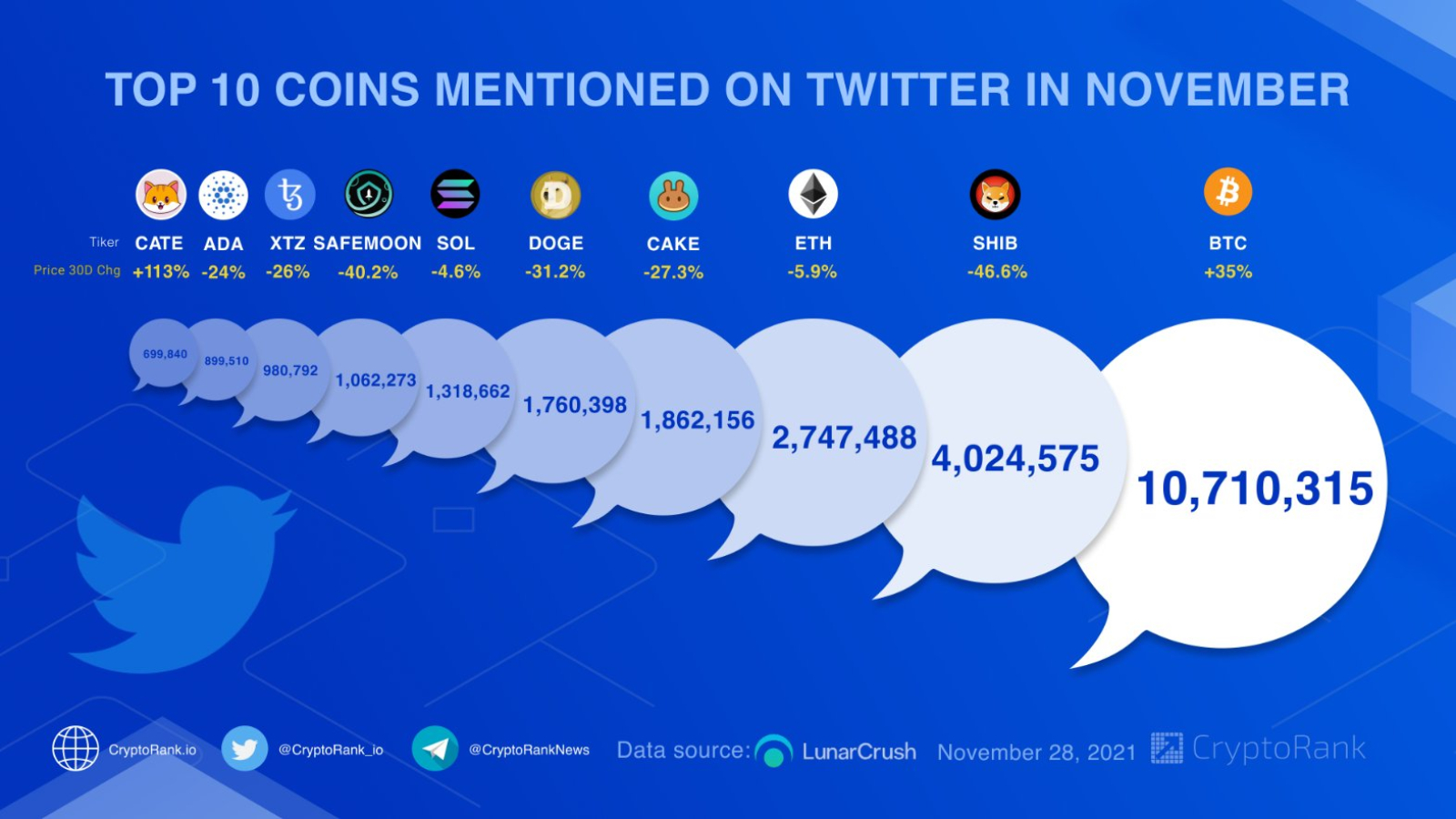 While failing to regain its bullish momentum, Shiba Inu continues to see more merchant adoption, with electronics retailer Newegg recently confirming its plan to add Shiba Inu as a new payment option.

The meme coin also continues to see more exchange listings in spite of the price drawdown.

As reported by U.Today, the official Shiba Inu Twitter account surpassed Ether by the number of followers in early November.
Shiba Inu Price Prediction 2022 – 2025 – 2030
People get into crypto for all sorts of reasons. Most people come for the massive gains but stay for the politics and economics. A recent survey conducted by the BIS (Bank of International Settlement) shows that crypto holders are, on average, far better educated than non-holders of crypto. They tend to be millennial 'digital natives.'
Shiba Inu has been given a 334 million dollar vote of confidence by crypto investors, so let's take a look at why ostensibly intelligent people would invest in Shiba Inu.
What is Shiba Inu?
---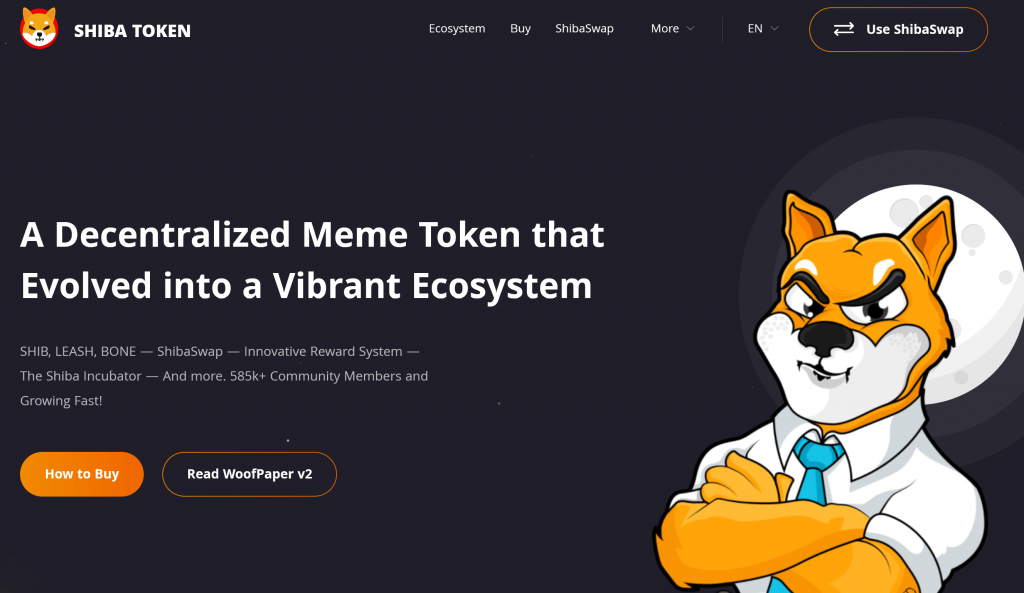 It's a meme-coin named after a Japanese dog breed, and that's about it folks! Seriously, this multi-billion dollar asset is basically a cool story and a cute picture. It's presented as the Ethereum network's version of Dogecoin, being an ERC20 token. Dogecoin is the original meme coin, so why does Shiba Inu need to exist, you may wonder.
Shiba Inu Price Prediction 2021
---
I predict the price will settle somewhere between nothing and almost nothing. Any dollar price that starts with five decimal zeros is effectively already zero. Put it another way – things that I can buy for 15,000 a buck are not things that I want to own. If I do own billions of something, I should be rich.
Fundamentals
---
What does Shiba Inu have to offer the world? What's its USP? Why should we support the project? These are supposed to be the fundamental drivers of a crypto's price over time, but occasionally a token defies such analysis. Shiba Inu's fundamentals need to be considered from a different angle.
Use case
---
A "Doge-Killer" seems to be the inventor's quoted intention. Quite why anybody would want to kill a Doge, I'm not sure. Mind you, if enough folks pour their stimmy cheques into Shiba Inu, there's a great deal of money to be made for the owners. After careful consideration of the evidence, it seems there are three obvious use cases.
The first is to relieve unsuspecting newbie crypto fans of their hard-earned cash. The second is to make off into the sunset with said cash. And the third is to cover their tracks by having a good laugh while achieving the first two.
They also claim to donate to a charity that rescues abandoned Shiba Inu dogs. This particular dog breed now costs around $2000 per puppy. I'm not sure how many are abandoned, but it seems very like donating to a charity for unloved Lambos. I've nothing against actual Shiba Inu dogs, or Lambos for that matter, but I'm not buying what they're selling here.
Tokenomics
---
Current Price – 0.00000 – sorry, ran out of decimals
Market Cap – Over 3 billion dollars
Ranking – 29
Total Supply – 1,000,000,000,000,000 SHIB (1 quadrillion)
Circulating Supply – 394,796,000,000,000 SHIB (395 trillion)
Daily Trading Volume – $357,121,982
Half of the tokens were sent, without his permission or knowledge, to Etheruem supremo Vitalik Buterin's wallet, but he wanted nothing to do with this nonsense. It's gratifying to know that at least some billionaires in crypto aren't disingenuous narcissists.
Team
---
The 'team' is a guy who goes by the moniker "Ryoshi." Seriously! She/He remains anonymous so we know nothing about her/his qualifications and achievements in the FinTech field. It looks like god-level marketing on the surface, but that's the thing with memes. It's impossible to predict what will go viral. If it wasn't Shiba Inu that blew up, it would've been some equally delinquent meme coin.
Socials
---
Rather than bore everyone with technical updates and progress reports, Shiba Inu goes with this –
Twitter – "I am so excited to announce that we are throwing a Virtual Shiba Inu Party in 2 weeks featuring an amazing DJ set by @garethemery! Not only that… the set comes with an NFT AND physical sculpture that will be stored in a location TBA so #ShibaArmy can see it."
Reddit is a mixed bag. There are the Shib fanboys who talk about nothing other than how to pump the coin to the moon. Then there are the Reddit users who mercilessly mock them. It's funny for a while, but it gets dull very quickly.
This is typical of Shiba Inu's social media presence. It's unintellectual at best, and the total antithesis of what cryptocurrency is all about.
Community
---
If it was down to community size alone, Shiba Inu would be a bolt-on winner. However, having an enthusiastic army of followers is no guarantee of success. Just look at the England football team!
Here's a typical selection of the comments on social media. You can see how deep their understanding of cryptography is in these posts. It's very impressive.
Facebook – "Hopefully will hit $10 next year!" – So it will be worth 5 quadrillion dollars? LOL
Twitter – "ShibaArmy – WE ARE VICTORY" Woof, woof!"
Discord – "TOP 10 SHIB Quotes From Celebrities! Earn 12-24% APY"
Telegram – "GET READY FOR THE MOON Nothing we post here is financial advice."
Like I say, very informative!
Exchanges & wallet support
---
Metamask is Shiba Inu's wallet recommendation if you want to remain decentralized. From there you can swap your ETH for SHIB on SushiSwap and ShibaSwap.
There are several SHIB markets on the major centralized exchanges, such as. Binance, Huobi, Hotbit, Kucoin, Poloniex, and OKEx. The most liquid exchange is LBank, but I have never heard of them and confidence is low, according to Coin Market Cap. Binance, Hotbit, and Huobi hold a good proportion of the liquidity.
Market price prediction
---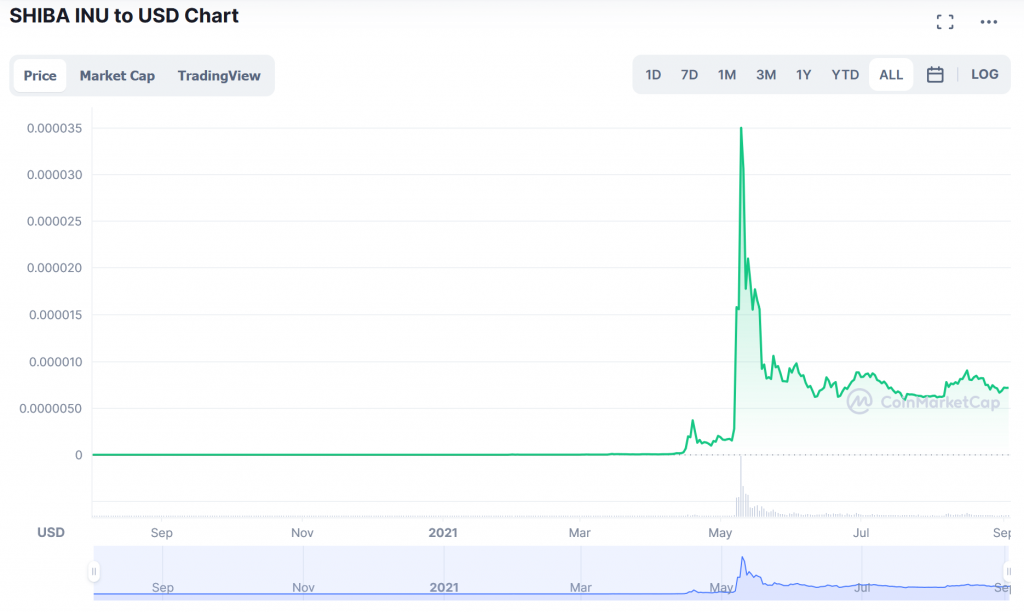 ● Wallet Investor
---
They are nothing but bullish at Wallet Investor. The 3-month price prediction is for a 43% gain. The 1 and 5-year predictions call for 165% and 800% gains respectively. The sentiment is very positive on their little sentiment meter.
However, when I read that it's "unlikely that the price will hit $10 within a year," I start to wonder if anyone is actually monitoring the nonsense their AI is spewing. "Not within a year," it proclaims. If Shiba Inu reached $10, it would be worth more than all the assets in the known universe.
● Digital Coin Price
---
Also bullish on Shiba Inu, Digital Coin Price is calling for a 100% gain over the next 12 months. It will then proceed to more than quadruple in price over the next 4 years. It's a good investment, they claim. Again, this seems like a simplistic view and I would advise caution.
Yes, all altcoins should be dragged upwards whenever Bitcoin and Ethereum recover, but some tokens won't even be around in a few years.
● Trading Beasts
---
The end-of-month prediction is at $0.0000107, a 36% increase on today's price. Trading Beasts predicts a 43% increase by year and a whopping 87% increase by the end of 2022. They only predict up to the end of 2024, by which time Shiba Inu will be at $0.0000213.
Far be it from me to disagree with the experts, but again, this seems optimistic for a meme coin with absolutely no practical value.
Shiba Inu price prediction 2025
Based on the data and arguments laid out above, a price of SHIB token in 2025 could be in the $00-$000 range. A long term reasonable estimate: ~$00.00
Shiba Inu price prediction 2030
There are a couple of laws of human progress that prevent us from thinking that Shiba Inu will be what its holders expect and hope it to be. Those are first mover advantage and consolidation and subsequent monopoly.
A first-mover advantage can be simply defined as a firm's ability to be better off than its competitors as a result of being first to market in a new product category.
Monopoly is a situation in which a single company or group owns all or nearly all of the market for a given type of product or service.
Both of the phenomena we mention above speak in favor of Dogecoin (that is also a worthless piece of code) and we don't think that will change in the mid- and long-term future.
We are still not sure if Shiba Inu and similar project do have a long-term future and SHIBA token could be worth ZERO in 2030 as the project might not exist by then.
Is Shiba Inu worth investing in?
Shiba Inu is a good investment for the short-term when the market is in the BULL run. Usually these types of newer projects do extraordinary well when the overall crypto market is in the green and they outperform other better known projects by a lot. However, make sure to exit them in time as they tend to do get a beating during ranging and bear market cycles.
Why will Shiba Inu succeed?
Because people are crazy and invest in things they don't understand by blindly following trend-setters and hype Twitteratis.
Why will Shiba Inu fail?
Shiba Inu might fail because people will get a grip of themselves and see that this project has no utility or value whatsoever. It is just a meme coin made by smart marketing people to fill up their pockets with loads of money.
Will Shiba Inu reach 10 cents?
That is NOT within the real of possibility, even in the long term period.
Can Shiba Inu reach $1?
Shiba Inu will almost certainly NOT reach $1 in this universe, perhaps in some parallel dimension it can get to that level.
Summing it all up
---
For those of you still interested in buying some Shiba Inu – you need your head examined! It ticks all the boxes of what you should never invest in. Run a mile!
I think it could also be a case study for human anthropologists in decades to come. It's indicative of the dumbing down of society. It's an embarrassment to both the crypto community and the charlatans who are trying to populate the space with their hollow, soulless nonsense.
We should consider the unbanked of Africa and South America, or the generations of people who can no longer afford to buy hard assets, like property. Crypto is all about entire populations who cannot progress in life because of hyperinflation. What about those who worked hard and saved all their life? They can no longer invest their 401K in long-term bonds to see out their retirement with a decent living pension.
The good that cryptocurrency can do for the world is immense. In this context, Shiba Inu fails miserably. Shame on those who created and shilled it, and pity on those who invest in it.