Shiba Inu Speculators Could Learn This Lesson from Dogecoin
The popular meme coin shiba inu (SHIB) once again saw a massive pump over the weekend, rising by more than 50% on Saturday and Sunday before a correction reduced the gains as the new week started. And based on experience from other meme coins, even deeper corrections could arrive when the hype dies down.
Judging from data from some exchanges, including FTX and Poloniex, the weekend pump marked a new all-time high for the self-proclaimed dogecoin (DOGE) killer. However, on some other exchanges, including Binance, a higher peak was seen on the token's listing day on May 10 this year, although this may have been the result of thin order books on the first day of trading.
At the time of writing, (13:10 UTC), SHIB was down by 7% over the past 24 hours, trading at USD 0.00003865. However, the token still remained up by more than 40% for the past 7 days, well ahead of DOGE's 10% rise over the same period.
SHIB price chart:
Today's correction for SHIB came just as Tesla chief Elon Musk replied to a tweet from a Shiba Inu community member asking how many SHIB he holds. "None," Musk answered, without elaborating, to which the community member replied "U should consider buying some."
Further, while responding to another user in the same thread, Musk also warned "don't bet the farm on crypto," before adding:
"True value is building products & providing services to your fellow human beings, not money in any form," the Tesla founder and dogecoin proponent said.
The advice and blunt answer from Musk that he does not hold SHIB, which came just as the coin was correcting from its highs, begs the question of whether SHIB holders are simply betting that social buzz, and particularly mentions from well-known investors like Musk, will be what is needed to propel the price higher.
And while history has shown that amazing price pumps can occur from time to time for meme coins like DOGE and SHIBA, lessons from the DOGE mania in May this year remind that the subsequent corrections can be deep when rallies are purely driven by hype.
From its all-time high on May 8 of USD 0.74, DOGE corrected by as much as 78% within less than two months, to a low of USD 0.16 on June 22. (However, at the same time, the whole market was dropping.) In either case, the original dog-themed meme coin has since recouped some of its losses, but still remains down by around 65% from its peak, even as bitcoin (BTC) has reached new all-time highs.
The fall in prices for dogecoin can also be seen in Google search data, which is often used as a proxy to determine general interest in a subject.
Judging from Google Trends, worldwide Google searches for the term "dogecoin" peaked in mid-May, just as the coin reached its all-time high in the market. Since then, search interest has fallen significantly and is still nowhere near its highs.
The picture perhaps becomes even clearer when we add the term "shiba inu." The data then shows how interest in DOGE has recently been overtaken by a surge in search interest for shiba inu.
Despite the significant fall in both price and search interest, however, the dogecoin community is still alive and responding to tweets from the self-proclaimed "dogefather" Elon Musk. This was again illustrated just before the weekend, when the Twitter account UberFacts tweeted "Elon Musk is predicted to become the world's first trillionaire, thanks to SpaceX."
About two hours later, Musk replied "*In Dogecoin," which immediately led to a spike in the price of DOGE visible on the hourly chart.
*In Dogecoin— Elon Musk (@elonmusk) October 22, 2021
Meanwhile, SHIB has recently gotten some attention from a petition on Change.org that is asking the popular US-based stock and crypto broker Robinhood to list SHIB for trading on its platform. As of Monday, the petition had already received well over 300,000 signatures from users.
"Dogecoin has been a huge success for Robinhood, and its investors. We have all enjoyed the ride. Shiba Inu is a similar meme coin with genuine potential, up 2000% in the last weeks," the petition said.
So far, and despite some unverified rumors circulating online, no word has been heard from Robinhood that the trading app is even considering adding SHIB to its platform.
The SHIB token is now ranked 11th in terms of market capitalization, two spots below its fellow dog-themed meme coin DOGE. The ranking today means that the valuation difference between SHIB and the original DOGE has remained roughly similar since the two coins earlier this month stood head to head for meme coin dominance. 
And although the "dogecoin killer" is still valued lower than the original dog-themed meme coin, both meme coins, which are generally seen as having little to no real utility, have already surpassed major DeFi-related tokens such as the Avalanche blockchain's AVAX token and Uniswap's governance token UNI.
Commenting on the recent rally for SHIB over the weekend, Ben Caselin, Head of Research and Strategy at trading platform AAX, said "speculation is the primary driver" behind meme coin prices.
"During a bull market, when sentiment runs high, it doesn't take much for a memecoin to see a significant boost," Caselin said in an emailed comment, before warning that "there is no specific reason" for the huge inflow of capital into SHIB.
"Considering the history of crypto and how market dynamics have generally played out over the past decade, SHIB is likely to be challenged by other viral projects and is likely to shed much of its value when the top assets such as bitcoin and ethereum enter into the final stages of this cycle's bull run and the usual correction that follows as the assets secure their newly raised price floor," Caselin concluded.
New SHIB Whale Holds 3.2 Trillion Shiba Inu Tokens Amid Accumulation Spree
An anonymous buyer has over 3.2 trillion SHIB tokens in his possession after a recent  accumulation spree
According to WhaleStats, the crypto market has witnessed the birth of a new SHIB whale. The anonymous buyer, who has been on a recent accumulation spree, now holds nearly 3.2 trillion SHIB tokens.
In three large transactions, the SHIB whale bought $120,342,829 million worth of Shiba Inu to join the growing list of large holders for the dog-themed coin.
Woof! Woof! 🐕

👏🤔 New #SHIB whale was born!!!

Holds 3,243,484,849,528 $SHIB ($120,342,829 USD)

Transactions:
1⃣https://t.co/s75pLi2zme
2⃣https://t.co/9Dgz2ZybXN
3⃣https://t.co/Z3RYcqwRyv

Welcome to the #ShibArmy Family! pic.twitter.com/vM4Ei3SHlg— WhaleStats – the top 1000 Ethereum richlist (@WhaleStats) December 8, 2021
The first large transaction appeared on the blockchain about two days ago when the whale bought nearly 3.15 trillion Shiba Inu tokens, or $105,487,757 worth. This was followed by two transactions within a period of 30 minutes of 84.7 billion SHIB ($3,233,066) and 8 billion SHIB ($275,776) on Dec. 7.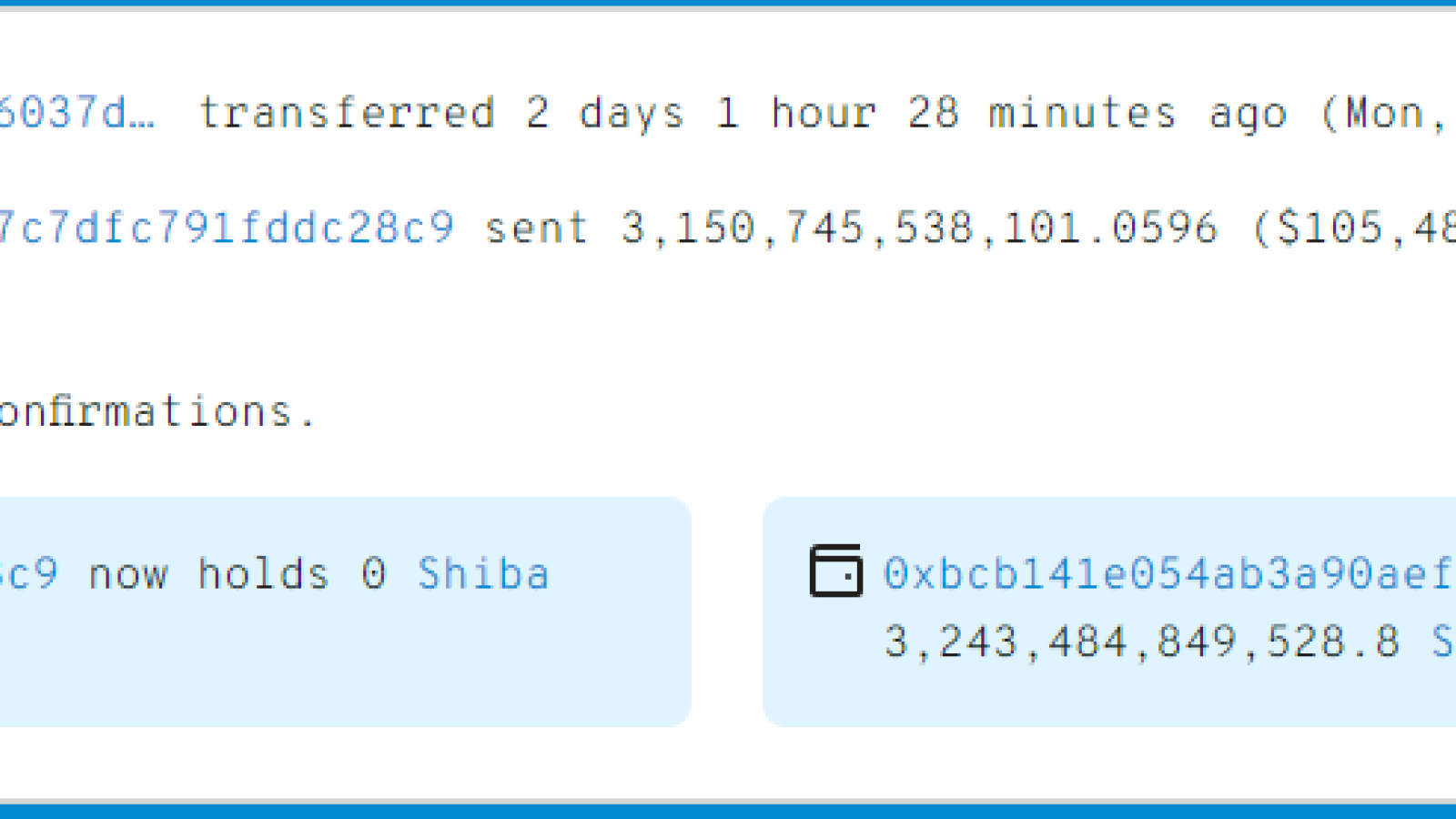 As of press time, SHIB was trading at $0.00003620.
SHIB adoption continues to grow
As reported by U.Today, SHIB is now listed as a payment method on Travala.com to book over 3 million travel products worldwide. California-headquartered electronics seller Newegg stated in late November, integrating Shiba Inu through a partnership with payment processing service BitPay.
Likewise, AMC, the number one movie theater chain in the world, became the first BitPay customer to decide to accept Shiba Inu. In mid-November, CEO Adam Aron confirmed that the new payment option would be added in early 2022.
Dogecoin Killer Shiba Inu to Start Trading on Bitstamp
Despite snubbing Dogecoin earlier this year, Bitstamp has now listed rival Shiba Inu.
Bitstamp, one of the longest-standing cryptocurrency trading platforms in the world, has listed Shiba Inu (SHIB) in what appears to be one of the most significant endorsements for the meme coin to date.

Deposits and withdrawals have already been opened, with trading kicking off on Dec. 9 at 8:00 a.m. UTC.

Apart from Shiba Inu, Perpetual Protocol (PERP), dYdX (DYDX) and Gala (GALA) have also been added to Bitstamp.

It is worth mentioning that the aforementioned cryptocurrencies will not be available in the U.S. and Singapore for now.

As reported by U.Today, Bitstamp also listed Cardano (ADA) in late November.
Quality over quantity
Bitstamp, which was launched all the way back in 2011 as a European alternative to the now-defunct Mt. Gox exchange, is known for its strong emphasis on regulatory compliance.

Sticking to its conservative listing policies, the Luxemburg-headquartered exchange chose to ignore Dogecoin despite the immense retail interest that pushed the price of the original meme coin through the roof in early 2021.

Bitstamp CEO Julian Sawyer commented on the snub in September, claiming that the exchange chooses quality over quantity. He took issue with centibillionaire Elon Musk's influence on Dogecoin's price action:
The issue is that if you go to some that are hyped up by a billionaire's tweet, or crashes on a billionaire's tweet, we don't think that's right.
Bitstamp remains the largest European exchange by trading volume.
SHIBA INU Forecast December 8, 2021
SHIBA INU is trading at the time of the publication of the forecast at the level of 0.00003715, and continues to move within the correction and the downward channel. Moving averages indicate a bullish trend. Prices broke through the area between the signal lines upward, which indicates pressure from buyers of the coin and a potential continuation of growth from the current levels. As part of the SHIB/USD rate forecast, one should not consider an attempt to develop a bullish correction in the value of a digital asset and a test of the resistance area near the level of 0.00003995. From where a rebound is expected again downward and an attempt to continue the fall of the SHIBA INU cryptocurrency with a potential target below the level of 0.00003005.
SHIBA INU Forecast December 8, 2021
An additional signal in favor of reducing SHIB/USD quotes for tomorrow will be a rebound from the resistance line on the relative strength index (RSI). The second signal will be a rebound from the upper border of the descending channel. Cancellation of the growth option for the SHIBA INU cryptocurrency will be a fall and a breakdown of the 0.00004695 area. This will indicate a breakdown of the resistance area and continued growth of SHIB/USD quotes with a target above the level of 0.00004995. Confirmation of the fall in the cryptocurrency will be the breakdown of the support area and the closing of quotations below 0.00003155.
SHIBA INU Forecast December 8, 2021 suggests an attempt to develop a small correction of the coin and test the resistance area near the level of 0.00003995. Then, the continuation of the fall to the area below the level of 0.00003005. An additional signal in favor of reducing SHIBA INU will be a test of the trend line on the relative strength index (RSI). Cancellation of the fall option will be a strong growth and a breakdown of the 0.00004695 area. This will indicate a continued rise in the cryptocurrency with a target above the level of 0.00004995.