Is Elon Musk a Shiba Inu Holder? Tesla CEO Says He Owns These Three Crypto Assets
Tesla CEO and tech mogul Elon Musk says he owns only three crypto assets.
Earlier this month, Tesla CEO Elon Musk tweeted a photo of his Shiba Inu puppy, which sparked speculation about his support for the surging Ethereum-based memecoin. However, when a Twitter user quizzed Musk about his SHIB holdings on Sunday, Musk said he doesn't own any of the Dogecoin (DOGE) competitor.
None— Elon Musk (@elonmusk) October 24, 2021
SHIB is trading at $0.00004275, up a staggering 49,268,197.7% in the past year, according to CoinGecko. Despite Musk's revelation, Shiba Inu is up more than 14% in the past 24 hours.
Musk also revealed he still holds the same three crypto assets that he said he owned in July.
"Out of curiosity, I acquired some ASCII hash strings called 'Bitcoin, Ethereum and DOGE.' That's it.
As I've said before, don't bet the farm on crypto! True value is building products & providing services to your fellow human beings, not money in any form."
The Tesla chief executive also elaborated on why he's been so vocal about supporting Dogecoin (DOGE).
"Lots of people I talked to on the production lines at Tesla or building rockets at SpaceX own DOGE. They aren't financial experts or Silicon Valley technologists.
That's why I decided to support Doge – it felt like the people's crypto."
Musk is currently the wealthiest person in the world with a net worth of $255.2 billion, according to Forbes.
SHIB Community Burned About 2 Billion SHIB in November
There have been a total of 7,409,202 $SHIB tokens burned and two transactions in the last hour.
According to shibburn, the SHIB community, dubbed the "SHIB Army," burned about two billion SHIB in November. A total of 410,298,489,440,804 of the one quadrillion initial supply has been burned. Tokens that are burned are permanently removed from circulation. The decrease in circulating supply is predicted to raise the price of Shiba Inu in this instance.
According to Shiba Inu's burn tracker, shibburn, a total of 410,296,586,422,853 SHIB tokens (41.02966%) have been burned from the initial supply of one quadrillion at the beginning of November.
As of Dec. 1, this number had grown to 410,298,449,011,405 (41.02984% of the initial supply), representing a near 1.9 billion increase in tokens burned within the time frame.
Shiba Inu is about to undergo significant alterations that are likely to increase its value and boost its price. Shytoshi Kusama, the SHIB team's lead developer, recently discussed the potential of Shiba Inu's gameplay expanding into the "Metaverse."
Gaming will also facilitate the burning process, as in-app purchases made from the Shiba Inu game will be used to burn a large amount of SHIB to lower the token's supply. Currently, the SHIB supply is burned only when the owner of a Shiboshi NFT pays $100 in SHIB to change the NFT's name.
SHIB is trading at $0.00004230 as of press time.
Shiba Inu Has Become Mainstream, Says Mark Zuckerberg's Sister
There's room for two canine coins, according to Randi Zuckerberg
Randi Zuckerberg, a sister of Meta CEO Mark Zuckerberg, has recorded a short explainer about canine meme coins, which has been published on her official YouTube channel.
In her video, she weighed in on the surprising success of "Dogecoin killer" Shiba Inu, claiming that the token has gone mainstream.

Despite the rivalry between Dogecoin and Shiba Inu, Zuckerberg believes that there's room for both of these canine coins:
I didn't even know there was room for one of those, but apparently there's room for two.
The former Facebook spokesperson also mentioned numerous spinoffs of the two "flagship" canine coins, including Dogelon Mars.
She then recommended her viewers to "have some fun" with their crypto but not to bet their farm on meme coins, channeling the advice of Tesla CEO Elon Musk.
Earlier this week, Zuckerberg, a long-time crypto proponent, joined cryptocurrency exchange Okcoin as a member of its brand advisory council.
Ethereum Whale Buys Another 28 Billion SHIB Coins
"Gimli," ETH whale, recently bought 28,236,296,316 SHIB ($1,169,829 USD)
Ethereum Whale "Gimli" just bought another 28 billion SHIB coins worth a staggering $1.1 million, according to Whale Stats. Despite declines in the Shiba Inu price of late, either whales or large entities are taking the opportunity to accumulate more of the SHIB token.
The famous whale "Gimli" appears to admire Shiba Inu to the point of accumulating SHIB at every opportunity. On Nov. 30, U.Today revealed that the anonymous whale purchased a further 24.8 billion SHIB tokens valued at $1 million.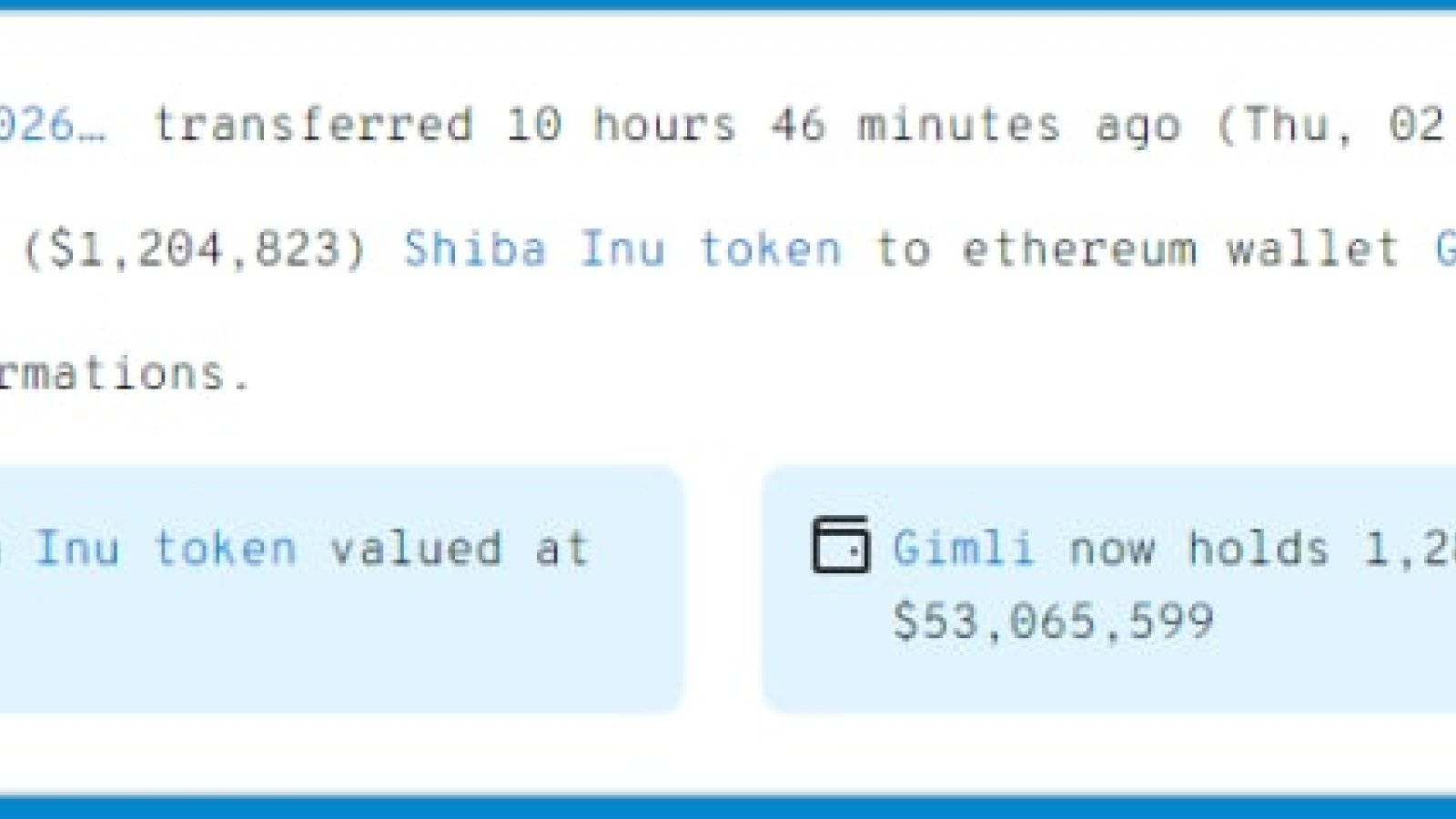 Overall, the famous "Gimli" whale now holds 1.2 trillion Shiba Inu coins worth a whopping $52.9 million.
Shiba Inu returned to the spotlight after its 40% rally as Kraken became the latest exchange to allow trading of the Shiba Inu token. Pressure on Robinhood to list Shiba Inu keeps mounting as a Change.org petition in favor of this listing has more than 542,000 signatures at the time of writing.
Shiba Inu was exchanging hands at $0.00004130 as of press time.