Three reasons why MATIC price will breakout to a new all-time high at $4.5
MATIC price is breaking out of an ascending triangle pattern, hinting at a 150% ascent.
Transactional data shows barely any resistance level ahead for Polygon, suggesting a swift move higher.
The Layer 2 solution has been at the center of DeFi evolution, making it perfectly positioned for the upcoming bull run.
MATIC price breached a crucial resistance level that has prevented it from rallying four times over the past four months. The recent attempt seems to have an extra oomph behind it, hinting that this run-up could trigger a massive move.
Technicals scream bullish for MATIC price
MATIC price set up roughly four equal highs since June 6 and three higher lows since July 18. Connecting these swing points using trend lines shows the formation of an ascending triangle.
This technical formation forecasts a 150% ascent, determined by measuring the distance between the first swing high and low andadding this to the breakout point at $1.73, which reveals a target of $4.32.
While this move for Polygon might seem straightforward, MATIC price will face $2.04 and $2.21, two significant hurdles before it can retest its all-time high at $2.70. Clearing these blockades will open the path to the target at $4.32.
Using trend-based Fibonacci extension levels, market participants can identify pit stops where MATIC price may head into a price discovery phase. The first barrier is $3.02, which is followed by the 161.8% extension level at $4.5, just above the forecasted target.
This forecast is based on a short-to-mid-term perspective for MATIC price. The longer-term outlook reveals triple digital targets for the Layer 2 token in the upcoming bull run.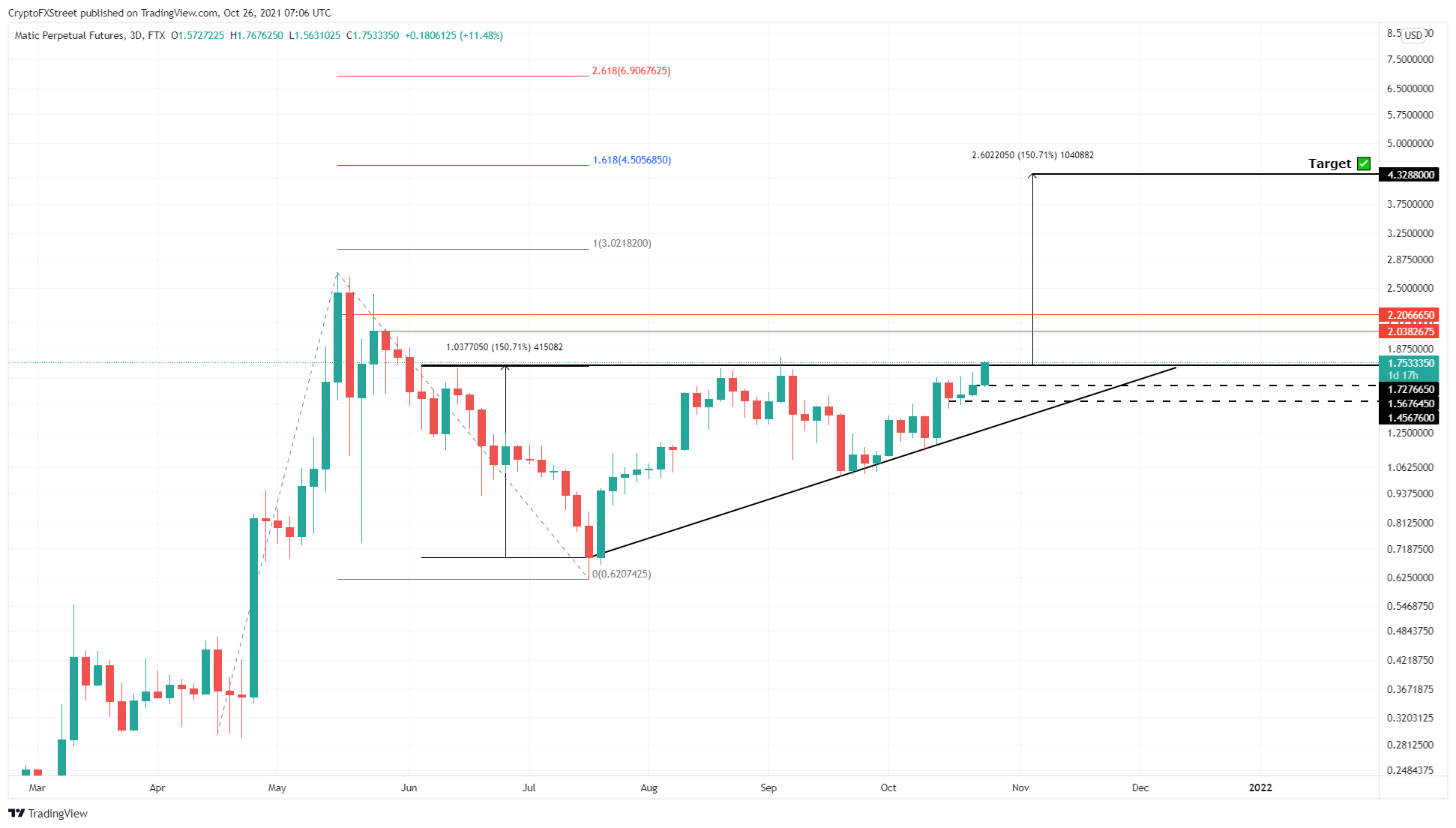 MATIC/USDT 3-day chart
On-chain metrics and growing fundamentals
Supporting the start of a massive uptrend for MATIC price is the increase in daily active addresses (DAA) joining the Polygon blockchain over the past three months. This uptick in the 7-day Moving Average (MA) of DAA suggests that investors and capital are flowing into the market, adding credence to the bullish thesis.

MATIC DAA chart
On a similar note, IntoTheBlock's Global In/Out of the Money (GIOM) model reveals that the only resistance level that will prevent an ascent in Polygon's market value is at $1.87. Here, roughly 17.54 thousand addresses purchased 135 million MATIC.
Therefore, a decisive close above $1.87 will flip these underwater investors to profitable, removing the potential sell-side pressure, allowing MATIC price to continue its ascent without anything to hold it back.
In this case, MATIC price will head straight towards its all-time high at $2.70 and beyond.

MATIC GIOM chart
The last week saw Polygon network benefit from $188 million in inflows. While the daily revenue was up 15%, the daily active addresses hit 423,000. Moreover, the Layer 2 network bridged a whopping $188 million in value.
These growing fundamentals hint nothing but bullishness for Polygon, adding a tailwind to the forecast.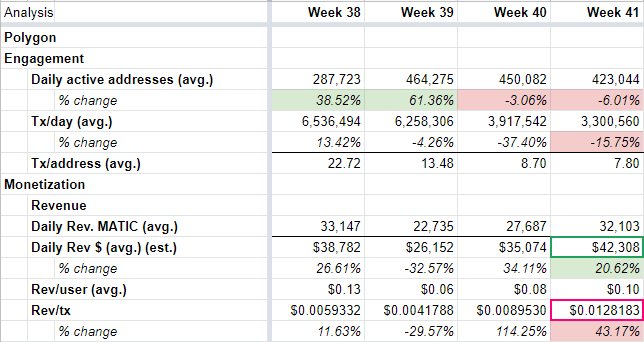 MATIC on-chain metrics chart
Polygon has been at the center of DeFi evolution. From yield farming to NFTs, MATIC has helped users reduce fee costs. Moreover, Bitwise, a popular crypto investment fund manager, has decided to offer Polygon Fund to help make scaling solutions available to investors.
Matt Hougan, Chief Investment Officer at Bitwise, stated that Ethereum's lack of scaling capabilities had muted its development around NFTs or DeFi. Adding more, Hougan revealed,
Many are working on Ethereum competitors to solve this, but Polygon has seen breakthrough traction with a uniquely complementary solution that boosts Ethereum's speed and efficiency. Investors have been asking about this rising star. With the new Bitwise Polygon Fund launching today, we're excited to continue helping investors gain access to the expanding set of opportunities emerging in crypto.
The launch of the Bitwise Polygon Fund provides strategic exposure to @0xPolygon, one of the most essential innovations behind DeFi, NFTs, and gaming. Learn more: https://t.co/j67VV8uFSI pic.twitter.com/aZO20n62mu— Bitwise (@BitwiseInvest) October 20, 2021
While things are looking up for MATIC price, a breakdown of the $1.73 support floor will signal a weakness among buyers. In this case, Polygon bears are likely to knock it down toward the $1.57 demand barrier, a breakdown of which will likely push the Layer 2 token below the ascending triangle's lower trend line, invalidating the bullish thesis. In such a situation, MATIC price could revisit the $1.47 support level.
Whales Added 1,899,990 MATIC to Their Holdings in Last 24 Hours
Two of WhaleStats' top 1,000 Ethereum wallets just bought 900,000 and 999,990 MATIC tokens, respectively.
Two Ethereum whales have added the amount of 1,899,990 MATIC ($4,417,976) in the last 24 hours, according to crypto whale tracker WhaleStats. Two of the largest 1,000 Ethereum wallets tracked by WhaleStats just purchased 900,000 and 999,990 MATIC tokens, or $2,087,999 and $2,329,977 worth, respectively, as Polygon continues to be a top choice among large investors.
🐳 An ETH whale just bought 999,990 $matic ($2,329,977 USD).

Ranked #360 on WhaleStats: https://t.co/62Q8q8a3ZI

Transaction: https://t.co/JOXx2Li4XR#MATIC #ERC20 #DEFI #ETH #whalestats— WhaleStats – the top 1000 Ethereum richlist (@WhaleStats) December 8, 2021
MATIC, the native token of the Polygon blockchain, has risen from Dec. 4 sell-off lows of $1.62 to highs of $2.52 on Dec. 7, a nearly 55% gain.
🐋 An ETH whale just bought 900,000 $matic ($2,087,999 USD).

Ranked #207 on WhaleStats: https://t.co/2do7yJzgy7

Transaction: https://t.co/iVbOjdzivv#MATIC #ERC20 #DEFI #ETH #whalestats— WhaleStats – the top 1000 Ethereum richlist (@WhaleStats) December 8, 2021
MATIC was slightly higher at $2.35 at press time. Aside from the whale buy, the price increase is the result of more users becoming aware of Polygon's cheaper prices, increased efficiency and scalability. The anticipation for Polygon's virtual "zk day," which is set for Dec. 9, is growing. The focus of the event will be on the applications of zk-STARKs and zero-knowledge (ZK) proofs, with Ethereum co-founder Vitalik Buterin expected to speak on the panel.
Polygon is a Layer 2 product that speeds up transactions by working on top of primary blockchains. It focuses on solving the Ethereum network's scalability issues, which have resulted in congestion and high fees.
Polygon's MATIC token is currently the 14th largest cryptocurrency with a market cap of $16.6 billion, according to data from CoinMarketCap.
Polygon(MATIC) Price Primed for a Bullish Breakout With 25% Upswing in Couple of Days
The mammoth rally of Polygon in early 2021 is still unprocessed, while the asset is set to create yet another one. The MATIC price rose slowly until it reached $2, coiled up heavily, and was on the verge to hit the important levels at $2.5. These levels could certify the uptrend that would range beyond $3 slicing through the current ATH around $2.8.
The MATIC price rally approaching the ATH within a small stipulated time may reignite the bull run of numerous altcoins. Today, BitTorrent price ranged high breaking the huge downtrend line and heading towards its local resistance. The immense buying pressure raised the price breaking the 'W-shaped' pattern in the early trading hours. 
One of the popular analyst believes the $3 mark is around the corner and the MATIC price may achieve it very soon. 
As per the chart posted by the analyst, the MACD previously made its bullish cross formation at a lower frame each time before. However, currently, the bullish cross formation on every higher low contact on the channel is up with the most recent being in the last week of November. And interestingly, this type of cross signifies the beginning of a new rally.
The uptrend diverging line is based on higher highs and has an upside limit currently between $2.6 to $2.7. And if these levels are tested and cleared successfully, then $3 levels could be imminent which is slightly below the 2.5 FIB retracement levels. Moreover, the MATIC price has been above the support levels along with the 100-day MA in the daily chart since November 16 and 200-day MA since July 20. And based on these MACD levels, a strong 1-month rally may begin very soon. 
Polygon's MATIC token up 40% amid crypto rebound
Speculation mounts over Polygon's foray into zero-knowledge proofs.
As cryptocurrencies from last weekend's massive sell-off, Ethereum scaling solution Polygon was among the biggest gainers.
MATIC, the native token of the Polygon blockchain, surged from $1.79 on Monday morning to $2.50 over the ensuing 24 hours, a nearly 40% gain. At the time of publication, the price had since dipped to $2.32.
The increase occurred as more users have become aware of Polygon's lower costs and greater efficiency and scalability. Speculation has also mounted over what the firm has called an "exciting announcement," scheduled for Dec. 9 at Polygon virtual "zk day."
The event will center around the applications of zk-STARKs and zero-knowledge (ZK) proofs, a type of cryptography that can verify whether a given statement is true without revealing the data that proves it.
"I think investors are finally waking up to the fact that Polygon is essentially an index fund of Ethereum scaling solutions and the 800-lb gorilla in the [zero-knowledge] space," Polygon Global Head of Institutional Capital Dean Thomas said.
Polygon is a protocol and framework for building and connecting Ethereum-compatible blockchain networks, offering an ecosystem with lower transaction costs and faster speeds than Ethereum.
Zero knowledge
ZK-rollups are a technology that helps Ethereum scale without compromising the blockchain's decentralization and security.
Matter Labs' zkSync and StarkWare's StarkNet are both examples of ZK-based Ethereum scaling solutions. Both projects also closed $50 million funding rounds in November, with zkSync's led by Andreessen Horowitz and StarkNet's led by Sequoia Capital.
This past August, Polygon , introducing ZK rollup capabilities to Polygon for the first time. Polygon followed up in September with a partnership with audit giant Ernst & Young to build Polygon Nightfall, a privacy-focused ZK-rollup geared towards enterprise use.
"[Polygon's] priority is to help scale Ethereum and ZK is the biggest bet to achieve it," a spokesperson for Polygon told CoinDesk.
User growth
Over the past several weeks, Polygon has also attracted interest from venture capitalists and institutional investors as Ethereum's soaring gas fees have sent projects fleeing to cheaper blockchains.
In a newsletter sent to the community this morning, Polygon reported all-time high network revenue for November and reached over 300,000 active addresses.
Polygon also saw record monthly volume of nearly $60 million on non-fungible token (NFT) marketplace OpenSea last month.
"We are significantly undervalued by any metric be it daily active users, transaction volume, or number of dapps being built on our platform," Thomas told CoinDesk.
Earlier this month, decentralized exchange IDEX launched its v3 on Polygon, aiming to combat high fees and failed transactions that have plagued users of Ethereum's Uniswap.
Projects related to NFTs or the metaverse are also moving over to Polygon due to high minting and transfer costs on Ethereum.
Polygon's MATIC token is currently the 14th largest cryptocurrency with a market cap of $16.2 billion, according to data from CoinGecko.
MATIC is still trading below its all-time high price of $2.62 in May.