Bitcoin Mining Vs. The World: BTC Leads Sustainable Energy
Recent reports show that Bitcoin mining uses great amounts of renewable energy due to economic incentives. This turn of events raised their numbers of sustainable power mix to almost three times higher than the world average.
As renewable energy offers low costs, bitcoin miners, who had to spend 68.42% of their total income to purchase electricity, have upscaled their efficient use of green energy. A recent data review shows how their mix of sustainable energy is higher than any country or industry.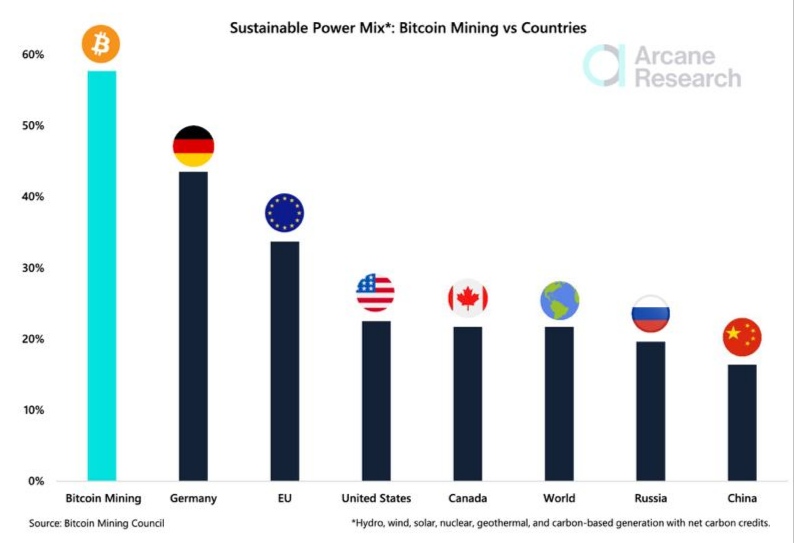 Renewable energy is not flexible and their locations do not tend to be convenient for most people. As bitcoin miners move close to sources of energy to lower the costs, they are a viable solution to not waste the sustainable energy that otherwise would be deployed, as explained by CoinShares.
According to a survey carried by the Bitcoin Mining Council (BMC), the electricity mix used by bitcoin miners increased 3% from second-quarter to an approximate of 57.7% sustainable in third-quarter 2021 "making it one of the most sustainable industries globally."
MicroStrategy's CEO Michael Saylor had stated earlier that the Bitcoin Mining Council's effort to bring clarity and transparency over Bitcoin mining will most likely "play an important role in demystifying" the industry.
Furthermore, a whitepaper by the Bitcoin Clean Energy Initiative from earlier this year had explained how bitcoin mining, when using renewable energy, "is especially suited to accelerate the energy transition" towards a cleaner electricity grid:
With bitcoin mining integrated into a solar system, (…) energy providers – whether utilities or independent entities – would have the ability to play the arbitrage between electricity prices and bitcoin prices, as well as potentially sell the "surplus" solar and supply almost all grid power demands without lowering profitability.
China's Ban Impact On Bitcoin Mining
Digiconomist data shows that China's ban of all Bitcoin mining activities dropped the total amount of "active computational power in the network" by 50%. The reduction of mining competition also generated higher levels of income for active miners worldwide.
Torbjørn Bull Jenssen CEO of Arcane commented earlier:
As China is turning away from bitcoin mining, the mining industry as a whole is becoming increasingly green and a driver for renewable energy around the world. Now is excellent timing for Arcane to enter into this segment, (…) Mining is a very interesting business stand alone, and it also has considerable synergies towards our other investments and business. I am looking forward to finalizing the strategy for Arcane Green Data and presenting it in more detail for our partners and investors.
In a wider panorama of energy usage by Bitcoin miners, Square funds a solar-powered facility for bitcoin mining, El Salvador explores the viability of using volcanic renewable power for mining bitcoin, and other countries propose economic incentives for bitcoin miners who use renewable energy.
CoinShare stated in June's report that bitcoin's network is "more renewables-driven than almost every other large-scale industry in the world."
Bitcoin Miner TeraWulf Eyes NASDAQ Listing Following a $200 Million Fund Raise
TeraWulf raised nearly $200 million to strengthen its capital structure in advance of public listing.
TeraWulf – an American bitcoin mining company – raised around $200 million in debt and equity financing from a group of individual and institutional investors. As a result, the firm expects to achieve a mining capacity of 6 exahash per second or 200 megawatts by the second part of 2022.
Furthermore, TeraWulf eyes public listing on Nasdaq through a business merger with the tech company IKONICS Corporation.
TeraWulf Aims High
As part of the $200 million financing, TeraWulf entered into an approximately $123.5 million three-year senior secured term loan. The bitcoin miner also signed agreements with investors to buy newly issued shares of the company's common stock for an aggregate purchase price of $76.5 million.
"TeraWulf's ability to raise private capital underscores the attractiveness of bringing a new paradigm for cryptocurrency mining to the public markets," said Paul Prager, Chairman and Chief Executive Officer at the company.
He added that his firm aims to become bigger than any other public bitcoin mining organization. TeraWulf also intends to produce BTC powered by "100% zero-carbon energy."
Earlier this year, the entity revealed plans to become a Nasdaq-listed public company through a business combination with IKONICS Corporation (IKNX). The merge is supposed to be completed later this month, after which TeraWulf will enter the global marketplace under the symbol "WULF."
Some of the giants in the field, such as Riot Blockchain and Marathon Digital, already have their shares traded on Nasdaq. The former trades under the ticker "RIOT," while the latter under "MARA."
Griid Infrastructure Has The Same Intentions
A few days ago, Griid Infrastructure – another American bitcoin mining company – and the blank check firm – Adit EdTech Acquisition Corp. (ADEX) – announced their merger. As a result, the latter will acquire Griid Holdco LLC – a newly formed holding organization and parent of Griid. Upon finalizing the transaction, the new entity expects to be listed on the New York Stock Exchange (NYSE).
The newly formed company will have a combined value of about $3.3 billion and will trade as "GRDI."
Similar to TeraWulf, Griid is also orientated towards green bitcoin mining. Throughout its history, it has secured low-cost power pipelines focusing on carbon-free generation partners. David Shrier – CEO of the company – stated:
"Griid's combination of a large pipeline of low-cost, carbon-free power, distinctive access to next-generation ASIC's, and market-leading execution position them to generate attractive profitability and growth."
Bitcoin miner to go public on Nasdaq after $4B SPAC merger
Bitdeer Technologies Holding Company, a Singapore-based Bitcoin (BTC) mining corporation, has announced that it has entered into a definitive merger agreement with Blue Safari Group Acquisition Corp. for a business combination of Blue Safari and the miner.
According to the announcement, the two firms are expected to merge and be renamed Bitdeer Technologies Group, retaining their NASDAQ stock market listing.
Bitdeer is a Singapore-based company that focuses on the cryptocurrency mining industry. The Bitcoin mining company currently has five proprietary mining data centers in the United States and Norway.
According to the announcement, the transaction positions Bitdeer as a potential disruptor in the cryptocurrency mining sector. As chairman and creator of Bitdeer, Jihan Wu will continue to lead the combined organization following the conclusion of the transaction. While commenting on the transaction, Wu expressed his excitement about the two organizations coming together. He further added:
"As a leader in crypto mining, we will continue to solidify our leading position in the crypto mining space. Today marks a significant milestone for Bitdeer, and we strive to create value for our broader group of stakeholders in the future, including our clients, employees and shareholders."
The announcement claims that following the transaction, Bitdeer has an implied corporate value of around $4 billion. The proposed merger has been approved by the boards of directors of both companies, and it is anticipated to be completed in the first quarter of 2022, subject to regulatory clearances, shareholder approval for the transaction, and other customary closing conditions being met.
The transaction is yet another instance of a large corporation entering the Bitcoin mining space since Greenidge announced its agreement to merge with customer and technical support solutions provider Support.com on Sept. 13.
China Warns State-Owned Companies To Stop Bitcoin Mining Or Risk Strict Penalties
China has issued a warning to its state-owned enterprises to stop cryptocurrency mining. It also warned that it would increase electricity rates for companies that continue to defy the ban.
This latest warning comes amid the ongoing crypto ban in the East Asian country. Some months ago, the government of China declared all crypto trading activity illegal. Subsequently, crypto miners and exchanges like Huobi and Binance began to relocate to countries with crypto-friendly regulations.
However, despite the crackdown on crypto, Chinese residents continue to trade Bitcoin. And Beijing authorities are not relenting in their efforts to find ways to prevent crypto use. The Chinese government has also blamed miners for the country's high energy consumption. In May, during the heat of the crackdown, many large crypto mining farms relocated or stopped operating. Still, some small mining rigs continued to operate.
Last month, Beijing authorities started tracking the IP address of citizens to check for crypto mining activities. Additionally, authorities in Zhejiang province also reportedly began investigating government employees who were illegally mining Bitcoin.
Despite all these measures, there has not been a significant reduction in energy consumption. This has led officials to intensify their efforts and face state-owned entities.
Authorities Crackdown On Industrial-Scale Bitcoin Mining
According to reports, the National Development and Reform Commission (NDRC) plans to clamp down on industrial-scale bitcoin mining. And by extension, all state companies that participate in such activity. A spokeswoman for the country's chief economic planner, Meng Wei, said this at a press conference on Tuesday.
She also emphasized the unsustainable nature of crypto mining, stating that it consumes lots of energy and produces lots of carbon emissions.
BTC trading at $60.6K | Source: BTCUSD on TradingView.com
Last week, the NDRC held a special meeting to discuss the crypto ban defiance. And also urged provinces and municipalities to investigate and deal with State-owned enterprises involved in mining.
China Dismisses Government Official For Mining
Beijing continues to reinforce its stance on crypto by going after even government officials. A few days ago, China removed a former Jiangxi government official from his position.
Xiao Yi, a former vice-chairman of the Jiangxi Provincial Committee of the Chinese People's Political Consultative Conference, was accused of abusing his power to promote and support enterprises against government policies. He engaged in crypto mining and also took bribes, according to the Central Commission for Discipline Inspection.
Xiao is the most senior Chinese official to be punished for his involvement in cryptocurrency mining.