Dogs of Elon — A New Marketplace Is Launching Soon With 10,000 NFTs
A new NFT marketplace will soon rise.
Dogs of Elon is ready to launch 10,000 unique arts to the public.
This project is inspired by DOGE (DOGE) and Shiba Inu (SHIB).
The non-fungible token (NFT) market continues to grow. There are speculations that the market will reach astronomical heights as this ensues. Since its exposure to the market, NFT aims to secure and store artistic ideas like drawings, music, and more. With that said, each NFT is unique — it can never be exchanged for anything else and it is also distinct on the blockchain.
Among the many emerging NFT projects is the NFT marketplace — Dogs of Elon. It is Inspired by both the DOGE (DOGE) and Shiba Inu (SHIB) coins. Dogs of Elon (DoE) made a historic debut with 10,000 unique arts and most of which have dog-inspired designs.
After more than a few months of preparation, it's time to announce our project. 🥳
MINT an NFT (Dogs Of Elon) & Join $ DOE Pre-sale! Our website is live!🚀

MINT NFT: 0.08 ETH $DOE Token Pre-sale price: 0.05 USDhttps://t.co/KJaD2dZo42#nft #shibainu #dogsofelon #doge #Bitcoin pic.twitter.com/Zuo3rcRthP— Dogs Of Elon (@dogsofelon) October 19, 2021
Since the announcement of the launch of Dogs of Elon, it has already garnered the attention of the crypto community. Reasons could be because it acts as a tribute to Elon Musk or perhaps because of the dazzling designs of the NFTs it offers.
Nonetheless, the support of the crypto community has been evident and it's slowly achieving different milestones as early as now.
According to Dogs of Elon's official Twitter account, they are now listed on DappRadar and partnered with DEXToolsApp. More so, the team has just gotten their two smart contract audit with Certik; hence, its native token, $DOE is safe and secure. What's more, CoinMarketCap also collaborated with Dogs of Elon for an Airdrop event worth $50,000. Those who are interested in the airdrop can apply on November 1 on the CoinMarketCap page.
Furthermore, the team said that the launch date will be revealed to the public soon. They also reiterated that the participating addresses can only claim a maximum of 20 DOEs. Moreover, at the end of the pre-sale, the NFTs will be revealed along with their metadata. This gives everybody a chance to get something rare and cool.
Reports say that there is no potential hazardous code in the DOE contract. Thus, once the staking rewards are deposited in the pools, the ownership will be able to renounce that contract. This ensures that the rewards cannot be withdrawn or modified.
For now, the public can only anticipate what will happen next for Dogs of Elon. To know more about this project, please click here.
Ethereum (ETH) Receives First NFT from Cosmos-Based Blockchain: Details
In an unmatched experiment, non-fungible tokens were activated on four blockchains before landing on Ethereum's OpenSea.
IRISnet has facilitated the transfer of a non-fungible token from permissioned distributed network WenChang Chain that was built using the Cosmos software development kit on Ethereum's largest NFT marketplace.
NFT bridge is established between Cosmos-based WenChang Chain and Ethereum
According to the official announcement shared in Cosmos' main blog, its software development kit was utilized for the first-ever NFT travel between four blockchain networks.
🚨Breaking News🚨

📢#NFTs Travel from Cosmos-SDK-based WenChang Chain to #Ethereum for the First Time through #IBCGang Member @irisnetwork!

Read more about the 1st NFT #IBC transaction between 4 chains & the cutting-edge technology that made it possible:https://t.co/dC66PYDHYQ pic.twitter.com/YKvQXF1cjc— Cosmos – Internet of Blockchains ⚛️ (@cosmos) November 26, 2021
Transferred tokens were minted as digital avatars to fine art Chinese paintings. They represent famous traditional Chinese artwork by Rongbaozhai (Studio of Glorious Treasures), well-known since the 17th century.
First, the NFTs were minted at WenChang Chain, one of the decentralized platforms that belong to BSN Open Permissioned Blockchains, an ecosystem of hybrid distributed networks. The tokens were registered through IP.PUB, which is a Digital Artwork Registration Platform supported by China Promoting Minority Culture & Art Association.
Then, the tokens were sent to IRITA Hub and IRIS Hub, two networks operated by IRISNet, Cosmos-based cross-platform interoperability protocol.
Why is this transfer crucial for IBC instruments?
The transfer became possible thanks to the Terse Inter-Blockchain Communication protocol (TIBC). IRIS Hub seamlessly connects TIBC to Ethereum.
Right now, all NFTs from the experiment are available for sale on OpenSea, the largest Ethereum-based marketplace for non-fungible tokens.
This experiment is unique due to various features. First of all, it demonstrates Cosmos' role in connecting permissioned and permissionless blockchains, e.g., Ethereum and BSN. Then, it shows that Chinese state-backed bodies are still interested in blockchain usage despite a severe crack-down on crypto.
NFT and Crypto Communities Facing Malware Campaign on Discord
Threat actors are targeting crypto and NFT Discord communities
A malware campaign that specifically focuses on cryptocurrency- and NFT-related Discord communities has been uncovered, according to a report by Bleeping Computer.

Malicious actors are abusing the popular chart service with the help of a crypter called Babadeda, which means "Grandma-Grandpa" in the Russian language.
Cybersecurity firm Morphisec was the first to discover the new malware distribution campaign earlier this week.
Criminals typically attempt to cajole users into downloading fake software, copying popular blockchain games such as "Mines of Dalarna."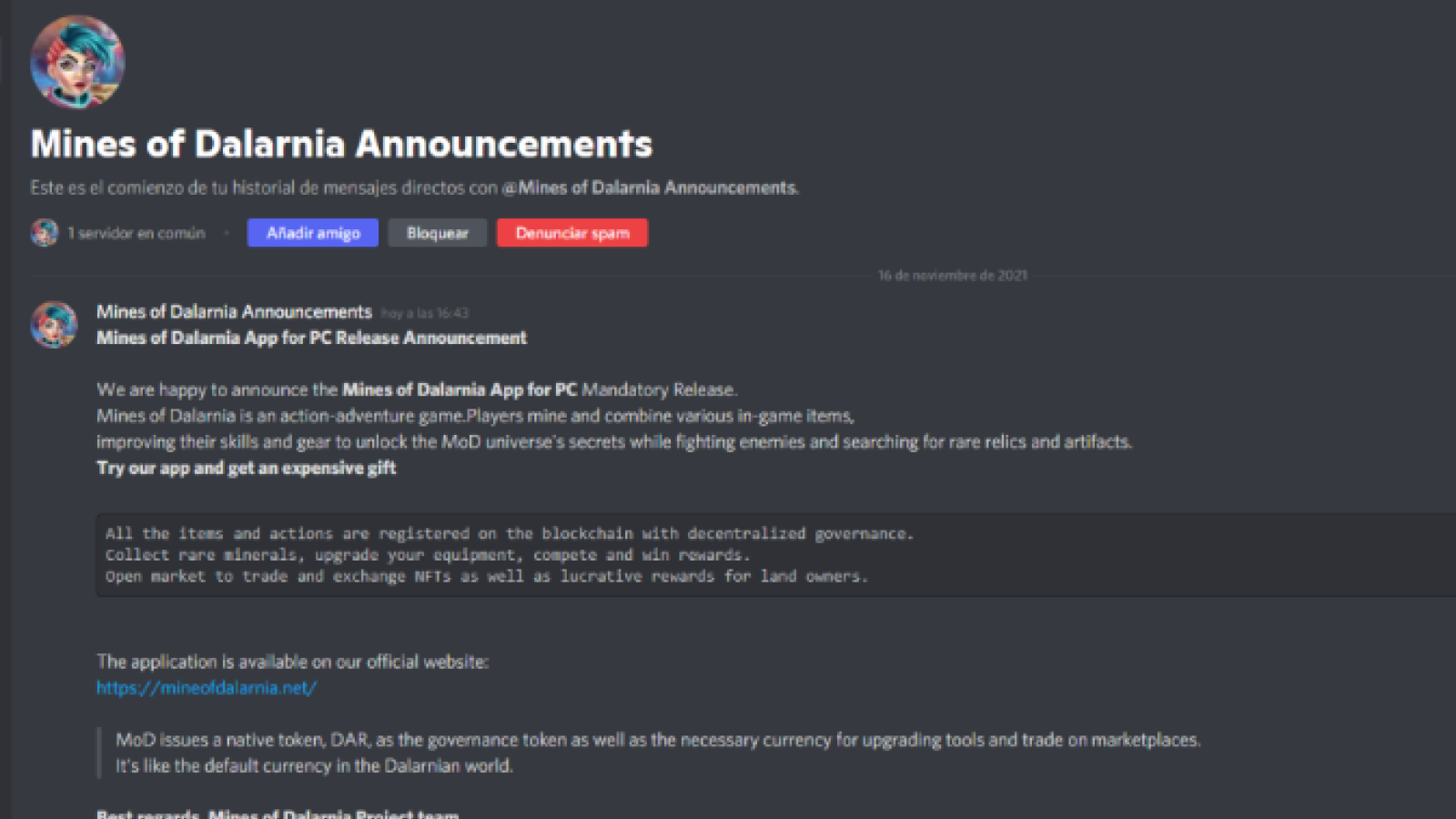 Based on an HTML object of one of the decoy sites, Morphisec determined that the malware campaign is operated by people from a Russian-speaking country.
Threat actors are impersonating the websites of some of the most prominent companies within the NFT industry, including OpenSea and Larva Labs.
Those who started installing the malware typically see a fake error, which is used as a deception technique, while the installer does its job in the background.
Cybercriminals are likely to go after victims' crypto wallets and NFTs.
Discord's malware problem
It is not surprising that Discord has become the target of threat actors since it has become home to plenty of cryptocurrency users where they can communicate via publicly accessible channels or private messages.
It is not just crypto: Sophos revealed that Discord accounted for 4% of all malware downloads as of July.
Earlier this month, Discord shelved its plan to integrate the Ethereum network after facing severe backlash from the anti-crypto segment of its customer base.
Christie's Partners With OpenSea to Hold Curated NFT Auctions
The legendary auction house is entering into a partnership with non-fungible token (NFT) marketplace OpenSea to hold a series of curated auctions.
Christie's is continuing its push into the digital art scene with the announcement that it plans to hold on-chain NFT auctions on the world's most popular marketplace.
The auction house made the announcement on Nov. 24, stating that the first "Christie's X OpenSea" auction will kick off on Dec. 1. It will be open for browsing until Dec. 3, and bidding will commence on the fourth and run until the seventh.
Announcing: Christie's X @opensea, kicking off 1 December.

The on-chain #NFT auction is hosted on https://t.co/JwBagiHn6s and curated by #christies specialists.

Open for browsing 1-3 December, open for bidding 4-7 December. See you there 👋 pic.twitter.com/XRWxqP2grq— Christie's (@ChristiesInc) November 23, 2021
Big Step for NFTs
The collaboration will enable bidding and payments to be made using the Ethereum network. The first collection features a "cutting-edge selection of collectibles" pulled together by Christie's Head of Digital and Online Sales Noah Davis and curator Ronnie Pirovino. It will also be supported by NFT news and analytics platform, NFT Now.
Featured artists include Andre Oshea, Alpha Centauri Kid, Ash Thorp, Baeige, Blake Kathryn, DotPigeon, EtherRock, FriendsWithYou, Fvckrender, GMUNK, Joshua Davis, KESH, Krista Kim, Maciej Kuciara, Mad Dog Jones, Olive Allen, Oseanworld, Recur, Tom Sachs, Victor Mosquera, and WhIsBe.
Selected works from the sale will be on exhibition during Art Basel Miami Beach at "The Gateway" – a sensory experience in downtown Miami featuring music and art in the celebration of a new era of NFT innovation.
In a press release, Noah Davis commented:
"With this collaboration, we are bringing the Christie's brand boldly onto the blockchain. Our collaboration with OpenSea allows us to combine our expert curation and prestigious provenance with the convenience of decentralization."
He added that his hope is that this will be the beginning of a new era for NFT sales at Christie's.
In March, Christie's concluded the sale of its first NFT, the record-breaking "Everydays: The First 5000 Days" by Beeple, which fetched $69 million.
Also, in March, OpenSea secured $23 million in venture capital backing from participants, which included Andreessen Horowitz and billionaire investor Mark Cuban.
OpenSea Dominates Markets
OpenSea is the dominant NFT marketplace for the industry. According to DappRadar, more than $1.67 billion in volume has been processed on the platform over the past 30 days. Its current daily volume is around $70 million.
Cryptoslam reports that Axie Infinity is still the most popular NFT collection by sales, with $171 million shifted over the past week.