Shiba Inu (SHIB) Cryptocurrency Ignores Elon Musk and Sets New Price Record
The cryptocurrency meme Shiba Inu (SHIB), considered the main rival of Dogecoin (DOGE), almost hit 20% in appreciation this Tuesday afternoon (26) and was traded at US$ 0.000049 in the majority exchanges, considering Coinmarketcap data from the last 24 hours. At the time of writing, the SHIB is worth US$ 0.000047.Chart of the last 24 hours of SHIB. Source: Coinmarketcap
With this performance, altcoin already surpasses approximately 10% the historical price reached last Sunday, which was US$ 0.000044. Remember that after the peak, the SHIB dropped more than 20% — to $0.000034 — after Elon Musk responded to a Twitter user who owned "no" Shiba Inu currency.
Shiba Inu and Elon Musk
The fact is that billionaires are much sought after on social networks to make guesses about one or another cryptocurrency. Usually when he taps the name of someone — whether bitcoin or altcoin — he instantly influences his market, as he's an avowed fan of crypto technology and has 61 million Twitter followers. Musk's favoritism, however, is reserved for Bitcoin, Ethereum and Dogecoin.
Despite the ups and downs, the Shiba Inu is already worth six times more than 30 days ago, that is, on September 26, the SHIB was trading at US$ 0.0000071. This week, the accumulation of high is already around 70%.
Shiba Inu Breaks New Record by Reaching $2.3 Billion Held on Whale Addresses
Shiba Inu whales are now holding even more coins after accumulating new funds amid the correction.
Following a 35% rally on the market, Shiba Inu whales have decided to support private traders by purchasing more than $300 million worth of coins in total in a relatively short period of time, according to WhaleStats.
Currently, Shiba Inu whales are holding more than $2.3 billion worth of tokens. Previously, the same value was at approximately $1.8 billion. The strong buying activity coming from whale addresses appeared a couple of days ago when the cryptocurrency market started to recover from a 15% correction.
📰 BREAKING: Top 1K ETH richlist now hodl 48,004,861,881,545 $SHIB ($2,376,356,727 USD)

🥳 #ShibArmy #friendshib The King is coming back stronger than ever!

Source: https://t.co/28TDZ70IkD pic.twitter.com/U6ubAXV5eg— WhaleStats – the top 1000 Ethereum richlist (@WhaleStats) November 30, 2021
Before the aforementioned events, whale-tier addresses got rid of more than $300 million worth of tokens, which was a smart move since Shiba Inu lost more than 10% of its value right after.
As usually happens after a correction, buying power slides into the market, which then leads to a swift recovery like the one that we witnessed on Shiba Inu today.
Previously, U.Today reported that the average position of SHIB whales has increased by more than 40%, which may have been the first signal of accumulation started on the largest addresses.
The current rally on the Shiba Inu market is slowly accelerating. At the beginning of the trading day, Shib was trading with a 5% premium and, for now, the token trades with more than 10% of daily growth.
In addition to strong market performance, retail traders are slowly entering SHIB, with its volume having drastically increasing to $3.6 billion, which is almost a 100% increase compared to previous trading days, when the average volume on SHIB pairs was at 12-13 trillion tokens.
Here's When and How Newegg Is Going to Accept Shiba Inu
Newegg is among the first major companies to add support for Shiba Inu
California-headquartered electronics seller Newegg is going to integrate Shiba Inu in early December through a partnership with payment processing service BitPay.
As reported by U.Today, the company confirmed rumors about Shiba Inu acceptance on Twitter last Friday.
It then made its official announcement with grandeur by displaying it on The Reef, the largest outdoor billboard on the planet located in the heart of Downtown Los Angeles. The massive 736-foot screen attracts 173 million impressions per week.
The online retailer also added Dogecoin in late April, but the news was announced with much less fanfare.

In July, Newegg also became the first big-name electronics retailer to accept Shiba Inu as a payment option.
The company allowed its customers to pay with Bitcoin all the way back in 2014, becoming a pioneer in terms of crypto acceptance.
Newegg's director of brand marketing, Andrew Choi, says that crypto payments provide the company's customers with greater flexibility:
We are always looking for ways to innovate the shopping experience on Newegg.com, and something our customers want is greater flexibility and options, including the ability to pay with a wide range of cryptocurrencies.
AMC, the number one movie theater chain in the world, became the first BitPay customer to decide to accept Shiba Inu. In mid-November, CEO Adam Aron confirmed that the new payment option would be added in early 2022.
Shiba Inu [SHIB] Fetches 26% Gains After Kraken listing
Shiba Inu [SHIB] made a breakthrough after Kraken's most-anticipated listing. The popular meme coin rose by a whopping 26% over the past 24-hours and currently exchanged hands at $0.000049.
Kraken's official announcement, Shiba Inu trading is set to begin from the 30th of November. Initially, the crypto-asset will be tradeable against the USD and Euro pairs.  However, Kraken Futures and Margin Trading for the asset won't be available at launch.
New Listing on Kraken: @Shibtoken 🐶$SHIB deposits begin NOW! Trading is live November 30.

➡️ Learn more: https://t.co/yUUKaBXKBq pic.twitter.com/L2IUHugyG0— Kraken Exchange (@krakenfx) November 29, 2021
The move comes after the exchange promised to list the token earlier this month. However, as Crypto Economy reported, Kraken failed to do so, which triggered an uproar from the "SHIB Army." Following this, the platform had asserted undergoing a comprehensive review of its token listing process. Other platforms have been hesitant to list the viral altcoin due to regulatory concerns. Robinhood, for one, had avoided the listing of SHIB citing "tense" regulatory situation. 
Nevertheless, SHIB has responded swiftly and strongly to the news. And things have been looking up. So much so, that the asset climbed to the 11th position once again as it outpace Avalanche [AVAX]. At the time of writing, it recorded a market cap stood at $26.35 billion with a 24-hour trading volume of $6.81 billion.
A promising trend for Shiba Inu [SHIB]
The latest bullish march has invalidated the weekly losses. If the rally is sustained, SHIB could establish a new peak soon.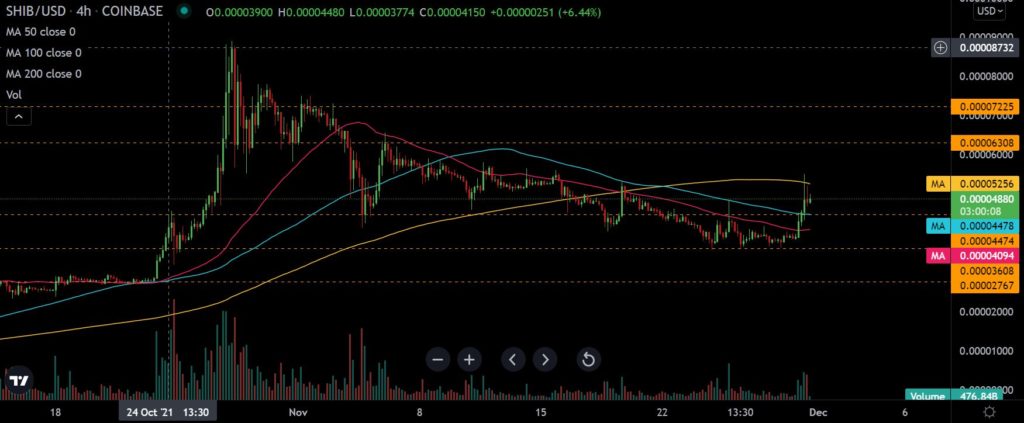 SHIB managed to outpace the 50 moving average [Pink] and the 100 moving average [Blue] which is good sign for the token holders. Even as the price failed to leap beyond the 200 moving average [Yellow], the asset surpassed a crucial resistance level. The spike in trading volume may act as another catalyst in the asset's growth.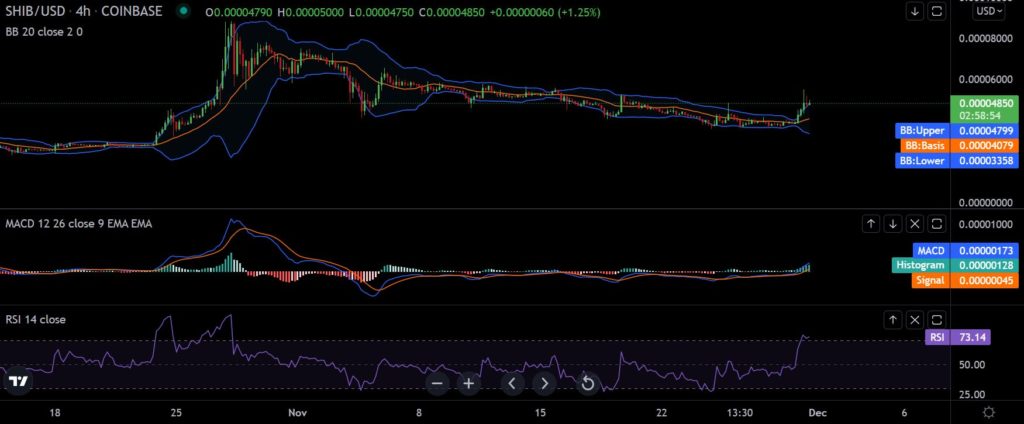 The diverging Bollinger Bands [BB] depicted an uptick in volatility which can strengthen the ongoing trend. The rising MACD above the half line also indicated a bullish phase. The sellers have taken a back seat as the Relative Strength Index [RSI] surged past the overbought zone further accentuating the bullish narrative.
In the following days, SHIB could see a period of high volatility in price action. If it reclaims $0.000052, the asset would confirm the bullish thesis. In such a case, the resistance areas of $0.000063 and $0.000072 will come into play.