Binance Hires Former GE and Edelman Executive as Chief Communications Officer
Binance continues with its organizational changes by appointing a new Chief Communications Officer.
The world's leading cryptocurrency exchange has tapped Patrick Hillmann, a GE and Edelman veteran, to become the company's new Chief Communications Officer. Hillmann will be responsible for Binance's public affairs division.
The exchange announced the new appointment in a press release seen by CryptoPotato, which also outlined Hillmann's new responsibilities.
More precisely, he will oversee all aspects of the company's corporate communications, public affairs, media relations, and stakeholder engagement efforts.
He will also work alongside Binance's compliance and security teams as the firm aims to comply with global regulators, which was a growing issue for the exchange earlier this year.
"We are working hand-in-glove with regulators around the world toward our mutual goal of protecting users, encouraging innovation, and further establishing the industry. Patrick's fifteen years of experience working on global regulatory issues, such as GDPR, will be critical in advancing that work." – commented Binance CEO Changpeng Zhao.
Hillmann's previous experience includes being the Global Head of Innovation on Edelman's crisis and risk practice. Before that, he held senior government affairs and public affairs positions at General Electric (GE) and the National Association of Manufacturers (NAM).
He believes joining Binance is a "once in a lifetime opportunity" as the organization is "truly changing the world."
Previously, the exchange hired a former US Treasury Criminal Investigator to enhance its regulatory compliance team and made Mark McGinness its Chief Regulatory Liaison Officer.
Just In: Binance Bridge Closes Down, Is FibSwap A New Viable Replacement?
Reports say that Binance just closed Binance Bridge down.
Expectedly, it was shut down last November 25, 2021, at 8 AM UTC.
However, a new project is rising as an alternative to Binance Bridge – FibSwap.
Binance just closed its cross-chain bridge down last November 25, 2021, at 8 AM UTC.
For those who are not familiar with Binance Bridge, it is a method to move crypto assets between different chains. This is quite significant, as interoperability between chains is crucial in the crypto space. More so, the closing of the bridge will restrict the to-and-from movement of cross-chain assets; hence, making it difficult for traders to swap tokens. The repercussions of this action by Binance Smart Chain have caused a lot of strain on the industry and will have resulted in an increase in the fragmentation of the crypto ecosystem.
Potential Problems That May Arise From This Shutdown
With Binance shutting their bridge down, this will impose many restrictions on people who hold assets on-chain. People will likely have more incentive to hold their assets on a centralized exchange, due to the fact that there are more barriers being put in place. The problem with this is that there is a trend of token holders that are moving on decentralized exchanges, because of the lack of trust they have towards centralized exchanges.
However, history only tells us that when a door closes, a window opens. The crypto space is an ever-evolving space and everyday new projects are offering more robust and optimized services making older platforms somehow obsolete.
While the biggest crypto company in the world is closing a door, there is another project that has opened a window. FibSwap, a multi-chain, decentralized exchange has emerged as a viable replacement to Binance Bridge with its robust set of features — including the ability to swap tokens from one chain to another with the click of a button. It is infinitely faster, quicker, and simpler to use too.
FibSwap — The Disruptive DEX
FibSwap DEX employs what is called the IMBS Protocol — an "interoperable multichain bridge system", powered by FibSwap Smart Algorithm that creates a bridge between two chains for seamless swapping of cross-chain assets. The USP of the project includes the lowest gas fees on the market and its unique lowest fee swap aggregator.
The project offers a variety of features, including:
$FIBO – $FIBO is a utility token that helps lower gas fees across all chains and gives its holders the exact transaction costs.
Ease of Use – Swapping tokens on FibSwap is made simpler, and users can swap their tokens as easily on the cross-chain as on a single chain DEX like Uniswap and PancakeSwap.
10 Second Swap – Swapping an ERC-20 token to a BE-P20 token can be done in 10 seconds.
A Trusted DEX – A safe and secure place to trade crypto assets in a decentralized environment.
All these factors and features allow FibSwap to present a robust alternative to Binance Bridge with its extremely fast and low-cost swapping of tokens.
Binance Coin Price An Inch Away From Its ATH, Will BNB Price Hit $1K By EOY
After a slight flip from the bearish divergence, for a couple of days, the market appears to have fallen into the same well. Most of the altcoins including the dominant crypto Bitcoin are slumping down, yet trying hard to jump above $58K. However, after BTC & ETH, the 3rd largest crypto Binance coin is making a very drastic move without any noise and may hit its previous ATH well before both of them. 
BNB price always preferred to be low-key with massive volatility so that the asset diminishes the distance to the ATH. The asset was still attempting hard to recover the losses incurred from May, yet the September drain dragged the asset below $350. However, without wasting much time, the Binance coin initiated with a strong upward trajectory to ignite a bull run towards its ATH. 
BNB Price Analysis
Considering the recent moves made by the asset, one of the popular analysts believes the price to hit $750- $850 in the short-term. However, the potential target still remains around $1000 as predicted ever since the beginning of the bull run during the first half of 2021.
.
The upward trajectory can be clearly seen in the chart mentioned by the analyst ever since the trend flipped at the beginning of Q4. In an attempt to smash the ATH, the BNB price got rejected multiple times around $660. Yet sustained much above the 200-day MA and the uptrend line. And hence after a minute retest, the price may break through the newly formed resistance levels close to $660.
With a strong pierce through these levels, new ATH beyond $700 may be quite possible. Moreover, maintaining the current pace, the BNB price may also achieve the targets close to $800. And hence the yearly target for Binance Coin price still remains intact at $1000 and the possibilities of achieving appear to be more compared to BTC price or ETH price. 
Top Crypto Analyst Says Ethereum-Based DeFi Protocol Primed for Breakout As Binance Coin Targets New Record High
A popular crypto analyst is detailing a set of new predictions for two large-cap crypto assets.
The trader, pseudonymously known as Smart Contracter, tells his 184,000 Twitter followers that Binance Coin (BNB) will likely hit a new all-time high (ATH) well before Bitcoin (BTC) surges above its current record high of $69,044.
"BNB [is] going to send to new ATH from here, probably going to hit it long before BTC does."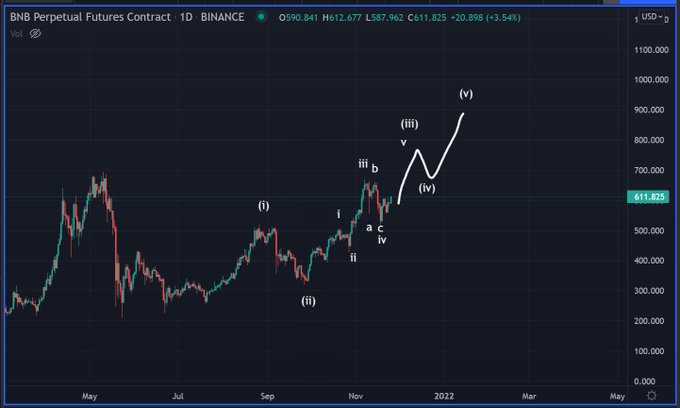 Binance Coin, which is the native crypto asset of the Binance ecosystem, hit its current record high of around $687 in May of 2021 and is trading at $636 at time of writing.
The trader is also bullish on the core crypto asset of the Ethereum-based decentralized finance protocol Curve DAO Token (CRV).
Smart Contracter says that when paired against Bitcoin, CRV appears primed to break out from a 400-day range.
"400-day CRV breakout on the BTC pair underway. I'm ready for the fireworks."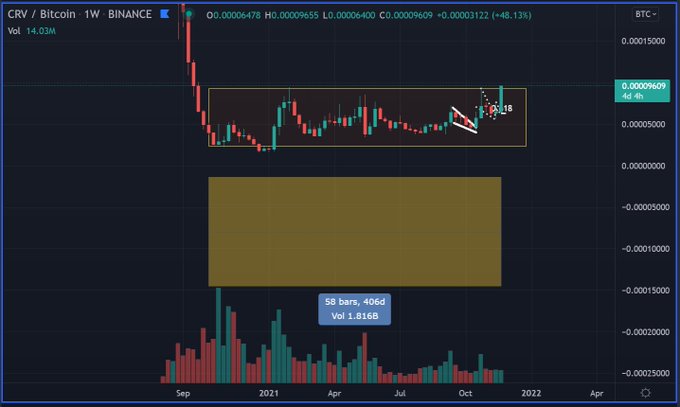 CRV is trading at 0.00009613 BTC ($5.65) at the time of writing.
Smart Contracter says that the DeFi token is likely on the verge of surging on the Bitcoin chart after an accumulation phase that had lasted over 365 days.
"CRV daily bull flag breakout on the BTC pair plus 12 month+ accumulation. Valhalla awaits."
Check Price Action