Here's How Low Bitcoin May Go If Deep Correction Plays Out, According to Top Crypto Analyst
A widely followed crypto market analyst is laying out potential scenarios for a Bitcoin (BTC) correction before taking off to new all-time highs.
The analyst known as Cred says Bitcoin could potentially plunge below $52,000 if the market is overleveraged.
"If we're gonna dip deeper and weekly market structure is constructive, where can we reasonably expect a higher low to come into effect? The answer to that I don't know, I think it's somewhere here [$44,000-$52,000].
It also depends on what the leverage market looks like at that point. If you get a big puke, and then funding keeps going positive and leverage keeps buying the dip as the market moves lower, you can set expectations for a deeper wick."
He thinks that support around $56,000 and $58,000 would likely stand as a strong foundation for continued BTC bullishness.
"But in terms of trade setups at structure, your nearest setup is a move below previous week's low into the 56k to 58k support.
That's your nearest bullish continuation setup at structure to pay attention to."
At the time of writing, Bitcoin is trading at $59,129, according to CoinGecko.
Like Cred, Crypto Quant CEO Ki Young Ju is also expecting some volatility. Ju points out that the market appears over-leveraged as the BTC estimated leverage ratio, which tracks the ratio of open interest divided by the reserve of an exchange, looks to be approaching a new all-time high.
"BTC estimated leverage ratio is about to hit a year-high. It seems obvious that the market is over-leveraged now.
We'll see some volatility shortly."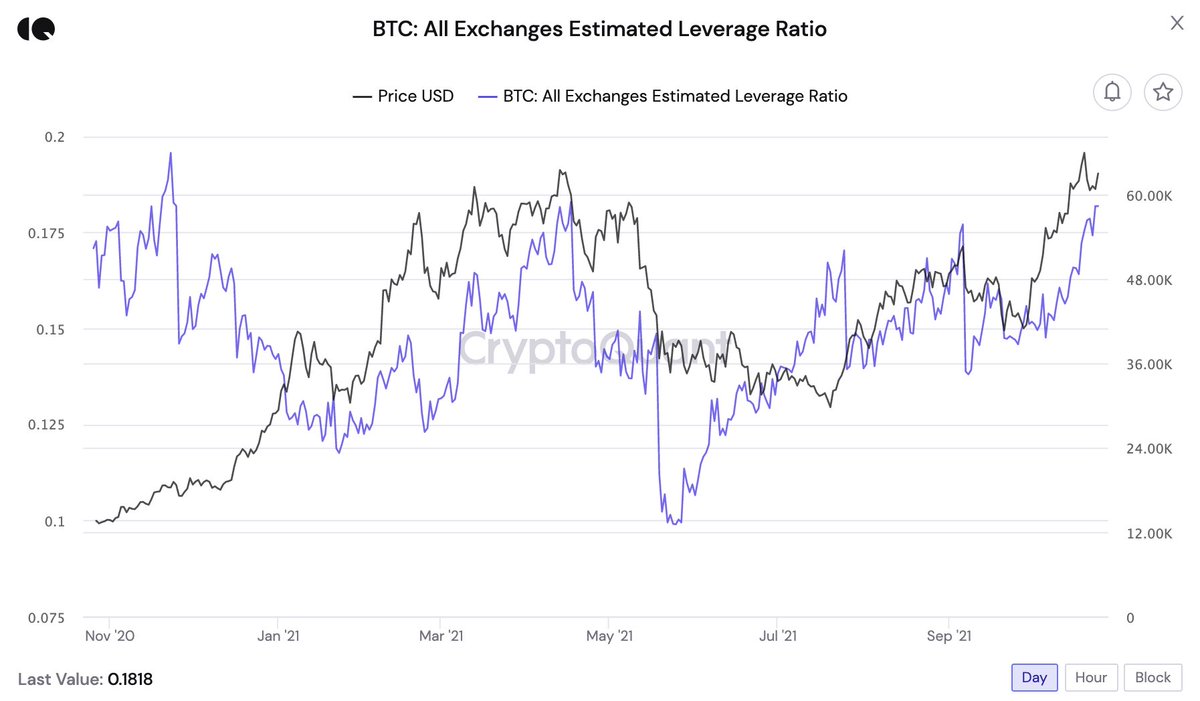 Bitcoin sentiment in 'wild' divergence from reality as $53K BTC triggers 'extreme fear'
Bitcoin (BTC) has stabilized at around $55,000 after dropping by $6,000 in a single day — but crypto market sentiment is still in shock.
According to the Crypto Fear & Greed Index as of Nov. 27, emotions are now at the most fearful since late September.
Crypto sentiment dives into "extreme fear"
Fear & Greed, which takes a basket of factors to compute a standardized sentiment score for crypto markets from 1-100, currently sits at 21.
Friday took its toll on the metric, with the score more than halving in 24 hours from its previous position of 47.
Those two readings correspond to sentiment going from "neutral" to "extreme fear" — missing out on the "fear" zone altogether.
While an expected reaction, the upheaval apparent the emotional state of market participants is becoming a source of amusement for some familiar names.
Investor and entrepreneur Alistair Milne noted that "extreme fear" is hardly an appropriate reaction to BTC/USD trading at $54,000. Indeed, the last time that the Bitcoin spot price was at those levels was in mid-October, Fear & Greed measured 78, otherwise known as an "extreme greed" territory.
"This much fear and we are at $54k. Wild," he summarized. 
On Sept. 30, when the Index last hit 21/100, BTC/USD traded at around $43,800 on Bitstamp.
Funding rates see overnight reset
As Cointelegraph reported, the latest and deepest phase of the BTC price correction came as trader habits on exchanges stayed curiously optimistic.
Funding rates, being positive despite Friday's move, showed that market expectations were for a swift recovery.
At the time of writing, however, it seems that the trip to lows of $53,500 was enough to reset the mood — funding rates are now back to normal and show no bullish bias.
As noted by analytics firm Delphi Digital this week, however, funding remains lower relative to the first half of 2021 — and this may signal a lack of overall direction.
"Funding rates continue to be low on the futures markets. This could be a sign that the shorter-term leveraged traders are still undecided directionally," researchers told Twitter followers."Looking back at the start of the year, the bullish run-up has been accompanied by a significantly higher funding rate."
Market Watch: Bitcoin Concludes Its Worst Day Since September
Yesterday, BTC's price had its worst performance since September 7th, when it crashed over $10K in 24 hours.
The last day was particularly tumultuous throughout the entire cryptocurrency market and bears clearly had the upper hand. While an argument can be made that this is a correction that (so far) failed to damage the long-term market structure, it's a fact that BTC's price saw its worst day of trading since September 7th.
Bitcoin Price Tumbled Below $54K
Yesterday, bears took full control over the market, and this resulted in the worst daily candle Bitcoin's had since September 7th when the price dropped from $52K all the way down to $42K.
This time the damage wasn't as serious, but still, BTC opened at around $59K and closed below $54K, charting a considerable loss. Analysts speculate of the exact reasons for the drop, though many seem to believe that it was the overleveraged long position that cascaded into a spree of liquidations.
In fact, at one point, the liquidations amounted to over $300 million in just an hour. In any case, the market has since recovered a bit, and bitcoin's price currently rests above $55,000, while its dominance over the remaining cryptocurrencies hovers slightly below 42%.
Altcoins in Recovery
While on a 24-hour log, most of the altcoins are currently painted green, if we extend that to 30 hours, the situation would be completely different. Ethereum's price plunged below $4K, while BNB, Solana, and especially Cardano (ADA) all charted notable declines.
However, since the dump, they are all now recovering, and this morning, the confidence seems to be resuming in the market.
At the time of this writing, the biggest gainers from the 24-hour fiasco (of the top 100 coins) are ENS with 23% and CRO with 14.6%, even though the latter's price was just below $1 about three days from now.
On the other hand, those who lost the most were BAT with 7.3% and OHM with 7.1% declines.
Bitcoin, Ethereum, Binance Coin, Tether, Terra Coin Price Analysis – 26 November Roundup
The crypto market recedes due to leading coin prices depreciation.
Bitcoin, in contrast to the past few days, shows a reducton by 7.13%.
Binance Coin and Ethereum face the same fate and depreciate 9.05% and 8.50%, respectively.
Tether USD is the only coin in the top ten to gain price, but be careful.
The world of cryptocurrencies is full of uncertainties, and that makes the ecosystem flourish, a problem. When writing the previous roundup, the leading coins were bullish and setting new records. But then the tables turned, and they saw a depreciation.
All three top-leading coins are in the red club. Despite Bitcoin's resurgence, there was little time to recuperate and gain momentum. The short-lasted green signals are again red. But who knows how short-lasting this period of redness is going to be!
This recession in the prices of top currencies has also impacted the total market cap of cryptocurrency. The market cap has shrunk from $2.66T to $2.47T. Let's see what's next because no trend is permanent in the crypto market, which is an understatement. 
Bitcoin depreciates 7.13% in the last 24 hours
Bitcoin (BTC) has gained momentum in the last 24 hours and has soared high, aiming for new highs. It was expected to reach $60K soon, but that trend didn't last long. The last 24 hours have been recessive in the market, and except one, the remaining currencies in the top 10 are going recessive.
Bitcoin's chart took the downward direction and showed a reduced value by 7.13% in the last 24 hours. At the time of writing, its price is recorded to be in the $54,415 range, nearing $58K 24 hours back. Compared to its weekly performance, BTC has also been impacted if the redness recorded is 7.70%. The current market cap of Bitcoin is $1,026,605,206,267.
BTC's volume recorded in the last 24 hours is $42,138,053,033 which in US dollars equals $775,120 BTC. The current circulating supply of Bitcoin is 18,884,175 BTC. The overall performance of BTC in the last seven days has been recessive.
Ethereum dips to $41K after a red signal
As the top leading currency, Bitcoin, the second in ranking Ethereum, has also halted in the run. ETH was showing progress for the last few days, and it even crossed $45K, but then it also faced a red signal. It has witnessed a reduction in prices amounting to 8.50%, and we are back to the same game of whether it would cross 42K.
The price recorded for Ethereum at the time of writing is in the $41,110 range. It has seen a recession of 5.15% in the last seven days as evidently impacted by the recent bearish prices. The current market cap of Ethereum is $486,926,404,935, which has also impacted the total crypto market cap. The volume of Ethereum is $26,376,063,036 which equals 6,419,233 ETH.  
The overall weekly performance of Ethereum, like Bitcoin, has been affected by the recent bearishness in the market. Its current circulating supply is recorded to be 118,504,466 ETH.
Binance Coin depreciates 9.05% in the last 24 hours
Binance Coin (BNB) was the fastest-growing amongst the top three coins, but it is also a victim of the recent change in tide. BNB has witnessed a depreciation of 9.05% in the last 24 hours. Even though it has made losses in the last 24 hours, it shows a positive trend for overall weekly performance. Its bullishness for the past week is recorded as 0.53%, which is much better than for ETH and BTC, both of which have been impacted by the bearish market. Its price recorded at the time of writing is in the $592 range.
The current market cap recorded at the time of writing for BNB is $98,856,725,317. It has been performing much better than its predecessors, and it is expected to resurge sooner than them.
The volume recorded for Binance Coin has been $4,221,447,278, this equals 7,122,856 BNB. If we have a look at its circulating supply, then it has reached 166,801,148 BNB. Its overall weekly chart shows bullishness, and expectedly it will be back in the race, leading the rest.
Tether gains 0.10%, reaching $1
Tether (USDT) is the only currency that is going ahead without facing any red signal. In contrast to all the nine currencies in the top 10 list, it is the only currency that remained bullish in the last 24 hours. This price movement shows not only the resilience of this currency but also the investors' trust. It is hoped that other top 10 currencies will also join in the race, but it might take time to recover their momentum.
The price recorded for Tether at the time of writing is $1.0. The overall weekly bullishness amounted to be 0.07%. Its current market cap, at the time of writing, is $73,258,317,857. The volume recorded for Tether by CoinMarketCap is $107,471,366,554 which equals 107,270,276,122 USDT. Its overall performance for the last seven days has been bullish.    
Terra LUNA 14th in the list depreciates 5.64%
Terra (LUNA), the moon coin, has been recessive for the last seven days. Its recorded performance for the last seven days has been -2.41%. It continued the same trend, shedding 5.64% in the last 24 hours.
LUNA's price recorded at the time of writing is in the $41 range. The current market cap of this coin is $16,632,186,950.
Top gainer and loser
The top gainer in the list is MetaSafeMoon, whose bullishness is estimated to be 578.54%, much less than the previous days' top gainers. But due to ongoing reduction in prices, it is still much better. The price recorded for MetaSafeMoon at the time of writing is $0.000000004948.
The top loser in the list is Cheems Inu which shed 98.37% in the last 24 hours. Its current price is $0.000106.
Final thoughts
The recent change in the mood of the market is not something unfamiliar to the crypto market. Volatility has been the market's primary characteristic for a long time, and crypto loyalists hope that this bearishness will soon turn bullish. Though this might last for a short while, the sudden dips and surges variedly give chills or cheers to most investors. Crypto trading is not for the faint-hearted; consider that as a warning. But you can HODL the coin if you believe in the concept of a blockchain project.
The current reduction in the crypto market cap is not new, and hopefully, it will turn to new highs in the charts. According to research, higher volatility corresponds to a higher probability of a declining market, while lower volatility corresponds to a higher probability of a rising market. Straddle and strangle options, volatility index options, and futures can be used in the stock market to profit from volatility.
Food for thought for one who's interested in learning:
Victorious warriors win first and then go to war, while defeated warriors go to war first and then seek to win. Chinese general and military strategist, Sun Tzu (545 BC-470 BC) Art of War
How can you use these rules of thumb about volatility to gain a better position in the crypto market? Please tell us in your comments below.